Madrid is the beloved capital of Spain. It is a dynamic city that takes on a life of it's own at night.
You may have walked the Plaza Mayor or visited the Royal Palace or walked through the halls of the Prado. And maybe, just maybe, you're looking for a little bit more outside of the city limits?
Well, get ready friends because our guide here has all you need for finding the best day trips from Madrid!
With all the vibrant culture, dancing, food, beaches, and historical sites that Spain has to offer, it would be a shame to limit your visit to just the country's capital.
Get outside of Madrid and explore, explore, explore!
Quick Answer: Best Day Trips from Madrid
Best Places to Stay in Madrid
With such a buzzing and busy city, you sure want to know where you are going to rest your head at night. We have selected three great accommodation choices for you to make sure your stay in Madrid is a good one.
• Best Hostel in Madrid •
Room007 Ventura Hostel is highly ranked and there are a lot of reasons why! With a friendly staff, clean rooms, and comfy beds this is a great hostel to spend a few nights at.
• Best Budget Hotel in Madrid •
Great value for your money
At the Hotel Madrid Torrejon Plaza you can find rooms for less than $60 a night. This hotel is only 1 km from the city center and 10 km from the airport. Very clean too!
• Best Luxury Hotel in Madrid •
Superior facilities and supremely perfect location
Located in the heart of Madrid, The Principal offers guests all they could possibly want and more. This hotel promises guests every comfort and convenience.
Best Day Trip from Madrid by Train
Sagrada Família
FC Barcelona
La Rambla
Of course, Barcelona tops our list of day trips from Madrid. A six-hour drive in the car can feel long, but a three-hour ride in the train is easy as pie. We recommend taking the train between these two amazing cities in Spain.
The Sagrada Família is one of the most phenomenal architectural feats in all of Barcelona. Artist and architect Antoni Gaudí is the man behind this fascinating structure. It is a must-see site for every visitor to Barcelona!
If you can swing it, make sure to catch an FC Barcelona football game. You will be truly astounded at the amount of team spirit Barcelona has for its beloved team! The home stadium of FC Barcelona, called Camp Nou, is the biggest football stadium in Europe. With 99,354 seats for fans, there is a seat waiting for you!
Walk the La Rambla promenade, the most famous and fabulous street in Barcelona. On La Rambla, you will get in touch with Barcelona's throbbing pulse of life and culture. Have a drink at a cafe or simply window shop. A trip to Barcelona isn't complete without walking down this street!
Visit the Sephardic Museum
Tour the Toledo Cathedral
Check out the Alcazar Fortress
One hour by car or 30 minutes by train brings you to the UNESCO city of Toledo. It is actually known as the City of Three Cultures, which is in reference to the historical co-existence of Jewish, Muslim, and Christian cultures.
Visit the Sephardic Museum to get to know the Jewish history of Toledo, and of Spain as a whole. As a former synagogue, this building sure has a lot of history!
Tour the Toledo Cathedral and be stunned at the architecture of this 13th-century High Gothic cathedral. It is built using white limestone from local quarries and is truly a sight to behold.
The Alcazar Fortress is an imposing stone fortification that sits on the highest hill in Toledo. Not only is visiting this 3rd-century Roman palace that was later home to the Spanish kings a great idea but so is taking in the beautiful views of the city below! Today, the fortress houses the city's Army Museum. Visit on a Sunday and admission is free.
The Best Travel Backpack EVER MADE!?!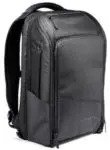 We are obsessed with backpacks – we've tried them all! And our favourite carry on backpack in the WORLD is the Nomatic Travel Backpack. This backpack has revolutionized the backpack industry and will change the way you travel forever :) Check it out here!
Visit the Convent of Saint Teresa
Walk the Walls
Basilica de San Vicente
80 minutes in a car will bring you to Avila. Of course, Avila is known as the home of the beloved Saint Teresa. Visit the Convent of Saint Teresa that was built on the site where she was born. The church's Baroque facade is stunning. Also, stop by a local bakery to try 'yemas' which is a sweet treat made in honor of Saint Teresa.
Avila is actually a walled city and you can walk the 2.5 kilometers of stone wall that dates all the way back to the 12th century. If you do the entire walk, you will see 2,500 battlements, 87 towers, and 9 gates.
Check out one of the greatest achievements in Romanesque architecture in all of Spain by visiting the Basilica de San Vicente. Inside, you'll find surprising artistic wonders. There's more to this Basilica than meets the eye!
Editor's Recommendation! These are the staff pick for the top hostels in Madrid (for all budgets!)
#4 – Chinchon
Great for a quiet get away!
Castle of Chinchon
Plaza Mayor
Taste the Anis Drink
A pleasant 50-minute drive takes you from Barcelona to Chinchon. Chinchon is not a very well known city, nor is it usually top-of-mind for visitors to Spain. However, Chinchon is perfect for those who want a quiet getaway and aren't looking for outdoor adventures or beachside relaxation. Chinchon is filled with fascinating historical buildings. One of which is the Castle of Chinchon which was built in the 15th century but has long been since abandoned. As a heads up, you can only view it from outside.
The center of town, which is a lovely medieval square called the Plaza Mayor, is the most beautiful spot in all of Chinchon. It isn't really a square though as the irregular shape is formed by houses with either two or three floors. The Plaza Mayor is the perfect place to snap your quintessential Chinchon photo. Stop by the shops to pick up a bottle of Chincon's famous Anis alcoholic drink. It is a nice digestif drink.
Spain is amazing! And the best hostels in Valencia will blow you away!
A very cool and hip spot!
Check out the University
Salamanca Museum
Jewelry Shopping
Hop on the next train and spend just 90 mins to reach the lovely UNESCO city of Salamanca. As it is home to Salamanca University, the city is vibrant— simply humming with life. Salamanca University was founded in 1218 and the buildings have unique Plateresque façades. Definitely worth a walk through.
Spend a few hours at the Salamanca Museum and find yourself enthralled by the collection of works in archaeology, fine arts, and ethnology. The building itself is beautiful too. It's is a 16th-Century building which is a wonderful example of civil architecture from the time of the Catholic Monarchs.
Salamanca filigree is famous. You can find gorgeous pieces of metalwork in silver and gold, from rings to earrings to bracelets. Buy yourself or a loved one something special in Salamanca. In the Plaza Mayor Square, you can find tons of shops to make your purchase in.
Staying Safe in Madrid
While Madrid is super safe, no matter where you are traveling, you NEED to have great travel insurance. We have personally tested TONS of travel insurance companies, and World Nomads is our favorite (and most affordable!).
Fill out the form below to get a quote so you can have a stress-free time traveling around Spain!
Cuenca Cathedral
Rey Wine Museum
La Ciudad Encantada
Snag a high-speed train that will take you to Cuenca in just under an hour. Cuenca is a charming city resting on top of a rocky hill. It is known for their 'Casa Colgadas,' also known as hanging houses that are built right into the rocky mountainside.
Anyone who visits Cuenca definitely wants to check out their Plaza Mayor, which is highlighted by the first Gothic Cathedral in Spain: the Nuestra Senora de Gracia, also called the Cuenca Cathedral. This 15th-century cathedral is a sight to behold! It also has an excellent Byzantine reliquary on display in the museum.
For all the wine lovers out there, the Rey Wine Museum is the place to be. Tour the facilities, the barrel room, the vineyard, and the gardens. Have a glass or two with some yummy traditional tapas.
Lastly, you absolutely have to visit the La Ciudad Encantada park in Cuenca. The jaw-dropping eroded rock formations will stun you!
Looking for the Party? We've got you covered with our guide to the best party hostels in Barcelona!
#7 – The Ribera del Duero Wine Region
Best Romantic Day Trip from Madrid for Couples
Bodegas Hermanos Pérez Pascuas
Bodegas Comenge
Alvarez y Diez
Ribera del Duero is located in Castilla y León, approximately two hours to the North of Madrid. The vineyards of Ribera del Duero are spaced out for more than 70 miles along the River Duero. The Ribera is home to 270 wineries, with 55,000 acres of vineyards so choosing where to go can be difficult. We'll give you three of our favorite spots to try a glass.
Visit the Bodegas Hermanos Pérez Pascuas. This winery is world renowned for their award-winning wine. They are one of the only few wineries in the region that relies completely on their own grapes. No outsourcing for these guys!
Stop by the Bodegas Comenge, a special winery that is on track to becoming completely organic. They pride themselves on their sustainably farmed vineyards and offer guests carriage rides through their lovely vineyards. Enjoy the big, bold Spanish Tempranillo wine there.
Alvarez y Diez is an enormous winery that produces two million bottles per year. They produce three different white grape varieties: Verdejo, Sauvignon Blanc, and Viura. As the region is known for Tempranillo red wines, it's important to try a glass or two of white wine as well.
Don't stop the party! Read up on Madrid's best party hostels too!
Best Cheap Day Trip from Madrid
Roman Aqueduct
Segovia's Alcazar: Fairytale Castle
Cathedral
What can you do in 27 minutes besides scrolling Facebook or waiting in line at the bank? How about from traveling from Barcelona to Segovia on a high-speed train instead!
In Segovia, you'll find the immense and imposing Roman Aqueduct that was built in 50 AD. It supplied the city with water from the Frío River from the 1st century to the 20th century. Talk about something that stands the test of time! Standing 28.5 meter tall along 14 kilometers of rolling hills, the aqueduct is an important monument to visit.
Segovia's Alcazar is the most famous castle in Spain. It's even rumored that this absolutely gorgeous castle was the inspiration for Walt Disney's castle in Cinderella. Make sure you tour the chapel, tower, and public halls!
The stunning Segovia Cathedral was the last Gothic cathedral built in Spain, with construction starting in 1525. It was built in at the highest point of the town. This cathedral is one of the many stars of Segovia and shouldn't be missed!
Not what you're looking for? Read about other great hostels near Barcelona Airport!
#9 – Alcalá de Henares
Theatre enthusiasts will LOVE this day trip!
All Things Cervantes
Corral de Comedias Theatre
Alcalá Classical-Classics Festival
Alcalá is just a quick 35-minute train ride is one of the hidden gems of Spain. It's close to Madrid, which makes it an easy day trip idea, but this special city usually flies under other travelers' radars.
Alcalá is the birthplace of Miguel de Cervantes, the author of the classic novel, Don Quixote. You can learn about the author's life and his work by checking out different museums house in Alcalá. Such as the Cervantes Birthplace House-Museum, the Universes of Cervantes Visitor Centre, and the Don Quixote Museum.
Catch a show at the Corral de Comedias theatre in Cervantes Square. It was built in 1601 and is one of the oldest well-preserved theatres in all of Europe.
If you're lucky enough, you just might be around to catch the Alcalá Classical-Classics Festival. You'll find work being performed from all of the great Spanish playwrights, Cervantes included of course! The performances are staged in the Cervantes Salon Theatre and in the Corral de Comedias. However, you might find performances in other venues around town.
Need to see more of Spain? These day trips from Barcelona will show you the coolest areas around.
Stroll through the Gardens
Tour the Palace
Take the Strawberry Train
Got 40 minutes to spend? Allocate them to a quick train ride or car ride to Aranjuez. First stop is visiting the Royal Palaces of Aranjuez. The Royal Palaces were commissioned by Philip II back in 1561, however much of the current structures are from the 18th century.
Take to the palace grounds and stroll down the tree-lined avenues of the Island Garden. Stop and admire the flower displays at Parterre Garden and the vast array of trees in the Prince's Garden. Definitely take a tour, or an audio tour, of the palace itself. It's such an enormous building that a tour makes it easier to navigate and not miss any important spots!
If you happen to be doing your trip during May, June, September, or October there is a very special way to travel to and from Aranjuez. It's called the Strawberry train. It is a vintage style carriage that will serve you fresh strawberries as you travel in style!
Price anxiety? We get it too, so we made an article for the best budget hostels in Madrid!
Visit the Castle and Monastery
Valley of the Fallen
Mount Abantos
Take a train a bit over an hour and arrive in El Escorial. There is a huge castle and monastery build for Philip II to showcase the power and might of Catholicism. This site has functioned as a monastery, basilica, royal palace, pantheon, library, museum, university, and hospital. Now you will find: 15 cloisters, 13 oratories, 86 staircases, 88 fountains, 9 towers, 73 sculptures, 40,000 books, and over 1,600 paintings. Have we convinced you to visit? We hope so.
There is also another historical monument in El Escorial that can't be missed: The Valley of the Fallen. This Francoist regime monument has an enormous cross that tops a huge basilica. It functions as a memorial to those who were killed in the Spanish Civil War. It's around 10km away from the monastery, so if you don't have your own car, grab a taxi!
Rising 1,753m above sea level, Mount Abantos is a mountain in the Sierra de Guadarrama range. Enjoy a hike up the mountain, through the tranquil pine trees. Given the climate, the weather for hiking Mountain Abantos is good year round!
Need to get the most out of your travels? Taking a day trip from Seville is a great way to see other parts without wasting tons of time relocating!
Seville Cathedral
La Giralda
Real Alcázar
Take a high-speed train three hours and travel from Madrid to Andalusia's capital, Seville. This is a bright, colorful city that almost every traveler falls in love with.
The largest cathedral in the world by volume, the Seville Cathedral, is a must-see. There are 80 different chapels to explore and you'll even get to check out the tomb of Christopher Columbus.
La Giralda is a huge symbol for Seville. It is a bell-tower that stands right next to the Cathedral. You can buy a ticket for both sites together. This tower used to be a minaret in the former mosque. What is most puzzling is that there is no stairway in the tower. Rather there is a set of 34 ramps leading to the top!
Visit the Real Alcázar, a staggeringly beautiful palace complex that the Spanish royal family still uses! Their chambers and state rooms are all on the upper level. Meander through the courtyards and gardens for a pleasant afternoon walk.

If you are traveling you should ALWAYS have emergency cash hidden on you! Security belts are great because they are affordable and can fit a ton of stuff in them (great for peace of mind!). Check out our favorite travel belt!
Hiking
Canoeing
Wildlife Spotting
The Sierra de Guadarrama is the National Park of Madrid. It is only a 50 km drive from Madrid, and offers visitors 150,000 acres of land to explore! There are hiking trails to suit all abilities and skill levels. Whether you are looking for a quiet stroll or an uphill battle the Sierra de Guadarrama has the trail for you!
If you are an animal lover who wants to see animals in their natural habitats versus in captivity, the Sierra de Guadarrama is home to over 58 species of mammals. You may even catch sight of a Spanish ibex or a fallow deer. There are also 133 species of birds there. Keep your eyes peeled for the Spanish imperial eagle.
Maybe you'd rather cool off and go canoeing! Right in the middle of the Lozoya Valley is Lake Pinilla. This lake is the perfect place to take to the waters and canoe for an afternoon.
Never been to Spain? See our favorite places to visit for when you go!
Great for history lovers!
Mosque-Cathedral of Córdoba
Alcazar of the Christian Monarchs
Roman Bridge
The Mosque-Cathedral of Córdoba is one of Spain's cultural wonders! This colossal complex was built in the 900s when Córdoba was ruled by Emir Abd-ar-Rahman. It didn't become a church until 1236. Walk around the complex and wind in and out of the columns. How many columns, you ask? 850!
The Alcazar of the Christian Monarchs is a medieval palace in Córdoba, that is situated next to the Guadalquivir River and is near the Grand Mosque. Walk the terraced gardens, and take in the beautiful Roman mosaics and Gothic towers!
Walk along, sit, or read on the arched Roman Bridge of Córdoba. This restored bridge was likely constructed in the early 1st century BC.
Need to save money? Check out the cheapest hostels in Barcelona!
Best Day Trip From Madrid By Car
Alhambra
Granada Cathedral
Andalusian Tapas
Granada is around a four-hour drive and it's worth every minute of the journey. This historic city is overflowing with beautiful sites. It's famous for phenomenal examples of Medieval architecture, especially from the Moorish occupation. The crown jewel is the Alhambra. Alhambra is a palace and fortress complex that was constructed in 889 AD and then rebuilt in the mid-13th century.
Head over to the Granada Cathedral, a massive Roman Catholic Church built in the 1500s in the Renaissance and Baroque style. Make sure to snap a picture by the fountains.
After a long day walking around, make a beeline for busy restaurants to try the delicious Andalusian tapas like tortilla del sacromonte or Spanish olives!
Need more info? Here's a rundown of things to do in Madrid to fill your time there!
Best Day Trip from Madrid with Kids
Oceanogràfic
Bioparc
Catch a Flamenco Show
Two hours on a high-speed train or four hours in a car will take you from Madrid to the exciting city of Valencia.
Check out the biggest sea life center in all of Europe, the Oceanogràfic. Definitely plan on having lunch at the underwater restaurant!
If you've had enough of the fish and the sharks, and want to see lions, giraffes, and lemurs it's time to head to the Bioparc! Get ready to journey into the heart of Africa.
End your day with a flamenco show. Be dazzled by this culturally important music and dance performance. You can always enjoy dinner with a show too!
Once you've booked, check what there is to do in Barcelona!
Great for art and history lovers
Guggenheim Museum
Bilbao Fine Arts Museum
Arkeologi Museoa
Around four hours in a car will bring you to Bilbao. There are also two trains daily between Madrid and Bilbao, and lots of local buses that go between these two cities. On average there are 15 buses daily.
Bilbao is a beautiful port city encompassed by mountains. It is also an important city in Basque Country. Home to the Bilbao Guggenheim Museum, this wavy, titanium-clad art museum is a must-see.
Another not-to-be-missed art museum is the Bilbao Fine Arts. It has an impressive collection of Basque, Spanish, and European art, including artists from El Greco to Paul Gauguin! It is an all-around beautiful museum as it resides in an English garden-style Doña Casilda Iturrizar Park.
The Arkeologi Museoa, also known as the Archeological Museum of Bilbao, is an important museum to visit. It tells the history of the Basque people, from human origins all the way to present day.
Conclusion to the Best Day Trips from Madrid
Whether you are a theatre lover, a wine enthusiast, an avid hiker, or a patron of the arts there are places to go and things to see!
After you're done a walk along the Gran Vía, the Puerta del Sol, and the Plaza Mayor in Madrid then head on over to the nearest train or bus station and snag your ticket for an adventure outside the city limits.
We love Madrid, we really do. But we love the rest of Spain too and we are sure you will too.
***Disclaimer*** Some of the links in this post are affiliate links. This means that if you book your accommodation through the site, One Weird Globe will earn a small commission at no extra cost to you. Your support helps me keep the site going :)
Latest posts by Lily Allen-Duenas
(see all)