The capital city of Ecuador is the second highest capital in the world. You can expect one of the most beautifully-preserved historic colonial centres in the whole of South America just a taxi ride away from the hedonistic nightlife of La Mariscal District – where you'll find locals and tourists alike congregating around Plaza Foch.
A few days in Quito will be enough to see all of the main sights including whitewashed churches, colonial houses, and some sprawling parks. It'll also give you time to adjust to the altitude – Quito is 2,850m above sea level! When you feel like getting out of the city, there are plenty of great spots nearby for a day trip. In this article, I'll help you uncover some real hidden gems to visit for the best day trips near Quito!
Quick Answer: Best Day Trips from Quito
Best Places to Stay in Quito
In a megacity like Quito, it's not easy to make a final decision when it comes to accommodation. You just have so much choice! To help you out, I've selected 3 great places to stay, and I'm sure that one of them will suit your budget and travel style.
• Best Hostel in Quito •
Take breakfast in the garden or on the roof terrace!
Located close enough to Plaza Foch's nightlife so you don't have to get a taxi, but just far enough so you won't be kept awake by loud music and revelry, El Patio Hostel Quito is a great choice for backpackers on a budget in Quito!
• Best Budget Hotel in Quito •
Right in Quito's UNESCO listed historic centre
Enjoy breakfast with a view of one of the symbols of Quito – the Virgin of Panecillo in this beautiful colonial-era hotel set around a patio awash with local plants. Rooms come with comfy double beds, flat screen TVs, and your own private bathroom!
• Best Luxury Hotel in Quito •
Five-star hotel officially declared as an Ecuadorian National Treasure
Surrounded by churches and monuments in the heart of Quito's Casco Antiguo, this is the perfect place to stay in Quito if you really want to treat yourself. Rooms come with antique wooden furniture, warm colours, and colonial décor throughout.
#1 – Machachi and El Bolliche
Best Day Trip from Quito by Train
Admire the old engines and carriages in Quito's Chimbacalle Station
Watch the inner city landscape merge into the foothills of the Andes
Enter Cotopaxi National Park and walk through a pine forest
Thanks to the topography of Ecuador, trains aren't a commonly used mode of transport in Ecuador. In fact, this is the only day trip you can do by train from Quito – as tourist trains are a popular attraction in this small South American country. And boy, is this a good one.
This day trip leaves nothing to chance and everything is already planned for you. After leaving Quito, you'll pass through the village of Tambillo, with excellent views of the Ruminahui and Pasochoa mountains, before enjoying lunch at a mountain inn.
The final stop, the town of El Bolloche is in Cotopaxi National Park, where you'll be able to get spectacular views of the volcano and walk through a pine forest before heading back to Quito on this classical train!
#2 – Cuicocha (Cotacachi)
Best Day Trip from Quito by Car
Hike clockwise around Cuicocha to get the steep climbs out of the way first
See the stunning views of the guinea pig shaped islands in the middle of the water
Stop for a traditional dinner on the way back in Otavalo
Cuy or guinea pig are an important part of Ecuadorian culture. If you don't want to try eating one while you're here (which is more than understandable if you've had one as a pet), then you can at least hike around Cuicocha, a crater lake with guinea pig shaped islands on its calm blue waters.
Cuicocha is just over 2 hours north of the capital, and you can stop for a snack or dinner on your way home in the beautiful town of Otavalo (which you'll hear more about later in our list). The hike around the lake lasts somewhere between 5 – 7 hours. It's 3,250 metres above sea level (400m higher than Quito) so make sure you've had some time to adjust to the altitude before tackling this cool day trip!
The Best Travel Backpack EVER MADE!?!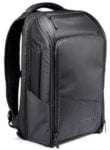 We are obsessed with backpacks – we've tried them all! And our favourite carry on backpack in the WORLD is the Nomatic Travel Backpack. This backpack has revolutionized the backpack industry and will change the way you travel forever :) Check it out here!
Best Romantic Day Trip from Quito for Couples
Visit on a weekday to have the hot springs almost to yourselves
Relax in the therapeutic waters of Papallacta's thermal springs
Keep a lookout for the national animal of Ecuador – the Andean Condor. You might see a spectacled bear too!
A popular trip for Quiteños, who will load up their car after work and spend a couple of hours in the springs before heading home to a perfect night's sleep, Papallacta are the perfect romantic getaway for you and someone special.
You have two options here – the termas are a resort in the centre of town with 8 pools you can take a dip or soak in. If you're looking to rub shoulders with locals, head to the more modest springs in the centre of the village. Make the most of your day trip by going on a hike and trying to spot hummingbirds (very easy) and spectacled bears (much more difficult). In fact, it makes sense to do the hike first then rest those aching muscles in the springs!
Best Day Trip from Quito with Kids
Stand in both the northern and southern hemispheres at the same time
Check out the Inti Ñan Museum to see the weird ways the equator affects scientific experiments
Learn about traditional Ecuadorian culture at the Ciudad Mitad del Mundo museum
A fun day out for the whole family, Ciudad Mitad del Mundo is all about the imaginary line around the world – the equator. It's here that the earth's gravitational pull is at its strangest, and a visit to the Inti Ñan Museum means you can find out all about that with some unusual science experiments including balancing eggs on nails!
In Ciudad Mitad del Mundo itself, you can climb up the giant obelisk to get fantastic views of the surrounding areas and when you head back down, it's obligatory to get a photo with one foot either side of the equator. There are lots of restaurants, shops, and exhibits on site but do be aware that if you're buying souvenirs here, they'll cost much more than in Quito's markets!
Best Cheap Day Trip from Quito
Take one of the longest cable car journeys in the world all the way up to 4,000m
Enjoy the views of Quito sprawling out below you from the Volcán Pichincha
Hike to the summit of Rucu Pichincha, which is almost 4,700m above sea level!
A cheap day trip as your travel costs are minimal – the base station for Quito's cable car is in the city itself! This is one of the longest and highest cable cars in the world and being suspended above the urban sprawl of Quito makes for some great photo opportunities. Head up early to hike to the top of the Pichincha volcano, or if it sounds a bit taxing – try doing it on horseback!
If you do plan to hike to the summit of Rucu Pichincha, leave yourself plenty of daylight to do this. It should take about 5 hours. It's probably best if you spend a couple of days in Quito adjusting to the altitude before attempting this, and don't forget warm and waterproof clothing!
Editor's Recommendation! These are the staff pick for the top hostels in Quito (for all budgets!)
Staying Safe in Quito
While Quito is super safe, no matter where you are traveling, you NEED to have great travel insurance. We have personally tested TONS of travel insurance companies, and World Nomads is our favorite (and most affordable!).
Fill out the form below to get a quote so you can have a stress-free time traveling around Ecuador!
Recommended day trip for adventurers
Take in the views of Tungarahua from the swing at the end of the world
Soak in the hot springs that this town is named after
Rent a bike and cycle down to the Devil's Cauldron Waterfall, stopping off at a zip line on the way
The little town of Baños de Agua Santa is right in the thick of Ecuador's "Avenue of Volcanoes". In fact, it sits in the shadow of Tungarahua which last erupted as recently as 2014!
It also happens to be Ecuador's adventure capital, with bungee jumping, mountain biking, rafting, and many more cool activities on the cards in this charming little town. For something a little more relaxed, you can bathe in the Baños hot springs, which give the town its name.
Two of the most highly recommended activities in Baños are visiting the Pailon del Diablo waterfall, and enjoying the views of Tungarahua from the Swing at the End of the World!
Best Day Trip from Quito by Bus
Get some souvenirs at Ecuador's largest indigenous artisan market
Take a hike and admire the Peguche Waterfall
See rescued birds of prey being rehabilitated at Parque del Condor
Trains are very infrequently used in Ecuador, and the king of public transport here is the humble bus. In fact, there are several coaches a day from Ecuador's Carcelén terminal in the north of the city. Otavalo is a great easy day trip by bus, and it will take you less than two hours to get to the town that boasts the largest indigenous market in the country.
It's the perfect place to get unusual souvenirs for your friends and family back home – with alpaca wool jumpers and hats aplenty, cute llama keyrings and fridge magnets that won't even make a dent in your hand luggage, and locally made artisanal products. When you're done shopping, check out the Peguche Waterfall hike or meet the gentle giant that is the Andean Condor at the bird of prey centre here!
Birdwatchers will LOVE this day trip
Spend some time in the magical hummingbird garden
Enjoy birdwatching in the cloud forest of the Mindo Protected Reserve
Get up close and personal with butterflies and reptiles too
Just 90 km away and one of the most popular day trips from Quito, the two-hour bus trip to Mindo is a must if you're a nature lover. It offers some of the best birdwatching in South America in a cloud forest that covers almost 20,000 hectares. If you've never tried birdwatching before, consider doing it with a guide who will be able to tell you exactly where to point your binoculars!
Not only is it great for spotting birds, but the Mindo Protected Reserve is bursting at the seams with a plethora of flora and fauna. Hidden among the waterfalls and hiking tracks of the reserve, you'll be able to spot lizards, frogs, snakes, and lots of colourful butterflies!
Recommended day trip for adrenaline junkies
Hike up one of South America's highest volcanoes – Cotopaxi
See the elusive vicuña grazing on high altitude grasslands
Take advantage of the myriad of hiking trails that snake through the gorgeous landscapes
Home to one of Ecuador's most impressive volcanoes (which is still active), the snow-capped Cotopaxi, the national park of the same name is the perfect place to take a day trip as it's just over 50km south of the capital city. Not only can you hike on the volcano, but you can do downhill mountain biking too – there aren't many better adrenaline rushes than this!
While hiking around the park, don't miss visiting one of the national park's still and glassy lagoons – Limpiopungo is one of the prettiest while keeping your eyes peeled for flora and fauna as you get around. Llamas and alpacas can be seen throughout the park, and you might even catch a glimpse of the vicuña – a small camelid with the most expensive wool in the world.
Want to see all of quito? Get started with accommodation in Quito's best neighborhoods!
A very cool and hip spot
See the bright blue waters of this lake inside a volcanic
Take a walk around the crater for astounding views of the surrounding landscape
Visit a local market to try traditional highland foods and purchase an artisanal souvenir
The Quilotoa Loop is a trek from the town of Latacunga, about 3 hours south of Quito. The trek usually takes three days, but if you're short on time and just want to see the lake and have a walk around the rim of this ancient volcano – then a day trip from Quito is the perfect solution!
A condensed day trip means that you can miss out on the blisters and sore legs from the hike, in which you have to contend with the high altitude as well as lots of walking in the hot Andean sun, while you still get to enjoy one of the most beautiful spots in all of Ecuador.
However, If you do have a few days at your disposal, try the challenging Quilotoa Loop hike, where you'll get to see more of traditional life in this area, along with some absolutely stunning landscapes.
Great for a quiet getaway
Soak up the atmosphere of Ecuador's highest indigenous populated city
Try the best hornado in Ecuador at the Mercado del Merced
Marvel at Mount Chimborazo – the closest point on earth to the sun
Riobamba is Ecuador's third largest city and it's about three hours south of Quito from the southern Quitumbe bus station. By far the most impressive thing about here is the Chimborazo volcano, quietly sits behind the city.
Chimborazo is the closest point on earth to the sun (yes, it is closer than Everest) thanks to the way the earth bulges out at the equator. It'll take an overnight stay if you want to reach the summit, but you can easily get to the 2nd refuge at 5,100m in a day, either on foot or on a bicycle tour.
Other things to see in Riobamba are Plaza Maldonado and the façade of the city's cathedral – picked up and moved kilometres after an earthquake destroyed the original building.
See one of only two volcanic craters where vegetation is cultivated
Witness more than 2,000 species of flora and fauna in this geobotanical reserve
Just 17km from Quito – making it a very easy day trip
This stunning crater is unusual for a few reasons. The first is that it's one of the only two cultivated volcanic craters in the region – where the 120 inhabitants grow crops. Secondly, it technically never rains in Pululahua. That's because there's a fog that shrouds the crater every day at around noon, also providing the water to cultivate the crops here.
It was registered in the 60s as a geobotanical reserve and is home to a myriad of animals and plants. In fact, this is a popular day trip for tourists and botanists alike!
Pululahua Volcano Crater is close enough to Quito and the Mitad del Mundo to incorporate either a city tour of a visit to 'Mitad del Mundo' in the same day.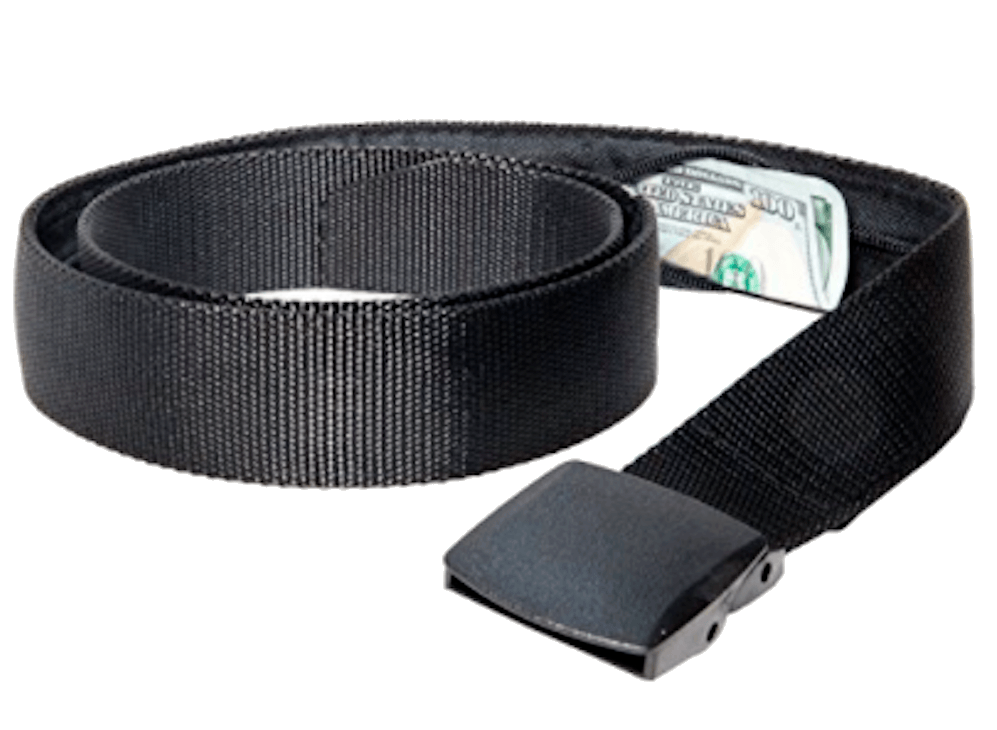 If you are traveling you should ALWAYS have emergency cash hidden on you! Security belts are great because they are affordable and can fit a ton of stuff in them (great for peace of mind!). Check out our favorite travel belt!
#13 – Cayambe Volcano
Visit the only mountain in the world that has a peak crossed by the equator
Admire the perfectly white permanent snow cap
Trek around the foothills of Ecuador's third highest peak
The Cayambe Volcano isn't as well-known as Chimborazo and Cotopaxi, but these are the only two mountains that can claim to dwarfing this ancient volcano which last erupted in the 18th century. Now, it has a permanent snow cap year round which will provide you with some stunning photographs!
Experienced trekkers can really get their teeth (or more likely their boots) into the technical tracks that scale the mountain. However, if you're a beginner or a novice it's probably better if you stay on the easier tracks in the foothills – as it can get more dangerous the higher up you are! Lower down, you'll still be able to enjoy spectacular and picturesque views.
Meander through the white colonial buildings of the historic centre
Try the famous helado de paila (a sherbet style ice cream)
Do a trek in the lakes and mountains that surround this small and friendly city
Just over two hours north of Quito (and close to Otavalo and Cuicocha if you want to incorporate one or both of the others into a day trip), you'll find the small, pretty, and friendly city of Ibarra.
In the city centre, you'll find a number of small parks, white colonial buildings, and you can't miss trying the local delicacy – a sherbety ice cream called helado de paila, made with local tropical fruits like naranjilla, blackberry, and tree tomato.
If you're looking for a bit of excitement on your day trip, why not try a paragliding experience which will give you an unparalleled bird's eye view of the city and surrounding landscapes?!
#15 – Puerto Quito
Cool getaway for retirees
Soak up the coastal community atmosphere at an inland town
Head to the rainforest to see waterfalls and enjoy the increasing presence of eco-tourism here
Take advantage of the warm weather, which is more like the coast than the Sierra region where its located
Puerto Quito is a great way to experience what life would be like in an Ecuadorian coastal town without actually going to the coast itself. The weather is warmer and less unpredictable than in the Sierra (highlands), with an average temperature of 25 degrees Celsius throughout the year. It's a three and a half hour journey from Quito, and the perfect place to while away an afternoon reading a book or sipping on a coffee and people watching.
The growing eco-tourism scene here means that you can head into the surrounding rainforest or visit the Cascada Azul (blue waterfall).
Conclusion to the Best Day Trips from Quito
Ecuador's capital city offers a plethora of things to do for all types of tourists. Cobbled streets opening up into open squares lined by museums and churches are just one of the highlights! In general, 3 or 4 days in Quito is more than enough to see the main sights and adjust to the altitude, so if your trip is a little longer than that you'll be able to sample some of these Ecuadorian delights! I hope this article has been helpful and has made you see that there's so much to do an easy trip away from Quito.
***Disclaimer*** Some of the links in this post are affiliate links. This means that if you book your accommodation through the site, One Weird Globe will earn a small commission at no extra cost to you. Your support helps me keep the site going :)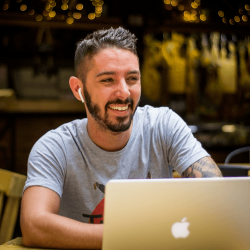 Latest posts by Aaron Radcliffe
(see all)