The Philippines has become one of the most popular destinations to backpack in Asia, and particularly for couples, with incredible beaches, bustling cities, paradise islands, and amazing cultural hotspots perfect for a romantic getaway. One of the best city's to explore these epic places and activities is Cebu, with it being the gateway to so many beautiful spots. The city itself also has a good selection of sites to explore including Magellan's Cross, Minor Basilica of the Holy Child of Cebu, Fort San Pedro, and Tops Lookout.
Whether you're just staying for a couple of days or for a more extended period of time you're going to want to find yourself an epic place to stay. That's why in this article we have found 3 super cool hostels in Cebu all of which offer private rooms for couples.
Sound interesting to you? Have a scroll below to find out more…
Quick Answers – The Coolest Hostels in Cebu for Couples
#1 The Overall Best Hostel in Cebu for Couples – Mad Monkey Cebu City
#2 The Best Party Hostel in Cebu for Couples – Nacho Hostel Cebu
#3 The Best Cheap Hostel in Cebu for Couples – Hostel Seven Cebu
The Overall Best Hostel in Cebu for Couples
Cost – $$
Location – 79 Echavez St, Cebu City, 6000 Cebu, Philippines
Reviews → Check on Hostelworld
Why we like Mad Monkey Cebu City…
The epic chain of Mad Monkey has hostels all over South East Asia and is known for having fantastic facilities along with a great social atmosphere and its Cebu branch certainly doesn't disappoint. On-site you will be amazed by the facilities the hostel provides including a beautiful rooftop pool, spacious sun deck area, and a super tasty Filipino fusion restaurant that serves up a storm of delicious food options and refreshing drinks.
Mad Monkey Cebu City is also in a great location to explore Cebu City during both the day and nighttime with plenty of top sites within walking distance to the hostel along with it being just a few minutes away from some of the best bars and clubs in the city.
Mad Monkey Cebu City is perfect for…
Those couples who want the ultimate combination of privacy when they want it but also a bustling atmosphere when they're ready to go out and socialize. Mad Monkey Cebu City provides an excellent selection of private rooms many of which are super backpacker budget friendly but also provide beautifully deluxe facilities. Along with this it also has an amazing selection of common areas to mingle with other backpackers including cozy common rooms and an on-site bar and nightclub which hosts some of the best live DJs in the city.
The Best Party Hostel in Cebu for Couples
Why we like Nacho Hostel Cebu…
We love the location of Nacho Hostel Cebu with not only it having an epic array of restaurants, cafes, and bars nearby the property, but its prime location also gives guests easy access to different destinations on the island. This is due to it having great bus connections from just outside the hostel which takes you to some of Cebu's most sought-after travel destinations including the likes of Moalboal, Malapascua, and Siquijor.
The hostel also has amazingly deluxe facilities including beautifully designed rooms and funky common areas and describes itself as a comfortable place where you can relax, unwind, and mingle.
Nacho Hostel Cebu is perfect for…
Those couples looking to party in Cebu City with the hostel having an epic location nearby plenty of local bars and restaurants along with being just a short distance to some of the city's top nightclubs. On-site you will also find several activities and amenities to get the drinks flowing. This includes its entertainment lounge where you can expect karaoke and card games along with the on-site resto-bar where you can join a number of drinking games that are accompanied by an awesome selection of backpacker budget-friendly drinks.
The hostel also has a lovely late checkout at 12 pm meaning you don't have to worry too much about staying out too late as you can guarantee yourself a pretty good lie-in!
The Best Cheap Hostel in Cebu for Couples
Cost – $$
Location – 101 Ramon, Eduardo Aboitiz St, Cebu City, 6000 Cebu, Philippines
Reviews → Check on Hostelworld
Why we like Hostel Seven Cebu…
The location of Hostel Seven Cebu is incredible with it being located right at the very heart of Cebu and is surrounded by some of the top restaurants, cafes, and bars along with useful supermarkets and convenience stores on the doorstep of the property.
We also love the design of Hostel Seven Cebu with it being situated in a 1940's classic Filipino home that has been revamped and is now equipped with custom designed bunk beds with a mixture of vintage and up-cycled materials creating a vibrant and unique atmosphere.
Hostel Seven Cebu is perfect for…
This one is for our budget-conscious couple readers looking for some of the cheapest room prices in the city but don't want to compromise on clean and comfortable facilities along with a friendly atmosphere. The hostel prices are arguably unbeatable with guests being able to find room prices for less than $5 sometimes! It also has a fantastic on-site bar with an epic selection of drinks including a variety of rum fusions. You can also expect to find DJs playing regularly at Hostel Seven Cebu bar which we've heard is an amazing experience.
Conclusion to the Best Hostels in Cebu for Couples
Cebu is a fantastic gateway destination to so many incredible places in the Philippines and it is very hard to backpack around the country without having to stop for at least a night there. That's why it is super important to find a nice hostel to stay in and if you're a couple you'll probably want to make sure it has a decent selection of private rooms. We really hope this guide has helped you navigate your way around the hostel scene in the city and given you an insight into some of the best places to stay for couples without breaking the bank in a lavish hotel. If you do end up booking any of the hostels we've listed in this article please do let us know, as it's always great to hear when people use our recommendations.
So what are you waiting for? The Philippines is a truly stunning destination awaiting your arrival. Get booking!
***Disclaimer*** Some of the links in this post are affiliate links. This means that if you book your accommodation through the site, One Weird Globe will earn a small commission at no extra cost to you. Your support helps me keep the site going :)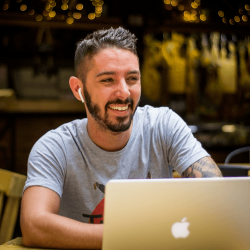 Latest posts by Aaron Radcliffe
(see all)