Home to incredible coastal blue waters, beautiful lakeside towns, vast and luscious vineyards, spectacular architectural sites, and some of the tastiest food in the world, Italy is one of the most sought-after destinations to visit in Europe.
There is no doubt that Italy can be expensive, making hostels the ultimate place to save you some cash to spend your money on what really matters — exploring the incredible sites the country has to offer.
That's why we have created this ultimate guide to the best hostels in Italy, where we have hand-picked 7 of our favorite hostels across the country.
Quick Answers – The Coolest Hostels in Italy
#1 Best Overall Hostel in Italy – Generator Venice
#2 Best Party Hostel in Italy – YellowSquare Rome
#3 Best Luxury Hostel in Italy – Combo Venezia
#4 Best Budget Hostel in Italy – Dreaming Rome Hostel
#5 Best Hostel in for Couples in Italy – Babila Hostel & Bistrot
#6 Best Hostel in for Solo Travellers in Italy – Ostello Tasso Florence
#7 Best Hostel with Pool Access in Italy – PLUS Florence
Best Overall Hostel in Italy
Why we like Generator Venice…
Generator Venice is an incredibly social hostel located just outside of Venice on the beautiful island of Giudecca. The hostel is home to spectacular views overlooking the harbor along with awesome common areas. The hostel incorporates a unique style in its decor with a mash of contemporary and traditional Venice in a veritable cocktail of chic.
Generator Venice is perfect for…
Those who want to be close enough to explore the bustling streets of Venice during the day but also want a relaxed place to wind down slightly out of the main area with the hostel being located just a short distance outside of Venice. The hostel is also perfect for solo travelers with one of the highlights of the hostel being its fancy common area which is equipped with a bar and pool tables, making it a great place to meet people.
Heading to Venice? Save some money with our guide to the coolest hostels in Venice!
Best Party Hostel in Italy
Why we like YellowSqaure Hostel…
YellowSquare Hostel has a vibrant, youthful atmosphere along with modern and luxurious facilities at budget-friendly prices. It is also home to the friendliest of staff who are more than happy to help you navigate through the ancient capital, find the best-hidden treasures, along with where to go for an epic night out.
YellowSquare Rome is perfect for…
Those who want the party of a lifetime in Rome with a lively atmosphere and an epic on-site bar below the hostel. The bar has a range of incredible daily activities, including drinking games, live music acts, along with budget-friendly backpacker drink deals. It is also located near the famous Termini station meaning guests having easy access to the city's top bars and clubs along with incredible sites.
Italy is amazing! And the best hostels in Rome will blow you away!
Best Luxury Hostel in Italy
Why we like Combo Venezia…
Combo Venezia has the perfect balance of a social hostel atmosphere along with a luxurious and elegant feel making it perfect for those who want a traditional yet flash-packer experience. The hostel also has an incredible selection of on-site facilities including a beautiful balcony overlooking the river, a tasty restaurant, and bar area along with a courtyard that is equipped with magnificent orange trees.
Combo Venezia is perfect for…
Those who want a luxurious and traditional visit to the incredible city of Venice with it being located in the beautiful Cannaregio district, which has an elegant and authentic charm with the maze-like streets of Venice just beyond the walls. The hostel also has a lavish interior with beautifully designed rooms along with an elegant courtyard and terrace area.
Have some time? Get out of the city with these epic day trips from Venice!
Best Budget Hostel in Italy
Why we like Dreaming Rome Hostel…
This hostel is home to epic backdrop views which can be seen from its incredible terrace, along with an awesome social atmosphere. On-site, guests can enjoy a tasty family dinner, vibrant common areas perfect for having a beer or a few with other backpackers, along with a hearty free breakfast. It has 3 main draws: a central location, tasty food, and great drink deals, making it an awesome place to stay for those budget backpackers.
Dreaming Rome Hostel is perfect for…
Those who are traveling Rome on a budget, but also want to be within a small distance to its top sites, with the hostel being located just a short distance from both the Colosseum and Termini Station, whilst also having some of the cheapest dorm prices in the city.
Looking for the Party? We've got you covered with our guide to the best party hostels in Rome!
Best Hostel in Italy for Couples
Why we like Babila Hostel & Bistrot…
Babila Hostel & Bistrot has an incredibly central location in the swanky city of Milan just a few minutes away from a plethora of the best tourist hotspots, including the famous San Babila Square. The hostel has a stylish Milan design mixing old and new, traditional and fashionable, to bring past and present closer, keeping the original characteristics of the building with a modern touch.
Babila Hostel & Bistrot is perfect for…
Those looking for the ultimate hostel for a romantic weekend away whilst still wanting cheap prices and a vibrant, social atmosphere. Babila Hostel & Bistrot has an awesome selection of private rooms for couples, along with sociable dorm rooms. It is also perfect for those looking for a high-end hostel experience, but don't want to fork out incredibly high prices for a hotel with an elegant and luxurious design that resembles a chic art gallery.
Haven't Booked for Milan? Read up on our favorite hostels in Milan (for any budget)!
Best Hostel in Italy for Solo Travellers
Why we like Backpackers Florence Central…
It says it in the name, Backpackers Florence Central Hostel is located in the heart of Florence — meaning you're perfectly placed to head to the city's top sites including Uffizi Gallery, Ponte Vecchio, and Piazza Della Signoria. Its central location in Piazza Santa Croce means you're just steps away from awesome bars, cafés, and restaurants along with being close to connection links to explore the Tuscan countryside.
Backpackers Florence Central is perfect for…
Those guests looking for a more lively experience in Florence with it having a great social atmosphere along with being situated in a lively area. The hostel is dubbed the perfect place to make friends with the hostel having a welcoming team of staff, great common areas, along with a variety of events.
Have your dates picked? Read up on hostels in Florence before you book!
Best Hostel in Italy with Pool Access
Why we like PLUS Florence…
PLUS Florence is a stunning hostel situated in the center of Florence which boasts a luxurious and unique charm with a beautifully elegant yet modern interior. On-site the hostel offers a vibrant restaurant and bar area and is also just a short walk away from the Santa Maria Novella train station, meaning you will have plenty of other options at your doorstep.
PLUS Florence is perfect for…
Those who want the fun, social atmosphere of a hostel along with backpacker-friendly prices, but also want luxurious and modern amenities. Talking of fabulous amenities the hostel is home to an incredible spa center which includes an indoor and outdoor pool, along with a sauna and a Turkish bath which is the perfect place to wind down after a day of exploring Florence. It's also the only hostel with pool access in the city.
Editor's Note: You can have a great time in Florence staying at one of the top party hostels!
Naples is alive! And you'll find these party hostels have some of the best events around!
Conclusion to the Best Hostels in Italy
Italy is definitely one of the most popular places to travel in Europe and we can understand why, what with all its stunning wineries, incredible islands, spectacular ancient ruins, and fascinating art galleries and museums! It is also home to some of the most mouth-watering food and drinks in the world with the delicious pasta and pizza on tap across the entire country.
This article incorporates a variety of hostels from multiple different cities including Rome, Milan, and Florence. But if you are searching for an unforgettable hostel experience then we would definitely recommend you head to Venice and stay in Generator Hotel — our pick for the best hostel in Italy!
So get ready for the trip of a lifetime – Italy is waiting for you and it certainly won't disappoint!
***Disclaimer*** Some of the links in this post are affiliate links. This means that if you book your accommodation through the site, One Weird Globe will earn a small commission at no extra cost to you. Your support helps me keep the site going :)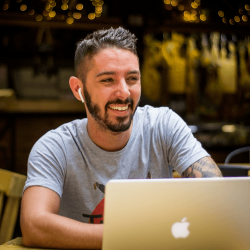 Latest posts by Aaron Radcliffe
(see all)