Denmark is a country that manages to blend Scandinavian history with modern design. Once home to relentless Vikings and ancient fortresses, Denmark has since transformed to become a trendy country rich with friendly locals, contemporary museums, and gourmet gastronomy, all while remaining true to its prehistoric roots.
When planning your itinerary for Denmark, you might not know exactly which places to visit. With over 406 islands and 45 major cities, Denmark is overflowing with sites and attractions. Don't worry, because we are here to tell you about all the must-see places you'll need to visit when traveling to Denmark!
Whether you're interested in exploring the ruins and monuments left by prehistoric societies, or wandering through the dusty sand dunes in the wilderness, Denmark has something for you! You won't want to miss out on anything this fascinating country has to offer.
Staying Safe in Denmark
Denmark is easily regarded as one of the safest countries in the entire world. Danish citizens have an incredibly high level of education, health care, equality, and overall standard of living. It also has the lowest rate of corruption out of any country in the world!
Despite being a prosperous nation, petty theft can still occur in the city. Make sure to keep an eye on your belongings in order to avoid pickpocketer or scammers.
But while Denmark is very safe as a whole, no matter where you travel you absolutely NEED to have travel insurance.
Travel insurance is the best way to keep you and your belongings safe and secure while you are traveling abroad. We have personally tested TONS of travel insurance companies, and can say without a doubt that World Nomads is the absolute best (and most affordable!). Fill out the form below to get a quote :)
#1 – Fyn Island
One of the most romantic places to see in Denmark
Denmark's 3rd largest island

Home to over 120 castles
One look at Fyn Island and you'll see how this town magical town inspired the fairytale author, Hans Christian Andersen! Although most visitors spend time in the picturesque city center in Odense, the real appeal of Fyn Island is the lush green gardens!
Nicknamed the Garden Island, Fyn Island is scattered with magnificent villas and castles with some of the most grandiose gardens in all of Denmark. You'll feel as if you've stepped right into one of Hans Christian Andersen's stories!
Egeskov Castle is a spectacular 16th-century Renaissance castle, located in the middle of a small lake! Of course, the castle is surrounding by beautiful gardens including a fuchsia garden, water garden, herb garden, and vegetable garden.
Hans Christian Andersen's' House was Andersen's birthplace that was transformed into a museum in the early 1900s. You'll find all kinds of artifacts documenting his life and journey to becoming one of the world's most famous writers.
Ærøskøbing is an old fishing village located on Fyn Island where many of the buildings and houses have been meticulously preserved from the 17th century.
#2 – Latin Quarter, Aarhus
A very cool place to go in Denmark for a day!
Quirky shops and restaurants

Lively nightlife
Located in eastern the metropolitan city of Aarhus, the Latin Quarter is one of the biggest cultural hot spots in all of Denmark. Known for its trendy cafes, modern art museums, and buzzing nightlife, the Latin Quarter attracts a variety of students and visitors looking something a bit more alternative.
Although it's situated in the middle of the oldest part of Aarhus, the Latin Quarter is a popular destination for all things bohemian and artistic!
Juuls Gård may just look like a normal paint shop from the outside, but it's actually one of the oldest buildings in all of Aarhus. This charming, bright red house has architecture from four different time periods.
Drinking coffee at one of the multitudes of cafes in the Latin Quarter is a must! Not only are the cafes decorated in funky wall art and furnishings, but the coffee is some of the best in Aarhus!
Mejlgade is the main street that bisects through the Latin Quarter. Home to some of the oldest and most historical buildings in all of Aarhus, Mejlgade has become a popular spot for independent boutiques and quirky bars.
Our Favorite Places to Stay in Latin Quarter, Aarhus
#3 – Mols Bjerge National Park
Hiking and cycling trails

Several breathtaking viewpoints
From rolling hills to canopied forests, Mols Bjerge National Park has some of the most diverse landscapes in all of Denmark. Measuring 180 square kilometers in size, this national park has everything from ancient castles to rugged cycling and hiking trials, guaranteed to excite any outdoor enthusiast!
The park is centered around the Hills of Mols, where you can submit to the top for some of the best panoramic views around!
Kalø Castle can be found on the eastern side of the park. Built in 1313, Kalø Castle was commissioned by King Erik Menved as a way to break the spirits of rebellious residents by forcing them into labor.
Femmøller is a quaint village in the park where you can relax with a warm cup of coffee or tea after hiking. Although there were originally several windmills around the town, they have since been destroyed. However, you can still see the millponds where they once stood.
Jernhatten is a small area located on the eastern side of the park that has stunning panoramic views from the edge of the cliffs! From the top of the 50-meter cliff, you'll see the crashing waves of the Kattegat sea.
Our Favorite Places to Stay in Mols Bjerge National Park
The Best Travel Backpack EVER MADE!?!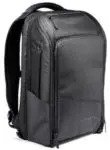 We are obsessed with backpacks – we've tried them all! And our favourite carry on backpack in the WORLD is the Nomatic Travel Backpack. This backpack has revolutionized the backpack industry and will change the way you travel forever :) Check it out here!
#4 – Råbjerg Mile
Experience Denmark's migrating dunes

Government protected lands
Although Denmark may be known for its grassy fields and babbling rivers, you might be surprised to find out it also has sandy dunes! Covering almost 200 hectares, Råbjerg Mile is Denmark's only coastal dune.
What's more surprising is that the dune is constantly migrating and moves an average of 18-meters per year thanks to the strong winds! Rarely visited by tourists, Råbjerg Mile remains one of Denmark's hidden gems!
The Church of Saint Lawrence of Rome is a 14th-century church that was once completely buried underneath the sand! Although visitors can see the tower peaking above the dune, the main floor and altar are still rumored to be covered underground.
Hike to the summit of the highest dune for a dramatic view of the sandy, rolling waves beneath you. The tallest hill stands 40-meters high, and can be quite difficult to climb if the winds are strong that day!
Råbjerg Mile Campground is a luxurious campsite for those wanting to explore the dunes over a few days. After hiking to the summit, visitors can relax at the campground's spa and sauna!
Our Favorite Places to Stay in Råbjerg Mile
Price anxiety? We get it too, so we made an article for the best budget hostels in Copenhagen!
#5 – Møns Klint
One of the most amazing places in Denmark
Dozens of tracks and trails to explore

Prehistoric landscape over 70-million years old!
Considered one of Denmark's most spectacular landmarks, Møns Klint is home to steep white cliffs made completely out of chalk! Dating back an astonishing 70-million years, the cliffs cascade 120-meters down into the cobalt blue Baltic Sea.
However, the cliffs aren't the only things to see in Møns Klint! There are several extremely rare species of plants and flowers due to the unique composition of the chalky soil.
GeoCenter Møns Klint is a museum dedicated to exploring the prehistoric landscape of Denmark. The architecture of the museum itself is also a sight to see and has won multiple awards for its unique underground design.
Freuchen's Point offers a dramatic lookout over all the cliffs. To reach Freuchen's Point, you'll first need to walk the 267-meter long boardwalk which is a thrilling experience on its own!
Sail through the waters while admiring the steep cliffs above you. GeoCenter Møns Klint offers daily guided tours aboard the cutter Discovery where visitors can experience Møns Klint from a different vantage point.
Our Favorite Places to Stay in Møns Klint
#6 – Fur Island
Steep rocks and cliffs

Home to lots of ancient fossils
If you're looking to explore more of Denmark's geological landscapes, head to Fur Island! This off-the-beaten-path destination may be small, but it is well known for its diverse rock formations and prehistoric fossils.
Layered with thick clay and dark volcanic ash, the island has an endless number of trails and sites to explore. Although it's only a speedy 3-minute ferry ride to reach Fur Island from Branden, the landscapes are unlike anything you've ever seen!
Lille Knudshoved is a steep cliff located on the western side of Fur Island. If you're feeling adventurous, climb to the top of the red, rocky cliff for dramatic views of the entire island and ocean!
Stendal Graven is a deep pit filled with red molar, a rare clay material only found in northern Denmark. Many prehistoric fossils have been discovered in Stendal Graven, and it's a great place to explore on bike.
Fur Bryghus is a preserved 1920s brick building that has been converted into a craft brewery! After spending the day exploring the island, pop by Fur Bryghus for an ice cold beer to drink while you watch the sunset off the coastal shores.
#7 – Indre By, Copenhagen
Cool place to see in Denmark with friends!
Tourist center in Copenhagen

Gardens, museums, and castles
Smack in the middle of Copenhagen stands Indre By, the historic epicenter of Denmark's capital. Lined with cobblestone streets and bustling plazas, Indre By has plenty of museums, restaurants, and hotels where visitors can spend their time.
Most of Copenhagen's most popular attractions can be found centered around Indre By, making it a wonderful neighborhood for first-time visitors and the perfect jumping off point for exploring the rest of the city. Also, if you are staying in Copenhagen, you should check out our post about the best hostels in Copenhagen.
Amalienborg is the current home to the Danish Royalty. Comprised of four separate palaces, Amalienborg is the perfect place to learn more about Denmark's royal family and historical monarchy. Come before lunchtime to see the impressive changing of the guard ceremony!
Torvehallerne is the largest food market in Copenhagen and sells everything from fresh produce to grilled meats. Even if you're not looking to stock up on groceries, you'll want to eat at one of the delicious food stalls here.
The Copenhagen Botanical Garden is a sprawling 10-hectare garden with several magnificent glass conservatories. It contains over 13,000 different types of plants and flowers and is free to visit.
Our Favorite Places to Stay in Indre By, Copenhagen
#8 – Nørrebro, Copenhagen
Alternative neighborhood

International cuisine and shops
To experience a unique side to Copenhagen, venture over the Queen Louise bridge to Nørrebro, a neighborhood famous for its an international presence. You'll find one-off boutique shops, gourmet grocery stores, and quirky coffee shops that cater to a young but completely diverse crowd.
Foodies will also love the cuisine in Nørrebro which ranges from cheap street eats to Michelin-starred restaurants. If you are making the trip there, you should definitely check out our article about the best day trips from Copenhagen.
Jægersborggade may have been a seedy, dangerous area decades ago, but this small street in Nørrebro has transformed to have some the hippest and trendiest bars in all of Copenhagen!
Assistens Kirkegård is a cemetery home to the final resting places of many famous Danes, including none other than Hans Christian Andersen. Covered in green shrubs and vibrant flowers,

Assistens Kirkegård

is also a beautiful place to take an afternoon walk.

Superkilen is a gorgeous park that showcases Nørrebro's prominent international influence on Copenhagen. For example, you'll see Moroccan fountains, Chinese signs, and Baghdadian swings throughout the park.
Our Favorite Places to Stay in Nørrebro, Copenhagen
#9 – Frederiksborg Palace
A great place to see in Denmark if you love architecture!
Beautifully preserved castle and gardens

Still used by Danish Royal family
The Frederiksborg Palace is more than just a baroque castle from the 1800s, it's a grand complex filled overflowing with Danish architecture and culture! Located in Hillerød, the palace is now a breathtaking attraction with beautifully landscaped gardens, museums, and plenty of historic buildings to explore.
With so many sites to see, you could easily spend a day or two here at Frederiksborg Palace!
The Museum of National History is located on-site of the Frederiksborg Palace. Showcasing paintings, sculptures, and portraits dating back to the middle ages, the museum is a must-see when visiting the palace complex.
The Chapel is a grandiose piece of architecture covered in ornate murals, golden arches, and stucco pillars. The oldest organ in Denmark can also be found in the chapel and adorned with silver, ivory, and ebony.
The Northwest Garden is a breathtaking, landscaped garden filled with glistening fountains, crystal lakes, and colorful blooming flowers.
Our Favorite Places to Stay in Frederiksborg Palace
The BEST Hotel in Frederiksborg Palace → Petit
Not sure what to do in Copenhagen? We break it down in this guide to Copenhagen!
#10 – Nykøbing, Falster
Quiet, harborfront village

Medieval heritage and roots
A short two-hour drive takes you from the bustling city of Copenhagen to the charming town of Nykøbing. Located on Falster Island, Nykøbing has many sites and landmarks worth visiting if you're looking for a weekend getaway!
Although it's a small village, Nykøbing has become a buzzing commercial area, with plenty of shops and restaurants buzzing into the late hours of the night.
Nykøbing Falster Marina is the perfect place to watch the sunset or admire the yachts and fishing boats passing by on the water. You'll also find several restaurants and cafes nearby if you want to have a nice glass of wine!
Hairdresser Museum is a unique collection of artifacts and instruments that have been used in hair styling salons throughout history! You'll also see recreations of actual salons from different decades.
The Abbey Church is a gothic 15th-century church built to commemorate the 300th anniversary of Francis of Assisi's visit to the village. The Mecklenburg Ancestral Table hangs in the altar of the church and is a pristine illustration of Queen Sophie of Denmark's ancestors.
Our Favorite Places to Stay in Nykøbing, Falster

If you are traveling you should ALWAYS have emergency cash hidden on you! Security belts are great because they are affordable and can fit a ton of stuff in them (great for peace of mind!). Check out our favorite travel belt!
#11 – Jammerbugten
A beautiful and scenic place to check out in Denmark
Nicknamed "Misery Bay"

Plenty of outdoor and family activities
For a relaxing holiday that the whole family will enjoy, head to the coastal town of Jammerbugten. Commonly known as the Bay Denmark, Jammerbugten has everything from sandy beaches to grassy hilltops to thrilling amusement parks!
If you're looking to see the rural, countryside of Denmark, then spend a laid-back weekend exploring everything this fishing village has to offer!
Cycling is one of the most popular outdoor activities in Jammerbugten. With dozens of trails and routes ranging from 5 to 40-kilometers, you and your family can easily spend the whole day exploring the village on a bike!
Fårup Sommerland is an exciting amusement park that is also home to the largest waterpark in all of Denmark! Adventure through the white water rapids or twirl through rollercoaster loops for an unforgettable day in Jammerbugten.
Lyngmøllen is a beautiful windmill completely covered in a thick brush of heather! It's a perfect stop for taking a few photos or strolling through the grasslands.
Our Favorite Places to Stay in Jammerbugten
#12 – Dragør
An awesome place to visit in Denmark for half a day!
A short walk or bike ride from Copenhagen

Quaint village for strolling and sightseeing
Although Denmark has dozens of picturesque fishing villages to visit, Dragør has to be one of the most popular. The narrow streets and thatched-roof cottages give Dragør an intimate and welcoming feel to those who walk through it.
Most of the buildings have been preserved for hundreds of years, and are built in a traditional Danish style. The town comes alive during summer, with visitors flocking to Dragør to take part in one of the outdoor festivals, concerts, or events.
Dragør Museet is a museum showcasing artifacts and antiques found throughout the town. You'll even have a chance to board the Elisabeth K571, a sailing ship that was used for transporting civilians during World War II.
Dragør Church may be small, but it's had a historical impact on the city of Dragør. This brick Lutheran church dates back to the 15th-century and was an important landmark for herring fisherman that stopped by the town to sell their fish.
Jan Timanns Plads is a small plaza centered in the middle of Dragør lined with typical 18th-century buildings. You can also explore the home of Jens Eyberts, a famous skipper who resided in Dragør during the 1700s.
Our Favorite Places to Stay in Dragør
#13 – Lolland
The highest elevation is only 25-meters

Summer retreat island for locals and tourists
The island of Lolland may not have steep cliffs, hills, or mountains, but this well-known flat island still manages to draw in visitors looking to learn more about Denmark's history. Nicknamed the "pancake island" Lolland has plenty of outdoor activities on both land and on water! If you're coming during the fall or winter months, you'll have several indoor museums and exhibits to visit as well.
Fuglsang Manor is a glitzy villa that was built in the 19th-century by wealthy agricultural mogels on the island. It's not currently a contemporary art museum and also a venue for festivals and other traveling exhibits.
Middelaldercentret is a museum that depicts a fully built Danish town from the 15th century! You'll feel as if you've stepped back in time when watching costumed employees wander around the reconstructed houses, town markets, and shops.
Marielyst Beach is an award-winning beach located on Lolland. Families will love spending the warm summer afternoons playing in the soft white sand and calm flowing waters on Marielyst Beach.
Our Favorite Places to Stay in Lolland
If you are visiting Copenhagen you HAVE to check out our article about Copenhagen's coolest neighborhoods to stay
#14 – Bornholm
Shop locally handmade crafts

Relax on sandy beaches
For a little slice of island life in Denmark, head to the island of Bornholm. Although the sunny summer weather attracts tourists from all over the world, Bornholm's mild winter also makes it a desirable destination during the colder months.
Bornholm is also famous for its arts and crafts scene, with many shops selling local ceramics and textiles that make for perfect souvenirs!
Hammershus Castle stands tall at over 75-meters high over the tip of Bornholm. Besides wandering the castle grounds, you can also climb the Mantel Tower or run along the 750-meter stone wall that circles the castle.
Østerlars is just one of Bornholm's four famous "round churches". The circular nave of the church and the bright, white plastered walls were quite common in Scandinavian during the 11th century.
Dueodde is a large stretch of white, sandy beach on the southern part of Bornholm. It's one of the islands hot spots and is often filled with sunbathers and sand castle builders during the summer.
Our Favorite Places to Stay in Bornholm
#15 – Ribe
One of the most underrated places to see in Denmark
Denmark's oldest town

Museums, parks, and outdoor activities
No trip to Denmark would be complete without visiting the oldest town in the whole country! Considered one of Europe's best small towns, Ribe is a picture perfect village with beautifully preserved churches, buildings, and homes from the 9th century.
Although historic buffs will love exploring the Ribe's vast heritage, other visitors will enjoy the national parks, museums, and cultural attractions. This is truly one of Denmark's authentic and charming gems!
Ribe Domkirke is the main cathedral that looms over the city center in Ribe. Although it's considered the oldest cathedral in all of Denmark, it was remodeled several times and includes frescoes and paintings from the 16th and 17th centuries.
Wadden Sea National Park is a UNESCO World Heritage Site with sand dunes, mudflats, and tidal pools. It remains an untouched slice of paradise in the middle of this ancient town!
The Ribe Viking Center is alive history museum that shows visitors how Vikings lived over 1300 years ago. This interactive experience lets people of all ages train as Viking warriors, work in a traditional blacksmith shop, or even encounter the King!
Our Favorite Places to Stay in Ribe
#16 – Aalborg
Denmark's 4th largest city

A mix of historic and modern buildings
Although it may not be as tourist focused as Copenhagen, Aalborg is still a marvelous city if you're looking for authentic Denmark! The city center originates from the Middle Ages, but its diverse landscapes of deep fjords and turquoise lakes and will make you want to get outside and explore the outskirts.
Because Aalborg has some of the top Universities in Denmark, you'll also find students and international locals flooding the cafes and streets at all hours of the day.
Aalborghus Castle was constructed in the mid-1500s by King Christian III with the purpose of becoming a fortress to ward off enemies. Although you are not allowed inside the actual castle, you can still see the eerie dungeon underneath!
Aalborg Tårnet has some of the most dramatic views over the entire city! This steel disc was built on top of the highest hill in Aalborg, so you'll have a 360-degree view from over 100-meters in the air!
Aalborg Harbor is a promenade that runs parallel to the ocean and is brimming with cafes, restaurants, and shops. Although it's a popular spot during the day, the harbor becomes a lively nightlife area for locals when the sun goes down.
Our Favorite Places to Stay in Aalborg
#17 – Tivoli Gardens
Easily one of the most fun places to check out in Denmark!
The oldest theme park in the world

Rides, performances, and events for all ages
Tivoli Gardens is not just an amusement park; it's an iconic landmark! Most people recognize Tivoli Gardens from dozens of movies and TV shows that took place within the park and it's made a strong impact on Danish and international cultures.
While there are over 25 different roller coasters and rides for the thrill seekers, Tivoli Gardens also has plenty of other attractions including theaters, pavilions, gardens, and events. There are even fireworks and light shows that illuminate the skies of Tivoli Garden at night. Bring your friends, your kids, or your inner child and have a blast at Tivoli Gardens!
Bjergbanen is the park's famous wooden roller coaster, and one of the oldest roller coasters in the world. If you're looking for something more thrilling, try the Demon roller coaster!
Tivolis Koncertsal is a classical music theater located in the park. Not only is it home to the Tivoli Symphony Orchestra, but it also serves as a venue for traveling musicians and concerts.
Pantomimeteatret is another theater know for its amazing Chinese-style architecture! The mechanical curtain unfolds like the feather of a peacock to show ballet and modern dancers that perform daily shows.
Our Favorite Places to Stay in Tivoli Gardens
#18 – The South Funen Archipelago
Shallow waters perfect for watersports

Island hop by ferry
Dotted with 55 individual islands, the South Funen Archipelago has plenty of land and water activities to enjoy. Many visitors choose to kayak or yacht the Baltic Sea to views the islands as a group.
However, making small pit stops to explore different cozy village is another great way to get a taste for Denmark. Each island offers something different, from harbor front restaurants to dusty biking trails!
Ærø is a picturesque island that looks as if it has been torn from the pages of a fairytale! Originally a maritime fishing village, the island is now one of the most popular islands for vacationers.
Diving in Denmark may have the same warm waters like that in the Caribbean, but it's still possible in the South Funen Archipelago! Divers will be able to swim around the sunken M/F Ærøsund ship which sank in 2014.
The South Funen Archipelago Trail loops 220-kilometers around the archipelago. Take one of the seven different routes and explore the small villages and landscapes while taking in the astonishing view of the islands!
#19 – Grenen
One of the more unique places to visit in Denmark!
Over 2 million annual visitors

Shallow, active reefs
Situated on mainland Denmark's most northern tip is Grenen, a sandy beach that jets straight into the ocean. It's actually the location where the Skagerrak and Kattegat seas meet! Although the waves are too strong and violet for swimming, visitors can still enjoy the wide stretch of beach. The view from the northern tip is astounding, and attracts millions of visitors each year!
Sandormen is the iconic red and blue bus that shuttles visitors around the beach during the warm summer months. It's a landmark of Grenen and has been making trips for over 60 years.
Skagen Bunkermuseum is an old war bunker from World War II that was used for treated wounded German soldiers. Besides exploring the preserved bunker, visitors can also find uniforms, weapons, and other artifacts from the war.
Holger Drachmann's Grave is the final resting place of the famous Danish poet. His urn and grave are nestled in the sand dunes on the northern sides of Grenen.
Our Favorite Places to Stay in Grenen
#20 – Skagen
The artistic epicenter of northern Denmark

Relaxing, coastal beaches
Located in the far north of Jutland is Skagen, a seaside village popular for Scandinavian herring! Besides fishing, Skagen is also known for producing all sorts of handicrafts and has a thriving artistic community.
Because of its proximity to the north, Skagen is one of the sunniest places in the whole country and attracts tourists that come for the endless hours of sunshine during the summer. It's also a bustling cultural hot spot, with a variety of museums and art galleries.
The Skagen Museum is dedicated to all the famous artists that made their way through Skagen. Home to over 1800 paintings, sculptures, and installations, Skagen Museum is a fascinating overview of works from the 19th and 20th century.
Skagen Sønderstrand is just one of the many beaches in Skagen. Many of Skagen's artists came to the Sønderstrand for inspiration, so its most painted settings in Denmark.
Bolcheriet is for all sweet tooths out there! This candy factory produces over 32 different types of taffy, caramels, and hard candies. Take the guided tour or just come to sample all the sweets they have to offer.
Our Favorite Places to Stay in Skagen
#21 – Lindholm Høje
A fascinating educational place to see in Denmark
Burial site between 400-1000 AD

Over 700 stone graves
Lindholm Høje is an ancient Viking burial ground that is perched on top of a hill overlooking Aalborg. Excavation of the site was started in the mid-1950s, where almost 90% of the 700 graves were uncovered.
Most of the urns date back to the Germanic Iron Age as well as the Viking Age and were preserved thanks to the sand drift that covered Lindholm Høje 1,000 years ago. Many of the graves have been marked by a carved ship. The larger the ship, the more important the Viking was to his community!
Lindholm Høje Museum is worth visiting when coming to the gravesite. It provides an educational understanding through videos and illustrations about the lives of the Vikings. You'll also see relics and artifacts that were also uncovered during excavation.
Lindholm Høje Village has also located nearby the burial sites. Believed to be called "Vendel", the village moved to different locations on the hill in order to avoid the sand drift. The village is marked with paved stones that outline the different shapes of the buildings.
Our Favorite Places to Stay in Lindholm Høje
From strolling the narrow alleys of the fishing villages to photographing the coastal shores of sandy beaches, we're sure that your Danish itinerary is going to be packed with tons of exciting activities. Whether you're into history, gastronomy, or art, Denmark is a country that will keep you coming back for years to come!
***Disclaimer*** Some of the links in this post are affiliate links. This means that if you book your accommodation through the site, One Weird Globe will earn a small commission at no extra cost to you. Your support helps me keep the site going :)
Latest posts by Clair Ricketts
(see all)