Gold Coast is one of Australia's most popular holiday destinations, and it's easy to see why. The coastline boasts 35 miles of gorgeous golden beaches lining the vast Pacific ocean and enjoys stunning sunshine all year round! The central city skyline is set dramatically right where the Pacific Ocean meets the golden sand.
The Gold Coast originally gained traction as a vacation retreat in the mid 19th century, and it's grown increasingly popular since.
The crown holiday destination of the Gold Coast is Surfers Paradise; a shimmering seaside resort and all-round entertainment hub, packed with action and attractions. But venture inland and the Gold Coast shows off a different kind of magic with the dense rainforests of the hinterland!
Embarking on a tour is one of the best ways to explore all that the Gold Coast has to offer, and fortunately, there are plenty of tours to choose from!
• The 21 Best Tours in Gold Coast •
$$$$
2 hours
Speed along a breathtaking stretch of Australian coastline
Drive your own jet ski and enjoy an unparalleled sense of freedom
There's nothing quite as liberating as rocketing across gorgeous sub-tropical waters on a jet ski. After some training, this tour allows you to pilot your own jet ski along the stunning shores of Stradbroke Island!
You'll wind your way past crisp beaches, idyllic islands, and entangled mangroves, and spot some stunning marine life along the way! You'll be fully immersed in the raw Australian wildlife, exploring in one of the most exciting ways possible.
$$
2 hours
Your experienced instructor is committed to getting you standing during the lesson
Get kitted out with a wetsuit or rash shirt, and a soft beginner board
Try your hand at one of Australia's favorite sports, amongst the wonder of Surfer's Paradise Beach. Gold Coast is world-renowned for its surf spots, and Surfers Paradise Beach, as the name suggests, is one its best!
Set beneath the towering city skyline, Surfers Paradise Beach is a beautiful spot to learn how to surf! You'll be kitted out with the necessary gear, and given a safety briefing before hopping into the ocean.
$$
5 hours
A guided tour through the Springbrook hinterland rainforests
Visit several waterfalls and stop for tea and scones
Venture into the enchanting Springbrook area of the Gondwana Rainforests for a half-day adventure that you'll never forget. After a short drive from your hotel in Gold Coast, you'll embark on a fully-guided walk through the rainforest.
You'll visit five separate waterfalls over the course of the tour, as your experienced guide peppers the experience with fascinating facts and information! Enjoy unparalleled views and learn about the area's rich natural wildlife.
Still haven't booked for Gold Coast? Find out where to stay in Gold Coast for any type of trip!
$
1 hour
Experience the Gold Coast in a unique amphibious vehicle, on road, and on water
Kids will have the chance to steer the Aquaduck and receive a free certificate
See the best of Gold Coast in a completely unique way by hopping on board the 'Aquaduck'. This rather ridiculous looking vehicle is fully amphibious, meaning it can travel on both land and water!
Enjoy a sightseeing tour of the Gold Coast and Surfers Paradise before plunging into the water for some river explorations. You'll get some great views of the city's beautiful waterways as well as the glamorous mansions of millionaires row!
$$$
Full-day
An incredible day filled with amazing island activities
A picnic lunch is included, and you'll have time to relax on the stunning beaches
Experience the sub-tropical nirvana of Moreton Island on a full-day, action-packed adventure from Gold Coast! After an early start, you'll embark on the journey to Moreton Island, which includes a scenic cruise across Moreton Bay.
Once you arrive at the island, head out for a snorkeling tour or kick back on the breathtaking Tangalooma beach. Next, enjoy a guided tour of the island's marine life and shipwrecks. You'll also 4×4 through the dunes, go sand tobogganing, and paddle a transparent kayak!
The sights in Melbourne are amazing – check out the coolest tours in Melbourne!
$$$
8 hours
Experience the flavors of Mt Tamborine through a series of wine tastings and pairings
Water, snacks, and lunch are all included in the price
Set off on a comfortable journey from your accommodation in Gold Coast through stunning scenery to Mt Tamborine.
This tour takes you to four of the best wineries in the area! Each winery will take you through a private guided tasting of up to 10 varieties of local wine. You'll also stop by at a distillery, enjoy a 2-course lunch, and have the option to visit a brewery or cheese factory!
$
1 ½ hours
Enjoy complimentary tea, coffee, and snacks while admiring beautiful waterway scenery
Treat yourself to a drink from the onboard bar
Hop on a purpose-built sightseeing cruise boat in the heart of Surfers Paradise, From there, you'll embark on a tranquil morning cruise through the picturesque waterways of the Gold Coast.
Enjoy the impressive natural and urban scenery, with waterside mansions and million-dollar yachts lining the canals. You'll also see some beautiful wildlife, and enjoy informative stories and commentary along the way.
Head up to the sundeck and bask in the sub-tropical sun, making the most of the complimentary tea, coffee, and snacks.
Brisbane has some INCREDIBLE sights! Take one of the top tours in Brisbane to really discover this city!
$$
4 hours
A scenic adventure into the stunning Queensland National Park
Enjoy complimentary morning tea, and have a go at throwing a boomerang
Queensland National Park is the oldest national park in the country, and home to some of Australia's most spectacular natural scenery! A comfortable and scenic 4×4 ride will initiate the adventure, passing through an incredibly wildlife-rich area. Keep an eye peeled for indigenous Australian animals; exotic birds and treetop koalas are common sightings!
Check out the Tamborine Mountain Gallery Walk before setting out on a guided hike through the lush rain forest. Stop off at an idyllic waterfall, and enjoy this subtropical paradise.
$$
3 ½ hours
A guaranteed-sighting whale watching cruise, with professional guides
Includes a free cruise on the Gold Coast waterways
Experience the wonder of magnificent humpback whales up close and personal on a half-day cruise from Gold Coast. This tour guarantees humpback whale sightings (or a free return cruise) and boasts the best viewing decks of any similar tour in the area!
Depart from Surfers Paradise and enjoy an idyllic cruise, before coming face to face with the playful whales. These gentle giants are spectacular to observe, especially when paired with professional commentary. This tour also includes a complimentary Gold Coast canal and waterway cruise!
Cairns has a strong tour game – check out the best tours in Cairns (for all budgets!) here!
$$
2 hours
A great way to see the city and its best beaches
A day pass to the SkyPoint observation deck is included
Escape the tourist crowds as you explore some of the quieter and less developed beaches of the stunning Gold Coast. This mini-bus tour takes you along the coast, stopping by at some of the area's best lookout points. Enjoy stunning views of the ocean, skyline, and natural landscape!
Make a stop at the Spit and explore the deserted beachfront of Phillip Park, before heading back to the city for a trip up to the SkyPoint observation deck.
$$$
8 ½ hours
A wonderful adventure through some of the country's most exotic natural scenery
Enjoy a complimentary lunch with spectacular views and try the awe-inspiring tree top walk
If you're a nature lover, an outdoorsman, or simply want to escape the bustle of the city, a day tour of Lamington National Park should be high on your list of priorities.
This World Heritage area is home to enchanting plant and animal life, set in some spectacular landscapes! Absorb the area's unparalleled natural beauty, while being shepherded by a former Queensland wildlife ranger. Hike through dense rainforest, past waterfalls, and amongst exotic fauna and flora while your guide shares a wealth of knowledge!
$
Full-day access
Cuddle a koala, hand-feed kangaroos, and experience interactive keeper shows
Learn about Australia's wonderful wildlife from experts
Located just a ½ hour drive from Surfers Paradise, the Currumbin Wildlife Sanctuaries is a haven for indigenous animals. Australia is famous for its rich and unique animal life, and the sanctuary affords you the opportunity to experience them up close and personal!
With over 1,400 native animals calling the sanctuary home, there's plenty to see and explore. Amongst many others, you'll encounter emus, kangaroos, koalas, wombats, Tasmanian devils, and dingoes!
See the hidden gems of Sydney! With the best tours and sights in Sydney.
$$$
1 hour
An adrenaline-pumping jet boat ride
A great mix of scenery and action-packed adventure
Set out on the scenic Gold Coast Broadwater for an epic jet boat adventure! For 55 minutes you'll rocket along in an incredibly fast speedboat (reaching up to 50mph!).
Experience high-speed drifting, 360-degree spins, and some other heart-stopping maneuvers along the way! Enjoy the scenic natural beauty of the estuary, jet around Sovereign Island, and spot some spectacular marine life.
$$
2 hours
A spectacular show about the outback
Enjoy a delicious 3-course meal
Take a journey to the vast Australian Outback and back in time as you plunge into this immersive show. Featuring astounding acrobatics, talented animal stars, great comedy, and immersive technology, this show will take your breath away!
It's set in an arena that transforms throughout the show, and you'll get to enjoy a delicious 3-course meal while you watch.
Editor's Note: If you'll be in Hobart, check out the top things to do in Hobart during your visit!
$$
3 hours
The largest guided zipline tour in Australia
A stunning canyon setting, surrounded by dense rainforest
An adrenaline-fueled mix of nature and adventure, this zipline tour sees you soaring through a canyon, with the lush rainforest beneath your feet.
Following a 4×4 expedition up Mount Tamborine, you'll be inducted and briefed by your experienced guides. The next 2 ½ hours will be packed with action and gorgeous scenery!
Several enormous zip lines are strung through the Cedar Creek Canyon, up to 200 feet above the rainforest below! Reach speeds of up to 45mph and enjoy unparalleled views.
$$$
Full-day
With a keen focus on conservation, the zoo was made famous by Steve Irwin
Home to a vast range of animals from Australia and around the world
Travel north on a scenic drive through Queensland's scenic countryside before arriving at the renowned Australia Zoo. The zoo, made famous by Steve Erwin and his family, is home to an extensive range of animals from all corners of the globe.
See cuddly favorites like koalas and kangaroos, as well as some less cuddly creatures, like crocodiles and snakes! You'll be able to handle some of the animals, and enjoy spectacular live shows such as Tiger Temple and Wildlife Warrior. The zoo also makes for a great Brisbane day tour.
Melbourne is incredible! There are tons of things to do there!
$ – $$$ (depending on group size)
90 minutes
Enjoy a guided tour of the famous Surfers Paradise
Learn about its history and explore its paranormal activity
The glamourous resort known as Surfers Paradise has some hidden secrets and a paranormal past! On this tour, you'll delve into the area's history, uncovering the darkness beneath the facade and learning about the spirits that live there.
Slip down secret alleyways and hidden streets as you explore the area and its past. You'll also have the chance to make contact with the paranormal side using dowsing rods, KII meters, and black mirrors!
Going to Airlie Beach? This guide on fun stuff to do in Airlie Beach hits all the highlights!
$$
2 ½ hours
An immersive and powerful experience in a historical setting
Learn about aboriginal culture and history
This unique live entertainment experience takes you on a journey through time with powerful storytelling. It's an immersive theatrical experience that casts light on aboriginal creation myths and 'Dreamtime'.
You'll be shuttled to Beenleigh Historical Village, where the magic will take place across a variety of stage sets! The story explores an extended timeline of aboriginal history, from creation to the 1800s. Drinks will be available, and a post-show meal is included as you mingle with the talented cast!
$
Full-day access
Enjoy unparalleled 360-degree views of the Gold Coast beaches and city
Treat yourself to drinks and a meal with a view from the SkypPoint bar
Located on the 77th floor of the Q1 building is the SkyPoint Observation Deck, offering up the most spectacular views of the Gold Coast.
SkyPoint is the only oceanside observation deck in Australia, and it looks out over one of the most celebrated coastlines in the world! See the golden beaches meander off into the distance, and the impressive Gold Coast skyline by their side.
A stroll to the opposite side of SkyPoint reveals stunning views of the lush hinterlands to the west.
Heading to Australia? Save some money with our guide to the coolest hostels in Australia!
$$
Full-day access
Enjoy full access to Australia's largest theme park
Over 50 rides and attractions
Dreamworld is Australia's biggest theme park, with a vast array of rides and attractions to keep the whole family entertained! From child-friendly fun-rides to adrenaline-pumping thrills, you won't be bored for a moment at Dreamworld.
Kids will be particularly enthralled, with immersive attractions letting their imaginations run wild! You'll also have full access to WhiteWater world, where the whole family can enjoy big splashes and slip-slide fun.
Australia is amazing! And the best hostels in Perth will blow you away!
#21 – Paradise Country: Aussie Farm Experience and Lunch
One of the Most Unique Gold Coast Trips
$
Full-day Access
Enjoy a classic Aussie farm experience
A delicious BBQ lunch is included
Paradise Country offers a traditional Australian farm experience. A variety of activities and experiences are available; you can learn how to throw a boomerang, watch a sheep shearer in action, try your hand at a stockman's whip, and milk a cow!
Watch the rounding up of sheep at the Sheep Dog Show, and witness experienced horsemen showing their riding skills. You'll even have the opportunity to hang out with koalas and kangaroos!
FAQs about Gold Coast Tourism
We're sure you have some questions you want answered before you book a tour in Gold Coast, so we've done our best to provide some answers.
How do I book a Gold Coast tour?
The best way to book a tour in Gold Coast is to make use of an online tour provider. There are several platforms that offer this service, but we recommend using GetYourGuide.
The site is really easy to use and offers an impressive range of experiences and tours in the Gold Coast and surrounding areas.
What should I pack for a tour in Gold Coast?
The Gold Coast is famous for its glorious weather, so for a trip outside of the winter months (June – August), we recommend light clothing and plenty of sunscreens! You'll also want to wear comfortable walking shoes, as most of the tours involve at least a bit of walking.
How much do tours in Gold Coast typically cost?
The cost of a tour in Gold Coast can vary considerably depending on the length and type of experience. The average cost of our recommended tours is around $70 USD, with the most expensive at around $170 USD pp, and the cheapest just $17 USD.
How long do tours in Gold Coast last?
Our recommended tours range from 1 hour in length, to full-day tours from Gold Coast. In general, tours in and around the city last just a few hours, while excursions to islands and the countryside can last the entire day.
Closing Thoughts on Gold Coast Tours
The Gold Coast is a shimmering holiday destination, boasting dramatically varied and beautiful landscapes as well as some of the country's best attractions and activities!
The neverending stretches of golden sand, warm Pacific ocean, dense rainforests, and idyllic islets make for one of the most well-rounded holiday spots on Earth.
Many of the experiences recommended in this Gold Coast guide can also be enjoyed as day tours from Brisbane! So they're also great if you're touring Brisbane and want to expand your geographical range.
We hope this guide to the best Gold Coast tours helps you find the tour that's perfect for you. Whether you're looking for a romantic getaway, a family retreat, or anything in between, we're confident that you'll have an amazing time!
***Disclaimer*** Some of the links in this post are affiliate links. This means that if you book your accommodation through the site, One Weird Globe will earn a small commission at no extra cost to you. Your support helps me keep the site going :)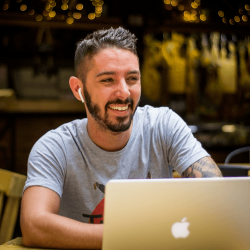 Latest posts by Aaron Radcliffe
(see all)