The Generator chain of hostels pretty much comes with the guarantee that you will be staying in a super cool place… and this Barcelona branch ain't any different. There's seriously a lot going for this awesomely cool hostel. Like, what hostel do you know that has a penthouse suite?!
With its amazing location in a hip area of the Catalan capital, literally SO many places to chill out and socialise, a super nice cafe area, and even an incredible rooftop bar with unreal views of the city, there's not much to NOT like about this place.
Sound good? Well, it's going to sound even better once we properly get into our review of Generator Hostel Barcelona. So let's do it!
You want to stay somewhere with a bar and a good social atmosphere
You're into the idea of a convenient travel shop
You're all about a hip location
There are some amazing USPs of this top Barcelona hostel. One of these is having a view of the famous Sagrada Familia. Another is having an amazing location in the hip Gracia district of Barcelona. And on top of that: Generator is a trusted chain of hostels. No wonder it's as popular as it is!
Yeah, there's availability – there's quite a few beds at this cool Barcelona hostel, but you will definitely book in advance. Summer in Barcelona is MENTAL and things get booked quickly – this one included.
They offer free cancellations, so even if you're not 100% sure honestly you should just secure that bed! Even if your planned trip is a year away, book a bed for your date so you don't get disappointed. Did we mention this place is popular? Because it really, really is! People love it.
Before your trip, find out about Barcelona's best hostels!
Here's the deal…
While there are a TON of hostel booking platforms out there… most of the rooms are overpriced. Also, most hostel websites are poorly designed and don't feel like the most secure place to put your credit card information. 
That's why we ALWAYS recommend booking through HostelWorld. 
Booking through HostelWorld is simple, secure, and all it requires is a 10% deposit.
But hurry! GENERATOR HOSTEL BARCELONA is a super popular hostel and rooms book up fast! Click the button below to check see the best prices!
The Best Travel Backpack EVER MADE!?!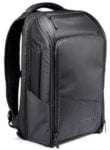 We are obsessed with backpacks – we've tried them all! And our favourite carry on backpack in the WORLD is the Nomatic Travel Backpack. This backpack has revolutionized the backpack industry and will change the way you travel forever :) Check it out here!
Being one of the best hostels in Barcelona, this branch of Generator comes highly reviewed. It's got a 7.9 rating on Hostelworld, which may not sound like the best, but the reviews speak for themselves.
Get a load of this…
"I loved everything about this hostel! The vibe, the location, the rooms, my fellow travellers, the rooftop, the staff. I'll be back!"
"Though quite big, this hostel is a great base to explore Barcelona from. With a rooftop view of the Sagrada Familia and the city, multiple public transport options close by and being located in the Gracia neighbourhood, there is no shortage of interesting things to do and see close-by or further afield."
And that's how they go. Like we said, people REALLY rate this place. They love the design (we know we do), they love the super friendly staff, they love the fact that the rooftop bar has those amazing views that everyone raves about. It's pretty much got everything.
The location is definitely something that people keep coming back to – hipsters will LOVE this area!
Don't stop the party! Read up on Barcelona's best party hostels too!
Generator Hostel Barcelona has a fair few choices when it comes to rooms. The dorms are in a separate area to the private rooms which gives the private rooms a hotel vibe – pretty fancy, we say! And all dorms come with en suite bathrooms and linen included!
So what's on offer?
Nicely decorated 6-bed mixed dorm
Bright, white-washed 8-bed mixed dorm
Deluxe female only 6-bed dorm
Private 4-bunk room for you and your buddies
Single or twin room
A very lovely premium room (sleeps 1-2)
A boutique quality deluxe room (double bed)
An immense and super swanky Penthouse
Average cost of dorm bed: 

Between €18 and €27 depending on the size of dorm

Average cost of private room: Between €53 and €118 depending on room type
Not bad. Especially for such a cool Barcelona backpackers hostel as Barcelona. It's still pretty affordable we'd say, but it's definitely not shoestring level prices.
Want something cheaper? This does exist.
Pretty much next door to Generator Hostel Barcelona is BCNSportHostels. It's possible to get a dorm bed for €10 here, which is super affordable. But then again, it's not quite as nice as Generator and doesn't have the same glowing reviews.
If you've got more money to spend, and you're looking for a bit more comfort, then go for Yeah Hostel Barcelona. Custom-wooden bunk beds, boutique level private rooms and a rooftop pool are the name of the game here. But it WILL cost you. Around €27 for a dorm and €90 minimum for a private!
Villa's in Barcelona are next level… Check out our insider guide to the 11 best villas in Barcelona!
What sort of amenities does Generator Hostel Barcelona offer? (Our five favourite!)
#1 – Unreal rooftop bar
With a bar this awesome you almost won't need to ever, ever go out and hit the town. The rooftop bar at Generator Hostel Barcelona is the ONE feature that pretty much every single review mentions. People absolutely LOVE it – and we can see why.
The views from this place at night are pretty much unbeatable. It looks like somewhere a lot more high-end than it actually is, and basically lets everyone have a pretty much 5-star experience in a hostel. Isn't that cool?
After dark, not only can you see the buildings of Barcelona lit up like some sort of painting from your dreams, but you can also see the incredible Sagrada Familia from the rooftop bar. You can even see Mount Tibidabo!
The bar itself is actually called Fiesta Gràcia – and you WILL be having a fiesta here. This place has a great Happy Hour every day and is pretty much the place where everyone in the hostel congregates after dark, whether they plan on staying put for the whole night or using this awesome rooftop bar as a springboard into the nightlife of surrounding Gracia.
Literally one of THE best features about this top hostel.
Looking for a deal? Our recommended budget hostels in Barcelona won't break the bank!
#2 – Nightly events
So if having the rooftop bar itself wasn't enough, even though it's got a Happy Hour and amazing views, don't worry: there's a TON of events going on at this cool Barcelona hostel. And these happen on the daily!
Well, nightly. And having such a great selection of nightly events going on at a hostel is great way to get everyone together, meeting, mingling, chatting, and basically ensures that everyone is having an amazing time. It's a great shout for social solo travellers!
The staff who put on and run these events are nothing short of AMAZING. The guys who work here make sure everything runs smoothly and efficiently and do their best to make sure everyone's involved and having an awesome time. That's amazing.
What sort of stuff does Generator Hostel Barcelona have going on, then? We're talking pretty much everything from open mic nights, live music and karaoke, all the way to fashion shows.
Yes, that's right. Not everything at this boutique Barcelona hostel has to do with drinking! So if that's not your scene, never fear – there will no doubt be something going on for you to get involved with.
#3 – Very convenient travel shop
If you're on a European trip, gallivanting around Spain for a few months, in the middle of a jaunt around the world, or even if you feel like just getting in on a few day trips from Barcelona, then this feature of Generator Hostel Barcelona will definitely help you up. Yep, it's a travel shop.
They'll be able to help you out, selling travel tickets for planes, trains, buses, boats – whatever your deal is. Not only that, but they'll be able to advise you on the best route for you to take and also sort you out with tours of Barcelona and beyond that come HIGHLY recommended.
But it's not just about travelling around. Oh no. This is where you come to get yourself organised.
Got a postcard or a letter back home? They've got a postal service right here. Has your credit card been blocked and you need to make that annoying phone call to the bank to get it all ironed out? They've got a phone that you can make international calls on.
And if for some reason you need to send a fax, you can totally do that because they've got a fax machine. It's a one-stop-shop for everyone you need.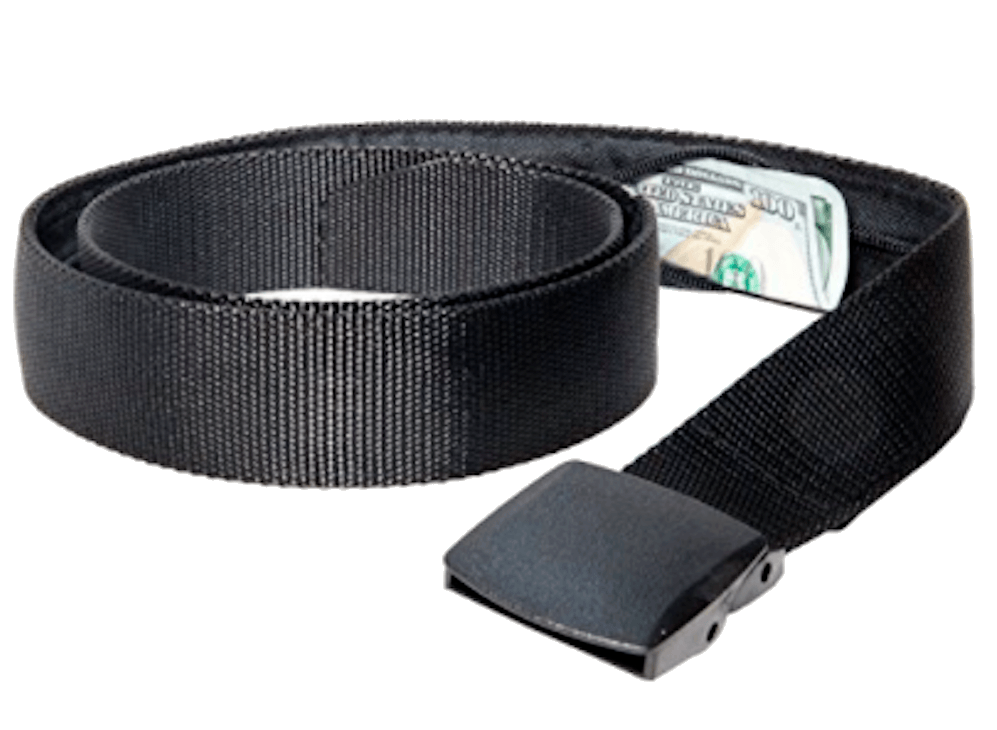 If you are traveling you should ALWAYS have emergency cash hidden on you! Security belts are great because they are affordable and can fit a ton of stuff in them (great for peace of mind!). Check out our favorite travel belt!
#4 – Lounge and chill-out areas
Every good hostel needs some space. Not just in the dorms or the lobby, but we mean SPACE. Real space. Communal spaces where everyone can find a spot to chill out or chat after a busy day of sightseeing.
And this Barcelona branch of Generator has A LOT of space for everybody.
There's various chill-out areas spread throughout this awesome hostel. Think funky seats, little tables, and generally very cool design that Generator is known for; these make for nice little spots to send an email or just kick back with a book for a while.
For something more communal and social there's a big communal lounge for everybody to use. Use it to muster before heading out for the day with some new hostel mates, unwind after pavement-pounding all day, or have a drunken debrief after a night out. It's a super chill space.
Next up: the games room. This place has everything from bean bags, TVs, and tables and chairs, to a pool table and foosball. It's amazing. Then there's the funky-ass cafe which has these amazing geometric tiles and is strung with incredible lanterns.
And if all that wasn't enough, how about the interior courtyard? The perfect spot to soak up the sun or get a breath of fresh air.
Have an early flight? Book a hostel near Barcelona AIRPORT to have a stress-free morning!
#5 – Feel like royalty in the penthouse suite
Wow. How has a hostel even GOT a penthouse suite? We have absolutely no clue. But it does, our friends. And what a thing to treat yourself to if you've got the money.
This amazingly designed and super spacious room has basically everything you could ever want to make your stay in Barcelona go with a bang. It comes complete with a large balcony (they call it a "private terrace"), a HUGE bathroom, a full-length mirror (definitely needed), super comfy beds and even it's very own kitchen.
This takes self-catering facilities to the next level!
So if you're thinking of coming to Barcelona with three other mates, the beautiful penthouse suite could be a real selling point for you. It sleeps up to four people, so once you've split the cost with your travel buddies, it actually works out at a pretty reasonable price.
Basically, if what you want is the hostel (not the budget hotel) experience, but you still want a touch of hotel privacy and space, then opting this awesome penthouse suite is DEFINITELY a good option. It's super cool and we still can't even get over the fact that there even IS a penthouse suite here!
Generator Hostel Barcelona is amazing. These guys have basically thought of everything. Being a world-renowned chain of hostels definitely helps, but who cares if it's a chain or not: this place has everything you could need for an awesome stay in Barcelona.
It may have a 7.9 rating on Hostelworld… but we honestly don't know why! The reviews give it SO much praise, the location is awesome and have you SEEN the design going on here? This place is boutique to the max.
If you want to stay in a super cool hostel in Barcelona where you can get good food and drink in good company, and be right in one the city's coolest districts, you couldn't do better than Generator!
***Disclaimer*** Some of the links in this post are affiliate links. This means that if you book your accommodation through the site, One Weird Globe will earn a small commission at no extra cost to you. Your support helps me keep the site going :)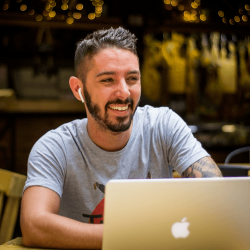 Latest posts by Aaron Radcliffe
(see all)