Monteverde is a lush paradise situated in the stunning Tilarán mountain range and is a nature lover's idyllic destination. The area is full of incredible things to do including trekking inside the misty cloud forest, zip-lining across high peaks, spotting extremely rare animals from hanging bridges, and indulging in some of the freshest produce the country has to offer.
Despite being known for its beautiful eco-lodges, Monteverde also has an amazing selection of hostels for those heading to the region on a budget, many of which you will find to be in the coolest spots.
To help you navigate your way through the area's hostel scene we've created this epic guide to the 5 coolest hostels in Monteverde where we've cherry-picked only the very best.
Quick Answers – The Coolest Hostels in Monteverde
#1 Best Overall Hostel in Monteverde – OutBox Inn
#2 Best Party Hostel in Monteverde – Selina Monteverde
#3 Best Budget Hostel in Monteverde – Sleepers Sleep Cheaper
#4 Best Luxury Hostel in Monteverde – Camino Verde Hostel and B&B
#5 Best Hostel in Monteverde for Solo Travelers – Monteverde Backpackers
Best Overall Hostel in Monteverde
Why we like Outbox Inn…
Our prize for the best overall hostel near Monteverde has to go to the outstanding Outbox Inn. Outbox Inn hostel has the complete package with an incredibly stylish interior equipped with amazing facilities including a unique indoor playground, a beautiful garden area, and a modern restaurant where the food looks like it should be in a magazine!
Outbox Inn is perfect for…
For those who want a sense of luxury but with the beaming social atmosphere of a party hostel with Outbox Inn offering a picture-perfect setting and deluxe bedrooms along with fantastic social areas to mingle and meet other backpackers. If you stay at Outbox Inn we have to recommend you head downstairs around sunset, crack over a beer and watch the stunning surrounding scenery.
Haven't Booked for Costa Rica? Read up on our favorite hostels in Costa Rica (for any budget)!
Best Party Hostel in Monteverde
Why we like Selina Monteverde…
The famous chain of Selina Hostel has dotted its presence across Costa Rica for the last few years and we have to say its Monteverde branch is one of its best with an incredible selection of things to do at the hostel. Whether you fancy cooling off in the refreshing outdoor swimming pool, having an ice-cold beer around the fireplace, challenging a fellow backpacker to a game of pool, or soaking in the hot tub- Selina Monteverde has it all.
Selina Monteverde is perfect for…
Party travelers who want a lavish place to stay with a bustling atmosphere along with stunningly modern facilities. Talking of partying Selina is home to an awesome on-site bar called the FUN bar which is dubbed one of the best places to party in Monteverde. Here you can find happy hour deals, delicious cocktails, and tasty local beers.
Best Budget Hostel in Monteverde
Why we like Sleepers Sleep Cheaper…
We love the family-style atmosphere at Sleepers with the staff along with owners going above and beyond to welcome guests and make sure they have a fantastic stay at the hostel. Sleepers Hostel also has a prime location just on the outskirts of the main center of town meaning you can easily wander to explore the nearby bars and restaurants without trekking too far.
Sleepers Sleep Cheaper is perfect for…
Sleepers hostel is the perfect destination for those travelers who are on a shoestring budget with the hostel offering some of the cheapest dorm rooms in the area. Along with clean and modern dorm rooms, the hostel is also equipped with lots of great facilities and a relaxing lounge area perfect for meeting other guests. You can also expect a free breakfast and we've heard it's incredibly tasty.
Best Luxury Hostel in Monteverde
Why we like Camino Verde Hostel and B&B…
Camino Verde Hostel has arguably one of the most epic views from an accommodation option in the city, with its spectacular terrace overlooking breathtaking acres of lush forest land. We've heard the views are evening more epic at sunset so make sure you get yourself up to the patio to watch the gorgeous sunlight ooze into the forest whilst sipping on a refreshing drink.
Camino Verde Hostel and B&B is perfect for…
For those looking for a high-end hostel in Monteverde with Camino Verde Hostel being home to some of the most luxurious facilities that you may feel as if you're no longer in a hostel and instead in a boutique hotel. The hostel is designed with gorgeous wooding furnishings with small, traditional touches for a special and unique experience. It is also great for those looking for a peaceful experience with the hostel being located slightly out of Santa Elena town away from the crowds but is also within walking distance if you fancy a more lively atmosphere.
Editor's Tip: Is Costa Rica Safe?
Best Hostel in Monteverde for Solo Travelers
Why we like Monteverde Backpackers…
Monteverde Backpacker's central location has to be one of its key draws with it being based in the heart of Santa Elena. Its awesome location means you are right amongst the hustle and bustle of the town's atmosphere nearby the liveliest restaurants and bars. It is also only a 5-minute walk from the bus station perfect for people arriving by bus or who are venturing out for an epic day trip.
Monteverde Backpackers is perfect for…
Those travelers who have come to Costa Rica to meet new people with the hostel having a super social ambiance with plenty of events put on by the hostel team to help facilitate meeting other guests including group trips out and drinks nights.
Conclusion to the Best Hostels in Monteverde, Costa Rica
So that's our guide surrounding the best hostels near the magical region of Monteverde. If you've heard anything about the region you will know it's pretty special and a destination you have to add to your bucket list. That's why it's great that the area is well equipped with amazing hostels meaning you can enjoy the area on a budget.
If you're still struggling to pinpoint one hostel for an epic experience in Monteverde then we'd have to recommend OutBox Inn its funky yet modern design along with awesome social facilities makes it a great place to base yourself!
So what are you waiting for? Get ready to zip-line through the incredible cloud forests of Monteverde by book your hostel today
***Disclaimer*** Some of the links in this post are affiliate links. This means that if you book your accommodation through the site, One Weird Globe will earn a small commission at no extra cost to you. Your support helps me keep the site going :)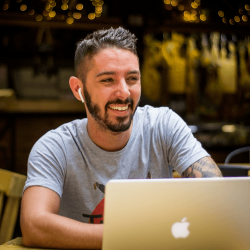 Latest posts by Aaron Radcliffe
(see all)