Bournemouth is the largest town in Dorset, located along the English Channel, south of England. Bournemouth is one of the best towns you can visit in the UK if you enjoy long, sandy beaches and lively nightlife. Bournemouth usually has visitors from around the country, especially during the warmer season, to enjoy all the activities available with family or friends.
This article is helpful for anyone who is interested in visiting Bournemouth. We share 21 different activities ranging from visiting beaches and other natural sites to places to eat at and child-friendly destinations.
• The 21 Best Things to Do in Bournemouth •
#1 – Bournemouth Beaches
You can't visit Bournemouth and not experience the relaxing feeling of picnicking on one of its many beaches facing the Atlantic ocean. The beaches stretch more than 10 miles from Hengistbury Head to the mouth of Poole Habour.
The most famous beach is the Bournemouth Pier, but if you want a wide beach with fewer crowds, then go to Alum Chine Beach, located in West Bournemouth. Remember that beaches are usually very crowded during summer because many Brits from neighboring cities and towns like to spend their summers there.
Also, when picking beaches, make sure they have the activities that you want; for example, if you're traveling with children, go to a beach with parks, and if you want to enjoy a picnic with a large crowd, pick a spacious beach.
#2 – Sandbank
Sandbank is a unique peninsula in southern Bournemouth built across Poole Harbor. This area is known as the riches circle because of the number of lavish mansions located by the ocean. This peninsula is open to tourists, and there are different activities you can do during your stay.
There are parks suitable for tourists traveling with kids and snack stalls by the beach for refreshments. You can also dine at one of the classy seafood restaurants on the peninsula and enjoy a ride on a yacht during the afternoon.
#3 – Westbourne
Westbourne is a small village you can visit for a unique shopping experience and to mingle with locals. You can buy souvenirs, vintage products, or unique garments from independent sellers instead of franchise stores.
Once you've shopped 'til you drop, you can head to the famous bars and restaurants in Westbourne to refresh and energize. It's a perfect hidden gem if you want to explore the more quiet and less crowded part of Bournemouth without going somewhere remote.
The Best Travel Backpack EVER MADE!?!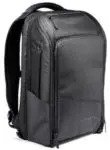 We are obsessed with backpacks – we've tried them all! And our favourite carry on backpack in the WORLD is the Nomatic Travel Backpack. This backpack has revolutionized the backpack industry and will change the way you travel forever :) Check it out here!
#4 – Enjoy a train ride
This is especially a fun activity if you are visiting with children. This train runs from Bournemouth Pier to Alum Chine in the west or from Bournemouth Pier to Boscombe Pier heading east.
You get a perfect view of the ocean coast, the beaches, and parts of the city without walking or driving yourself. The train ride lasts over 30 minutes, so bring water and some snacks in case you get dehydrated or hungry by the end of the trip.
#5 – PierZip at RockReef
If you are an adrenaline junkie, then this is the right activity for you. Fly across Bournemouth for a few minutes of pure thrill by getting on this zipline. You can book an individual ride or a dual ride. The dual ride has two parallel zip lines so that you can enjoy this thrilling experience with a loved one or a friend.
You can book a zipline trip online or in person, but remember that it might get very crowded during peak season, so it's advisable to check for availability online. A solo trip costs 20 pounds, and the dual trip costs 30-40 pounds, depending on the season.
#6 – Westover Gallery Bournemouth
Westover is a modern gallery that showcases artworks by national and international artists. This gallery showcases artworks of aspiring artists and renowned artists during their numerous exhibitions all year. Westover also has permanent artworks and sculptures of legendary local artists showcased publicly. If you're an art enthusiast, you can buy a painting from the gallery as a souvenir or a gift to a loved one.
#7 – Bournemouth Big Wheel
Ride the Bournemouth Big Wheel and get a view of the whole city from the air. The wheels stretch 33m above the ground giving you a beautiful panoramic view of the seacoast and the city of Bournemouth. It is suitable for children over the age of 12 and above, so if you're traveling with younger kids, it's suggested not to visit or leave them with another adult.
England is amazing! And the best hostels in London will blow you away!
#8 – Dinner at the BH2 Leisure
This is an excellent choice if you're looking for an all-inclusive entertainment center to visit with friends. This entertainment center is a recent addition to the many other activities you can do at Bournemouth.
It contains everything you would expect of a lavish mall, such as retail outlets, restaurants, fast food chains, boutiques, a cinema, and more. It is one of the largest malls in Bournemouth and is a must-visit, especially if you want to shop under one roof.
#9 – Adventure wonderland
This park is a must-visit if you're traveling with toddlers or children. They can enjoy dozens of games and arcades indoors and outdoors. There's an indoor soft play area and the Hippodrome Theatre, so your kids can play all day while you ride the games with them or play the adult-only games.
In addition, the park has multiple food courts and stands selling water and energizing drinks to refuel when touring the park.
Traveling as a couple? Check out our best hostels for couples in Brighton.
#10 – Oceanarium
Oceanarium is one of the largest aquariums open to the public in Bournemouth. This park contains hundreds, if not thousands, of sea and river creatures everywhere. They even recently introduced penguins to their diverse environment making it unique from the rest of the zoos in the country. It's an exciting trip for a sea and ocean enthusiast or if you want to take your children on an educational trip.
#11 – Bournemouth Parks
Bournemouth parks are known for their gardens, some dating back to Victorian times. The most famous gardens, the upper and lower gardens, are located in the center of Bournemouth. These gardens, especially the upper gardens, are the perfect place to visit if you want serene views without a large crowd. You can sit in these gardens and enjoy a drink, read a book, or walk around with a loved one.
The lower gardens stretch until the seafront, so you can enjoy the beach or the mini golf course once you're done walking around the garden. The gardens are filled with flowerbeds, lawns, and trees, with a small river running through them with space to lie down or walk around, giving you an out-of-the-city experience.
Check out our best hostels for couples in Manchester.
#12 – Bournemouth Aviation Museum
This museum is a dream for any aviation fanatic and for anyone that wants to learn more about Bournemouth's contribution to the British and European Aviation scene. The most exciting part of this trip is you can sit in a flight simulator to get an idea of how it feels to be in one of the old planes and fly them! If you want a unique activity or enjoy learning about aircraft, this is the place to be at Bournemouth.
#13 – Bournemouth International Centre
If you're going at a time when there will be a lot of festivals, this is perfect for a place to check out. They host a lot of famous plays and concerts all year long. There are plenty of activities except for watching performances in this cultural center, like enjoying a drink or a classy dinner and their bar and restaurant after a long day touring the town. The bar in the halls faces the ocean and beach, giving you a perfect view when enjoying your drink.
#14 – Bournemouth Natural Science Society
This museum, located in a Victorian building, is home to hundreds of fossils, footsteps, minerals, and an Egyptology collection that dates back thousands of years. This museum is a great place to visit if you're a science lover or if you want to teach your kids about the history of Earth. Entrance to this museum is free of charge, but you can donate to the museum voluntarily.
Looking to make friends in London? One of these cool party hostels might be for you!
#15 – O2 Academy Bournemouth
This venue is a must-visit for live music lovers. The O2 academy is one of the best venues for live music, theatre, shows, etc. This is a perfect place to go if you're traveling solo or with a group of adults. There are events hosted in the Academy all year long, but make sure you look for the availability of seats and dates of events if you have something specific in mind.

If you are traveling you should ALWAYS have emergency cash hidden on you! Security belts are great because they are affordable and can fit a ton of stuff in them (great for peace of mind!). Check out our favorite travel belt!
#16 – Centre VR in Bournemouth
The center VR is the largest virtual reality venue in Europe. Virtual reality is one of the most popular modern forms of entertainment in this generation, and this center delivers everything you could think of in a VR center. This venue will have you spinning in disbelief and excitement because of the number of VR activities they have.
You can experience anything out of reality, and the availability of many options means that you will definitely find something you enjoy doing. This is an excellent trip if you're traveling with children, teenagers, or even solo.
#17 – Frieda's Afternoon Tea Bus
This bus ride is great if you want a lazy day trip across the town to see the beaches and the city while sipping on tea and coffee and enjoying a delicious variety of snacks. You get to sit in a double-deck bus and enjoy seeing the town of Bournemouth and the breathtaking ocean and beaches.
This day trip usually lasts a few hours, and you usually get a tour guide to show you around the places and make multiple stops so you can take pictures or get some fresh air. Make sure you book your seats prior to going, especially during the summer or other peak seasons.
Looking for something different? Check out our guide to party hostels in Manchester!
#18 – Splashdown Waterpark
The Splashdown waterpark is one of the most visited parks in the UK, with over 180000 visitors every year. This park will leave you with unforgettable experiences, so prepare yourself for a day full of madness. There are games suitable for children of all ages (children under the age of seven don't pay for entrance) and adults.
The most popular games include the Screamer, which is a sheer vertical drop, Black Thunder, the Spacebowl, and the Mississippi Drifter. There is also a swimming pool dedicated to toddlers with a lifeguard. Make sure you wear comfortable clothes and carry some spare clothes with you, as you will be drenched in water by the end of the trip.
#19 – U-Escape
Have fun with your friends or family at one of the best escape rooms you can find across the UK. The U-Escape is a perfect activity if you're traveling with teenagers or as a group of young adults. You get to choose from three different escape rooms, and the ticket prices vary between 25 pounds to 108 pounds depending on how many people are playing. Make sure to book your tickets online to secure a spot, especially if you're visiting in large numbers.
Need to see more of England? These day trips from London will show you the coolest areas around.
#20 – Aruba Bar
Aruba bar is well known for its great service, classy interior, and view. Imagine sipping your cocktail or enjoying a gourmet dinner while being indoors and enjoying the beautiful ocean. It's a great spot for a romantic date or if you want to enjoy a few cocktails with friends before heading home or to the clubs nearby.
It's conveniently located in the center of the Bournemouth nightlife, so it remains lively till late hours. The bar turns into a club towards the late hours, so keep that in consideration if you want a more low-key setting.
#21 – 1812 club/bar
Don't leave Bournemouth without visiting 1812 for an unforgettable night out! 1812 is the most popular upscale club in Bournemouth and has one of the best selections of cocktails and spirits to choose from. The club is also known for its Asian restaurant serving authentic sushi, tapas, and more throughout the night.
This club is frequented by youngsters and has one of Bournemouth's most electric dance floors. It's a perfect final destination if you're a party animal who enjoys partying all night or even if you want to have a few drinks by the bar.
Conclusion
You won't run out of things to do in Bournemouth with this extensive guide. Bournemouth is a place worth visiting for people living in other parts of the UK or international tourists looking for breathtaking beaches and a calm town to relax for a holiday in England. To enjoy the trip more, especially during peak season, book your activities online to ensure places won't be packed when you arrive.
***Disclaimer*** Some of the links in this post are affiliate links. This means that if you book your accommodation through the site, One Weird Globe will earn a small commission at no extra cost to you. Your support helps me keep the site going :)
Latest posts by Clair Ricketts
(see all)