Located in the Veneto region of Northern Italy, Venice is a city that requires no introduction! Famed around the world for its canals, gorgeous architecture and unique culture, it is one of the most visited cities in Italy. Long considered a romantic destination for couples, Venice also has a lot more to offer to different kinds of visitors.
The heavy tourism has resulted in Venice being quite a densely populated city, so figuring out where to stay can be difficult. There are no roads in Venice – just canals – so it is important to make sure you are based in a good area.
That's why we have created this guide! We have figured out the seven best areas to stay in Venice and categorised them by who they are best for.
So let's get started!
Quick Tips – Where to Stay in Venice
Where to Stay in Venice
Looking for a specific place to stay? These are our highest recommendations for places to stay in Venice.
Best Budget Hotel in Venice
For budget-conscious travelers seeking clean and beautifully designed facilities in Venice, then this is a great option. The hotel offers boutique rooms, a serene private garden area and has a super convenient location.
Best Mid-range Hotel in Venice
Grifoni Boutique Hotel is a beautiful 4-star hotel with incredible amenities, making it our overall top pick for the best mid-range hotel in Venice. The hotel also boasts an exceptional Venice location, situated within a stone's throw of the Scuola Grande di San Rocco and the Venice Santa Lucia Train Station.
Best Luxury Hotel in Venice
Nestled on the canal, this extravagant five-star hotel offers guests a selection of boutique rooms equipped with antique furniture, Murano glass fixtures, and lavish amenities.
Venice 7 Best Neighborhoods to Stay in
Let's take a look, in more detail, at the five best neighbourhoods in Venice. Each caters to different interests, so be sure to pick the neighbourhood that's right for you.
Neighborhood #1 – San Marco
Best neighbourhood in Venice for your first time!
COOLEST thing to do in San Marco – hop on a gondola for the quintessential Venice experience – most of the best-rated depart from San Marco
BEST place to visit in San Marco – marvel at the gothic architecture of Doge's Palace, an important landmark in the city
San Marco is without a doubt the most visited region of Venice and is the best place for getting acquainted with the city! Many of the most famous sights and attractions are based in this area – from awe-inspiring cathedrals to quaint Italian coffee shops. The best-known gondola and water taxi companies also operate here.
During the summer, San Marco can get very busy with tourists. Luckily, it is well connected to many of the other areas of the city thanks to the extensive transport network! There are also some quiet, hidden squares waiting to be discovered. It is also much quieter during the off-season.
More Awesome Things to do and see in San Marco
Head to St Mark's Square where you can enjoy a typical Italian café with outdoor seating – we suggest Caffè Florian, a popular first stop for many visitors
If you're more interested in a cocktail, head to Harry's Bar close to the Grand Canal – it is where the Bellini was invented
Arguably the most recognisable landmark in the city and the namesake of the area, St Mark's Basilica has incredible architecture
Museo Correr displays some interesting fine art from throughout history and has a great archaeological museum attached
Take a tour of La Fenice, the city's famous Opera House – or book tickets to take in a typical Italian opera performance!
Best Budget Hotel in San Marco
Hotel Firenze is an elegant hotel that comes with beautifully furnished rooms that are decorated in the typical Venetian style! For an additional fee, guests can opt for rooms that come with balconies, giving you great views across San Marco. A complimentary breakfast is included and free WiFi is available throughout.
Best Mid-range Hotel in San Marco
Duodo Palace is a beautiful 4-star situated inside an elegant historic building and has a private canal entrance. It has a perfect location in a quiet area of Venice's city center, but is also close enough to the hustle and bustle of the city for those who want to experience a livelier atmosphere.
Best Luxury Hotel in San Marco
This five-star gem is located right on the canal, giving you the best location for mesmerising views of the city and getting around easily! Rooms are fitted with antique furniture, Murano glass fittings and luxury extras. The on-site restaurant uses only the freshest ingredients from the Rialto Market.
Like AMAZING hostels? Check out our guide to the coolest hostels in Venice – for any budget!
Neighborhood #2 – Mestre
Where to stay in Venice for travelling around the region!
COOLEST thing to do in Mestre – enjoy the excellent sports facilities in Parco San Giuliano including swimming pools and ice rinks
BEST place to visit in Mestre – head to Le Barche shopping centre to pick up the latest in designer brands
Though officially a separate city from Venice, Mestre acts as the city's main gateway to the mainland and it is likely you will pass through it at some point on your way! This makes it ideal if you are looking to explore the wider Veneto region, as well as take short trips into Venice itself.
Mestre is often overlooked by visitors to the region, however, has some great attractions of its own. The main square is much more understated than the Piazza's of Venice, giving you a more laid back experience in the cafés and restaurants! It is also a great place to pick up designer brands.
More Awesome Things to do and see in Mestre
Piazza Erminio Ferretto is the main square in the city and has some excellent cafés, restaurants and bars to mingle with locals
The watchtower on Piazza Erminio Ferretto is a worthwhile place to visit for panoramic views across Mestre and even towards Venice on a good day
Visiting with kids? Head to the mini train at Le Barche Shopping Centre where they can enjoy a short trip around the concourse
Check out local listings to discover which markets are on whilst there – the city has a good variety offering food, art and souvenirs
Pasticceria Serenissima is a popular patisserie right in the heart of the city, offering typical treats from the region
Best Budget Hotel in Mestre
Though a pretty basic hotel, this is also located close to the train station and is one of your best options if you want to visit the Venice area on a strict budget! A complimentary buffet breakfast with typical Italian food is provided every morning, and there is a bar open on-site throughout the day.
Travel can be expensive! But then again, Venice's cheap hostels will show you how little it can cost!
Best Mid-range Hotel in Mestre
This 4-star hotel has some stunning facilities on-site including a selection of traditional yet deluxe room options along with a charming garden perfect for soaking up the beaming Italian sun. The hotel also has a great location near the pedestrian area in the center of Mestre, meaning you will have plenty of restaurants and bars on your doorstep.
Best Luxury Hotel in Mestre
This is the best-rated luxury hotel in Mestre, with modern interiors and high-quality fittings! An American style buffet breakfast is provided every morning, and gluten-free options are available. High-speed WiFi can be accessed from rooms and communal areas, and free private parking is also available.
The Best Travel Backpack EVER MADE!?!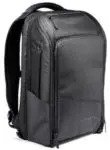 We are obsessed with backpacks – we've tried them all! And our favourite carry on backpack in the WORLD is the Nomatic Travel Backpack. This backpack has revolutionized the backpack industry and will change the way you travel forever :) Check it out here!
Neighborhood #3 – Dorsoduro
Where to stay in Venice for nightlife!
COOLEST thing to do in Dorsoduro – enjoy a night in Piccolo Mondo Disco, the only disco in the entire city!
BEST place to visit in Dorsoduro – browse the vast collection of artworks at Gallerie dell'Accademia
Dorsoduro is the artistic hub of Venice, featuring an eclectic mix of established art galleries as well as independent exhibitions from up and coming artists! It is also the best area for nightlife, offering a variety of bars and clubs to cater to all tastes. This trendy district pulls in a massive youth crowd of both tourists and locals
Campo Santa Margherita is the main thoroughfare in Dorsoduro offering a range of bars and cafes, as well as tourist facilities and relaxing spaces to sit down and people watch. Whether you want nightlife or culture, Dorsoduro is the place to be in Venice!
More Awesome Things to do and see in Dorsoduro
At night, Campo Santa Margherita transforms into a lively nightlife district with large clubs, local bars and late night restaurants
If you are interested in live music, Venice Jazz Club has nightly performances and reasonable drinks prices given the location
For a more budget-friendly night with the local student crowd, head to Café Noir and dance the night away!
The Peggy Guggenheim Collection offers the largest exhibitions of modern art in Venice right on the banks of the Grand Canal
If you're interested in churches, we suggest heading to the Church of the Carmini which also houses paintings by Italian artists
Best Budget Hotel in Dorsoduro
This is another peaceful option for those on a budget with great views over the Grand Canal! There is a private garden area for guests to enjoy, and transport can be easily accessed from right outside the property. A large buffet breakfast is served every morning which guests can take to their room if they wish.
Best Mid-range Hotel in Dorsoduro
Hotel Pausania is a traditional yet swanky hotel situated in the heart of the Dorsoduro neighborhood. One of the best aspects of the hotel is its veranda, which overlooks a beautiful garden area, here is the perfect place to start your day off with a morning coffee before a day of exploring Venice.
Best Luxury Hotel in Dorsoduro
This five-star hotel, overlooking the Grand Canal, is situated right next to the Basilica of Chiesa of Santa Maria, taking you right to the heart of Dorsoduro's historic attractions! A large buffet breakfast is served every morning offering both Italian and American foods. The modern interiors perfectly compliment the classical architecture.
Heading to Milan next? Check out the unbelievable hostels in Milan!
Neighborhood #4 – San Polo
Best neighbourhood in Venice for families!
COOLEST thing to do in San Polo – enjoy the interactive exhibits at the Museo Leonardo da Vinci, and learn about the life of the artist
BEST place to visit in San Polo – no trip to Venice is complete without visiting the world-famous Rialto Bridge
Though one of the most touristy areas of Venice (alongside San Marco), San Polo is also the oldest neighbourhood in the city providing plenty of excellent historic architecture and awe-inspiring attractions! What makes this great for families is the wide range of activities available in the area and the simple tourism infrastructure.
If you want some peace and quiet away from the bustling tourist areas, San Marco does still have some quieter streets with local cafes. There are small campi across the area, allowing you to unwind and enjoy the pleasant atmosphere of Venice. San Polo is another great area that appeals to many different types of visitor!
More Awesome Things to do and see in San Polo
Head to the Rialto Markets where you can pick up fresh ingredients and sample basic Italian dishes every day of the week
Marvel at the Chiesa of San Giacomo di Rialto, a large church in the heart of San Polo with breathtaking architecture inside and out
Pick up a local variation of pizza at Birraria La Corte, just off Campo San Polo – it can get busy, so book in advance!
Take the family for a heaped serving of Italian gelato at Fontego delle Dolcezze – they have a great range of flavours on offer
Want to pick up some Venetian Masks? Peterpan Masks is one of the most famous outlets in the city and offers other colourful souvenirs
Best Budget Hotel in San Polo
This boutique hotel is located right next to the Rialto Bridge, and some rooms even come with views of the landmark! A large buffet breakfast is available, and there are vegetarian, gluten-free and vegan options on offer. Rooms are fully air-conditioned and have workspaces, making it a popular choice for business travellers.
P.S. – These are the wildest and craziest party hostels in all of Rome.
Best Mid-range Hotel in San Polo
Grifoni Boutique Hotel has one of the best locations in Venice, with the hotel being just a short walk from the Scuola Grande di San Rocco and the Venice Santa Lucia Train Station, along with having plenty of cute cafes and chic bars on its doorstep.
Best Luxury Hotel in San Polo
Located within a 16th-century building, Palazzo Venart is a five-star hotel that offers an excellent level of service! The on-site restaurant is Michelin starred, serving high-quality dishes with fresh ingredients. Rooms come with ultra-modern conveniences and great design providing a good space to relax in.
Also – if you'll be in this area, you HAVE to check out our article about some of the other best day trips from Venice.
Neighborhood #5 – Cannaregio
Where to stay in Venice on a budget!
COOLEST thing to do in Cannaregio – try your luck at Ca' Vendramin Calergi, Venice's most popular casino with a free boat shuttle
BEST place to visit in Cannaregio – Ca' d'Oro is a magnificent palace right on the Grand Canal that has been converted into a gorgeous art gallery
It goes without saying that Venice is not a budget-friendly destination by any means, but if you still want to save a little cash Cannaregio is your best bet! The accommodation in the area is generally well priced, and there are plenty of free attractions as well as budget-friendly bars and restaurants.
Cannaregio has a much more laid-back atmosphere than the touristy districts of the city centre, allowing you to relax and mingle with locals. Though it is mostly a residential district, there are still plenty of historic attractions to be enjoyed and unique experiences that you won't find elsewhere in the city!
More Awesome Things to do and see in Cannaregio
Venice by Water offers excellent kayaking tours of the city, giving you a fun alternative to the gondolas and water taxis
Head to Art Della Pizza where you can sample some excellent pizzas from across Italy's many food regions
For a more local experience, La Cantina is popular with residents of Cannaregio and has seats on the main square
If you are interested in budget-friendly nightlife, hit up the bars in Fondamenta della Misericordia – we recommend Paradiso Perduto!
Visit the Jewish Ghetto area to learn about the turbulent history of Judaism in Italy and the impact of the second world war in the city
Best Budget Hotel in Cannaregio
This three-star boutique hotel is hosted within a renovated building, featuring a great mix between old architecture and modern interior design! A complimentary buffet breakfast is provided every morning, and rooms come with great views across Cannaregio and other areas of Venice.
Why are boutique hotels all the rage right now? Find out with this guide to boutique hotels in Bologna.
Best Mid-range Hotel in Cannaregio
Hotel Canneregio offers a selection of deluxe modern rooms options, all of which have private en-suites and breathtaking views of either canals or a traditional small Venetian square known as Campiello.
Best Luxury Hotel in Cannaregio
The lush hotel is truly the height of luxury in the Cannaregio region! Decorated in the traditional Venetian style, every room in this hotel oozes class and style. There is a free boat shuttle from the hotel to St Mark's Square four times a day, and the standards of service are second to none.
Check this out! These are the coolest day trips from Rome, Italy!

If you are traveling you should ALWAYS have emergency cash hidden on you! Security belts are great because they are affordable and can fit a ton of stuff in them (great for peace of mind!). Check out our favorite travel belt!
Neighborhood #6 – Castello
Best neighbourhood in Venice for couples!
COOLEST thing to do in Castello – head to Giardini Pubblici for a romantic view of Venice's famous pink sunset
BEST place to visit in Castello – visit Corte Botera, a quaint little medieval courtyard hidden off the bustling streets of the area
Venice is the ultimate destination for couples, so really any area in the city is ideal – but we recommend Castello in particular thanks to its calm atmosphere and easy access to busier areas of the city! Castello is a great escape from the touristy city centre and ideal for a short break in the city.
Giardini Pubblici is a large garden in the area and a popular place to view the sunset. There are also some great hidden squares and side streets that boast cute cafés and authentic restaurants. For nightlife, Castello offers a more relaxed and upmarket vibe than the main clubbing areas!
More Awesome Things to do and see in Castello
Visit Arsenale, the historic shipyard of the city with plenty of hidden gems including the carved lions and temporary exhibitions
Museo Storico Navale is a great museum for learning about the maritime history of Venice and wider Italy – they also have ancient gondolas!
San Pietro is a small island in the Castello district that offers romantic walks, intriguing landmarks and a calm atmosphere
Ristorante Alle Corone is a great stop for date night where you can feast on authentic Italian food using only the freshest ingredients
For a great start to a night out on the town, head to Wine Bar 5000 that has a huge wine selection as well as some great cocktails
Best Budget Hotel in Castello
This is another great budget hotel with access to both Castello and San Marco, giving you a little more privacy than you would get in a hostel! Rooms are fully air-conditioned and come with work desks where you can make use of the free WiFi. A buffet breakfast is provided each morning with vegetarian and gluten-free options.
Best Mid-range Hotel in Castello
Experience the old-world charm of Venice by staying at this deluxe 3-star hotel with it being situated inside of one of the city's oldest buildings. Hotel Scandinavia also has a fantastic location just a short stroll away from St. Mark's Square.
Best Luxury Hotel in Castello
Hotel Metropole is by far the best luxury choice for couples visiting Venice! The five-star hotel comes with excellent views across the city and the surrounding lagoon. Rooms are elegantly decorated with antique furniture arranged in an oriental style. A complimentary buffet breakfast is provided at the high-quality restaurant.
Further Reading – Have a look at the most awesome places to see in Italy!
Neighborhood #7 – Santa Croce
Best neighbourhood in Venice for a more local vibe!
COOLEST thing to do in Santa Croce – unwind in the local bars that line Campo San Giacomo dell' Orio
BEST place to visit in Santa Croce – marvel at the historic costume exhibitions at Palazzo Mocenigo
Santa Croce is a lot less touristy than the other districts in Venice, allowing you to enjoy a relaxing ambience amongst locals of the city! If you are looking for the big sights, Santa Croce is not the place for you – however, it is well connected to San Polo and Dorsoduro, giving you easy access to these areas.
The main appeal of Santa Croce is it's small backstreets and relaxed squares where you can while away hours drinking coffee, mingling with locals and people watching. It is also the location of the bus station, giving you easy access to the mainland if you want to explore further into Veneto.
More Awesome Things to do and see in Santa Croce
Ca' Pesaro is a large palace built in the Baroque style that currently houses the city's modern art museum
La Zucca is a popular restaurant with locals where you can sample excellent Venetian cuisine and mingle with Santa Croce residents
For great pastries, head to Majer where you can sample the locally famous cream swans amongst other treats
Fondaco dei Turchi is the home of Venice's Natural History Museum, located right on the Grand Canal
If you are interested in visiting churches during your time in the area, San Giacomo dell' Orio is the most visited by locals and has interesting historical artefacts
Best Budget Hotel in Santa Croce
This simple hotel comes with elegant decor inspired by modern design and Venetian tradition! There is a complimentary buffet breakfast served every morning, and private parking is available – a rarity in the virtually road free Venice. There is also a large terrace area where you can admire the city views.
Best Mid-range Hotel in Santa Croce
If you're looking for a clean and modern accommodation option with mid-range prices then you need to check out AC Hotel Venezia. The hotel has a range of swanky room options along with a sleek bar and cozy garden. The hotel is also well-located with several of the city's top attractions being just a stone's throw away from the property including the La Fenice Theatre, the Ca' d'Oro, and the Scuola Grande di San Rocco.
Best Luxury Hotel in Santa Croce
Hotel Santa Chiara is located right next to the ferry terminal and the main bus stop for those arriving from the airport, giving you the ultimate convenience if you are arriving late! Rooms are decorated with traditional Venetian design and come with modern technology and luxury amenities.
Final Thoughts on Where to Stay in Venice?
Venice is a truly mesmerising city that has earned its place as one of the largest tourist destinations in Europe! The winding canals and Italian elegance create a romantic atmosphere, and the historic attractions are simply unbeatable.
Picking the best area is difficult, but if we had to choose we would go with San Polo! This area is very central, giving easy access to most of the city's major attractions.
Nevertheless, each district has its own unique spin on Venetian culture and there are plenty of hidden attractions waiting to be uncovered in each.
Have we forgotten something? Let us know in the comments!
Editor's Note – No matter where you are traveling, you NEED to have great travel insurance. We have personally tested TONS of travel insurance companies, and can say without a doubt that World Nomads is the absolute best (and most affordable!). Fill out this form to get a quote for your trip to Venice !
***Disclaimer*** Some of the links in this post are affiliate links. This means that if you book your accommodation through the site, One Weird Globe will earn a small commission at no extra cost to you. Your support helps me keep the site going :)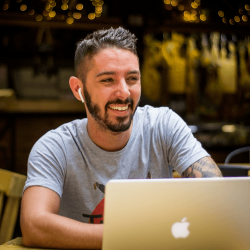 Latest posts by Aaron Radcliffe
(see all)