The vibrant Irish town of Galway is an epic travel destination for those looking for a lively getaway. Galway lies on the west coast of the country where the River Corrib meets the Atlantic Ocean and is known internationally as being one of the best festival spots in the world. There is never a dull moment in Galway and the city hosts over 122 festivals a year and is also home to the bustling Eyre Square, one of the most popular tourist spots in the country.
However, Ireland isn't the cheapest country to travel to and accommodation options such as fancy B&Bs and hotels can set you back a fair few dollars. Food and drink prices are also on the steeper end in Galway, which means you'll want to save money where you can. The perfect way to do this is to stay in a hostel. They're super affordable and also provide an awesome social atmosphere.
To help you pick a budget-friendly hostel, we have created this guide to the coolest cheap hostels in Galway where we have broken down 3 of the best options…
Quick Answers – The Coolest Cheap Hostels in Galway
#1 The Overall Best Cheap Hostel in Galway – Sleepzone
#2 The Best Cheap Party Hostel in Galway – Galway City Hostel & Bar
#3 The Best Cheap Hostel in Galway for Solo Travelers – Woodquay Hostel Galway City
The Overall Best Cheap Hostel in Galway
Why we like Sleepzone Hostel…
The location of the Sleepzone Hostel is one of the best in the entire city and puts the location of some of Galway's most expensive hotels to shame. Situated in the heart of the city, just a stone's throw away from the famous Eyre's Square, Sleepzone Hostel is the perfect place to explore the city. Within walking distance, you have incredible sites such as the famous Eyre Square itself and the Galway Cathedral. Along with this you have an amazing selection of traditional pubs and tasty restaurants on your doorstep!
Sleepzone Hostel is perfect for…
Those of you who want a budget-friendly hostel but don't want to compromise on excellent facilities and comfortable beds. On-site at Sleepzone you will find a selection of stylish facilities including a new and fancy kitchen area, a beautiful outdoor patio area along with a cozy common room perfect for having a coffee or perhaps a beer or two with some new pals.
You also get some very cool added perks when staying at Sleepzone hostel including free maps of the city, incredible discounts for bars and clubs, along with access to extremely affordable walking tours and pub crawls.
Heading to Galway? Save some money with our guide to the coolest hostels in Galway!
The Best Cheap Party Hostel in Galway
Why we like Galway City Hostel & Bar…
The next hostel on our list and arguably the most famous in the city is the Galway City Hostel & Bar. A renowned party hostel, you certainly won't find it hard to meet other backpackers at the hostel. It has an incredibly warming social atmosphere, friendly staff and a good selection of common spaces.
Galway City Hostel & Bar is also situated in a sought-after location with the hostel actually overlooking the famous Eyre Square. Not only does this mean you have some of the most epic views in the city but it also means you are in a prime position to explore the city's top sites.
Galway City Hostel & Bar is perfect for…
Those who want to experience a proper Irish night out on their trip to Galway. Galway City Hostel & Bar, as you can probably tell by the name, is home to a lively on-site bar which is the perfect place to get the drinks flowing before a night out in the city. Here you will find a great selection of Irish beer options at some of the most competitive prices in the city. After a few pre-drinks, you won't have to trek far to hit the city's top nightlife spots with an epic selection of pubs, bars, and clubs on the hostel's doorstep.
The Best Cheap Hostel in Galway for Solo Travelers
Why we like Woodquay Hostel Galway City…
The final hostel on our list is the Woodquay Hostel Galway City which is actually the most affordable place to stay on our list. It has a great selection of budget-friendly dorm rooms along with some very reasonably priced privates. The hostel actually has two buildings to choose from: Woodquay Terrace or Woodquay Lucky No.7 and you can even rent out one of the entire buildings for you and your fellow travelers if you want to, just make sure to check in advance!
We also love the hostel's free breakfast which is a continental storm of tea, coffee, toast, jams, and fruits! This is the perfect way to shrug off that hangover if you've spent the night partying in Galway or the ultimate way to fuel yourself for a day of exploring the city's top sites.
Woodquay Hostel Galway City is perfect for…
Those looking to meet other travelers with the Woodquay Hostel Galway City having an extremely warm and friendly atmosphere that makes you feel at home. It also puts on a variety of activities to help facilitate meeting other backpackers, including day tours in Galway to The Cliffs of Moher and Connemara along with walking tours of the city center.
Conclusion to the Best Cheap Hostels in Galway
Well, that wraps up our list of the three best hostels in Galway if you're traveling on a budget. As you can tell from this article, there are some great options so there is no need to splash out on a hotel that could cost you hundreds of dollars. All of these options are great but if we had to narrow it down even further and pick one cheap hostel to stay in Galway we'd have to recommend Sleepzone. Its dorm beds are incredibly good value and it has a prime location along with an incredibly sociable atmosphere.
We really hope this article has helped you pick out your dream hostel to stay in Galway along with saving you some cash whilst still having an epic place to stay. If you do end up booking any of the options we listed above do let us know in the comments below – we love hearing from you guys.
So get those drinking boots on and get ready to explore the attractions of the incredible city of Galway your next city break is just around the corner!
***Disclaimer*** Some of the links in this post are affiliate links. This means that if you book your accommodation through the site, One Weird Globe will earn a small commission at no extra cost to you. Your support helps me keep the site going :)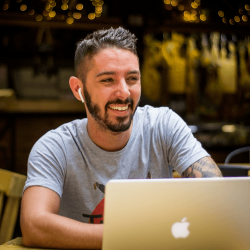 Latest posts by Aaron Radcliffe
(see all)