Miami is one of the hottest destinations to visit in the United States and has one of the biggest and best reputations for being the ultimate vacation in the sun. The city is home to gorgeous white sandy beaches that ooze into the crystal clear waters of the Atlantic Ocean along with plenty of beachfront bars, cafes, and restaurants to keep you entertained.
Not only does it have a beautiful beach with epic hospitality options but it is also home to a plethora of fascinating sites to explore. This includes the Wynwood Walls, Vizcaya Garden & Museum, and Bayfront Park.
However, what puts loads of travelers off visiting Miami is its reputation for having very high prices! We can't deny that it is super expensive to travel to, however, you can still certainly visit the city on a reasonable budget. One of the best ways to cut costs when traveling to Miami is to stay in an affordable hostel and there are plenty available in the city. To help your narrow down those options we have selected seven of the best cheap hostels in Miami for you to choose from.
Is a trip to the sunny Floridan city on the cards? Have a quick read below to find out more about the incredible hostel options the city has to offer.
Quick Answers – The Coolest Hostels in Miami
#1 The Overall Best Cheap Hostel in Miami – Freehand Miami
#2 The Best Cheap Hostel in Miami with Pool Access – Viajero Miami
#3 The Best Cheap Hostel in Miami near the Beach – The Tropics Hotel and Hostel
#4 The Best Cheap Party Hostel in Miami – Bed & Drinks Hostel
#5 The Best Cheap Hostel in Miami for Solo Travelers – South Beach Rooms and Hostel
#6 The Coolest Cheap Hostel in Miami – Generator Miami
#7 The Best Cheap Hostel in Miami near the Airport – Davish's House Miami Airport
The Overall Best Cheap Hostel in Miami
Why we like Freehand Miami…
We love the on-site bar at Freehand Miami called The Broken Shaker. Not only does the Broken Shaker serve up a delicious selection of specialty cocktails for its customers but the prices of these are also super reasonable, especially for Miami Beach!
Along with this the bar has a bustling social atmosphere and is the perfect place to hang out with some travel pals or perhaps try and find some new friends.
Freehand Miami is perfect for…
Guests staying at Freehand Miami have cemented themselves the perfect package in a hostel and it is an excellent choice for pretty much all types of backpackers. Firstly, the facilities on-site are impeccable including a gorgeous outdoor pool surrounded by sound loungers and sociable seating areas along with deluxe rooms from large dorms to cozy private doubles.
Next up you have the amazing location, Freehand Miami is just a 5-minute walk from the beach, and has plenty of cafes and restaurants on its doorstep along with it being just a short distance from the bustling nightlife scene. You have all of this and it has some of the most competitive prices in the city.
Heading to Miami? Save some money with our guide to the coolest hostels in Miami!
The Best Cheap Hostel in Miami with Pool Access
Why we like Viajero Miami…
Viajero Miami is one of the best hostels out there! Slightly more expensive than some of the others on our list but definitely still reasonably priced the amenities at Viajero are out of this world and can sometimes leave you a little shocked that you're staying in a hostel and not a fancy beachfront hotel!
Viajero Miami has a tropical chic style to it and is full of color and life with a beautiful design across the hostel. At Viajero you will find super modern rooms, a lovely bar area along with a selection of co-working spaces for our digital nomad readers.
Viajero Miami is perfect for…
If you want an amazing pool to cool off in after a day of exploring Miami's top sites then this is the place to stay. Our top pick for the best cheap hostel in Miami with pool access has to go to Viajero Miami with it being home to one of the best hostel pools we've ever seen.
Beautifully designed the long and narrow pool is surrounded by incredible seating areas including deck chairs and comfortable outdoor sofas and pool beds to lounge on.
Viajero Miami also has a sought-after location in South Beach nearby a plethora of boujee hotels! Here you will have prime access to stunning open-air restaurants and the gorgeous, silky beach itself!
Editor's Recommendation! These are the staff pick for the top hostels in Miami Beach (for all budgets!)
The Best Cheap Hostel in Miami near the Beach
Why we like The Tropics Hotel and Hostel…
We love the hostel's location not only the near the beach but also in the heart of the art-deco and nightlife district of Miami. This is perfect for those who want to party in Miami along with soaking up some epic art and music from local creatives. It also means that you get to soak up an insanely cool atmosphere with the neighborhood beaming with a unique and vibrant feel to it.
The hostel also has no curfew and a 24-hour reception so you can enjoy these funky spots all night long if you best please without having the worry of being locked out of your hostel!
The Tropics Hotel and Hostel is perfect for…
If you want to have prime access to a breathtaking beach then this is the place to stay for you! The Tropics Hotel and Hostel is just one block away from the incredible white sands and crystal clear waters of South Beach Miami.
Here you will also find fantastic food and drink spots just moments away from the property. If swimming in the sea is not your thing then you will be happy to know that the hostel is home to an epic Olympic-sized swimming pool which is perfect to take a dip in and cool off from the beaming Miami sun!
Looking for the Party? We've got you covered with our guide to the best party hostels in Miami!
The Best Cheap Party Hostel in Miami
Why we like Bed & Drinks Hostel…
Bed & Drinks Hostel has one of the best sociable atmospheres in the city with an ultra-friendly team working there along with plenty of communal spaces to hang out and meet other guests. This includes a beautiful outdoor terrace where you will really get a sense of Miami as you can lay underneath the beaming Floridian sun whilst being surrounded by palm trees.
You will also find multiple events to mingle with other backpackers including Free Hot Dog Parties, movie and games nights along with nights out into the city.
Bed & Drinks Hostel is perfect for…
Those party animals heading to Miami with the party never ending at Beds&Drinks Hostel! At the property you will an epic extended 5-hour happy hour every single day at the bar where you will have plenty of tasty options to choose from- these can also be enjoyed in the beautiful outdoor lounge area which is perfect for soaking up the sun.
After you've had a few drinks at the hostel Bed & Drinks is in the perfect location to explore Miami's nightlife as you will be located right in the heart of the Miami Beach area which means within moments you will yourself a bustling bar to enjoy.
Short on time in Miami? Doesn't matter we have trips from Miami you can do in one day!
The Best Hostel in for Solo Travelers
Why we like South Beach Rooms and Hostel…
The location at South Beach Rooms and Hostel is incredible with it being just one block from Ocean Drive meaning you will have a plethora of things to do nearby. Whether you want to spend your days swimming and surfing on one of Miami's epic beaches, hit some cultural sites, or find an epic beach bar to let your hair down with a few cocktails you will find something that pleases your heart nearby this hostel!
South Beach Rooms and Hostel is perfect for…
With a homely and warming atmosphere, South Beach Rooms and Hostels is perfect for those solo travelers looking to meet other like-minded backpackers. Situated inside a revamped art-deco building the hostel has a super cool atmosphere and has an epic selection of common areas with nature-inspired decorations from local and international artists.
The staff at the hostel are also super friendly and are more than happy to give you some advice on things to do in the local area along with some top tips on the best restaurants and bars to go to.
The Coolest Cheap Hostel in Miami
Why we like Generator Miami…
The famous hostel brand of Generator seems to make its way on every list of the best hostels in an area and there is no denying why with their hostels pretty much always being an amazing and safe place to stay.
Generator Miami is complete with excellent facilities including a 24-hour reception, ultra-fast free Wi-Fi perfect for our digital nomads along with a beautiful outdoor pool & bar area. It is also home to the tasty Restaurant Hoja Taqueria which serves up an Oaxaca corn-inspired menu that you can enjoy in an eclectic setting that creates an awesome ambiance.
Generator Miami is perfect for…
Those looking for a sleek and cool place to stay in Miami with modern and boutique facilities but don't want to splash out on a hotel with ridiculously high prices. The hostel is fitted with glamorous facilities both in its common spaces and bedrooms and guests also have a wide selection of these to choose from.
Whether you're looking for a sociable and super-budget-friendly dorm or a cozy private where you can have your own space there is a little something for everyone at Generator Miami.
The Best Cheap Hostel in Miami near the Airport
Why we like Davish's House Miami Airport…
We love the selection of rooms available at Davish's House Hostel from single room private to large doubles and family rooms along with dorms for those budget-conscious travelers. Each room is fitted with pretty much anything you need in a hostel including comfortable beds, multiple plug sockets, and luxury towels. It is also super affordable which can sometimes be hard to come by when looking to stay somewhere near Miami Airport.
Davish's House Miami Airport is perfect for…
If you have an early flight to catch or perhaps arrive at Miami International Airport in the middle of the night or just want to make sure you're near the airport then this is the place to stay! As you can probably tell from the name of this hostel, Davish's House is situated within close distance to the International Airport, which is just a 5-minute drive away.
It also has a 24-hour reception meaning you can come and go when you please which is always handy when you need to catch a flight as changes can happen all the time.
Conclusion to the Best Cheap Hostels in Miami
There you have it travelers that is our guide to the best hostels in Miami if you're on a budget! As you can probably tell the city is packed full of amazing options all of which cater to different people's wants, needs, and budgets.
The huge selection available made it super difficult for us to narrow down the options to just seven, however, that has meant we have only picked the very best. If we had to choose one ultimate cheap hostel to stay at in Miami we would have to go for Freehand Miami it has great facilities, a vibrant atmosphere, and an epic location!
We really hope this article has helped you out a little with your travel planning in Miami and we hope you've found somewhere on our list that is perfect for you and your fellow travelers.
Now all there is left to do is click that book button, a trip to Miami is just around the corner!
***Disclaimer*** Some of the links in this post are affiliate links. This means that if you book your accommodation through the site, One Weird Globe will earn a small commission at no extra cost to you. Your support helps me keep the site going :)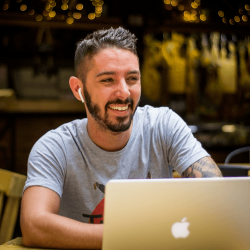 Latest posts by Aaron Radcliffe
(see all)