Situated in the gorgeous Sierra Nevada Mountain Range lies the picturesque city of Granada which is famous for its beautiful architecture and sprawling hilltop fortress. The streets of Granada are also known to be a magical experience to wander through and the city is home to some of the most spectacular sunset spots in Spain.
This makes Granada a perfect destination for a romantic getaway with there being so many epic spots to explore and things to do for couples. Despite not generally being on a list of places to stay on a couple's getaway, staying in a hostel is actually an epic way to save some money and also soak up some social atmosphere if you wish to!
That's exactly why we decided to write this article on the 3 coolest hostels to stay in Granada for couples to help you out. Does this sound interesting to you at all? Carry on scrolling to find out more…
Quick Answers – The Coolest Hostels in Granada for Couples
#1 Best Overall Hostel in Granada for Couples –Fundalucia
#2 Best Luxury Hostel in Granada for Couples – TOC Hostel Granada
#3 Best Budget Hostel in Granada for Couples – Oasis Backpackers Hostel Granada
Best Overall Hostel in Granada for Couples
Why we like Fundalucia Hostel …
One of the most unique hostels in the entirety of Spain, Fundalucia provides guests with a hostel experience like no other. The hostel has a rural guest house atmosphere to it and is situated a 20-minute drive outside of the city center in the Sierra Nevada Mountain Range. Its location provides guests with a laid-back and relaxing experience with magnificent mountain views surrounding the property, a nearby lake to wander around, along with a refreshing outdoor swimming pool.
However, if you did want to head into the city to explore, you won't have to travel too far with the city's top sites along with the main strip of restaurants and bars just being a 20-minute bus ride away.
Fundalucia Hostel is perfect for…
Those couples looking for the ultimate romantic getaway away from the stresses of everyday life! Not only is the hostel situated in a beautiful natural region, it also has epic on-site facilities to help you relax, including a picturesque garden area that is surrounded by gorgeous green trees and spectacular flower gardens.
The hostel also has a variety of rooms, from sociable shared dorms to deluxe privates for those couples who prefer to have their own space when staying in a hostel.
Have your dates picked? Read up on hostels in Granada before you book!
Best Luxury Hostel in Granada for Couples
Why we like TOC Hostel Granada …
We love the arguably unbeatable location that TOC Hostel Granada has with the property being situated in the heart of the city center. This means guests staying at the hostel are just a stone's throw away from the stunning Cathedral along with being just a few minutes walk from the vibrant Albaicín neighborhood where you can experience breathtaking views of the Alhambra from the viewpoint at the famous Saint Nicolas.
TOC Hostel Granada is perfect for…
Those travelers who want a fancy travel experience along with a great social atmosphere but don't fancy splashing out on an expensive hotel. TOC Hostel Granada is one of the city's fanciest hostels and provides luxurious facilities for all its guests, including an ultra-modern common area, deluxe pod-style dorm rooms, and lavish private rooms along with a stunning on-site bar.
Not only is the hostel stunning from the inside but it also has a breathtaking classical design from the outside which slots in perfectly with the nearby architecture!
Best Budget Hostel in Granada for Couples
Cost – $
Location – Placeta del Correo Viejo, 3, 18010 Granada, Spain
Reviews → Check on Hostelworld
Why we like Oasis Backpackers Hostel Granada …
One of the best aspects of this hostel is its incredible on-site facilities, including a relaxing patio equipped with a BBQ along with a beautiful rooftop terrace that provides spectacular views overlooking the city. The hostel also provides a number of awesome events for its guests including family-style dinner nights, open mic nights, along with live performances from local musicians.
Oasis Backpackers Hostel Granada is perfect for…
If you want some of the cheapest, backpacker-friendly prices in the city but also want the option for a cozy private room, then the Oasis Backpackers Hostel may be the perfect option for you. The hostel is situated in a traditional Andalusian building and provides guests with an authentic experience along with a great social atmosphere all at extremely affordable prices. We can assure you will find it hard to find private rooms in the city for cheaper prices at such good quality!
Conclusion to the Best Hostels in Granada for Couples
Granada really is one of the most beautiful destinations to visit in Spain and we can see why many couples head there on a romantic getaway. The city is scattered with magical things to do including beautiful nature hotspots, flamenco dancing, and picturesque tapas restaurants. It is also well equipped with fantastic hostels, many of which have private rooms, including the 3 we listed above which makes for the ultimate budget-friendly getaway!
We really hope this guide has helped you navigate the hostel scene in Granada a little bit more and that you managed to find the ultimate couples hostel retreat. If you do end up booking any of our recommendations do let us know. We love to hear from you guys :)
So what are you waiting for? Click that book button and get ready for a travel experience of a lifetime! The gorgeous southern Spanish city of Granada is awaiting your arrival!
***Disclaimer*** Some of the links in this post are affiliate links. This means that if you book your accommodation through the site, One Weird Globe will earn a small commission at no extra cost to you. Your support helps me keep the site going :)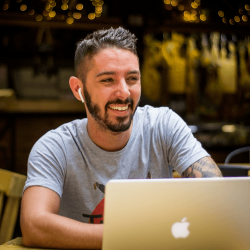 Latest posts by Aaron Radcliffe
(see all)