Marrakech is one of the most fascinating cities to visit in the world and it is jam-packed full of incredible things to do and sites to see! From bustling markets, a thriving medina, spectacular architectural hotspots, and some of the tastiest restaurants in the world, you certainly won't be bored on a trip to the Moroccan City. This Marrakech post is packed full of accommodation tips for the city, where we also break down three of the best hostels in Marrakech. From beautiful Riad buildings to hostels beaming with a social atmosphere, there is a little of slice of something for everyone on our list.
Marrakech is an ideal romantic getaway destination due to it being a magical city to explore with so many cute spots to visit with your other half. In this article, we are specifically looking at hostels for couples, so if a trip to Marrakech with your loved one is a potential opportunity in the future, have a scroll below…
Quick Answers – The Coolest Hostels in Marrakech for Couples
#1 – The Overall Best Hostel in Marrakech for Couples – The Central House Marrakech Medina
#2 – The Best Cheap Hostel in Marrakech for Couples – Riad Dia
#3 – The Best Luxury Hostel in Marrakech for Couples – Equity Point Marrakech
The Overall Best Hostel in Marrakech for Couples
Why we like The Central House Marrakech Medina…
As soon as you step foot in this hostel you will immediately fall in love with its calming atmosphere and beautiful decor. The hostel is stunningly decorated throughout, with modern facilities mixed with a traditional and authentic spin. It also comes with some of the most fantastic amenities, including a sleek swimming pool, spacious patio area, along with a tasty on-site restaurant. We, of course, can't forget its main draw- its rooftop terrace & bar area! Here you will find the most spectacular views overlooking the Atlas Mountains and the Koutoubia Mosque, which can be best enjoyed whilst sipping on a drink or two from the bar.
The Central House Marrakech Medina is perfect for…
Those couples looking for a relaxed and authentic stay with a quiet atmosphere but whilst also having a great location to explore Marrakesh. At Central House Marrakech Medina Hostel, you will be right in the heart of the beaming Medina of Marrakech with plenty of incredible sites and tasty restaurants nearby. However, as soon as you wander into the hostel you will feel a tranquil atmosphere away from the hustle and bustle of its nearby neighborhood. It is here you can unwind and relax with your partner!
Editor's Tip: make friends by staying at a cool hostel in Marrakech!
The Best Cheap Hostel in Marrakech for Couples
Cost – $
Location – Zefriti, 6, Rue el Ksour, Marrakech 40000, Morocco
Reviews → Check on Hostelworld
Why we like Riad Dia Hostel…
Riad Da Hostel provides its guests with the opportunity to stay in an incredible traditional riad at backpacker-friendly prices, while still maintaining the atmosphere of a proper hostel! This is a unique opportunity that you won't find in many other places. The hostel also has an incredible location, with it being located just a stone's throw away from the magical main square of Place D'Jeema el Fna.
Riad Dia Hostel is perfect for…
If you're a couple who want a more lively experience and the opportunity to meet other backpackers, then Riad Dia might be the hostel for you! The hostel has a beaming social atmosphere and plenty of common spaces to mingle, including a colourful and sunny courtyard, an outdoor swimming pool and several terraces! However, it also has an awesome selection of private rooms for when you do want to take yourself away and spend time with your other half alone.
Riad Dia Hostel is also one of the best value hostels in Marrakech, and you will find it hard to find such great facilities in an epic location when travelling to the city.
The Best Luxury Hostel in Marrakech for Couples
Why we like Equity Point Marrakech…
We love that you can pick and choose what type of experience you want at Equity Point Marrakesh! Whether you fancy a quiet weekend away with your partner or a lively night out with some new pals. At night, you can enjoy the peace and silence of the Riad's softly lit inner courtyard. Or, if you want to soak up some of Marrakech's beaming atmosphere, you can take in the amazing views from the bustling rooftop terrace.
Equity Point Marrakech is perfect for…
If you fancy a bit of luxury on your trip to Marrakech but don't want to splash out on an expensive hotel, then Equity Point Marrakech might solve your problem. A beautiful spa hostel in the centre of Marrakech, you will be amazed by the lavish facilities provided at this property. This includes a beautiful swimming pool, hammam baths and an arcade courtyard with a stunning Moroccan fountain. Along with this, all the rooms are nicely furnished with special added touches to make your stay that much more special, whether that be in a spacious dorm or a romantic private.
Conclusion to the Best Hostels in Marrakech for Couples
Has this article enticed you to book a romantic getaway to Marrakech on a budget? We really hope it has! The magical city is full of so many beautiful sites to explore along with phenomenal restaurants that's dishes that will leave your mouth watering.
As you can probably tell from this article, the hostel scene certainly isn't lacking, and there are some amazing options out there, all of which offer something unique for their guests. We hope this article has helped you with your travel planning to Morocco, and we hope you've found the perfect place for you to stay on your trip to the incredible city of Marrakech.
***Disclaimer*** Some of the links in this post are affiliate links. This means that if you book your accommodation through the site, One Weird Globe will earn a small commission at no extra cost to you. Your support helps me keep the site going :)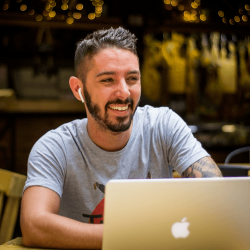 Latest posts by Aaron Radcliffe
(see all)