Known for hosting some of the most incredible international events, towering gothic churches, and beautiful botanic gardens, the french speaking city of Montreal is an epic travel destination. It is also home to some of the coolest bars and tastiest restaurants in Canada making it a great place for foodies.
However, there is no denying that Montreal is EXPENSIVE, meaning you'll want to save some cash where you can. An awesome way to keep those costs low when traveling is by staying in a hostel and lucky enough for those visiting Montreal, the city has a great selection of them.
To help you pick the best hostel to stay at in the city that best fits your travel needs we've created this article on the 5 coolest hostels in Montreal!
Quick Answer: The Coolest Hostels in Montreal
#1 Best Overall Hostel in Montreal – M Montreal
#2 Best Party Hostel in Montreal – Auberge Saintlo Montreal
#3 Best Luxury Hostel in Montreal – Hygie Hotel
#4 Best Hostel for Solo Travellers in Montreal – Samesun Montreal Central
#5 Best Budget Hostel in Montreal – The Alternative Hostel of Old Montreal
Best Overall Hostel in Montreal
Why we like M Montreal…
We love the daily activities M Montreal provides including karaoke and comedy nights, live music events, along with free walking tours. The hostel also has fantastic facilities including its famous rooftop terrace which is equipped with two swimming spas that have the most spectacular views overlooking the city. You can also enjoy the on-site M Bar which has extensive opening hours between 3 PM and 3 AM and also hosts different activities each night of the week.
M Montreal is perfect for…
The M Montreal Hostel is the ultimate place to stay if you want to be amongst the hustle and bustle of the city center. The hostel is surrounded by lively and popular neighborhoods including Old Montreal, the Latin Quarter, and the Festival District.
M Montreal is also the perfect place to stay for most types of travelers with it having plenty of the key amenities people look for in a hostel, including a 24-hour reception, a tasty breakfast option, free wifi throughout the hostel, and a laundry and luggage room.
Looking for the Party? We've got you covered with our guide to the best party hostels in Montreal!
Best Party Hostel in Montreal
Why we like Auberge Saintlo Montreal Hostel…
The daily activities put on by the hostel are incredible and are the perfect way to meet other travelers in Montreal. These include pub crawls, biking and walking tours, along with Pouting tasting.
If you're looking to work whilst traveling, then you'll be happy to know that Auberge Santilo Montreal hostel also has its very own Coworking space. Here you will have access to a printer, a scanner, a large screen for presentations, and plenty of comfortable desk spaces.
Auberge Saintlo Montreal Hostel is perfect for…
For those who are looking to party in the city with the hostel being located in a vibrant neighborhood in the heart of downtown Montreal slotted in between McGill University and the up-and-coming St-Henri neighborhood.
The hostel also has plenty of amenities that facilitate the party atmosphere, including a bustling on-site bar, a 24-hour reception, along with a FREE continental breakfast that is perfect for shrugging off those hangovers.
Best Luxury Hostel in Montreal
Why we like Hygie Hostel…
We love the central location of Hygie Hostel with it being only 2 minutes walking distance to the famous Place Jacques Cartier. This means you will have prime access to some of the city's top sites, including the Notre Dame Cathedral, the St. Lawrence River, and the ice skating arena.
The hostel also has no curfew so if you fancy partying away until the late hours of the evening, or want to set out on an early morning adventure, you can do so as and when you please.
Hygie Hostel is perfect for…
Equipped with comfortable beds with privacy curtains, USB charging ports, and lavish materials, Hygie Hostel is the perfect place to stay for those who want luxury at an affordable price.
The hostel is also located in a sought-after and luxurious neighborhood with it being situated only 2 streets from the Marina of old Montreal. Here you will find beautiful sailing boats and super yachts, along with plenty of tasty waterfront restaurants.
Best Hostel for Solo Travellers in Montreal
Why we like Samesun Montreal Central Hostel…
Samesun Hostel offers some of the best-added extras which are super popular amongst travelers! This includes free local calls, a complimentary and tasty breakfast along with reading lights and power sockets for each bed.
Speaking of the free breakfast provided, it's certainly no standard hostel breakfast with Samesun Hostel offering travelers an awesome selection of waffles, eggs, fresh fruit, and baked goods, along with coffee, tea, and juices.
Samesun Montreal Central Hostel is perfect for…
Those who want to mingle and meet other like-minded travelers in Montreal. The hostel has an awesome social atmosphere and has a great program of activities every single week. Even if there is no event on at the the hostel, the staff are always ready to show you a good time and know the best spots in the city whether you want to grab a quick bite to eat or party until the early hours of the morning.
Best Budget Hostel in Montreal
Why we like The Alternative Hostel of Old Montreal…
The main attraction to this hostel is the quirky design with it being located inside a restored and rejuvenated 1875 warehouse. The awesome hostel is situated in the heart of Old Montreal and has been beautifully designed with rich textures of the old city building. Inside you will find authentic rock walls, old hardwood floors, and arched windows that provide an elegant and authentic touch.
The Alternative Hostel of Old Montreal is perfect for…
The final hostel on our list is for those who are traveling on a super tight budget! As we previously mentioned Canada is not the cheapest country to travel to and Montreal definitely falls under this bracket. That's why it's so great that the Alternative Hostel of Montreal offers extremely reasonably priced beds. Not only this, they certainly don't fall short of comfort with all the beds coming with deluxe mattresses and having modern stylings.
Conclusion to the Best Hostels in Montreal
As you can tell the hostels in Montreal are pretty epic and offer some of the finest facilities you can find in a hostel! The city is also one of the most picturesque and fascinating places to visit in North America and is definitely a place you need to add to your travel bucket list. Final reminder to make sure you check out what international events are on in Montreal as you may well be lucky enough to be visiting when there is one on!
If you're still struggling to decide on one hostel, then we'd have to recommend M Hostel as its facilities and social atmosphere are unmatched and we're sure most travelers will have a great stay.
So what are you waiting for? Your Canadian adventure awaits!
***Disclaimer*** Some of the links in this post are affiliate links. This means that if you book your accommodation through the site, One Weird Globe will earn a small commission at no extra cost to you. Your support helps me keep the site going :)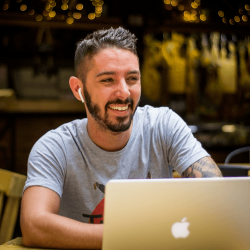 Latest posts by Aaron Radcliffe
(see all)