Staying in a hostel for the first time can be daunting, especially as a solo traveler. However, they are by far one of the most fun and social places to stay and I'd 100% recommend testing out one at least once in your life.
If you've decided to take the plunge and stay in a hostel for the first time but don't know where to start then you've come to the right place. In this guide, we've got you covered for all the top tips and tricks for staying in a hostel for the first time. Whether that be picking a hostel, what the general etiquette is, how to make friends and so much more!
Sound interesting? Have a scroll below to find out more…
What are Hostels? And What is it Like Staying in a Hostel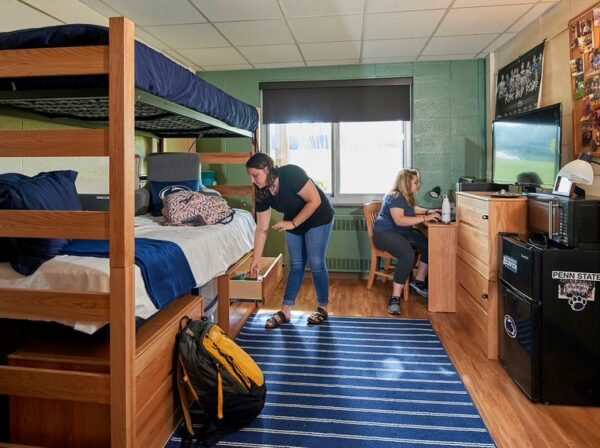 A common question for first-time travelers is what exactly is a hostel? Well… hostels vary A LOT, however, to cut a long story short a hostel is a budget-friendly accommodation option that incorporates a shared social experience. Hostels typically have shared room options ranging from 4 to upwards of 20 people, a variety of private rooms along with shared living areas including a lounge, kitchen and some even have terraces, bars, and swimming pools.
Why are You Afraid of Staying in a Hostel?
It's a no-brainer that the idea of having to share a room with strangers is daunting, let alone having to go up to people in a common area who you've never met and try and strike up a conversation. However, I can assure you it is not as scary as you think.
In reality, most people staying in a hostel are friendly and want to meet people, and are most likely thinking the same thing as you. Staying in a hostel is actually where I have felt the most comfortable going up and meeting new people as it is more socially accepted than in other locations!
What to Really Expect Staying in a Hostel
What can you really expect when staying in a hostel? Obviously, this will vary, however, here are some things you will commonly find. You'll typically find younger travelers between 18-35 from a lot of different countries and backgrounds. If you're staying in a dorm room don't expect to get the greatest sleep of your life, however, you do get used to it in time.
The number of people you will interact with will teach you a lot of life lessons including how to be social and most importantly patient. Unfortunately, we can't tell you exactly what you can expect by staying at a hostel, but we can give you some tips and stories in this guide.
What to Check Before You Book Your Hostel
There are some important things to check when booking your hostel. This includes where it is located, what the reviews say, and how much it costs!
One important thing to check is what the reception hours are. If you're arriving in the late evening or the early morning make sure that you can check in. I've once been locked out of a hostel because I didn't check this and had to book a 24-hour hotel down the road.
So a top tip is to book a hostel with a 24-hour reception and these are very common. Other things I'd consider include if it has Wi-Fi, lockers, and cooking facilities. Below we have listed some of our top tips for choosing the right hostel…
Tips for Choosing the Right Hostel
Location
Location is hands down one of the biggest factors you should consider when booking a hostel. When booking a hostel, make sure it is close to what you want to do. If you're heading on a city break, make sure it's near the center and the top sites. If you're heading on a beach getaway, check it's near the sea. Sounds pretty simple, but often hostel locations are deceiving and can be far away from where you want to be.
Read the reviews!
When booking a hostel, make sure you read the reviews. Of course, the hostel itself is only going to promote the best bits of the property. Have a look at previous guests' stays to see an accurate representation. Remember, some people are picky though, so if there is an odd bad review or two don't be too put off.
Cheaper is not always better
I learnt this one the hard way! When booking a hostel you may be inclined to go for the cheapest option available to save yourself as much money as possible. However, it is sometimes worth paying a few extra bucks for a hostel with good reviews and nice facilities. Of course, this doesn't mean all the cheap hostels are bad. One of the best hostels I've stayed in was only $5 per night!
Search your hostel on YouTube or Google
If you want a more accurate and visual representation of what your hostel looks like, then do a quick Google search. You should find plenty more images on there from different sources rather than just the ones promoting it giving you a more accurate image of what it is like. You can also check to see if there are any YouTube videos of the hostel, sometimes there are even tours of them!
What Type of Hostel is Right For You
Now… not all hostels follow the same pattern. You will find a wide variety of them and picking the right type of hostel for you is important. Whether you want to party until the early hours, feel as if you're at a home away from home, or want a sense of luxury, there is a little something for everyone.
Party Hostels
If you're looking for a super-social experience and want to guarantee that you'll meet people then I'd recommend booking a party hostel. Party hostels tend to have an event every single day, and this doesn't necessarily mean a big party. Typical events you can expect in a party hostel are beer pong, card games, pub crawls, and pool parties (if you're in a sunny location).
Homely Hostels
What we mean by homely hostels are the ones that are usually smaller than a standard hostel and are typically family-owned. You get a much more personal experience here, however; you rarely get the lavish facilities. If you're looking to interact with locals and get a more authentic experience, they are a great option, but don't expect big party nights out!
Eco-Friendly Hostels
Eco-friendly hostels are on the rise and particularly in hippy beach towns. They're a great way to reduce your carbon footprint and often have beautiful locations. Be warned you may be expected to do your business in a compost toilet and brush your teeth outside.
Adventure Hostels
Adventure hostels are typically located near a bucket list activity or an area known for adrenaline sports or hiking. A good example includes some hostels in Queenstown, New Zealand. They typically run lots of activities such as overnight hikes, bungee jumping, and white-water rafting.
Relaxation Hostels
If you're looking for a relaxing getaway but don't want to fork out on a luxurious hotel or fancy yoga retreat you can often find some relaxing hostels. These typically include yoga-based hostels and hostels by the beach!
Boutique Hostels
Want to try out a hostel but like the finer things in life? Then staying at a boutique hostel is a good stepping zone. These hostels have the sociable atmosphere you'd get with a regular hostel but with fancy and modern facilities.
Things you can expect to find in a boutique hostel include privacy curtains in dorm rooms, air conditioning in hot countries along with complimentary towels. Of course, this will come with a higher price tag but will still be cheaper than a luxurious hotel stay.
21 Top Tips for Staying in Hostels
#1 – The big debate: Top bunk vs bottom bunk
When staying in a hostel you will often hear the classic debate – should I pick the top or bottom bunk? Personally, I prefer the bottom bunk and this tends to be the more popular opinion. However, here are some reasons for choosing both.
The bottom bunk is better for convenience. You can get to your bags easily and you don't have to climb up and down to get to the bathroom, etc. However, top bunks tend to be a bit more private, so if privacy is your top priority but you still want the cheap prices of a dorm, I'd opt for that.
#2 – Notify the hostel staff if you're going to arrive later than you expected
There are plenty of hostels that have 24-hour receptions these days. However, if you know you're going to be late, it's the courteous thing to do to let them know in advance, so they can be prepared for your arrival.
If you know there's a risk of arriving late at night or early in the morning, I'd be sure to stay at a hostel with a 24-hour reception. You don't want to be locked out in the dark.
#3 – Embrace your social butterfly
There are plenty of hostels that have 24-hour receptions these days. However, if you know you're going to be late, it's the courteous thing to do to let them know in advance so they can be prepared for your arrival.
If you know there's a risk of arriving late at night or early in the morning, I'd be sure to stay at a hostel with a 24-hour reception. You don't want to be locked out in the dark.
#4 – Bring a padlock and always use the lockers
This is arguably one of the no.1 things to know before staying in a hostel – bring a padlock. Most travelers are friendly and nice, but as always in life, some people aren't. Hostels don't normally provide padlocks for their lockers, so make sure you bring one with you so you can keep all your stuff safe.
#5 – Bring an eye mask and earplugs (especially if you can't sleep with snorers)
If you're anything like me and find it hard and almost unbearable to sleep with snoring or light, then these are going to be any essential. They won't ensure you'll get a good night's sleep but it is 10x better than without!
#6 – Bring flip-flops or similar for communal showers
Hostel showers are communal and, for the sake of your own hygiene and other backpackers, make sure you bring flip-flops or something similar to wear going to and from the showers.
#7 – Look out for a free breakfast included in the hostel stay
Now, this one isn't a necessity. However, it is always a nice added touch to have a free breakfast with your stay. So many hostels offer free breakfast these days and it saves you a bit of cash, which is always handy, especially if you're on a backpacker's budget!
#8 – You can set an alarm, but make sure you turn it off quickly
This one always came to mind when I was thinking about what is it was like staying in a hostel before I lost my hostel virginity, and that's what do we do with our alarms. It is perfectly acceptable to have an alarm at any point of the day. After all, you're traveling; early buses and late flights are a common occurrence. Just make sure you only set one or two and you turn them off immediately.
#9 – Wash up your dishes!
The amount of people I've seen run away and not wash up their dishes in a hostel is far higher than I'd like. Make sure you remember to wash up your dishes if you cook; it isn't like a hotel, the staff aren't expected to do them for you.
#10 – Bring a towel, some hostels charge for towels
This might seem like an obvious one, but it has happened when I've taken my friends to a hostel before and they expected towels to be provided. Some of the fancier hostels will provide complimentary towels, however, in most cases, you will either be charged or expected to bring your own.
#11 – Make sure to label any food you leave in the common kitchen
It is a common rule to label and date all your food in a hostel. This is so the hostel staff knows when to throw away moldy and old food and it also prevents people from accidentally taking your food.
#12 – Hostel common areas and organized events are one of the best ways to meet people outside your dorm
If you're struggling to meet people in your hostel, don't stay in your room. Head out to the common areas to meet other people as this is where most people are looking to make friends. Organized events such as dinners and pub crawls are also one of the best places to meet other backpackers.
#13 – Don't bin dry ingredients, leave them in the communal section
If you're heading to another destination or flying home but have some leftover dry cooking ingredients, leave them in the kitchen with a communal label. This prevents food waste and also comes in handy for other backpackers who might need the ingredient.
#14 – Early morning flight or bus? Pack the night before!
There's nothing worse for you and your dorm mates than packing in the middle of the night/early morning. You'll find it extremely hard to find your stuff and you'll often leave something behind. I'm sure the other people in the room don't want to see your phone torch and hear a rustling at 4 am. Pack the evening before to save this stress.
#15 – Invite the new dorm mate to your plans
If someone new walks into your room and you strike up a conversation and you have plans that day, invite them along. It is always so nice to be welcomed when arriving in a hostel, even if they say no it's a nice thing to do and perfectly normal in a hostel environment.
#16 – Don't get frisky or naked in the dorm rooms
The amount of times this happens is surprisingly high, but don't be that person. If you're going to get frisky or want to walk around naked, get yourself a private room!
#17 – Don't turn the main light on at night or early (before 11pm and after 9am is acceptable)
When debating in my head what should I know before staying in a hostel, I always wondered what the etiquette was in terms of switching the lights on and off. For my first 10 hostel stays, I left it up to the other travelers in my room even if it was 2 am and the lights were still on. A common unwritten rule is it is acceptable to turn them off after 11 pm and back on after 9 am.
#18 – If you need to make a phone call, take it to the common areas
If you're FaceTiming someone or having an extended phone call, take it out to the common areas. You don't know who's in the room sometimes, especially with privacy curtains, and you don't want to disturb people.
#19 – Don't sit on someone else's bed unless you've asked or it's your friends!
I would think this is just an obvious point, but I have on many occasions walked into strangers sitting on my bed. Make sure you only sit on your bed or your friends when staying in a hostel.
#20 – Be mindful and respect others
This is just an overall point, wrapping up everything we have mentioned above. Just use your common sense and be mindful and respect others when staying in a hostel.
21. Embrace the challenge of staying in a hostel!
A hostel stay is definitely a challenge and daunting experience. Give it a go and even if you don't like it, you can always say you've tried it!
Hostel Packing List
Wondering what you should bring with you to a hostel but not sure where to start? Then you can check out our article on what to pack for a hostel stay. In this guide, we talk you through the essentials, personal top tips, and what to leave at home.
Warnings About Hostels
Like most places when you've travelling it is important to be aware of your surroundings and keep safe when staying in a hostel. If you're looking for some advice, check out our guide on how to survive in a hostel.
Reason to stay in hostels
#1 – Travel is Better With Friends
Even if you're traveling solo, or like your alone time, it is always great to meet other backpackers and travelers from all over the globe. Hostels are the ideal place to meet friends and experience incredible travel memories with new people.
#2 – You Expand Your Understanding of Other Cultures & Meet Travelers from All Over the World
Hostels attract travelers from all over the globe and you are bound to meet people from a wide range of countries and backgrounds. Staying in a hostel allows you to learn and understand about other cultures, that you may not find staying in a private hotel. Hearing stories from other travelers in the common areas is always one of the best parts of my trip!
#3 – You Can Save Tons of Money
There is no doubt that hostels are one of the cheapest places to stay! A dorm bed can be a fraction of the cost of a hotel room price. So if you're looking to travel on a budget or save your money to spend on activities in your chosen destination, staying in a hostel is a great way to do so.
#4 – Hostels Offer Free or Reduced Activities
Hostels can offer some great discounts on popular activities through group discounted rates! Along with this there tends to be plenty of free activities available at hostels including walking tours or beach visits.
#5 – And They're Great for Your Budget
As we mentioned earlier, hostels can save you a lot of money and they can help reduce that travel budget not only through the cheap dorm prices, but also the cooking facilities and free events. It is also common for people to live in hostels! If you're wondering how much it might cost to live in a hostel, you can check out our guide here.
Are There Disadvantages of Staying in Hostels?
Despite us thinking hostels are one of the best places to stay when visiting a new destination, of course, there are some disadvantages of staying in a hostel!
Lack of Privacy: Starting with an obvious one – privacy! Hostels aren't the best place to stay if you're looking for privacy, especially if you're staying in a dorm room. If you're looking for some time away on your own, or your travel partner, we wouldn't recommend a hostel.
Bad Room Mates: Secondly you may get unlucky! Some dorm mates can be inconsiderate and despite the hostel facilities being great, there's not much you can do to avoid this. If this does happen I'd kindly ask to switch rooms if there is the option.
Hygiene: Despite many hostels being very clean and tidy, unfortunately sharing a room and bathrooms with 6-10 other strangers is going to be less hygienic than staying in your private hotel room.
Bunk Beds Can be a Nightmare: Climbing up and down those bunk beds and hearing the shaking when you sleep can be a nightmare. They're certainly not as luxurious as your double bed. Of course, private rooms are always an option.
Security and Theft: Keeping your stuff safe can be a bit harder in hostels particularly if you're staying in a dorm room, with dorm rooms often not having locks on the doors. However, lockers are provided pretty much all the time, and you also typically have nice people looking out for you in hostels which have often made me feel safer.
Final Thoughts On Staying In A Hostel
We really hope this guide to staying in a hostel for the first time has helped you out with your hostel planning. Hostel's are an intimidating idea but honestly I couldn't recommend them enough and have had some of the best experiences and made memories in many. An important note is that every hostel is different, along with the experience you get there. Some will be amazing and some can be disappointing but I'd definitely recommend giving them ago.
Do let us know in the comments below if any of our tips have helped or if this guide has persuaded you to book your hostel stay! We absolutely love hearing from you guys :)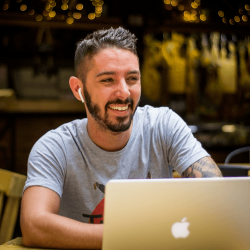 Latest posts by Aaron Radcliffe
(see all)