Oslo is a magical city in Southern Norway and is home to so many amazing sites to see and beautiful outdoor hotspots to explore. Whether you want to find out more about rich Norwegian history and culture at one of the city's fantastic establishments including the Viking Ship Museum, or want to explore the spectacular islands in the Oslofjord, there is a little slice of heaven for everyone. You also can't miss a visit to the eye-catching Oslo Opera House on a trip to Norway's beautiful capital, its a bucket list site like no other.
Now we've discussed how Oslo is an epic city to visit, we have to come to terms with reality and let you know that Oslo is a VERY expensive city to visit! However, a trip to the city can be done on a budget if you plan your trip right! One of the best ways to keep costs low is by staying in a hostel in Oslo, they tend to be super affordable and in pretty great locations. To help you pick the right budget-friendly place to stay, we decided to create this list of the 5 coolest cheap hostels in Oslo…
Quick Answers – The Coolest Cheap Hostels in Oslo
#1 – The Overall Best Cheap Hostel in Oslo – K7 Hotel Oslo
#2 – The Best Cheap Hostel in Oslo for Solo Travelers – Anker Hostel
#3 – The Best Cheap Hostel in Oslo for Couples – Oslo Hotel Ronningen
#4 – The Best Cheap Centrally Located Hostel in Oslo – Central City Hostel
#5 – The Best Cheap Party Hostel in Oslo – HI Oslo Haraldsheim
The Overall Best Cheap Hostel in Oslo
Why we like K7 Hotel Oslo…
We love how friendly the team is at K7 Hotel Oslo with them being more than happy to help you out with your trip to Oslo! Whether that is giving you some advice on top landmarks, organizing tours to epic outdoor locations, or just giving you some directions to nearby bars and restaurants. The reception is also open 24 hours a day meaning you don't have to worry about being locked out, and you can chat with the team whenever if you have any issues or problems.
K7 Hotel Oslo is perfect for…
With a city center location, plenty of room options, and a decent selection of common spaces, K7 Hotel Oslo is an overall great hostel, perfect for all types of savvy travelers. K7 Hotel Oslo also has an incredible location next to Karl Johan Street which means you will be surrounded by fantastic bars, cafes, and restaurants. Along with this, you will be just a short stroll away from Oslo Central Station, where you will find plenty of top attractions nearby along with excellent transport links to other areas in and around the city.
Norway is amazing! And the best hostels in Oslo will blow you away!
The Best Cheap Hostel in Oslo for Solo Travelers
Why we like Anker Hostel…
Anker Hostel's sought-after location makes it an epic place to stay if you want to explore as much of Oslo city as possible. Situated in what is thought to be Oslo's most trendy neighborhood, Grünerløkka, you will be surrounded by a variety of boutique shops, tasty restaurants, and fantastic bars when staying at Anker Hostel. You will also be surrounded by plenty of places to enjoy an epic activity, including beautiful parks and concert venues such as the Oslo Spectrum, Sentrum Scene, and Rockefeller.
Anker Hostel is perfect for…
Anker Hostel is great for solo travelers due to the fantastic public areas it boasts on-site at the hostel. This includes the amazing on-site Mezzanine which is a glamorous library, spacious lobby, and a comfortable lounge area. Oh, and let's not forget its epic on-site bar which boasts a bustling atmosphere and a great selection of tasty drinks, many of which are very budget friendly making it great for those looking to save cash where they can.
Need a place with more energy? Try one of Oslo's top party hostels!
The Best Cheap Hostel in Oslo for Couples
Why we like Oslo Hostel Ronningen…
Oslo Hostel Ronningen has an epic location for those who want to explore Oslo's magical raw beauty! Outside the hostel, you will find trails and tracks for both biking and hiking, and you will also be just a short distance from some of the city's most spectacular national parks.
The common facilities at Hostel Rønningen are also pretty epic. Guests can expect to find a TV lounge, library, and a selection of sporting activities including table tennis, soccer and volleyball.
Oslo Hostel Ronningen is perfect for…
The expansive choice of rooms at Oslo Hostel Ronningen makes it perfect for those traveling to Oslo as a couple or family! The rooms are super modern and guests have a selection of different sized dorm rooms to choose from, along with with a variety of privates from single rooms, double rooms, and family rooms.
The hostel's location amongst nature also makes it an ideal trip for couples who want a romantic getaway, with beautiful sites and a peaceful atmosphere surrounding the hostel.
Need to see more of Norway? These day trips from Oslo will show you the coolest areas around.
The Best Cheap Centrally Located Hostel in Oslo
Why we like Central City Hostel…
We love the on-site amenities you will find at Central City hostel including modern and boutique rooms and a fantastic selection of common areas. This includes a cozy TV lounge where you can relax and unwind with other travelers, along with a restaurant and bar area where you can get a wide range of backpacker budget-friendly drinks deals.
Central City Hostel is perfect for…
As you can probably tell from the name of this hostel it is the perfect place to stay for those who want to be amongst the hustle and bustle of Oslo's city center. Within walking distance from this hostel, you will find epic attractions, cute cafes, cozy bars, and traditional Norwegian restaurants. For those who want to immerse themselves in a bit of Oslo's history and culture then you will be happy to know the Edvard Munch Museum is within 550 yards of the hostel.
Want to see all of Oslo? Get started with accommodation in Oslo's best neighborhoods!
The Best Cheap Party Hostel in Oslo
Why we like HI Oslo Haraldsheim…
The famous hostel brand of HI really supplied a great property with its Oslo Haraldsheim branch, with it having epic location and immaculate facilities. The hostel is surrounded by the greenery of Oslo's Grefsen neighborhood and you will be amazed by the incredible views of the nearby nature spots from all over the hostel. The hostel even has a stunning outdoor patio and garden area to have your morning coffee and enjoy the views.
HI, Oslo Haraldsheim is perfect for…
Oslo isn't necessarily known for being the biggest party destination in the world, however, if you're looking for a party adventure when visiting the Norwegian City then this is the place to do so. The hostel has a bustling social atmosphere beaming throughout the hostel along with a great selection of pre-drinking spots. This includes its BBQ and patio area for those traveling to Oslo in the summer months, and a variety of indoor spaces for those traveling in the colder winter months.
Final Thoughts on the Best Cheap Hostels in Oslo
So that was our guide to finding cheap hostels in the beautiful city of Oslo. As you can probably tell the options out there, despite being limited, are pretty epic and will definitely save you lots of money whilst also providing a fun and comfortable place to stay. It was hard for us to whittle it down to just 5 hostels, but if we had to take it one step further and pick just one we would have to go for HI Oslo Haraldsheim. We love the on-site facilities and beautiful location of the hostel, and it also has a fantastic social atmosphere to meet other travelers to hang out with and explore Oslo.
We really hope this guide has helped you navigate the hostel scene in Oslo. If you do end up booking any of the hostels we've listed in this article do let us know in the comments below, we love hearing from you guys.
So get ready for the adventure of a lifetime to one of the coolest cities in Europe! Oslo awaits your arrival!
***Disclaimer*** Some of the links in this post are affiliate links. This means that if you book your accommodation through the site, One Weird Globe will earn a small commission at no extra cost to you. Your support helps me keep the site going :)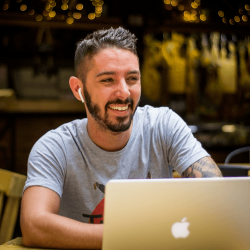 Latest posts by Aaron Radcliffe
(see all)