Lagos is a small town that packs a big punch. It is well known for its golden sand beaches, shimmering turquoise waters and its laid-back and relaxed atmosphere.
But what if you need a break from the beach? Are there any nearby towns that are worth your time and travel dollars?
That's why we wrote this guide to the best day trips from Lagos.
Written by travellers, for travellers, this list highlights the top 20 day trips you can take from Lagos. We break down each destination into an easy to digest bite so you can quickly determine if it's right for you.
Whether you're a budget backpacker, a couple on honeymoon, or a family with kids in tow, we've got a destination that's right for you.
Here are the best day trips from Lagos, Portugal.
Quick Answer: Best Day Trips from Lagos, Portugal
Best Places to Stay in Lagos, Portugal
Historic Lagos, with its walled old town and charming cathedral has developed a bit of a party reputation with travellers. Aside from the late night beach drinking, there still remains a ton of local life and relaxing beach villas to enjoy. But just to make sure you pick the right place for your trip, here's our recommendation of the best places to stay in Lagos.
Best Hostel in Lagos, Portugal
If you're looking for hostel that isn't all about partying, this place is it. Run by a friendly bunch of people, rooms are clean and there's a rooftop patio that's great for meeting and mingling with other travellers. The location in the middle of Lagos town is ideal for easy access to public transport for day trips.
Editor's Tip: make friends by staying at a cool hostel in Portugal!
Best Budget Hotel in Lagos, Portugal
Situated a quick 15-minute walking distance from the beach, and also close to all the action of Lagos town, this top budget hotel in Lagos is in a great location. Rooms are simple but modern with en suite bathrooms. There's even a swimming pool and rooftop which is a sweet spot for sunset views.
Best Luxury Hotel in Lagos, Portugal
Surrounded by manicured Mediterranean gardens and located a literal stone's throw from the beach, this boutique hotel is a total world of chill. There's a spa pool for lazing around in, walking trails and a romantic restaurant which serves up high-end cuisine in the evenings. It's almost as if you're staying in your very own beachside villa.
#1 Best Day Trip from Lagos –Lisbon
Day Trips from Lagos by Train
Lively and exciting capital city
Plenty of restaurants, attractions and landmarks
Unforgettable sights and views
The capital and largest city in Portugal, Lisbon is a great day trip from Lagos by train. Lisbon boasts a rich history and a contemporary culture. It mesmerizes travellers with its bright limestone buildings and a labyrinth of alleyways, its incredible cuisine and its laid-back attitude.
Lisbon is packed with interesting and exquisite sights, sounds and smells. Hike up to the top of Castelo de São Jorge and enjoy unbeatable views of the city and out over the fantastic Alfama neighbourhood.
If you're a foodie, make sure you explore Bairro Alta. Tucked throughout this fun and funky neighbourhood are a great variety of traditional Portuguese restaurants.
The Best Travel Backpack EVER MADE!?!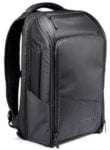 We are obsessed with backpacks – we've tried them all! And our favourite carry on backpack in the WORLD is the Nomatic Travel Backpack. This backpack has revolutionized the backpack industry and will change the way you travel forever :) Check it out here!
#2 – Faro
Popular party destination
Exquisite architecture
A MUST for anyone visiting the Algarve
Faro is a holiday destination popular with travellers from all over Europe. Located in the Algarve region of Portugal, this small and charming town boasts amazing architecture, quaint streets and alleyways, and plenty of hours of sunshine.
Looking for a little fun in the sun in the winter months? Faro is the place to be. This southern Portuguese city is a well-known party destination. It is home to a variety of bars, pubs and clubs where visitors can dance the night away and enjoy drinks all afternoon long.
Architecture buffs will also love exploring Faro. The city is packed with great examples of Moorish- and Iberian-influenced architecture from the 18th-century.
#3 – Seville
A great option for culture vultures
Incredible scenery
Delicious tapas and snacks
Want to add another stamp to your passport? Hop on the train and take a day trip over the border to Seville, Spain. Although the journey can take upwards of five hours, the chance to visit this incredible Spanish city shouldn't be passed up!
The capital and largest city in Andalucia, Seville is famous for its architecture, stunning sights, its incredible cuisine and its rich history.
The most famous and popular landmark in Seville is the Real Alcazar. Built in the 14th-century, this exquisite Moorish-style palace boasts incredible architecture, verdant gardens, lavish courtyards and detailed salons. Spend part of your day wandering through this amazing site and uncovering its myriad of secrets.
#4 – Cadiz
An interesting history
Beautiful beaches
Incredible landmarks
Cadiz is another Spanish city intrepid travellers will want to add to their list.
Said to be the oldest city in Western Europe, Cadiz is a coastal town characterized by its stone walls and forts, its towering cathedral, and its golden sand beach.
History buffs will love taking a day trip from Lagos to Cadiz. Here you can explore archaeological sites, including the remains of two Phoenician stone sarcophagi and a Roman Theatre. Cadiz is also home to a grand Cathedral, the Oratorio de San Felipe Neri, where the first Spanish Constitution was signed, and an elaborate Central Market.
Whether you're a culture vulture, beach bunny or a fearless foodie, a day trip to Cadiz is sure to please everyone.
Unparalleled sights and vistas
Animal encounters and epic shopping
Gibraltar is a region located on the southern tip of Spain. It is an overseas territory of the United Kingdom and offers enthusiastic travellers the chance to check not one, but TWO regions off their bucket list.
Adventurous types will love all of the outdoor activities Gibraltar has to offer, from tunnel treks and mountain hikes to dolphin safaris and monkey encounters.
Hike to Europa Point where you can gaze out over the Mediterranean and see all the way to Africa!
Fancy a bit of shopping? You're in luck! Gibraltar is home to famous and noteworthy UK brands and shops – many of which you won't find anywhere else on the continent.
Staying Safe in Lagos
While Lagos is super safe, no matter where you are traveling, you NEED to have great travel insurance. We have personally tested TONS of travel insurance companies, and World Nomads is our favorite (and most affordable!).
Fill out the form below to get a quote so you can have a stress-free time traveling around Portugal!
Romantic Day Trips from Lagos for Couples
Amazing natural scenery
Easy to get to
Romantic and relaxing
For a romantic and relaxing day trip, there's no better destination than Ponta de Piedade.
The Ponta da Piedade is a fascinating stretch of coastline that is famous for its golden sand beaches and towering cliffs. Battered by water, wind and rain, the cliffs have been carved over time to reveal rock pillars, hidden tunnels and secluded grottoes.
Whether you choose to walk along the sand or enjoy a sunset glass of wine, these magnificent natural wonders are not to be missed.
Set five minutes south of Lagos, Ponta da Piedade can easily be reached by car. If you're up for an adventure, walk along the path and in just 40 minutes you'll find yourself there.
Going to Lagos? This guide on fun stuff to do in Lagos hits all the highlights!
Tranquil and serene
Perfect for hikers and trekkers
Beautiful natural sights
Take a break from the hustle and bustle of Lagos city life and enjoy a quiet day trip to Deserta Island. One of the five barrier islands in the Ria Formosa Natural Park, Deserta Island – or Ilha Deserta – is famous for its pristine beach, glittering turquoise waters and its abundance of wildlife.
Deserta Island is ideal for exploring on foot. The island is home to the Santa Maria boardwalk, which twists and turns throughout the various terrains. From crossing sand dunes and marshes to walking along the beach, you'll be amazed by the sights of this stunning small island.
When you're ready for a rest, grab a spot on the beach and enjoy incredible views.
Like Hostels? Have a look at the coolest hostels in Peniche!
Interesting terrain and natural wonders
Easy to get to
Ideal for shutterbugs
No trip to the Algarve is complete without a visit to the Ria Formosa National Park. This verdant and eclectic region is home to some of the most impressive natural resources in Portugal and was recently named as one of the seven natural wonders of Portugal.
Easily accessed by train or by car, a day trip from Lagos to Ria Formosa is a must for nature enthusiasts. Spread out over 170 square kilometres, Ria Formosa is composed of five barrier islands and two peninsulas. It boasts a myriad of lagoons, sand dunes, and impressive flora and fauna. Tour throughout the Ria Formosa and take in the stunning sights and all of its natural wonders.
Charming towns
Interesting history
A MUST for architecture aficionados
A short boat ride from Lagos is Culatra Island, a charming and quaint day trip destination. Divided into three parts, Culatra Island is where you can go to enjoy peace and quiet, stunning sights, and extensive beaches.
Lace up your walking shoes and get ready for adventure. There are no roads or vehicles on Culatra Island, only a series of interlaced wooden walkways. The easiest and best way to explore this stunning locale is to set off on foot and take in the sights as you walk from end to end.
For a slice of authentic Algarve life, visit the town of Culatra. This small fishing village is characterized by its colourful houses, quaint alleyways, and it's laid-back and relaxed vibe.
#10 – Vila do Bispo
Stunning beaches
Fresh and delicious food
Practically tourist free
Vila do Bispo is a small town located 22 kilometres from Lagos. It has an abundance of restaurants, fantastic shops, and long stretches of pristine beach. In short, Vila do Bispo is a great day trip destination for couples from Lagos.
Love to eat? Vila do Bispo is a must. Although it is one of the smaller towns in the Algarve, Vila do Bispo boasts a great selection of restaurants that specialize in everything from seafood and fresh fish to wild boar and game.
Vila do Bispo is also a great getaway if you're looking to relax and work on your tan. Here you'll find a number of quiet beaches where you can avoid the crowds of tourists.
Best Day Trips from Lagos with Kids
Fun for the whole family
Animal encounters and adventures
Fun and exciting rides and activities
For a day trip the whole family is guaranteed to love, visit the Algarve Zoomarine Amusement Park.
Divided into several different zones, Zoomarine has everything you could possibly need for a day out. There are dolphin displays and sea lions on parade; amusement parks with rides of kids of all ages; and, a large aquatic area where you can swim, splash and play.
Zoomarine Algarve is also home to a wide variety of exotic and colourful animals and fish, including parrots, macaws, cockatoos and more. A visit to Zoomarine is your chance to see and meet these magical birds up close.
Meet'n'greet with your favourite creatures
See exotic animals up close
Interesting attractions and exhibitions
Another wonderful animal adventure that the whole family will love is a visit to the Lagos Zoo. Located just 15 minutes north of the city, Lagos Zoo is home to more than 140 different species of animals. Here you can see everything from birds of paradise and boa constrictors to leaping lemurs and curious capybara.
Have a budding zoologist in your brood? Make sure you time your visit to coincide with one of the zoos daily feedings. Several times each day you can witness animals, including pelicans, lemurs, primates and penguins, being fed by trained zoo staffers. If you're lucky, your little one might even be asked to join in!
Unique experience
Great for kids of all ages
See unbelievable sights
Set sail and cruise the high seas of the Algarve Coast aboard a historic pirate ship. On this half-day excursion from Lagos, you and your family can enjoy an all-ages adventure that includes curious tales, interesting history and stunning natural sights.
Starting in Albufeira, the ancient Pirate Ship Leãozinho makes its way along the Algarve Coast, showing off the regions most incredible sights. As you sail along, enjoy once-in-a-lifetime views of white-sand beaches, secluded caves and secret grottos.
Cap off your relaxing cruise by taking a walk on the plank! Don your swim trunks and jump right in for a refreshing swim in the shimmering turquoise Algarve waters.
Unbelievable scenery
Unforgettable experience
Perfect for families of all ages and sizes
The Bengali Caves are some of the most amazing and stunning sea caves in Europe.
Located in the small fishing village of Lagoa (not to be confused with Lagos), the Bengali Caves is a stretch of coastline famous for its golden cliffs and stunning azure waters. They are located around the corner from the main beach and can only be accessed by boat.
One of the best ways to experience the Bengali Caves is to rent standup paddle boards or kayaks. This way, you can cruise along the water and explore the caves at your own pace.
Pristine beach
Great for hikers and trekkers
Incredible views
A small town located east of Lagos, Carvoeiro – or Praia de Carvoeiro – is a great day trip destinations for families who are looking to sit back, relax and enjoy a day of surf, sand and sun.
Carvoeiro is most famous for its long stretch of pristine coastline. Here you'll find golden yellow sands and glistening turquoise waters, perfect for swimming, splashing, and staring out into the abyss. The waters are calm, clear and clean, and the beach is well outfitted with restaurants, shops and snack stands.
But there's more to Carvoeiro than stunning sights. This small town is also home to a great selection of hiking trails, which weave up, down and along the coastline. Head up into the hills and enjoy incredible views as you trek along the shores of the Algarve.
Editor's note – Make the most of your time in Lagos and check out the 15 best party hostels in Lagos!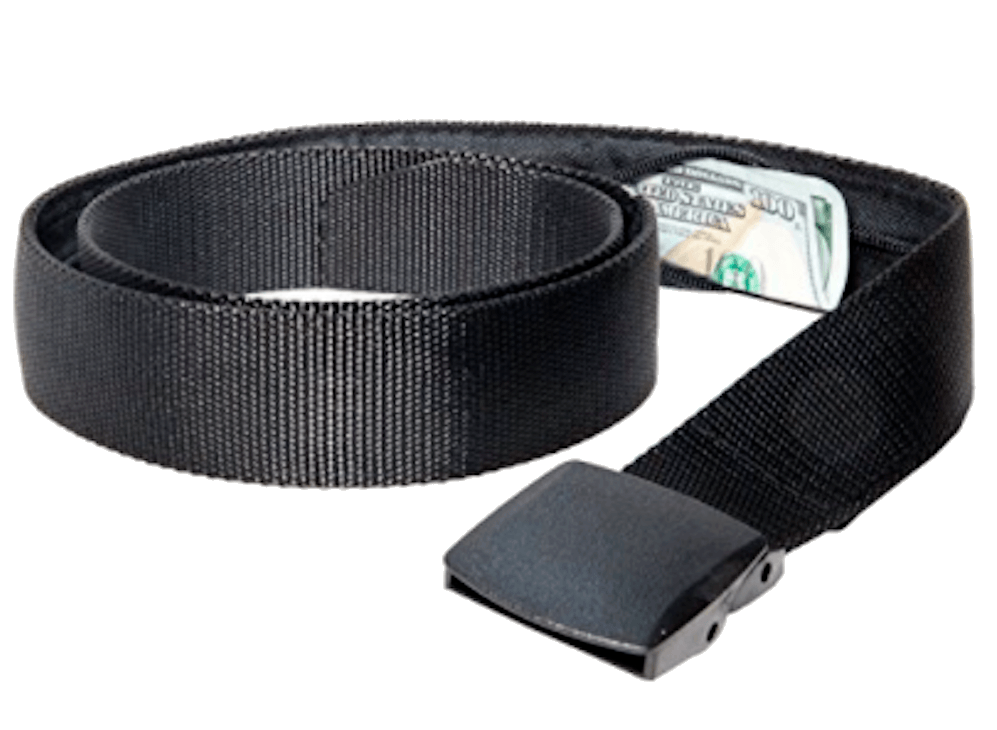 If you are traveling you should ALWAYS have emergency cash hidden on you! Security belts are great because they are affordable and can fit a ton of stuff in them (great for peace of mind!). Check out our favorite travel belt!
Cheap Day Trips from Lagos
A one-of-a-kind destination
A MUST for surfers
Great for shutterbugs
Located just 30 minutes west of Lagos, Sagres holds the distinction as the most westerly point in Europe. This unique destination boasts a variety of interesting attractions and some of the most impressive natural sights in the region.
Perched high atop cliffs overlooking the Atlantic Ocean, Sagres is a shutterbug's dream day trip destination. Not only can you snap amazing photos of the surrounding landscape, but you can enjoy panoramic views of the water and the horizon.
Sagres is also a great destination for day-trippers looking to get in the water and hang ten. This part of Portugal is known for its bracing winds, which create great conditions for experienced surfers.
A MUST for history buffs
Amazing archaeological sights
Silves is an ancient fortified town located approximately 30 minutes northeast of Lagos. It boasts historic sights, stunning views and a great number of interesting things to see, do and eat.
The town's most notable attraction is Silves Castle, which sits perched atop the town. It was built circa 201 BCE and was occupied by the Moors between the 8th and 13th centuries. One of the best-preserved Moorish fortifications in Portugal, Silves Castle has a number of interesting archaeological sites and exhibitions to explore.
Great historic castle
Authentic Portuguese cuisine
Fast and easy day trip
The largest and most vibrant town in Portugal's Algarve, Albufeira is a must for anyone interested in a cheap day trip from Lagos. You can reach this vibrant town in less than two hours by train, bus or car, and tickets will most definitely not break the bank.
The town is divided into two distinct parts: The Old Town and the STRIP. While the STRIP primarily caters to tourists, the Old Town is packed with historic landmarks, charming architecture and authentic Portuguese restaurants.
Albufeira's most famous attraction is the Castelo de Almoada. Built in the 12th-century, this Moorish castle sits high on a hilltop and boasts incredible views of the surrounding area.
Exquisite sights
Pristine beaches
Scenic views and vistas
Portimao is a coastal resort town located just 20 minutes east of Lagos. It is the second largest town in the Algarve and is where you'll find some of the most amazing beaches in the region.
Praia da Rocha – or Rock Beach – is one of the most famous beaches in the Algarve. This stunning stretch of golden sand runs along the Atlantic coast and is characterized by its unique and dramatic limestone cliffs and rock formations. At low tide, head out onto the beach and walk for miles, enjoying the incredible natural scenery of the cliffs, sand and sea.
Bonus Trip! – Monchique
Restful and relaxing
Stunning natural surroundings
A unique Algarve experience
For a break from the beach, head north to the quaint spa town of Monchique. A short 30-minute drive from Lagos, Monchique is a charming town with cobblestone streets, whitewashed houses and incredible nature.
Get back to nature by exploring the mountains and forests surrounding the town. Here you can hike high into the hills and trek to the top of Serra de Monchique, where you can enjoy great views of the region.
For a more relaxing day, visit one of the town's famous health resorts and lounge in the geothermal springs. Feel all your stresses melt away as you sit in these natural hot pools.
Final Thoughts on the Best Day Trips from Lagos, Portugal
Charming beaches, stunning sights, interesting history, and epic outdoor adventures, the Algarve region has it all! With so many options, it can be hard to narrow down exactly where to go. Thankfully, our expert travel writers have done it so you don't have to!
In this guide, we've highlighted the top 20 best day trips from Lagos, Portugal. From cheap and cheerful to animal adventures, we've shared with you our best-kept secrets and our favourite gems hidden tucked in and around Lagos. So, whether you're a culture vulture, fearless foodie, a family of four or a cost-conscious couple, you'll be spoiled for choice when picking a day trip from Lagos.
Now, all that's left is for you to pack your bags and have an amazing trip!
Have we missed anything? Let us know in the comments below.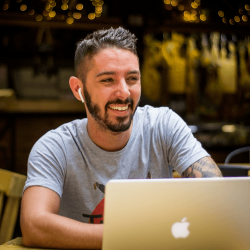 Latest posts by Aaron Radcliffe
(see all)