Seville is an incredible city that offers so much more than fiery flamenco dancing and tasty tapas. The top destination in Andalusia, Seville is packed with history, culture, excitement and fun.
But what if you're interested in getting out of Seville and exploring more of southern Spain? That's why we wrote this epic guide to the best day trips from Seville.
We've rounded up the best day trips from Seville, from amazing outdoor adventures that the whole family will love, to romantic day trips for couples, as well as the best day trips by train, including spectacular Granada and colourful Cordoba.
No matter your interests, we've got a day trip that's right for you! So get ready – here are the best day trips from Seville, Spain.
Quick Answer: Best Day Trips from Seville
Best Places to Stay in Seville
If you're travelling to Seville you're going to want to make sure that you are staying in the heart of this historic city among all of the culture, life and atmosphere. Here's a choice of top places to stay in Seville so that you can indulge in the scintillating energy of it all.
• Best Hostel in Seville •
Right in the middle of the action, this hostel is all about good vibes. The rooftop is the place to be to meet other people and be mesmerised by views of of the cathedral. The brothers who run this place help open up the culture of the city by holding tapas tastings and musical performances.
• Best Budget Hotel in Seville •
As the name suggested, this apartment in Seville is in the centre of the city – and in walking distance to main sites. There's a kitchen, lounge and even a washing machine which is very handy for long term travellers. The host will make sure you have everything you need to make your stay comfortable, too.
• Best Luxury Hotel in Seville •
Why not stay literally inside part of the city's history for your Seville vacation? This hotel was built in the 18th century as a palace and still retains many of its original features. Here you can relax in the courtyard with a drink in the evening and then eat at one of the many local tapas restaurants close by.
Want your own villa? The coolest villas in Ibiza will blow your mind…
#1 Best Day Trip from Seville – Cordoba
Day Trips from Seville by Train
World Heritage Site
Diverse Culture
Charming atmosphere
An hour away by train, Cordoba is one of the easiest and fastest day trips from Seville you can take. It has a rich history and has the distinction of being the capital of a Roman Province, an Arab state and a Caliphate.
The Mezquita is Cordoba's most famous attraction. Renowned for its forest of striped arches, this former mosque has stunning architecture and is full of history and beautiful detail. Give yourself at least a couple of hours to explore the rooms, patios and bell tower of this splendid site.
Spend the rest of your time in Cordoba navigating the narrow labyrinth of the Old Town. Here you'll find the Roman Bridge, the Museum of Al-Andalus Life, and Alcazar de los Reyes Cristianos.
The Best Travel Backpack EVER MADE!?!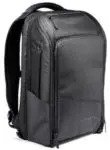 We are obsessed with backpacks – we've tried them all! And our favourite carry on backpack in the WORLD is the Nomatic Travel Backpack. This backpack has revolutionized the backpack industry and will change the way you travel forever :) Check it out here!
#2 – Osuna
Easy to get to
Full of history
Excellent sightseeing
Even if you only have 2 or 3 days in Seville, you can still squeeze a trip out of town in. Less than an hour from Seville by train, a day trip to Osuna is a must for history buffs and culture vultures. A charming town packed with Baroque houses, Osuna is brimming with ancient architecture and a charming atmosphere.
At the heart of Osuna is the historic Plaza Mayor. Home to a myriad of sights including the town hall, Convent de la Conception and the Torre del Agua, Plaza Mayor is where you can soak in much of Osuna's charm and ambience.
Fans of Game of Thrones will also enjoy a day trip to Osuna. This delightful Andalusian town was featured throughout the fifth season and fans of the HBO drama can visit some of the sites used, including the massive early-20th-century bullring.
#3 – Sierra Norte
Get back to nature
Exotic animal encounters
Beautiful natural scenery
Enjoy a break from the hustle and bustle by taking a day trip from Seville to Sierra Norte. Tucked within the Sierra Morena mountain range north of the city, Sierra Norte is a calm, quiet and peaceful setting surrounded by rolling hills and dramatic landscapes.
Lace up your boots and enjoy a day in nature. Hiking trails and walking paths crisscross the region, taking you alongside rivers and through deep, verdant forests. On your journey, you'll enjoy spectacular views of this often overlooked region.
Sierra Norte is also home to a number of charming and picturesque villages, with Constantina and Cazalla being the largest. Make your way between the villages marvelling at the historic sights and interesting attractions that lie within.
#4 – Huelva
Full of history
White-sand beaches
Fresh and delicious food
Huelva is a small town that combines history with incredible scenery and white-sand beaches. Easily accessed by train, Huelva is the perfect destination if you're looking for a break from the crowds.
Huelva has a long history. It dates back to the first millennium BC when it was a prosperous trading centre for the Phoenicians and Tartessians. In the Middle Ages, Christopher Columbus launched his expedition to the New World from Huelva, and today, the town is full of landmarks commemorating his journey.
Love to eat? Huelva is the place for you! It boasts a variety of restaurants that specialize in fresh and delicious seafood-based cuisine. You won't have to go far to eat well in Huelva.
#5 – Madrid
Vibrant and lively capital
Amazing sightseeing
Full of history, culture and food
Thanks to Spain's high-speed AVE network, Madrid is a fantastic day trip from Seville by train.
The Spanish capital is home to a wealth of historic attraction and cultural landmarks. Can't-miss sightseeing includes Puerta del Sol and Plaza Mayor, two squares at the heart of the city; the Palacio Real; and, vibrant Gran Via.
Culture vultures and art aficionados will certainly want to browse Madrid's museum district. Home to the Museo del Prado, Reina Sofia National Museum, and the Thyssen-Bornemisza Museum of Art, here you can see priceless and world-renowned works of art by Picasso, Goya, Kandinsky, Dali, and more.
When you're ready for a snack, pop over to Mercado San Miguel. Around the corner from Plaza Mayor, Mercado San Miguel is packed with vendors selling everything from seafood and fruit to cured meats, drinks, and beyond. You'll enjoy the food almost as much as the fantastic people watching.
Staying Safe in Seville
While Seville is super safe, no matter where you are traveling, you NEED to have great travel insurance. We have personally tested TONS of travel insurance companies, and World Nomads is our favorite (and most affordable!).
Fill out the form below to get a quote so you can have a stress-free time traveling around Spain!
#6 –Arcos de la Frontera
Romantic Day Trips from Seville for Couples
Whitewashed houses
Spectacular views
National Historic Site
Arcos de la Frontera is a beautiful city that sits perched atop a dramatic limestone cliff. One of Andalusia's famous pueblo blancos, Arcos de la Frontera is composed of bright, whitewashed houses and buildings, surrounded by lush landscapes and spectacular views.
The best way to enjoy this romantic day trip from Seville is on foot. Wander throughout the labyrinth of cobblestone streets and alleys that snake between the buildings as you make your way to the impressive Castillo de los Arcos, a sandstone castle with an incredible viewpoint and an interesting history.
For the best views of Arcos de la Frontera, visit the terrace of the Parador Hotel. Here you can marvel at the breathtaking vista while you sit back and enjoy a romantic drink or two.
Editor's Note – Heading to Madrid next? Check out our post about 21 awesome hostels in Madrid!
Exotic history and culture
Eat amazing local foods
Unique sights, sounds, smells and attractions
Check another country off your bucket list by taking a romantic day trip to exotic Tangier. Located just a few hours away by car and ferry, Tangier is a vibrant and lively Moroccan city that will excite the senses and intrigue any traveller.
Tangier is a relatively compact city. Simply walk along the beach and you'll enjoy spectacular sights and landmarks including the Kasbah, Tomb of Ibn Battuta, the Teatre Cervantes, and the Kasbah Museum.
When in Tangier, be sure to reserve a good chunk of time for exploring the souks. Tucked within this maze of tight trails are vendors selling everything from sweet treats and savoury snacks to clothes, shoes and beyond. There's no better place to pick up a souvenir or simply enjoy the atmosphere than the souks of Tangier.
Fascinating sightseeing
Unique destination
Great views
Gibraltar is a unique destination that makes for a great day trip by car. It is an overseas territory of the UK that is located on the southernmost tip of Spain.
Covering just seven square kilometres of land, Gibraltar is packed with interesting activities and attractions. Here you can enjoy an afternoon of animal encounters, incredible sights, fascinating history and great shopping.
Climb (or ride the cable car) to the top of Europa Point and enjoy sweeping views out over the Mediterranean. On a clear day, you can see all the way to nearby Africa.
Back on terra firma, there's plenty to enjoy in Gibraltar. From the Siege Tunnels and Gibraltar Museum to dolphin sightings and delightful dining.
Plenty of beaches
Restful and relaxing
Great sightseeing
The Costa del Sol stretches more than 150 kilometres through southern Spain from Cadiz in the west to Malaga in the east. Home to a number of small towns, villages and high-end beach resorts, this is the perfect romantic day trip from Sevilla for couples.
Pack your parasol and enjoy a day at the beach! The Costa del Sol is most famous for its long stretches of white sand beaches and its glistening turquoise waters. Here you can enjoy a restful and relaxing day by soaking up the sun and lounging on the sand.
If you're looking for a more active day out, the Costa del Sol is also a great destination for hiking. Throughout the region, you'll find trails and paths that lead you through towns and villages and alongside the seashore.
Great for hikers
Incredible views
A MUST for adrenaline junkies
Not for the faint of heart, the Caminito del Rey is a unique day trip destination that is perfect for adrenaline junkies and outdoor adventurers.
Dubbed the most dangerous walking trail in Spain, the Caminito del Rey is a nearly three-kilometre long path that is pinned to the walls of a gorge more than 100 meters above the river below. The one-meter-wide wooden path snakes throughout the canyon, providing incredible views and a once-in-a-lifetime experience.
A popular tourist destination, we recommend that couples looking to get their hearts racing book their place well in advance to avoid disappointment.
Best Day Trips from Seville with Kids
A UNESCO World Heritage Site
A must for animal lovers
Perfect for the whole family
Doñana National Park is a fantastic day trip from Seville with kids. This national park can be easily reached in just two hours by bus, or in less than 90 minutes if you hire a car.
Covering nearly 550 square kilometres of land, Doñana National Park is a protected nature reserve composed of wetlands, forests, and rolling sand dunes. Wander throughout the park marvelling at the incredible sights and exquisite natural scenery.
Keep your eyes peeled as you go as the park is home to a myriad of exotic flora and exciting fauna. A long list of fish, birds, mammals and reptiles call the park home, including deer, rabbits, lynx, horses, wild boar, and more.
Full of history
The magnificent Alhambra
Just 2.5 hours away by car, the city of Granada has a rich history, diverse culture, fascinating attractions, and delicious food.
The Alhambra is far and away the most famous attraction in Granada. This vast medieval complex was used by the Moors as a palace, fortress, gardens and government city. It boasts stunning architecture, lush grounds, and a series of beautifully decorated structures.
Spend a few hours wandering throughout the Alhambra taking in the intricate detail and amazing sights.
Outside of the Alhambra, there's plenty to do in Granada, including the Plaza Isabel la Catolica, the Cathedral of Granada, Albayzin, and Sacromonte. No matter your ages and interests, your family will be amazed at just how much there is to see in this great Andalusian city.
#13 – Italica
Easy to get to
Great Roman ruins
A MUST for architecture buffs
With Roman ruins and a massive archaeological site, a day trip from Seville to Italica is a must for families interested in history, culture and incredibly cool ancient artefacts.
Italica is a partially excavated Roman city, which dates back to 206 BC. Although most of the ancient city's sites have been buried under the modern town of Santiponce, visitors can still wander through the relics of this historic town.
Italica's main attraction is the 25,000-seat amphitheatre. Stand at the centre of this massive stone structure and imagine all of the activities, battles and exhibitions that might have taken place.
Also within Italica, you can discover the remains of old streets and ancient buildings with mosaic-tiled floors.
Full of history
Excellent sightseeing
Plenty of fun and unique activities
Around an hour by train outside of Seville, Jerez is a great day trip for families with kids. You and your family will love exploring this beautiful Spanish town famous for its fiery flamenco, historic horses, and its warm and welcoming atmosphere.
Jerez is the home of the Carthusian horses, a special breed of horse found in Spain. Throughout Jerez, there are many sites dedicated to these beautiful creatures including the Royal Andalusian School of Equestrian Art and the Stud of the Cartuja. Visit Jerez and learn all about this fantastic and fascinating species.
Also known as the cradle of flamenco, Jerez is the perfect place to see a show or learn a few dance moves.

If you are traveling you should ALWAYS have emergency cash hidden on you! Security belts are great because they are affordable and can fit a ton of stuff in them (great for peace of mind!). Check out our favorite travel belt!
History and culture
Great sightseeing
A MUST for history buffs
This fun day trip from Seville with kids will take you back in time and teach you all about Spain's rich and varied history.
Just 35 kilometres from Seville, the village of Carmona sits surrounded by stunning landscapes and natural scenery. Encircled by the remains of a Roman wall, this ancient village is bursting with charm and intrigue.
Carmona's main landmarks are the Alcazar del Rey Don Pedro, the Church of Santa Maria la Mayor, and the Church of San Pedro, whose bell tower dominates Carmona's skyline.
The best way to enjoy the village is to explore the winding streets and narrow alleys on foot. Soak in the history and stories of the city as you marvel at the architecture and Carmona's incredible sights.
Cheap Day Trips from Seville
Spanish history
Beautiful town centre
Stunning beaches
Located 90 minutes outside of the city, Cadiz makes for a cheap day from Seville. Accessible by train or bus, it's easy to keep costs down by relying on public transit to get to this seaside town.
Said to be the oldest continuously inhabited city in Western Europe, Cadiz's history dates back more than 3,000 years. Founded by the Phoenicians, archaeological remains and relics can be found throughout the city. History buffs will definitely want to visit the Archaeological Museum to dig deeper into Cadiz's past.
The city is situated on a narrow strip of land surrounded by the sea, making it the ideal destination for a day in the sun. Visit the Playa de la Caleta to enjoy one of the best sunsets in Spain, or lay down your towel and bask in the rays on one of Europe's cleanest beaches.
Interesting history
Good food and drink
Ronda is another beautiful Andalusian town that is well worth a visit. Set in and around a deep gorge, the town of Ronda is renowned for its beautiful architecture, rich history, and unique setting.
The town is divided into two distinct parts with the Guadalevin River running through the centre some 120 meters below. On the south side of the gorge is La Ciudad, the old town, a labyrinth of whitewashed buildings, historic houses, churches and old Islamic architecture.
To the north of the gorge is El Mercadillo. A classic Spanish town, El Mercadillo is where you'll find more modern architecture, meandering streets, and a charming and pleasant atmosphere.
Want to capture that perfect picture of Ronda? Walk down to the bottom of the gorge and look back at the city. You'll be amazed by the beauty, architecture and engineering of this quirky Spanish city.
Bonus Trip! – Sierra de Aracena
Great for hikers
Beautiful scenery
Quiet and relaxing
Sierra de Aracena is a cheap day trip from Seville that is perfect for anyone looking to get back to nature and enjoy a day away from the city.
Located just 75 minutes by car northwest of Seville, Sierra de Aracena is a quiet and peaceful slice of paradise. A popular weekend destination for Sevillanos, the Sierra de Aracena is a range of hills covered in lush forests and exotic flora and fauna. Here you can enjoy a relaxing day away from the crowds of tourists.
The area is also quite a popular destination for hikers and trekkers. Trails and paths crisscross the land leading outdoor enthusiasts through breathtaking landscapes and across the stunning Spanish countryside.
Fancy a snack? Sierra de Aracena is the place to sample Spain's famous Jamon Iberico. The pigs in this area are fed a diet of acorns giving the ham a delicious and unique blend of flavours.
That's it! Final Thoughts on the Best Day Trips from Seville
Southern Spain is packed with history, culture, incredible sights and amazing food. There's so much to see, do and experience that you could easily spend a lifetime exploring and barely scratch the surface. To save time planning accommodation for Seville, why not check out our bargain guide to the coolest and best hostels in Seville.
In this list, we've highlighted the 18 best day trips from Seville, from romantic excursions to exotic Tangier and architecture expeditions for the whole family, to tours of Spain's most famous sites and outdoor adventures that will get your heart racing. No matter your interest, there's something for everyone in and around Seville.
We've even included a whole host of cheap day trips from Seville for budget backpackers and cost-conscious travellers because we know that sightseeing and experiencing southern Spain doesn't have to break the bank.
All that's left is for you to start planning your trip to Seville – and beyond!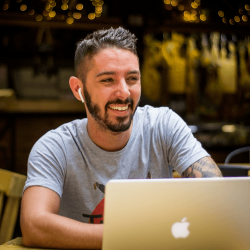 Latest posts by Aaron Radcliffe
(see all)