From the incredible nightclubs in the bustling capital of Berlin, the tasty cuisine in Frankfurt to the glamorous boutique shops in Munich, and the famous beer celebrations of Oktoberfest, Germany has marked itself on the map as being one the of most epic destinations to visit in Europe.
Germany is also known for its awesome hostel scene with hundreds of epic options dotted across the country. With so many to choose from it can sometimes be difficult for travelers to pick the right one for them. That's why we have created this list of 7 of the best hostels in the country, which we've broken down into categories to fit different travelers' needs.
So whether you're a solo traveler wanting to meet other guests, looking for the party of a lifetime at Oktoberfest, or just need somewhere cheap and cheerful this list will have you covered.
Quick Answers – The Coolest Hostels in Germany
#1 Best Overall Hostel in Germany – The Circus Hostel
#2 Best Hostel for Solo Travellers in Germany – Euro Youth Hostel
#3 The Coolest Hostel in Germany – Jaeger's Munich
#4 Best Party Hostel in Germany – St Christopher's Berlin Mitte
#5 Best Hostel for Couples in Germany – Five Elements Hostel Frankfurt
#6 Best Luxury Hostel in Germany – Meininger Hamburg City Centre
#7 Best Budget Hostel in Germany – Black Sheep Hoste
Best Overall Hostel in Germany
Why we like Circus Hostel Berlin…
Circus Hostel is one of the most famous hostels in Europe, with travelers from all over the world choosing to stay here. We can see why with it being home to ultra-modern facilities including stylish, deluxe beds along with one of the friendliest atmospheres in Berlin. The staff go out of their way to make guests feel comfortable and have an epic time.
Circus Hostel Berlin is perfect for…
For those who like to keep busy, mingle with other guests, and explore everything Berlin has to offer. Circus Hostel offers a range of nightly events with the hostel offering a little something for everyone. This includes quiz nights, Karaoke Thursdays, and live music Fridays where an awesome selection of local artists perform.
During the day, the hostel also offers free walking tours which they have nicknamed "behind the curtain tours", where the hostel staff take guests to some of Berlin's hidden gems.
Heading to Berlin? Save some money with our guide to the coolest hostels in Berlin!
Best Hostel for Solo Travellers in Germany
Why we like Euro Youth Hostel Munich…
We love Euro Youth Hostel's somewhat unbeatable location in the heart of Munich next to the famous Hauptbahnhof. This means guests are within striking distance to all the major sites in Munich. Along with a stone's throw away from the main train station which connects the city to other hotspots including Neuschwanstein Castle, the Alps and Salzburg.
Euro Youth Hostel Munich is perfect for…
Travellers looking to socialise and meet other guests with top class amenities and events to facilitate this. This includes its famous on-site bar which serves up a storm of tasty drinks including a great selection of Munich's famous beer along with dangerously cheap cocktails, which are even further discounted at the hostel's daily happy hours! Here you will also find all the major sporting events to watch on large screen TV's.
Editor's Recommendation! These are the staff pick for the top hostels in Hamburg (for all budgets!)
The Coolest Hostel in Germany
Why we like Jaeger's Munich…
The second hostel on our list from the incredible city of Munich is Jaeger's Hostel which is one of the coolest hostels to stay in Germany. The hostel has a traditional-German-mixed-with-sleek-Scandinavian design with awesome facilities including a state-of-the-art fireplace and a warming on-site bar and restaurant area.
Along with this, the hostel is great for party travelers looking to stay out until the early hours of the morning. Jaeger's hostel has a 24-hour reception along with no curfew meaning you don't have to worry about being locked out.
Jaeger's Munich is perfect for…
All types of travelers whether it's just a weekend getaway, group vacation, a stag night, or a business trip the hostel has versatile facilities to cater to different guests. It's also great for those who want to explore plenty of what Munich has to offer, with lots of museums, nightspots, pedestrian zones, and the famous Oktoberfest being only 10 minutes walk away.
Germany is amazing! And the best hostels in Munich will blow you away!
Best Party Hostel in Germany
Why we like St Christopher's Berlin Mitte…
The popular chain of St Christopher's have opened this brand new and swanky hostel in the heart of the German capital and has marked itself on the map as being one of Berlin's top hostels. The hostel's epic location means you are just minutes away from Berlin's top sites, including Museum Island and Brandenburg Gate. Be sure to check out the hostel's free walking tours where the hostel staff give you the inside scope to all these spots.
St Christopher's Berlin Mitte is perfect for…
Party travelers with not only the hostel being within walking distance to some of the top clubs and bars but also has incredible party facilities on-site. These include daily bar crawls where guests get discounted drinks at some of the best party venues, a large outdoor terrace that is the perfect place for pre-drinks, and the lively Belushi's bar that serves a fantastic range of beers, spirits, and cocktails.
Looking for the Party? We've got you covered with our guide to the best party hostels in Berlin!
Best Hostel for Couples in Germany
Why we like Five Elements Hostel Frankfurt…
We love all the free added touches included at Five Elements Hostel Frankfurt including free homemade dinners, unlimited free tea and coffee, and free nightly activities every evening at the hostel. The hostel also has great facilities to hang out in including and a 24-hour guest kitchen and a sociable lounge area!
Five Elements Hostel Frankfurt is perfect for…
This hostel is great for those who want to be located in a trendy neighborhood and is home to some of the best food and clubs Frankfurt has to offer. It is also situated near the famous red light district which was named one of the most upcoming neighborhoods in Frankfurt.
Five Elements Hostel is also great for couples looking to explore Frankfurt with a great selection of private rooms making the hostel perfect for a budget-friendly romantic getaway.
Not finding the right hostel? Munich has a selection of party hostels too!
Best Luxury Hostel in Germany
Why we like MEININGER Hamburg City Centre…
One of the key draws to this hostel is its comfortable and deluxe facilities, including a well-equipped kitchen and gorgeously designed hostel rooms. Here you will find a great selection of options for all types of travelers from 6-8 dorm rooms to private suites all of which have been beautifully finished with lavish touches.
You will also find all rooms have plenty of storage space including lockers, as well as key card access assuring guests' luggage are kept safe.
MEININGER Hamburg City Centre is perfect for…
Those who like the finer things when traveling but want the social aspect and budget-friendly prices of a hostel. The hostel has a gorgeous spacious lobby and a cozy lounge along with a lavish 'all you can eat and drink' breakfast buffet that serves up an incredible selection of tasty treats.
Have an early flight? Book a hostel near Munich AIRPORT to have a stress-free morning!
Best Budget Hostel in Germany
Why we like Black Sheep Hostel Cologne…
The Black Sheep Hostel is one of the newest hostels in Cologne but has already created itself a reputation for being one of the best hostels in the city. This is partly due to its cool and social facilities along with its epic location within close distance to all of Cologne's most beautiful sites, including the stunning Cathedral of Cologne.
You will also find yourself on the doorstep of Cologne's abundant nightlife with all kinds of clubs, bars, and inexpensive restaurants within walking distance.
Black Sheep Hostel Cologne is perfect for…
Those who are looking for a budget getaway in Germany, with the hostel offering fantastic free amenities along with some of the most budget-friendly dorm beds in the city. It is also home to an awesome on-site kitchen meaning you can cook for yourself and save yourself some cash where you can.
Have some time? Get out of the city with these epic day trips from Berlin!
Conclusion to the Best Hostels in Germany
Well there you have it, there's our ultimate list of the best hostels in the incredible country of Germany. As you can probably tell, there is a great selection across all the major tourist hubs including in Munich, Berlin, Cologne, and Frankfurt.
We hope this article has helped navigate your way around the hostel scene in the country and perhaps has helped you find the perfect one for you. If you do end up booking any of the hostels listed above do let us know it's always great to hear you guys using our recommendations.
So get packing the finest selection of German beers and hot dogs are awaiting you!
***Disclaimer*** Some of the links in this post are affiliate links. This means that if you book your accommodation through the site, One Weird Globe will earn a small commission at no extra cost to you. Your support helps me keep the site going :)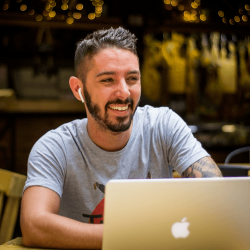 Latest posts by Aaron Radcliffe
(see all)