Thailand is one of the most popular backpacking destinations in the world with millions of tourists heading to the paradise country every single year! There is no denying why the country is so popular with breathtaking white sandy beaches, spectacular jungle treks, bustling cities, and some of the best party hotspots on the planet. You also have some of the most beautiful temples in the world which we can guarantee will leave your jaws dropping!
As Thailand has become such a hit amongst backpackers over the years it has meant the hostel scene has grown significantly which means you now have hundreds to choose from. However, this can make it even more difficult to decide on where to stay! That's exactly why we thought we'd help you out by creating this guide to the best hostels in Thailand where we have broken down 7 of our favorites from across the country.
Is a backpacking trip to Thailand on your radar? Check out our recommendations below for an epic place to stay…
Quick Answers – The Coolest Hostels in Thailand
#1 Best Overall Hostel in Thailand – Nappark Hostel at Khao Son
#2 Best Party Hostel in Thailand – Phangan Arena Hostel
#3 Best Luxury Hostel in Thailand – Lub d Koh Samui Chaweng Beach
#4 Best Budget Hostel in Thailand – Blanco City Hostel
#5 Best Chilled Hostel in Thailand – Hostel Lullaby
#6 Best Hostel in Thailand for Solo Travellers – Mad Monkey Bangkok
#7 Best Hostel in Thailand with Pool Access – Buzzas@PaiChain
Best Overall Hostel in Thailand
Why we like Nappark Hostel at Khao Son…
Our top pick for the best overall hostel in Thailand has to go to Nappark Hostel on Khao Son Road in Bangkok. The hostel is constantly ranked one of the best hostels in Bangkok, and even Asia. It won the Hoscar for the best hostel in Asia a few years ago. We can see why it won these awards with a fantastic location just a stone's throw away from the famous Khao Son Road, immaculate facilities along with an amazingly social atmosphere.
We also love the design of the hostel with it being brightly decorated with traditional patterns which creates a warming and homely feel.
Nappark Hostel at Khao Son is perfect for…
Those who are looking for the overall perfect package in a hostel! Firstly, Nappark Hostel has pretty much all the perfect facilities you would want in your hostel room including lockers with free locks, premium duvets, high-speed internet access, and beautifully clean bathrooms some of which are en-suite.
The hostel also has an unbeatable location with some of the city's tastiest cafes and restaurants being on your doorstep along with the biggest nightclubs and bars just a short walk away. You also won't have to travel far to reach Bangkok's top sites including The Grand Palace and Wat Arun Ratchawararam which are both just a short distance away!
Looking for the Party? We've got you covered with our guide to the best party hostels in Thailand!
Best Party Hostel in Thailand
Why we like Phangan Arena Hostel…
Koh Phangan is known for being one of the ultimate places to party in Thailand and the Phangan Arena Hostel will provide you with the perfect place to do so. The hostel is situated only a stone's throw away from a stunning beach with epic beachfront bars along with only being a short drive to the walking street market and the night food market where you will also find a great selection of lively restaurants, bars, and clubs
Phangan Arena Hostel is perfect for…
This one is for our party goers with Phangan Arena being well regarded as one of the best places in the country to let loose and party the night away. The hostel has epic facilities and events to facilitate the night of your life including a huge outdoor swimming pool, games tables, and a 24-hour on-site bar. Moving onto the events you can expect a 2-hour unlimited cocktail session for only 300 baht, wild pub and bar crawls, beer pong tournaments and wild pre-parties to prepare you for a night at one of the island's insane parties.
Thailand is incredible! These are the most spectacular places to visit in Thailand!
Best Luxury Hostel in Thailand
Why we like Lub d Koh Samui Chaweng Beach…
We love the epic communal facilities that are provided at Lub D Koh Samui hostel with guests having access to a swim-up pool bar, a games hub, a floating DJ booth along with a tasty beachside restaurant.
Here you can indulge in some good food at reasonable prices whilst overlooking some of the best views on the island. The hostel also provides a great selection of room options with deluxe privates equipped with en-suites to sociable backpacker dorms for those on a tighter budget.
Lub d Koh Samui Chaweng Beach is perfect for…
If you want a bit of luxury and a great place to relax on your trip to Thailand, but don't want to burst the budget on a swanky hotel, then this might be the perfect place to stay for you. Lub d Koh Samui Chaweng Beach is one of the most beautiful hostels we've ever seen with sweeping views of the ocean, a boujee beach club, and deluxe and extremely modern rooms.
AND arguably the best thing about this hostel is the gorgeous infinity pool that overlooks the Gulf of Thailand! You need to get yourself down to the pool for golden hour as we have heard it is one of the most incredible sunset views on the island.
Heading to Thailand? You have to read our Thailand packing list!
Best Budget Hostel in Thailand
Why we like Blanco City Hostel…
We love the nightlife events put on by the team at Blanco City Hostel including nightly events at its vibrant on-site bar along with the epic 'Phi Phi Pub Crawl' which takes you around some of the best bars and clubs on the island whilst also giving you some great backpacker drinks deals and discounts.
If you choose to stay at Blanco City Hostel you have to get yourself on the famous Blanco Boat Party which is one of the best-rated things to do on the island. Think beautiful cream-colored beaches and glistening turquoise waters matched with plenty of beers and an epic atmosphere and you'll get an idea of what the boat party is like!
Blanco City Hostel is perfect for…
If you're looking to base yourself on a paradise island but want a super cheap place to stay then look no further than Blanco City Hostel. Blanco City Hostel is situated on the idyllic island of Ko Phi Phi and is located in the center nearby plenty of nice restaurants and bars along with being just steps away from a gorgeous beach.
Despite being home to some of the cheapest bed prices in the city, the dorms and private rooms are very stylish and the hostel constantly gets great reviews for comfortability and cleanliness!
Recommended Article: Looking for the best hostels in Bangkok? Check out our EPIC Guide!
Best Chilled Hostel in Thailand
Why we like Hostel Lullaby…
Situated in the backpacker-favorite city of Chiang Mai, Hostel Lullaby is one of the best places to base yourself in the city to explore its top sites. The city is known for its interesting historical and religious sites and spectacular architecture including Wat Phra Singh and Wat Chedi Luang.
If you choose to stay at Hostel Lullaby you will be able to reach these magnificent Buddhist monasteries within minutes and can also get a guided tour of these sites which can be arranged by the super friendly hostel staff. The hostel is also located in a great place for foodies with hundreds of tasty food stalls within minutes of Hostel Lullaby.
Hostel Lullaby is perfect for…
Those who want a chilled-out and relaxed experience in Hostel Lullaby with a good night's sleep. Hostel Lullaby prides itself on having deluxe beds and the accommodation hosts make it clear that is not a place for guests to party the night away. However, despite it not being a party hostel, it has a beautiful selection of common areas to socialize and meet other guests and chill out after a day of exploring Chiang Mai.
At the hostel, there is also a number of complimentary add-ons you get with your stay. This includes a free and delicious breakfast every morning, free bicycle hire along with free bottled water on arrival!
Editor's Tip: make friends by staying at a cool hostel in Koh Phangan!
Best Hostel in Thailand for Solo Travellers
Why we like Mad Monkey Bangkok…
The Mad Monkey hostel chain is a staple place on any list of the best hostels in South East Asia and their Bangkok branch is certainly one of their best. The hostel is home to so many fantastic on-site facilities including a glistening outdoor swimming pool and seating area which are perfect for soaking up the beaming Bangkok sun. There's also a large bar and restaurant where you can find something tasty to eat or refreshing to drink.
You also get the best of both worlds at Mad Monkey Hostel with it being just minutes away from the famous Khao San Road but tucked away a few streets back overlooking a quiet canal so you can get a good night's rest if you want to!
Mad Monkey Bangkok is perfect for…
Mad Monkey Bangkok is known for being a fun and friendly hostel with a great social atmosphere making it perfect for those who are traveling solo. Not only does it have great social areas but it also puts on a variety of events and tours that facilitate meeting other backpackers. This includes walking tours around the city during the day and pub and bar crawls during the evening along with so much more!
Bangkok is alive! And you'll find these party hostels have some of the best events around!
Best Hostel in Thailand with Pool Access
Why we like Buzzas@Paichan…
The final hostel on our list is Buzzas@PaiChain which you can probably tell from the name is located in the beautiful northern city of Pai. Buzzas hostel provides a resort-style experience but at budget-friendly prices and is the perfect place to kick back and relax with plenty of spaces to do so including a bar and lounge area along with over 20 hammocks and day beds.
The hostel also provides a very late check-out time which is perfect for those who want to lie in and relax perhaps after a heavy night-out exploring Pai.
Buzzas@PaiChan is perfect for…
Those who want an epic outdoor swimming pool on their trip to Thailand but don't want to fork out for a lavish hotel. Buzzas hostel is home to an insanely cool infinity swimming pool that has incredible views of the nearby fields and rice terraces.
Staying at this hostel also means you are only 400 meters from the center and the famous Pai Bar street but also far enough out that it feels like you have the beautiful secluded property to yourself – a win-win situation.
Looking for something different? Check out our guide to the full moon party hostels!
Conclusion to the Best Hostels in Thailand
Thailand really is packed full of incredible hostels from those on the beautiful islands in the Gulf to the epic hostels in the lively cities! The amazing selection also means you can pick and choose which atmosphere you fancy going for whether you a hostel with a quiet and relaxing atmosphere or the best place to party the night away until the early hours of the morning.
In this hostel guide we broke down 7 of our favorites which was super challenging due to there being so many fantastic options but that has meant we have only picked the very best. We hope this article has helped you with your travel planning and if you do end up booking any of the hostels we listed do let us know in the comments below :)
***Disclaimer*** Some of the links in this post are affiliate links. This means that if you book your accommodation through the site, One Weird Globe will earn a small commission at no extra cost to you. Your support helps me keep the site going :)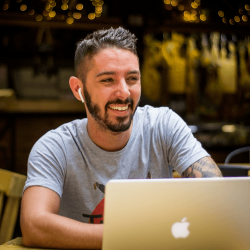 Latest posts by Aaron Radcliffe
(see all)