Are you looking for a business backpack? Well, if so we've got good news and bad news.
The good news is that we wrote this review about the best travel business backpacks because there are TONS of business backpacks out there!
The bad news though? A lot of those business backpacks look and feel terrible… and some are just a straight rip off…
Don't worry though. In this business insider guide, we show you the BEST backpacks for business that money can buy – and for all budgets! All of these backpacks have plenty of features, look great, and feel amazing to wear on airplanes, trains and everything in between!
This ultimate guide makes it super easy to find a backpack that perfectly fits your needs, style, and budget. All you need to do now is scroll down and see which one takes your fancy!
Quick Summary: BEST Travel Business Backpacks
Overall Best Business Backpack

Nomatic Backpack

Very comfortable straps, durable and weather-proof

Check Price on
Nomatic

Best Business Travel Backpack (For Shorter Trips)

Nomatic Travel Pack

Electronics compartments for laptop and tablet

Check Price on
Nomatic

Overall Best Laptop Bag

Tortuga Setout Laptop Backpack

A ton of organisational space

Check Price on
Tortuga

Best Business Travel Backpack (For Longer Trips)

Tortuga Setout

You can fit a ton of gear in here

Check Price on
Tortuga

Best Slim Business Backpack

WANDRD PRVKE

Very trendy rolltop design

Check Price on
WANDRD

Best Laptop Backpack for Women

Peak Design Everyday Backpack

It's got a tuckaway strap system

Check Price on
Amazon

Best Leather Business Backpack

Maverick & Co. Metropolitan Business Backpack

Super stylish, high quality materials involved

Check Price on
Amazon
Overall Best Business Backpack
The Nomatic Backpack has got to be the overall best business backpack. With a sleek design this backpack opens up clamshell-style so you won't have to be rooting around for any of your stuff – simply open it up and place your things in. It's probably the best there is for organisation.
That's right. There's even a removable organisational panel for you to play around with. Here you can store all sorts of tech and documents. What's more this backpack boasts a 15″, TSA-ready padded laptop pocket to secure your precious stuff. It also expands from 20 to 24 litres.
Is the Nomatic Backpack for you?
If you're looking for something that's going to keep you totally organised, Nomatic have definitely tried to think of everything with this backpack. It's an investment: though pricey, it's also super durable and comes with a lifetime guarantee, which is good to know!
Best Business Travel Backpack (For Shorter Trips)
It's no coincidence that Nomatic have both the #1 and #2 spot on our list: these newcomers are all about quality. The Nomatic Travel Pack is our top pick for the best business travel backpack – for shorter trips, that is. If you need to travel regularly, stay for a few nights on a business trip, then this awesome backpack has you covered.
Not only are there heaps of organisational pockets, but this bag also opens up like a suitcase and has compartments for clothing that will last you a few days or a weekend. As an extra bonus, the Nomatic Travel Pack is also carry on compliant, meaning no waiting around at the baggage carousel.
Is the Nomatic Travel Pack for you?
If you're the sort of person who likes good, functional design that makes sure all of your belongings are stored neatly and securely – and you also happen to be the kind of person who goes on trips for, let's say max 5 days, or you're regularly travelling for business – this bag is definitely for you.
Overall Best Laptop Bag
There's a lot of laptop bags out there, but this has got to be the overall best laptop bag for us. The Tortuga Setout Laptop Backpack is the ideal bag if you're looking for a great laptop bag that has decent daypack functionality. Perfect for daily use, this bag not only looks cool (with a slight skater look) but it's top-notch, too.
You can easily slide your laptop in and out of the protected pocket at the back of the bag, use it as carry on, keep all your tech organised, and stash your other belongings in a separate compartment. There's even a water bottle compartment to keep hydrated! Check out our full Tortuga Setout review!
Is the Tortuga Setout Laptop Backpack for you?
For the more casual business backpack wearer out there, who's more about cafes and coworking spaces than boardrooms – and if you're all about keeping your gear well organised – then the Tortuga Setout Laptop Backpack is the one you should be considering.
Best Business Travel Backpack (For Longer Trips)
Another masterpiece of design from Tortuga, this one is our choice for the best business travel backpack for longer trips. This one maxes out on capacity at 45 litres, can store a 17″ laptop, a 9.7″ tablet, and even with all the compartments and stuff going on, only weighs in 3.3 pounds.
It's also carry on compliant for many airlines, so you can save time, money and hassle on trips abroad. The larger capacity also means that – if you're clever with packing – you'll be able to travel for potentially up to 2 weeks with just this one bag. The Tortuga Setout is a full-size carry on, that's for sure.
Is the Tortuga Setout for you?
The Tortuga Setout is definitely for you if you want to pack a load of stuff into one bag and not have to worry about lugging any other baggage with you. So if you're into the idea of one bag travel, this is the thing that's going to help you fulfil your travel dreams!
Best Slim Business Backpack
Not only one of the coolest backpacks currently available, with its rolltop lid and style-conscious aesthetic, the WANDRD PRVKE is also our pick for the best slim business backpack you could find right now. It's available in either 21 or 31 litres, three different colours, and is ideal for city trips.
This bag really is slim: the 21L measures just 11″ wide and 17″ high, it sits only 6.5″ off your back, making it perfect to squeeze in and out of packed trains in rush hour and not bash into anybody on your way to a meeting. It's also a high-quality bag built with high quality, water-resistant tarpaulin.
Is the WANDRD PRVKE for you?
If your business is photography, the WANDRD PRVKE is quite literally the perfect bag for you. It's weather-resistant, protects all your valuable tech, and has a ton of dedicated compartments for keeping all of your stuff super organised whilst you're on the move.
The Best Travel Backpack EVER MADE!?!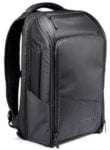 We are obsessed with backpacks – we've tried them all! And our favourite carry on backpack in the WORLD is the Nomatic Travel Backpack. This backpack has revolutionized the backpack industry and will change the way you travel forever :) Check it out here!
Best Laptop Backpack for Women
The Peak Design Everyday Backpack may be what we're saying is the best laptop backpack for women, but it's also generally just an awesome bag. That's because this backpack does everything.
There are all sorts of clips, compartments, access points, different sections for everything from cameras to spare shoes that make it an organisational dream.
This bag also looks pretty cool, too. It comes in four different colours to suit your style and could work just as well in a city, as it could as a daypack when you feel like a break in the great outdoors. It's also carry on compliant, so this bag could easily work for short trips away.
Is the Peak Design Everyday Backpack for you?
If you love travelling with your camera, a lot of tech, or if you have a varied lifestyle, or you simply are the kind of person who loves the idea of organising everything down to a T – and you appreciate good quality and decent aesthetics, too – then you'll love Peak Design's Everyday Backpack.
#7 – GoRuck GR1
Best Business Casual Backpack
GoRuck GR1 is definitely the best business casual backpack for us. Oddly it's been designed with military-grade materials, but that just means that it's 100% built to last. This thing is durable and weather resistant, so at least you know that it's never going to break on you. GoRuck even claim that the laptop compartment is bombproof!
It's also available in 10 colours, so you can really select one your style and personality. It's also a pretty cool, laid-back skater style design, looking more like a regular rucksack than a sleek business backpack. That said, though you can get it in camouflage, you can also get it in plain black.
Is the GoRuck GR1 for you?
If you've got the money and you're looking for something that's tough, rugged and still looks kinda cool without being too outdoorsy, then the GoRuck GR1 is going to be pretty high on your backpack wishlist. Casual enough for everyday, just about plain enough for business, it's win-win sort of bag.
Best Leather Business Backpack
The sleek and sophisticated Metropolitan Business Backpack by Maverick & Co. has got to be the very best leather business backpack you could buy. This backpack is all about luxury. Constructed of Saffiano leather and with double velvet lining, it's one for the uber style conscious.
But it's not all about looks. There's a lot of interior stuff going on here: it comes complete with a phone pocket, laptop compartment, slots for pens, and space for your documents. There's even studs on the bottom of the bag that mean you can put it down on hard surfaces without worrying too much about your laptop.
Is the Maverick & Co. Metropolitan Business Backpack for you?
This is totally the backpack for you if you are into looking fashionable and cool. This backpack, available only in black, is for those who want to dress to impress on their business meetings. Things like the silver zip and the silver embossed logo on the front make it pretty fancy.
More Best Travel Business Backpacks
Osprey are well known high quality and high comfort, which is why we think the Osprey Nebula 34 Backpack is a great choice for one of the top business backpacks. Not only is it going to last, but since you'll be wearing it a lot, it's mercifully comfortable, too.
This backpack has definitely been designed with city dwellers in mind. The laptop sleeve sits on the bag and is well secured, padded, and has room for both a laptop and a tablet. There's also a front pocket organiser, perfect for pens, keys, USB sticks, train tickets, charger wires – all sorts of stuff.
Is the Osprey Nebula 34 Backpack for you?
For something that's built for activity that still won't look 100% out of place in a city, this is a great option. The Osprey Nebula 34 basically gives you the comfort and breathability of an active pack with the slimline look of urban design: perfect for a cycling commute, for example.
This backpack from renowned luggage purveyors Samsonite is one of the top business travel backpacks you're likely to come across. There are so many features packed inside this one bag. The front opening pocket is perfect for tablets, phones and notebooks, whilst there's also a padded, shockproof laptop pocket at the back, too.
There are more pockets besides on the Samsonite Novex Perfect Fit Laptop Backpack so you can keep properly organised on your trips. What's more, there's even a suitcase sleeve on the rear of the bag, so you can even use it in tandem with a suitcase if you need to.
Is the Samsonite Novex Perfect Fit Laptop Backpack for you?
If you're on a bit of a budget and you're looking for something functional that will protect your laptop, and if you may only be using it for technical items, as a complement to a suitcase, or for everyday use, then you can't go wrong with this offering from Samsonite. It's a solid choice for a business travel backpack.
This backpack from eBags is all about business. Not only does this top business backpack offer up a slick, clean-lined style for professionals, but it can also be converted into a briefcase for when you don't want to show up at meetings wearing a backpack.
And it's got a whole world of pockets going on, as well, making this a fortress of organisation. There's a hardshell headphone compartment at the bottom, a tablet pocket on the top, room for a 17″ laptop, and a whole load of different places to put pens, notebooks and other stuff in the front. Amazing!
Is the eBags TLS Business Backpack for you?
If you're an IT person or have to use a lot of electronic kit – you may be a photographer, make music, or simply be a digital nomad – this is going to work perfectly as a daily-use pack for all your business travel backpack needs. It's even got a suitcase sleeve!
Final Thoughts!
Getting yourself a good business backpack is a tricky balance. Not only do you want something that's going to suit your personality (at least a little bit), but you need something that strikes the right balance between size and comfort, as well as casual and smart.
There are well-established companies out there, as well as some quality newbies, so whether you're looking for something ultra-sleek, or something for cafe-hopping, our guide to the best business backpacks has you covered.
Business Backpacks FAQ
Who makes the best business backpacks?
Though many years ago this would have been companies like Targus and Incase, these days there are plenty of competitors and newcomers to the business backpack game. The fact that business travel has changed, the rise of the digital nomad, means young companies have had to come up with new bags to meet the demand for cool but functional backpacks.
Kickstarter companies like Nomatic and Tortuga have been sewing up the market for good digital nomad bags for the last few years. These companies combine durable materials like sailcloth with a load of organisational capabilities, as well as capacity for short term travel. Backpacker mainstays like Osprey have been producing some of their own answers to the business world, too.
Other new companies like WANDRD and Peak Design, both of which also feature on our list of the best business backpacks, are well worth watching, too.
What are the best backpacks for business?
Business backpacks don't have to be all boring, black and small. It's no longer a world of suits and bowler hats, with start-ups and freelance workers being more and more commonplace in our ever-connected world. That means business backpacks can be a lot more than they used to be.
For us, the best features of a good business backpack, to be honest, starts with looks. You'll want something that toes a line between cool and smart, casual and, well, business! Next up, and related to how the bag looks, is the capacity. The size of the thing. Having something big and bulky may be good for longer trips, but once you rock up at your business meeting with a glorified box on your back, you may be thinking twice about your choice.
Durability is a massive feature. Durable backpacks, like the recent Nomatic entrants to the fray, mean longlasting everyday use is pretty much guaranteed. Comfort is a big selling point, too. And finally, since its business, you'll want to be able to organise your stuff and be able to keep electronics like laptops and tablets safe. Opt for padded sleeves and hard casings where possible.
What size business backpack should I get?
We mentioned size just now, but what size business backpack you go for entirely depends on your line of business.
If you won't really be heading into meetings or using packed commuter transport all too often, then you can certainly afford to get something that's a little bulkier. A digital nomad who expects to be on the road for weeks at a time, whose clients and work are based mainly online, can definitely get away with something up to around 40 litres of capacity.
But if you're looking for a business backpack to take with you on longer trips (with your suitcase or a larger backpack), then something around the 20L mark to serve as a daypack would be a good idea. A slim backpack, like the WANDRD PRVKE for example, would be a great choice for those travelling every day in rush hours; any bulk when you're on the commute is not only uncomfortable, but it gets in the way of everyone else, too!
Basically, for everyday use: around 20 litres. For business trips: larger, up to 30 litres. For longer journeys, 40 litres should be alright.
***Disclaimer*** Some of the links in this post are affiliate links. This means that if you book your accommodation through the site, One Weird Globe will earn a small commission at no extra cost to you. Your support helps me keep the site going :)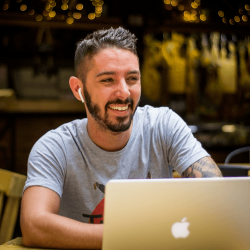 Latest posts by Aaron Radcliffe
(see all)