The Nomatic Travel Pack is one of the most functional travel packs we've ever seen. Seriously. We love it when a bag is basically a solution to ALL your travel needs.
But while this might be an unbelievable travel pack… it's definitely not for everyone.
Which is exactly why we wrote this EPIC Nomatic Travel Pack review!
Here at One Weird Globe we are obsessed with backpacks, and have made it our mission to help you figure out the best backpack for you and your style – and this Nomatic Travel Pack review is no exception!
So let's get down to business and into the nitty gritty of just what this bag is about, and most importantly, if YOU should be adding it to your wish list!
Quick Answers – The Nomatic Travel Pack IS for you if…
You like city travel – The Nomatic Travel Pack is an amazing piece of kit for urban travel. It's compact, you can use it as a daypack and hop around cafes with your laptop, and because of the simple design, you won't look like a weird backpacker lost in a big city.

You LOVE organizing stuff –

Wow. When it comes to pockets, there are OVER 20 pockets packed into the Nomatic Travel Pack. So if you're the sort of person who likes to know where everything is and believe that everything has its place, then this is definitely a bag for you.

You want to pack light –

If the idea of overpacking and having way too many T-shirts is your idea of hell, then don't worry; the Nomatic Travel Pack won't LET you pack too much. It's 20 liters and expands to 30 if you REALLY need that extra pair of shoes.

You like a bit of style – This is a nicely designed pack, and makes for a great business backpack. It's smart, it's all black, and there aren't loads of unnecessary dangling parts that'll get tangled up or whack people in the face when you jump on a bus. Pretty sleek for a style-conscious, city-loving backpacker, we'd say.
Quick Answers – The Nomatic Travel Pack is NOT for you if…
You want something more active – Let's be real: you won't be taking the very urban looking Nomatic Travel Pack hiking in the jungle or on dusty desert treks. It's just NOT that sort of bag, to be honest. For something outdoorsy, we'd suggest the Osprey Talon 33 the Osprey Atmos 65 or check out our Osprey Aether 70 review!
You want to pack MORE stuff – At only 20 (and at a stretch, 30) liters, you won't be stuffing a lot into the Nomatic Travel Pack. The Tortuga Setout Travel Backpack is WAY more about space and boasts killer capacity. It has that urban look and is much bulkier at 35 liters.
You're planning on a long trip – This just isn't the bag for you if you are going to be on the road for more than a week – or more than a month, let's say. The Nomatic Travel Pack is a short-term trip / long weekend kinda bag. The 45-liter Tortuga Outbreaker is going to be the sort of thing you'd want instead. It's MASSIVE.
You want something cheaper –

Yeah… the Nomatic Travel Pack is

not cheap

. It IS built to last, but if you can't justify spending such a chunk of dollar on one thing right away, something a little more affordable (like the Osprey Farpoint 40) might be up your street.
Different Nomatic Backpacks
Nomatic may be a relatively new company, but they've already got a few different backpacks under their belt.
So if the Nomatic Travel Pack already sounds like something you're not interested in, it makes sense to see what else is on offer, right?
Besides, it always helps to know what else the company has offered up to the world, from great travel backpacks to some of the coolest business backpacks – they offer a ton of products! So, here's what's on the market from Nomatic in terms of its backpacks.
The Nomatic Backpack and the one we're looking at now – the Nomatic Travel Pack – are VERY similar. We're not going to lie, it's hard to see the difference between these two. Even the company say these two bags are difficult to tell apart.
But there definitely IS a difference: it's inside. The Nomatic Backpack is for everyday use; inside, there's a removable panel for your laptop (15") and other stuff. It's small but can expand from 20 to 24 liters.
The Nomatic Travel Bag is the largest in the Nomatic family. It's a substantial 40 liters of space for all your stuff. And while the company themselves say it's only good for up to a week, if you travel light, you can use this as your primary travel bag.
It's got a separate shoe compartment and even a laundry bag. Plus, you can carry it like a backpack OR a duffel bag – you choose!
And then there's the Nomatic Travel Pack. That's what we're reviewing right now. Halfway between the compact Nomatic Backpack and the much larger Nomatic Travel Bag, this one strikes a balance between cool and functional. The pockets alone make it an awesome middle ground between the two.
The fact that it expands from 20 to 30 liters all the way around the bag gives you SO much more room without making the bag look too bulky.
Nomatic Travel Pack Features
Features, features, features. The Nomatic Travel Pack feels like it has it ALL. For starters, there are pockets galore in this stylish, urban bag. Pockets for small items, pockets for larger items, sleeves, compartments, dividers – even separate flaps and sleeves that can be added in. Organization is key when it comes to this backpack's core selling point. Open this thing up and you'll feel like you're sitting at a portable desk just waiting to be filled up with electronics and stationery.
But it's obviously more than just pockets – though that DOES make this bag pretty dang amazing. Let's have a look at what other tricks the Nomatic Track Pack has up its sleeve…
RFID Safe Pocket
For all of you tech-minded travelers out there, having an RFID Safe Pocket is going to be a huge deal. For those of who you have no idea what this is, don't worry; we'll tell you.
Skimming – or electronic pickpocketing – is a thing that actually happens. Having a pocket that blocks any thief with an RFID reader will mean they won't be able to scan your credit card info or take any other data they want from the chips in your passport. Nobody wants that to happen when they're on the road, or even just in their hometown!
This can even be done at a distance of a FEW FEET. Now that's pretty scary. Having a safe pocket to put important things like passports and credit cards is perfect. It may not happen, but at least the Nomatic Travel Pack's got you sorted.
Pro –

Stop ANY stress about people being able to take your identity!

Con –

Keeping all your important stuff like cards and passports in ONE PLACE? Bit risky.
High-Quality Materials
The materials used in the making of the Nomatic Travel Pack are of high quality. Not just from what the company lets on, but how it ACTUALLY feels. Ok, so it might not use YKK zippers, but these ones are supposedly waterproof. The material of the bag itself is water resistant and feels like quality.
There's even the bonus of the triangle pattern printed on the front of the bag. This is reflective, making it good for safety if you're wandering along a road at night. Always useful.
Pro –

Should be durable and long lasting, therefore worth the money

Con –

It might not be 100% waterproof in torrential rain –

especially

those zips…
Retractable Key Leash
It doesn't sound like much, but the retractable key leash on this bad boy is very helpful. It's one of those features you won't even realize is there, until you actually find it. And once you do, chances are you WILL be using it.
If you're the sort of person who is forever losing their keys – or don't want keys making marks in your jeans pockets – merely clipping them on to the Nomatic Travel Pack's key leash will open up a whole new world of convenience.
Pro –

Somewhere to put your keys so you always know where they are. Simple.

Con –

What long-term traveler TAKES keys with them? Hotel keys, maybe, but then you're not likely to take your bag out

every day

.
Removable Protective Glasses Shell
Anyone else manages to frequently break or bend their glasses or sunglasses when they're traveling? Yeah, us too. You may be fine with your glasses, but sunglasses don't ALWAYS come with a hard case – and it might not be that good anyway. Before you know it, boom – your glasses are wasted.
The hard, slimline glasses case that comes with the Nomatic Travel Pack will keep your shiny Raybans (or fake Raybans) scratch-free. It fits nicely inside the pack's main compartment mesh as well – just what it was made for!
Pro –

It looks so stylish, you could probably just use this by itself!

Con –

Not really a solution if you've got (or buy) more than one pair of sunglasses.
Innovative Strap System
Another one of those traveling hassles: when you barge your way onto a bus or a plane, and you've got straps dangling all over the place, this can get SUPER ANNOYING. Your straps are flinging around, hitting people and – possibly worse – getting caught in the armrests on buses. Not a good look.
Enter the Nomatic Travel Pack. You simply tuck the straps away behind the back panel and button it up – no zips required. Then you can carry your bag onto a plane, train or bus like a regular person, without getting in anyone's way or getting caught on the furnishings.
Pro –

It's effortless and quick to put the straps away

Con –

Might turn it into a kinda briefcase, but it doesn't

look

that good
Magnetic Water Bottle Pockets
Water bottle pockets can be hit or miss. They might feel like they're just tacked on at the end of the design process without much thought. But the water bottle pocket on the Nomatic Travel Pack has ACTUALLY been thought about. It pops out into a solid-ish holder for your bottle and then stows away by the magic of magnets.
Great little touch. And there are TWO! So you can bring along a couple of your own water bottles and not buy bottled water all the time.
Pro –

Very neat system with no flappy bits when unused

Con –

Can be hard to get your water in and out when the bag is fully packed
Full Perimeter Expansion
First of all, the fact the Nomatic Travel Pack expands AT ALL is great. And by so much – a whopping 10 liters – makes it even better.
But another great thing about the WAY it actually expands is that it is full perimeter. That means you won't be extending just one part of the bag, so you get some bulbous growth shooting off the backpack suddenly. Instead, it unzips all the way around, so that it becomes more spacious in ALL directions. The result? A pretty subtle size upgrade.
So if you need to fit more stuff in at any point, having this option is a lifesaver.
Pro –

There's always room to fit more in – hello souvenir shopping…

Con –

Makes it more cumbersome and less manoeuvrable. Not the compact 20-liter bag you signed up for!
Laptop and Tablet Storage
This is a feature that's PERFECT for any digital nomads and remote workers out there. The laptop storage boasted by the Nomatic Travel Pack can fit up to a 15" laptop.
It's padded, which is excellent, and it's even slightly raised off the ground so you won't be smashing your laptop into the cement if you set your bag down hard. That's something that's pretty easily done when your backpack is at full capacity.
The laptop storage here is also VERY easy to access. More than anything, this means no more having to dig through your stuff to find your laptop when you go through airport security; simply open up and grab the laptop.
Oh, and that's not to mention the tablet storage and the whole world of organizational possibilities that come with all the pockets elsewhere. You'll be able to carry your laptop and a whole bunch of accessories for it, too.
If you really like good laptop storage but just aren't feeling the Nomatic design – have a read over our Osprey Porter 46 review.
Pro –

Keeps your laptop protected. That's what you want, right?

Con –

It doesn't actually come out, so that storage is ALWAYS there taking up room – if you don't need your laptop, that is.
Mesh Divider
The Nomatic Travel Pack's mesh divider REALLY comes into play when the bag has been expanded from 20 to 30 liters. That's because the divider separates the usual portion of the bag from the expanded part. Yes, that's right: it's a whole new pocket.
This neat feature allows you to add more clothes to the 'new' section of the bag without using the space you already had — just another way in which pockets and organization and stuff like that make this bag pretty amazing.
Another great backpack with a great mesh divider? The Minaal 2.0.
Pro –

A whole new compartment gets added when you expand the bag thanks to this

Con –

If you don't NEED extra space, there's not a lot of point to the mesh divider
Hidden Pocket
A neat little hidden pocket on the back of the bag means you can hide away some pretty valuable items or documents without anybody else knowing it's there. The hidden pocket on the Nomatic Travel Pack isn't easily noticeable by anybody, so only YOU will know it's there – and have access to it. You can use it as a money stash or whatever you feel needs to be put in a secret pocket.
Pro –

You won't have to worry about stuff going missing from this pocket.

Con –

It isn't that big – you can't keep a lot of stuff, or large items, in here.
Suitcase Sleeve
If you want to use this as an additional bag to a suitcase that you already travel with, then here's an awesome feature – the suitcase sleeve. You can just slip this over the handle on your wheely suitcase, and away you go! It's a great add-on. You won't have to balance this bag on your suitcase, or – worst of all – actually have to WEAR it while you're pulling, or pushing, your suitcase along.
Pro –

Makes traveling with a suitcase neat and hassle-free.

Con –

Not much point if you don't travel with, or even HAVE, a suitcase.
Cord Pass-Throughs
This is a fancy way of saying that there are little holes for your various technological wires and cords to pass through. The ones on the Nomatic Travel Pack are actually pretty handy since they pass through ALL the compartments of the bag.
It's definitely useful for somebody who is all about the portable chargers. You can keep your battery pack tucked away in a pocket somewhere in the depths of the bag and when your phone, laptop, or tablet is running low on juice, feed a wire through the hole and keep going.
Pro –

Not fiddly and lets you keep your stuff where you WANT it to be.

Con –

If you're not bothered by this, you're kind of stuck with holes in your bag.
Compression Packing Cube
This is a nice little add-on. Roll up all your T-shirts and underwear and whatever else and jam them into this nifty cube, compressing down from 5.5" to 2.5" for some great space saving. The cube itself is less of a cube and more of a funky little rectangle thing.
It's also got handles. This means you can remove this (including your clothes), leave it at your hotel or hostel, and then use the Nomatic Travel Pack as a daypack. Or you could use it as a bathroom bag. Up to you.
Pro –

Helps with space and makes packing generally much easier to deal with.

Con –

If you're already GOOD at packing, this isn't that useful, really.
Final Thoughts on the Nomatic Travel Pack
All said and done, the Nomatic Travel Pack is a DECENT bag. This is a highly functional backpack that is more than just a place to put stuff with handles. Full to the brim with a TON of features, offering everything from stowable straps and expandability to a laptop pocket and a little key leash, it's a big hitter alright.
The biggest thing of all is the pockets. You could be the owner of this bag and keep discovering little pockets that are perfect for your stuff. Ideal for anybody with a lot of THINGS to carry around – digital nomads, photographers, videographers, musicians – you're not likely to run out of places to hide all your important gizmos and gadgets. It's almost like carrying around a tiny office.
Couple that with the low-key, simple, all-black design of the bag, the no-frills way it looks, and this is the bag of choice for anybody who is all about city (or town) life). Though you could take this to more rural areas, it's not practical for that sort of thing. And it's not exactly spacious either. But if you don't care – if you love your weekend breaks and short bursts of travel – and always – without fail – travel with your laptop and/or other items, you could do A LOT worse than this gem of a bag.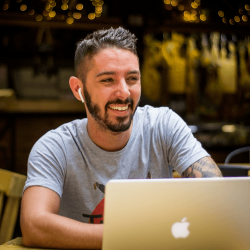 Latest posts by Aaron Radcliffe
(see all)