Often forgotten as an epic travel destination, Belfast has an incredibly friendly charm and is definitely somewhere you should add to your bucket list. With beautiful surroundings including beaches, country parks, and gorgeous walking trails, it is certainly a great place to base yourself for those who love the outdoors.
Inside the city itself, you'll find interesting landmarks including the stunning Belfast Botanical Gardens, the grand Belfast Castle along with Titanic Museum. Oh and let's not forget its incredible selection of pubs dotted across the city where you can indulge in a creamy pint of Guinness.
However, Belfast can be on the pricier end especially when it comes to those pints and tasty food options. That's why it's always great to save money where you can and one epic way to do this is by staying in a hostel! In this article, we have listed 3 of the best cheap hostels in Belfast where we have scouted the options and their prices and narrowed it down to three of the best but also budget-friendly.
Is a cheap trip to Belfast on your travel bucket list? Carry on scrolling to find out more…
Quick Answers – The Coolest Budget Friendly Hostels in Belfast
#1 – The Best Overall Cheap Hostel in Belfast – Vagabonds Belfast
#2 – The Best Cheap Party Hostel in Belfast – Lagan Backpackers
#3 – The Best Cheap Hostel in Belfast for Solo Travelers – Global Village Belfast
The Best Overall Cheap Hostel in Belfast
Cost – $$
Location – 9 University Rd, Belfast BT7 1NA, United Kingdom
Reviews → Check on Hostelworld
Why we like Vagabonds…
You can't get much of a better location for such cheap prices with this hostel. Vagabonds Belfast is situated in the heart of the buzzing Queen's Quarter which is super central and one of the hottest neighborhoods to be in Belfast.
Guests staying at Vagabonds will be just a stone's throw away from some of the city's top sites including the Ulster Museum and the beautiful Botanical Gardens. Along with this, you will find some of the city's tastiest restaurants, trendiest bars, and cute cafes on your doorstep at the hostel!
Vagabonds is perfect for…
Those who want to socialize and meet other backpackers but don't want to stay in an ultra-party hostel. Vagabonds has an extremely friendly vibe with excellent staff who are more than happy to help you out along with a great selection of common areas to mingle and meet other like-minded travelers.
This includes a fully-equipped kitchen, a funky living room, and a very cool beer garden that boasts drinking games and BBQ nights!
Heading to Belfast? Save some money with our guide to the coolest hostels in Belfast!
The Best Cheap Party Hostel in Belfast
Why we like Lagan Backpackers…
Lagan Backpackers offers incredibly cool free walking tours with a knowledgeable guide that will take you to some of the city's top sites whilst giving you a bit of background about the place. It also has very comfortable beds which are great for the prices you're paying with Lagan Backpackers being renowned for having some of the cheapest dorm bed options in the city!
We love that the hostel also offers a delicious FREE continental breakfast every morning which is a great way to shrug off those hangovers from the night before's antics partying in the city. This even includes free tea and coffee 24-7!
Lagan Backpackers is perfect for…
If you're looking for a party experience in Belfast then Lagan Backpackers is a quality option. It has a homely and welcoming vibe with plenty of social spaces to have a drink (or quite a few!). It's also got a great location just a 5-minute walk from the city center where you will have a hot selection of bars and clubs.
Oh and it is also VERY cheap which means you can spend more money on what arguably matters- PARTYING!
Couples will love these hostels in Belfast.
The Best Cheap Hostel in Belfast for Solo Travelers
Cost – $$
Location – 87 University St, Belfast BT7 1HP, United Kingdom
Reviews → Check on Hostelworld
Why we like Global Village Belfast…
We love the facilities that are provided at Global Village Hostel Belfast! This includes a bustling beer garden and BBQ area which is perfect for having a few drinks before heading out into the city. There are also plenty of activities to do in and from the hostel including a games room with pool and foosball tables along with events such as 'family BBQs' and lively pub crawls!
Global Village Belfast is perfect for…
Those who want the big three things people look for in a hostel: cheap prices, a central location, and a sociable atmosphere. Global Village Hostel has an incredible location near the Queen's Quarter, it has plenty of common areas to socialize and party and it offers some very cheap dorm room options perfect for solo travelers. It also has a good selection of private rooms if you fancy a night to yourself!
Conclusion to the Best Cheap Hostels in Belfast
So there you have it that's our guide to the 3 of the best and cheapest hostels in the lovely city of Belfast. As you can they are a good bunch and all offer slightly unique experiences but all with one thing in common- cheap prices.
If you're still a bit lost on which hostel to choose here is a quick rundown of the ones we've listed above. Vagabonds is the perfect place to stay if you want the mixture of a social and relaxed hosel experience, Lagan Backpackers is where you need to go if you want the cheapest dorm prices in Belfast and Global Village Hostel is for those traveling solo and want easy opportunities to meet other travelers!
We really hope this guide has helped you navigate the hostel scene in Belfast! If you do end up booking any of the hostels we've listed in this article do let us know we love to hear from you guys :)
***Disclaimer*** Some of the links in this post are affiliate links. This means that if you book your accommodation through the site, One Weird Globe will earn a small commission at no extra cost to you. Your support helps me keep the site going :)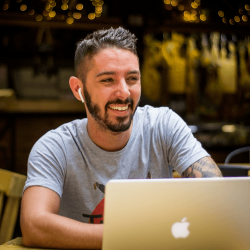 Latest posts by Aaron Radcliffe
(see all)