Originally settled over 3,000 years ago, Lisbon is the oldest city in Western Europe. The Portuguese capital is a famously wonderful travel destination, and home to some of the world's most marvelous sights and attractions!
Lisbon was almost entirely rebuilt after the 1755 earthquake that shook the city to the ground. The result is a city bursting with 18th-century architecture that gives Lisbon its unique and beautiful charm. Steep cobblestone streets and stepped alleyways wind their way between the gorgeous buildings in an idyllic fashion.
Lisbon is also known for its vibrant nightlife and captivating culture. The music scene is thriving and, to the delight of foodie travelers, the city is home to a cosmopolitan culinary scene!
Fortunately, there are many options for affordable accommodation in Lisbon, Portugal, so an enchanting trip to this wonderful city doesn't have to break the bank! The following hostels are the best of the best when it comes to cheap accommodation in Lisbon.
Quick Answer: Best Cheap Hostels in Lisbon, Portugal
Best Overall Cheap Hostel in Lisbon – Sant Jordi Hostels Lisbon
Best Hostel in Lisbon for Solo Travelers – Urban Garden Hostel
Best Cheap Hostel in Lisbon Near Bairo Alto – No Limit Bairo Alto
Best Cheap Hostel in Lisbon Near Chiado and Baixa – Inn Possible Lisbon Hostel
Best Cheap Hostel in Lisbon Near the Ocean – 5 Sins Chiado Hostel
Best Overall Cheap Hostel in Lisbon!
A gorgeous combination of vintage and modern design
Top-notch sleeping facilities, with private and shared options on offer
Fantastic facilities, including a shared kitchen, beautiful garden, free WiFi and frequent events!
A stay in this stylish designer hostel will make you feel right at home. It has a vintage feel with elegant modern touches and outstanding amenities! It's perfectly located in a traditional Portuguese neighborhood, with excellent public transport options and a range of stores, bars, and restaurants nearby!
Editor's Tip: make friends by staying at a cool hostel in Lisbon!
Best Hostel in Lisbon for Solo Travelers
Amazing location in the center of Lisbon, just a few-minute walk from the metro
First eco-hostel in the city, with a focus on environmental sustainability
A social atmosphere, perfect for meeting other travelers
Located right in the heart of Lisbon, this awesome hostel is perfect for anyone looking to have a good time! The sociable atmosphere has travelers from around the world enjoying each other's company. Get to know new friends over the free communal dinner, offered every night, and enjoy free pancakes each morning. Urban Garden is unquestionably one of our favorite Lisbon hostels.
Don't worry! We have more hostels in our article on the best party hostels in Lisbon!
Clean, comfortable accommodation with a great atmosphere
Free breakfast offered daily
Located centrally, near to public transport and attractions
Set in a traditional Lisbon suburb, this wonderfully central hostel is located within walking distance of many iconic attractions and landmarks. It's a laid back hostel, with a beautiful design and an atmosphere that promotes meeting like-minded travelers! Enjoy some Portuguese culture during the daily events that include local food, music, and free tours!
Want to see more than just Lisbon? Take a day trip from Lisbon to get to know Portugal!
Awesome rooftop terrace for socializing, and located near bars and restaurants
Clean, comfortable beds and a welcoming atmosphere
Free breakfast served daily
Our favorite aspect of the Hans Brinker Hostel is its wonderful roof terrace, fully equipped with a BBQ and a bar that offers a killer happy hour special! It's a perfect spot to hang out and get to know your fellow travelers. The atmosphere at this hostel is awesome, and with its central location, it's an ideal base for your Lisbon explorations. This is one of the best hostels Lisbon has to offer.
The Best Travel Backpack EVER MADE!?!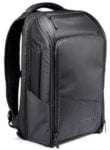 We are obsessed with backpacks – we've tried them all! And our favourite carry on backpack in the WORLD is the Nomatic Travel Backpack. This backpack has revolutionized the backpack industry and will change the way you travel forever :) Check it out here!
A relaxed, central hostel with fantastic rooms and amenities
Relaxed atmosphere, with fun activities offered daily
24-hour access means that there is no curfew!
Another winner in the heart of the city, this hostel is located within walking distance of several iconic Lisbon attractions. The beds here are big and comfortable, and the rooms are light and spacious. There are several comfortable common areas, including a living room, a computer room, and a fully equipped kitchen!
Ever tried a boutique hotel? This are the 11 best boutique hotels in Lisbon, Portugal
Best Hostel in Lisbon Near Chiado and Baixa
One of the best hostels in Lisbon, in an amazing central location
A range of dorms and rooms on offer, some of which have balconies
Free breakfast served daily
Inn Possible is a top-notch choice for anyone traveling to Lisbon. It's affordable, comfortable, and central, with wonderful rooms and common spaces! The whole place has a light, airy feel, with a delightful atmosphere and friendly staff. It's located centrally, near restaurants, bars, cafes, and Fado houses, where you enjoy the sweet sounds of Portuguese Fado music floating up through the air.
Why are you visiting Lisbon? Find out where to stay in Lisbon based on what you want to do there!
Great central location, walking distance from transport and attractions
Clean, comfortable, and homely
Great place to meet other travelers
The highlight of this Lisbon hostel is its awesome common spaces, especially the one-of-a-kind 'oversized hammock', which looks out over the patio. The design of the internal common spaces is washed-out and wonderful, and there's plenty to keep you entertained. Challenge new friends to some foosball or PlayStation, watch a movie in the outdoor courtyard, or enjoy a BBQ!
Planning to visit Lisbon? Some of the best hostels are near Lisbon Airport!
Central location in a historic part of Lisbon
Beautiful design and outstanding amenities
BBQ facilities on-site, and bikes are available to rent
Set in a traditional 18th-century villa, this quintessentially Portuguese hostel blends the old with the new. The lofty ceilings and historic frills of the original building are complimented with modern finishes, making this hostel a beautiful and comfortable place to stay! The common areas, especially the outdoor terrace, are stunning, and the rooms are all top-notch.
Once you've booked, check what there is to do in Lagos, Portugal!
Centrally located, near many of the top Lisbon attractions
A sociable atmosphere, with communal dinners and social events
Clean, simple, and a whole lot of fun
Oasis Backpackers is a true hostel right to the core. They abate the fanciful frills of some modern hostels in favor of what really matters: affordable accommodation, in a great location, where guests can have a damn good time. The staff will make you feel right at home, and the hostel's range of tours and activities will fully immerse you in Lisbon life.
We can convince you to visit Porto. See what our guide to Porto has to say!
Wonderfully central location in the heart of Lisbon
No curfew – come and go at any hour
Delicious, free breakfast is served daily
Avenue offers centrally located accommodation that's within walking distance of many of Lisbon's attractions and entertainment areas. They offer a range of accommodation options, from comfortable dorms to stylish suites! Make yourself at home in the stunning common areas, and enjoy the hostel's events and activities.
Check out our best hostels for solo travelers in Lisbon.
Located in a bustling area filled with entertainment options
International students housed upstairs will be happy to show you around
Free light breakfast served daily
The brainchild of a pair of backpackers, this hostel was designed through the eyes of enthusiastic young travelers. Liv'in is centrally located right in front of Avenida da Liberdade, one of Lisbon's most vibrant areas! With a cool modern-meets-vintage design, it's a beautiful place to call home during your trip to Lisbon.
Cozy, cool, comfortable accommodation in a perfect location
A feel-right-at-home atmosphere
A great place to meet other backpackers
This heart-of-Lisbon hostel is surrounded by everything from restaurants and bars, to cinemas and gardens. It's in an ideal spot for sightseeing, and a great place to meet other travelers! Nest House is a warmly welcoming hostel and it has a really cozy vibe. Nestle down at Nest House for a comfortable stay with a unique atmosphere!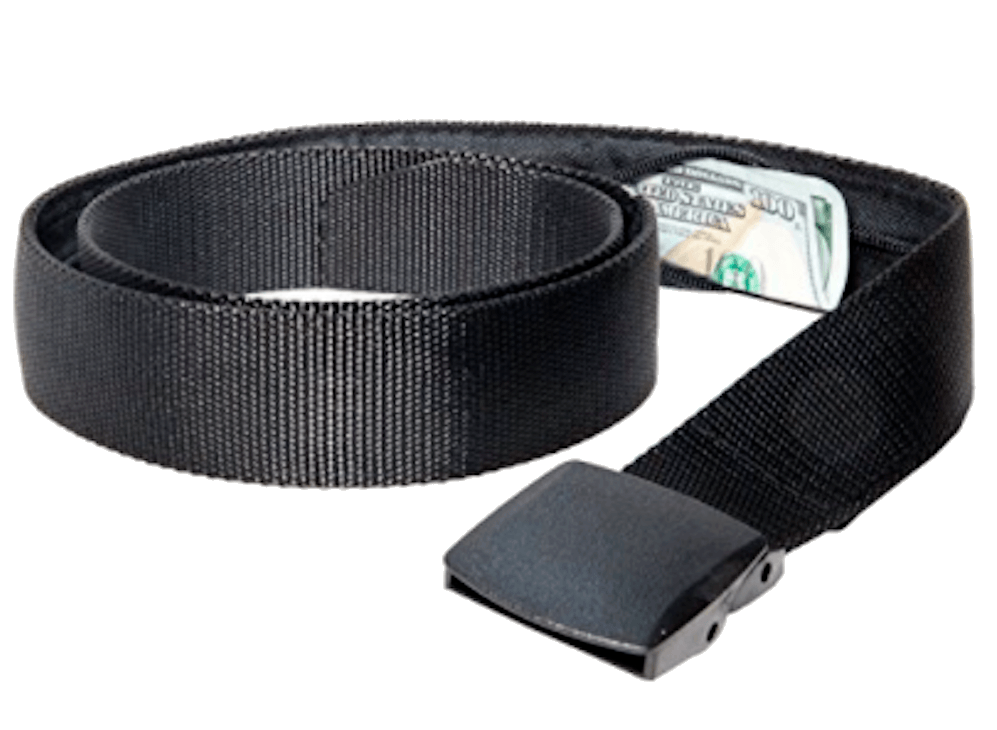 If you are traveling you should ALWAYS have emergency cash hidden on you! Security belts are great because they are affordable and can fit a ton of stuff in them (great for peace of mind!). Check out our favorite travel belt!
Great amenities, including laundry services and a shared kitchen
A small hostel with a cozy, social atmosphere
A great place to chill out after a long day
Reiki Lovers Lisbon is a small hostel in Lisbon City Center, with a welcoming and intimate atmosphere. The dorms have a maximum of four beds, so you're bound to end up chatting with your like-minded bunkmates! It's all in the name with Reiki Lovers Lisbon – Reiki is a Japanese relaxation technique and relaxation is a top priority at this hostel!
Gorgeous city views and classic Lisbon charm
A sunny terrace, perfect for relaxation
Awesome location, just minutes from all of the action
The small but gorgeous outdoor terrace is quintessential Lisbon, with views looking across the cobblestone street to colorfully tiled buildings and quaint city balconies. Enjoy a mellow afternoon in the sun on the succulent lined terrace. What better place to soak up the charming Lisbon atmosphere? You'll be in the heart of the action, just a short walk from the attractions and Lisbon nightlife.
Best Hostel in Lisbon Near Bairo Alto
Centrally located in a beautiful part of Lisbon
Well equipped kitchen for cozy nights-in
A cleaning team ensures all spaces are tidy, clean, and comfortable
Located in Bairo Alto, a central bohemian district with steep cobblestone streets, No Limit is a great hostel for experiencing the charm of Lisbon. Awesome nightlife and the best attractions are just a walk away! The amenities are top-notch, and the living spaces have a colorful boutique design. The hostel boasts some pretty amazing views, too!
Set in one of Lisbon's most popular areas
A colorful shared kitchen for cooking up delectable dishes
Daily breakfast is included in the price
Also situated amid the charm of Bairo Alto, this hostel offers comfy rooms and complimentary breakfast! The location is ideal – you won't have to walk far to get home after a night out in one of Lisbon's trendiest nightlife areas! You'll be welcomed wholeheartedly by the staff, who will be happy to share local tips and info on their wonderful city.
Best Cheap Hostel in Lisbon Near the Ocean
A century-old hostel with a unique design
Excellent location in a trendy area of Lisbon
Free breakfast is served each morning
Set in a beautiful 17th-century building, this hostel offers comfortable accommodation in a great location. It's positioned on a well-known street in the vibrant Chiado district, where the old and the new collide. The views are rich with old buildings and the hum of the busy street below! It even boasts a couple of balconies that immerse you in the wonderful atmosphere.
Conclusion
Steeped in history and covered in iconic Portuguese tiling, Lisbon is a fairytale city that will leave you enchanted. It's beautiful, bold, exciting, and completely captivating, and it's ready to host the trip of a lifetime!
We know that travel can be pricey, so finding the right accommodation at the right price is paramount if you're traveling on a budget. We've put together this guide to cheap Lisbon accommodation so that financial barriers don't stop you from enjoying this incredible city!
We've done our best to ensure that there's something for everyone on this list. So whether you're after a raucous party weekend in Lisbon, or a mellow sun-soaked city break, there's an affordable hostel in Lisbon that's perfect for you!
***Disclaimer*** Some of the links in this post are affiliate links. This means that if you book your accommodation through the site, One Weird Globe will earn a small commission at no extra cost to you. Your support helps me keep the site going :)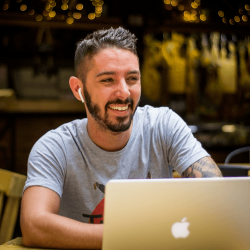 Latest posts by Aaron Radcliffe
(see all)