The second-largest city in Portugal, Porto is perhaps most famous for having been the birthplace of Port wine, its large port, and its trading past. Porto can trace its history back to the Roman era and the historic heart is a UNESCO World Heritage Site. A former European Capital of Culture, from wine caves, architecture, and museums, to football, markets, and the port, there are plenty of cool things to do in Porto.
Often overlooked and dismissed for being an industrial, commercial, and financial centre, many people don't realise the true potential that Porto offers. Travellers are sometimes more likely to choose other Portuguese destinations, holding onto the belief that Porto has little of interest.
We aim to dispel those beliefs and inspire you to travel to Porto! Our dedicated team of travel writers have researched all the local hotspots, including well-known attractions, diverse neighbourhoods, and off-the-beaten-track gems, to bring you the ultimate list of the best places to visit in Porto.
Some of these best places to visit in Porto are sure to astound you!
Best places to stay in Porto
Best Hostel in Porto
The attractive art-filled Gallery Hostel Porto is one of the best places to stay in Porto for anyone with a creative soul. Affordable, sociable, friendly, and stylish, the hostel has mixed and ladies-only dorms as well as private en suite rooms for two.
Breakfast is included in the prices and there are self-catering facilities where you can whip up a budget dinner. Alternatively, delicious Portuguese meals are available for great prices.
Unwind in the garden or on the terrace, use the free Wi-Fi to plan your Porto itinerary, relax in the homey common room (complete with board games and DVDs), join a free walking tour, and catch up with your laundry.
Still haven't booked for Porto? Find out where to stay in Porto for any type of trip!
Best Hotel in Porto
Located in União de Freguesias do Centro, one of the most central neighbourhoods in Porto, PurpleHouse is just a short walk from Marquês Metro Station. A cosy city base, it has private rooms for one, two, three, and four, all with shared bathrooms.
You can enjoy the TV lounge and sunny terrace after a day of exploring and prepare tasty meals in the shared kitchen. Other convenient services and facilities include free Wi-Fi, luggage storage, airport shuttles (surcharges apply), and laundry services.
Haven't Booked for Portugal? Read up on our favorite hostels in Portugal (for any budget)!
Top-Class Luxury Hotel in Porto
Are you thinking about where to stay in Porto for top-class luxury, excellent services, and a great location? The four-star Porto Royal Bridges Hotel may be just what you're looking for. There are various double and twin rooms, all with a private bathroom, a desk, free Wi-Fi, a TV, a hairdryer, and a kettle. Breakfast is included in the prices and the onsite restaurant serves delicious European favourites.
Room service is available and the hotel also has a bar. Reception is staffed around the clock and there's a tour desk. You'll also find luggage storage, laundry services, car rentals, a lift, child-minding services, and other features to make your stay comfortable.
Porto is incredible! There are tons of things to do there!
Staying safe in Porto
Generally, Porto is a very safe city for travellers and there are low rates of crime. That said, you should still follow basic safety rules, like avoiding dimly lit, quiet areas at night time, securing your belongings, being cautious when withdrawing cash at an ATM, and being wary of pickpockets in crowded places.
Make yourself aware of common scams, including people begging for money with a fabricated tale of woe, and avoid drug sellers on the streets, often posing as vendors of sunglasses.
It's better to avoid the cut-through near the cathedral and tourist information centre as there have been a number of reports of violence, harassment, and theft in the area.
Travel insurance is the best way to keep you and your belongings safe and secure while you are traveling abroad. We have personally tested TONS of travel insurance companies, and can say without a doubt that World Nomads is the absolute best (and most affordable!). Fill out the form below to get a quote :)
So now, with those handy pointers covered, it's time to discover the best places to visit in Porto.
We've got your back! Here are the cheapest hostel options in Lisbon if you're traveling on a shoestring!
These are the BEST Places to Visit in Porto
#1 – Ribeira
One of the nicer places in Porto to sightsee!
UNESCO-listed destination
Historic area
Splendid buildings
Terrific views
Why it's awesome: One of the liveliest and most attractive neighbourhoods in Porto, the UNESCO-listed Ribeira is also one of the oldest parts of the city. The riverside quarter was once a bustling port along the Douro River and there are many buildings today that would have been used in the past as warehouses.
Behind, there are colourful homes and the attractive Ponte Dom Luis I iron bridge creates a focal point across the river. Further back from the river there is a tangle of medieval streets and cobblestone pathways.
There are plenty of places to pick up souvenirs and there's no shortage of places to eat and drink. Indeed, Ribeira is one of the top places to eat in Porto if you're looking for tasty authentic fare, and the area is a hotspot for nightlife.
What to do there: Take a walk along the riverfront of Cais da Ribeira, admire the views, and pop into some of the shops, cafes, and restaurants that sit alongside the water. Climb to the top level of the Ponte Dom Luis I, one of the most recognisable landmarks in Lisbon, for more great vistas.
Wander through the atmospheric old streets, where you'll find more tempting eateries and small, tucked-away shops, see the large 17th-century fountain that stands proudly at the centre of the main square, spot the small shrine near the bridge that remembers those that died in a horrific accident when trying to escape the city when Napoleon invaded, and visit the museum housed within the medieval building of Casa do Infante.
The building is also believed to have been the birthplace of Prince Henry the Navigator. Snap a picture of Palácio dos Condes de Azevedo, admire the old theatre, church, and palace next to Batalha Square, and see the remains of the old city walls at Muralha Primitiva.
In need of some good luck? Seek out the hidden shrine of Alminhas da Boa Fortuna. Be sure to return to Ribeira in the evening to experience the energetic nightlife.
Heading to Porto? Save some money with our guide to the coolest hostels in Porto!
#2 – Miragaia
A great place to see in Porto if you love architecture
Former Jewish and Armenian area
Interesting architecture
Colourful and vibrant
Varied attractions
Why it's awesome: Miragaia is another charming waterfront district of Porto. Colourful and bursting with life, it used to be located outside of the old city walls and was traditionally home to the city's Armenian and Jewish communities.
With a medieval heritage, the homes were constructed below the level of the river on the site of an old shipyard. A tall wall protects the homes from the water and the upper stories are constructed across archways.
The area has a number of architectural treasures and it's also a top place for dining and enjoying nocturnal fun in the many bars.
What to do there: Admire the views of the river and the bridge, backed by a tumble of homes, some of which seem to cling to the hillside and some which have laundry fluttering from the balconies.
You can see part of the old medieval wall, discover atmospheric religious buildings, and ride the Funicular dos Guindais for terrific views, and the area has a number of great museums and art galleries for an even bigger dose of culture and learning.
Although Porto has no Fado culture of its own, you can still experience the magic of Lisbon's Fado at a local bar in Miragaia. Hungry? Thirsty? There are plentiful options to refuel and take it easy.
What to do there: Admire art at the large Museu Nacional Soares dos Reis (housed in a former opulent palace), Galeria São Mamede, Cruzes Canhoto, and numerous other galleries.
Have an educational experience at places like the Museum of Transport, the family-friendly World of Discoveries, and the Marionette Museum, and take kids to watch a delightful puppet show at Teatro Marionetas do Porto. Adults can watch captivating performances at the classy Teatro Nacional São João, housed within an old monastery.
The lovely Jardim das Virtudes is a nice non-touristy place to visit in Porto and you can unwind in the peaceful setting. When it comes to churches, Miragaia certainly isn't lacking. The twin churches of Igreja do Carmo and Igreja das Carmelitas are among the most stunning religious attractions in Porto. The former dates back to the 18th century while the latter is older, having been built in the 17th century.
Both feature gorgeous exteriors and striking interiors. Separated by a diminutive one-metre-wide (3.3-foot-wide) house, they are also among the most unusual things to do in Porto. The historic Igreja de São Pedro, with its blue and white tiles, and Igreja de São João Novo, which offers great city views, are also both well worth adding to your Porto itinerary.
The Best Travel Backpack EVER MADE!?!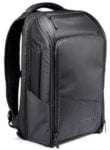 We are obsessed with backpacks – we've tried them all! And our favourite carry on backpack in the WORLD is the Nomatic Travel Backpack. This backpack has revolutionized the backpack industry and will change the way you travel forever :) Check it out here!
Editor's Recommendation! These are the staff pick for the top party hostels in Lisbon, Portugal (for all budgets!)
#3 – Boavista
An awesome place to visit in Porto for half a day!
Football frenzy
Major cultural venue
High-class shopping
Pretty parks
Why it's awesome: Although mainly a residential area, there are still plenty of reasons to explore Boavista when visiting Porto. With an upmarket vibe, it's one of the best places in Porto for chic shopping.
There are also great places to eat and many funky cafes. Visitors will find excellent cultural opportunities too, along with interesting modern pieces of architecture, peaceful and pleasant gardens, and quaint churches. For many, Boavista FC is a major reason to visit Boavista; it's one of the best Porto vacation ideas for football fans.
What to do there: Buy tickets to watch a performance at the Casa da Música, home to the Porto National Orchestra, a major events venue, and an eye-catching architectural gem. The large concert hall is both minimalist and innovative, and daily tours are available.
Visit Estádio do Bessa for a completely different experience … get tickets to watch a match or appreciate sporting history and local sportspeople at the museum within Bessa Stadium XXI. Unwind outdoors in the botanical gardens, which are among the most romantic points of interest in Porto, and enjoy Jardim da Boavista, a pleasant park in the middle of a busy traffic circle.
Admire the funerary architecture of the handsome Agramonte Cemetery and take a guided tour of the adjacent Kadoorie Synagogue, one of the biggest Jewish places of worship in the region. The Mercado Bom Sucesso, built in the 1940s and since renovated, is a great place to immerse yourself in local life and sample tasty cuisine.
Don't stay in the city too long! Take one of these great day trips from Porto to see more of the area!
#4 – Igreja de San Francisco
One of the most religious places to see in Porto
Unusual features
Opulent décor
Long history
Beautiful building inside and out
Why it's awesome: Established in 1245 by Franciscan monks, Igreja de San Francisco started life as a small and humble chapel. It grew over the years and, despite its Romanesque roots, it is now one of the most glorious Gothic points of interest in Porto.
One of the oldest Franciscan places of worship in all of Portugal, the Baroque exterior is impressive but belies nothing of the marvellous sparkling décor inside. The splendid interiors date back to the 18th century.
Interestingly, the church was once used by Napoleon as a place to stable his horses—the horses bedded down among the gilded splendour. There's a museum in the church today and underneath you'll find one of the most unusual things to do in Porto—spooky and eerie catacombs.
What to do there: Admire the grand façade before stepping inside the church to be dazzled by ornate golden beauty. People say that more than 300 kilograms (661 pounds) of golden dust and gold leaf were used in decorating the church's interiors! Gaze in awe upon the magnificent carvings, which took decades to complete.
Walk along the three naves and see the many statues, sculptures, memorials, and shrines within the church. Of particular interest, the wooden carved Tree of Jesus is thought to be unique, representing the family tree of Jesus Christ.
Descend into the crypt to walk in the unnerving catacombs. Housing the remains of Franciscan brothers and people from local influential and affluent families, don't miss the small side door that seemingly leads nowhere. Step through and you can peer down through a glass floor into the ossuary to see many human bones.
Will you also visit Lisbon? Check out where we like to stay in Lisbon!
#5 – Vila Nova de Gaia
Great place to visit in Porto for couples!
Romantic ambience
Wine caves
Clean, sandy beaches
Bird reserve
Why it's awesome: Often shortened to just Gaia, Vila Nova de Gaia is known for its many wine cellars and beautiful beaches. Split from Porto by the River Douro, the water once a boundary between the Christian and Islamic parts of the city, the area of Gaia was deserted for a number of years.
Today it is a thriving part of the city and a popular tourist destination with many people wishing to visit the home of the famous Port wine. There are also historic sites, museums, cultural attractions, and places of natural interest.
What to do there: Pay a visit to some of the many wine caves located around Vila Nova de Gaia, a Porto must do. You can learn more about the history of Port wine, see the conditions in which it is stored and aged, and sample locally produced drinks.
Walk hand in hand with your sweetheart through the lush Gaia Biological Park, enjoy diverse outdoor activities in Lavandeira Park, relax alongside the sparkling lake in Jardim do Morro, and spot various species of birds at the Reserva Natural Local do Estuário do Douro.
Discover more about the marine industry at the Fisheries Museum, board a small traditional wooden boat for a scenic trip along the river, admire art in Diogo de Macedo Gallery, and uncover local culture at the House-Museum Teixeira Lopes.
For even more cultural immersions, check out Solar dos Condes de Resende, a historic home that now houses an interesting museum. After an action-packed morning, take time to chill out on the area's beaches; several of Gaia's beaches have the prestigious Blue Flag label.
Porto is alive! And you'll find these party hostels have some of the best events around!
#6 – Baixa
One of the most amazing places in Porto!
Combination of the modern and historic
Beautiful architecture
Busy and full of life
Home to some of Porto's most famous attractions
Why it's awesome: Baixa is the city's buzzing downtown core and it contains many of the most important landmarks in Porto, including São Bento Train Station and the Church of Misericórdia.
There are many gorgeous pieces of architecture, and many buildings feature the beautiful traditional azulejo tilework. Visitors can soak up stunning views from atop the iconic Clérigos Tower. The area is hip, trendy, and arty, and there are numerous places to sleep, shop, eat, and party. There's a cool music scene too and it's hard to pass a dull moment in Baixa.
What to do there: Saunter along the Avenida dos Aliados to reach the impressive building of the Municipal Council. At the other end of the busy street, you can see the large statue of the late Brazilian emperor, Pedro IV. At Liberty Square, peek inside the bustling São Bento Train Station, paying special attention to the gorgeous painted tilework just inside the entrance.
Enjoy a few moments of contemplation in the spiritual air of Clérigos Church before heading up to the top of the 75-metre-tall (246-foot-tall) tower to soak up awesome views of the city spread out beneath you.
Treat yourself to a little retail therapy along the cool Rua Miguel Bombarda and the surrounding streets, absorb the energy of Mercado do Bolhão, tour the National Theatre (or buy tickets for a performance), and enter a magical world inside Livraria Lello.
The stunning bookshop features a vivid red staircase, stained glass, an interesting embroidered carpet, lots of neo-Gothic touches, and, of course, many, many books. In need of some rest and relaxation? Escape the busy city streets in the Jardins do Palácio de Cristal and the stepped Virtudes Garden.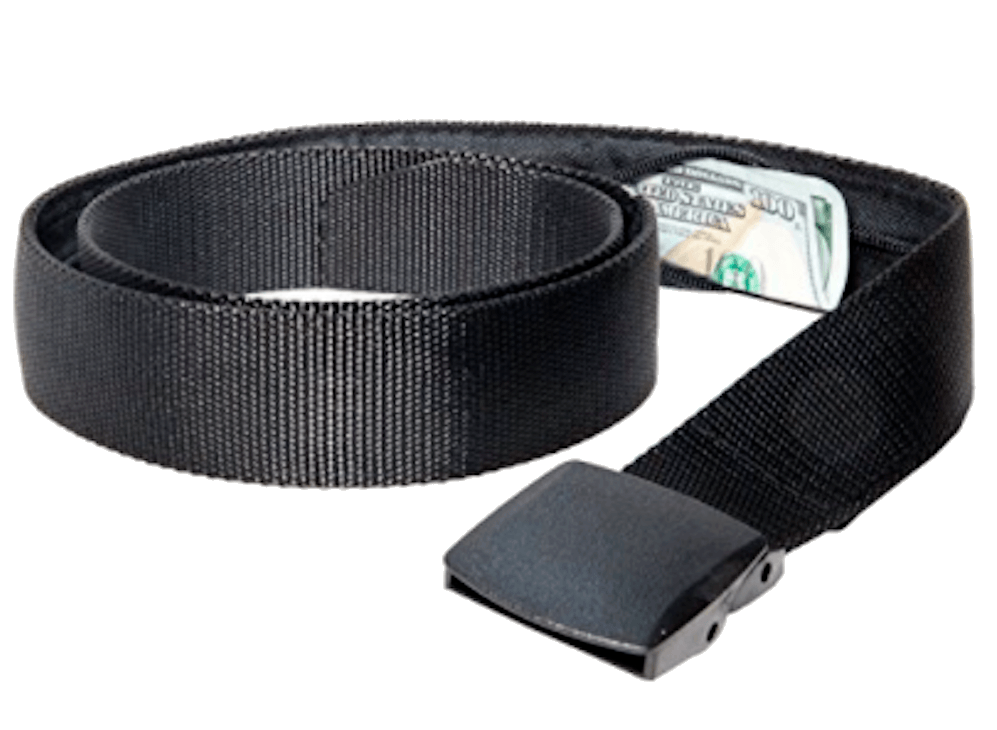 If you are traveling you should ALWAYS have emergency cash hidden on you! Security belts are great because they are affordable and can fit a ton of stuff in them (great for peace of mind!). Check out our favorite travel belt!
#7 – Bolsa Palace
One of the more unique places to visit in Porto!
Eclectic eye-catching rooms
Guided tours
Plenty of art
Former stock exchange
Why it's awesome: Also known as the Stock Exchange Palace, the Neoclassical Bolsa Palace was constructed in the mid-19th century. With Palladian influences, the National Monument has stunning exteriors as well as an impressive façade.
The rooms are diverse with many different decorative, artistic, and architectural styles, with opulent carvings, sculptures, frescoes, tilework, and plasterwork, with decadent chandeliers to light the various parts of the palace.
Built to really dazzle and shine, it's one of the most spectacular famous places in Porto. Although it is no longer home to the Stock Exchange, it still houses the headquarters of Porto's Commercial Association.
What to do there: Appreciate the grandiose building from outside, complete with a portico and tower, before joining a guided tour to marvel at the shimmering interiors. Tours are available in several languages and last for around three-quarters of an hour. Step into the light-filled Hall of Nations to see the impressive glass and iron dome with numerous coasts of arms beneath.
These emblems represent all of the countries with which Portugal had trade ties and friendly relations within times gone by. Ascend the carving-surrounded Noble Staircase and admire the frescoes and opulent chandelier.
Absorb the legal history and admire the handsome décor of the Court Room and Jury Room, see images of all of the former presidents of the Porto Commercial Association in the Former Presidents' Gallery, and marvel at the superb oil paintings and other decorative touches in the handsome President's Room.
The Golden Room features a gorgeous floor and ceiling along with eye-catching paintings and furnishings. Perhaps the most stunning of the rooms within the Bolsa Palace, the Arabian Room is a veritable treasure and a Porto must-see.
Inspired by the grandiose designs of the Moorish Alhambra Palace in Spain's region of Andalusia, it was created between 1862 and 1880. Fine carved woods, chandeliers, elegant columns, decorative floor tiles, small skylight windows set into a decorative ceiling, and other features combine to make this room a real treat for the eyes.
Editor's Note: If you'll be in Lagos, check out the top things to do in Lagos during your visit!
Will you be in Lisbon a while? Here's your guide to the top day trips from Lisbon, Portugal for exploring the area!
Portugal is amazing! And the best hostels in Peniche, Portugal will blow you away!
A handful more of the best places to visit in Porto
Feast your eyes on the diverse architectural styles of Porto Cathedral, admire contemporary art at Serralves Modern Art Museum, stroll across the attractive Luís I Bridge, see the gorgeous interiors of Santa Clara Church, discover some of Porto's best places to eat in Matosinhos, stroll through the seaside area of Foz, take kids to Zoo Santo Inácio, and visit the FC Porto Museum.
Exciting destinations like Braga, Peneda-Gerês National Park, Fátima, and the splendidly scenic Doures Valley are all easy to enjoy on a day trip from Porto too.
Follow our recommendations of the best places to visit in Porto for a memorable and action-packed holiday.
***Disclaimer*** Some of the links in this post are affiliate links. This means that if you book your accommodation through the site, One Weird Globe will earn a small commission at no extra cost to you. Your support helps me keep the site going :)
Latest posts by Aiden Higgins
(see all)