Santiago is the bustling capital city of Chile and is a hotspot for many backpackers traveling around South America. The city is packed full of amazing things to do including spectacular architectural sites, tasty food tours, and beautiful urban parks. It is also the gateway to exploring so many incredible natural hotspots, so is a great place to base yourself if you want to explore the great outdoors. When visiting Santiago you also need to head to one of its skyscraper viewpoints to watch a sunset it is renowned for being a one a once-in-a-lifetime opportunity.
As you can tell Santiago is an amazing city that offers so much, however in comparison to other cities in Latin America it is on the pricier end and you can end up spending a lot of your budget in the city. That's why it's a great idea to save money where you can and an epic way to do this is by staying in a hostel. They're much cheaper than hotels and many AirBnBs, and they also tend to have an awesome social atmosphere too!
To help you pick the ultimate hostel to stay in Santiago on a super tight budget we have created this guide to 5 of the best cheap hostels in the city…
Quick Answers – The Coolest Cheap Hostels in Santiago
#1 The Overall Best Cheap Hostel in Santiago – Hostal Providencia
#2 The Best Cheap Hostel in Santiago for Couples – Merced 88
#3 The Coolest Cheap Hostel in Santiago – Eco-Hostal Tambo Verde
#4 The Best Cheap Party Hostel in Santiago – La Chimba Hostel
#5 The Best Cheap Hostel in Santiago for Solo Travelers – Aji Hostel
The Overall Best Cheap Hostel in Santiago
Why we like Hostal Providencia…
The location of Hostal Providencia is arguably unbeatable for a hostel in Santiago with it being situated in the heart of the city just a 5-minute walk away from Plaza Italia and the Parque Bustamante metro station. It also has the epic neighborhood of Bellavista on its doorstep which is famous for being one of the trendiest places to hang out with the area having some of the most vibrant nightlife spots with a plethora of swanky pubs, bars, and restaurants.
Hostal Providencia is perfect for…
Hostal Providencia is equipped with three of the best things you look for in a hostel: fantastic on-site facilities, sociable events, and common spaces along with a brilliant location. We've already mentioned how good its location is and its amazing amenities arguably match this with ultra-comfortable beds, spacious and decorated common areas, and a cozy bar that has a friendly atmosphere along with an incredible selection of budget-friendly drink options.
Have your dates picked? Read up on hostels in Santiago before you book!
The Best Cheap Hostel in Santiago for Couples
Why we like Merc 88 Hostel…
We love the resto-bar and terrace area provided at Merced 88 hostel with it providing a vibrant social atmosphere for guests to mingle and meet other backpackers along with a tasty selection of budget-friendly food and drinks options. At the terrace, you will also get to see some of the most amazing views of Metropolitan Santiago which are arguably even more incredible during the nighttime. So get yourself ready for a few beers with some new pals we can guarantee you won't be disappointed by the views.
Merc 88 Hostel is perfect for…
Couples looking for a budget-friendly romantic getaway with a good selection of private rooms at the hostel along with a decent social atmosphere if they wish to meet other travelers. From boutique double rooms to large dorms you'll have plenty of options to choose from at Merced 88 Hostel all of which vary in price but all are very good value for a hostel well-located near the center of Santiago. You'll also find beautiful balcony areas at Merc 88 Hostel which is perfect for having a glass of wine or two and watching the Chilean sun go down with your partner.
Still haven't booked for Santiago? Find out where to stay in Santiago for any type of trip!
The Coolest Cheap Hostel in Santiago
Why we like Eco-Hostal Tambo Verde…
Another hostel situated in the sought-after Bellavista neighborhood guests staying at Eco-Hostal Tambo Verde will get to experience one of the coolest vibes in the city on their doorstep. The neighborhood has a bohemian flair to it with trendy bars and restaurants around every corner and amazing cultural and historical attractions scattered across the area. You will also be right at the foot of the emblematic San Cristobal Hill, one of Santiago's top attractions, which boasts some of the most spectacular views over the city.
Eco-Hostal Tambo Verde is perfect for…
If you want a unique experience during your stay in Santiago then you should definitely check out Eco-Hostal. The 9.7 star rated hosel is very different from other hostels with a hippy atmosphere to it which creates a chilled-out vibe. On-site you will find 10 comfortable rooms, each with its own style and design but all of which have been created with eco-friendly materials which are perfect for those environmentally conscious travelers. Eco-Hostal Tambo Verde also provides a free breakfast every morning which boasts amazing vegan and vegetarian-friendly options.
Editor's Note: You can have a great time in Santiago staying at one of the top party hostels!
The Best Cheap Party Hostel in Santiago
Why we like La Chimba Hostel…
Next up on our list of the coolest budget-friendly hostels in Santiago is La Chimba Hostel! La Chimba Hostel is well-known for having some of the best cheap dorm beds in the city along with giving out some amazing complimentary add-ons. This includes free walking tours and city maps for exploring during the daylight hours along with and free welcome drink and free access to bars and nightclubs in the Barrio Bellavista as the sun goes down!
The hostel also has a 24-hour reception along with a spacious luggage storage room which are both epic bonuses of staying there.
La Chimba Hostel is perfect for…
If you fancy a party in Santiago then La Chimba Hostel is definitely the place to stay to get the ultimate start to a night out in the city. The hostel is home to a bustling on-site bar that serves up some of the cheapest and tastiest beers in the city. Along with this it also boasts a selection of daily drinks specials along with several pre-night out events including quizzes, beer pong, and plenty of other drinking games.
You also won't have to venture far to hit the bars and clubs with La Chimba Hostel being situated bang-smack in the middle of Barrio Bellavista which is known for being the place to party in Santiago.
MUST READ! You've got to visit these places in Chile when you're there!
The Best Cheap Hostel in Santiago for Solo Travelers
Why we like Aji Hostel…
We love the youthful vibe at Aji Hostel with it being run by two college mates who have created a friendly team of international travelers from all over the world who have first-hand experience of backpacking and staying in hostels and are more than happy to give you some advice on traveling.
The added perks of Aji Hostel are absolutely incredible including free pasta and pesto dinner with a glass of wine every Wednesday, a free Pisco Sourz on Monday along with a tasty free breakfast every single morning which includes a continental and cooked selection of cereal, milk, toast, eggs, coffee, tea, fruits.
Aji Hostel is perfect for…
The hostel is amazing for solo travelers with an awesome selection of events put on every week to help you mingle and meet other backpackers. This includes an organized night out to the biggest party for foreign students, free welcome drinks on Mondays, along with an epic BBQ followed up by a lively night out to one of the best clubs on Friday where you get free entry and discounted drinks when you're a guest at Aji Hostel.
Conclusion to the Best Cheap Hostels in Santiago
Santiago really is full of an abundance of amazing hostels and despite being a relatively expensive city in Latin America it does have some great budget-friendly options as well. From the lively atmosphere at La Chimba Hostel, the epic complimentary add-ons at Aji Hostel to the incredible location of Hostal Providencia there is a little something for everyone in Santiago.
We really hope this article has helped you navigate the hostel scene in Chile's bustling capital city if you do end up booking any of our recommendations, do let us know in the comments below as we love hearing from you guys.
So get ready to experience one of the most incredible cities in South America. A trip to Santiago is just around the corner!
***Disclaimer*** Some of the links in this post are affiliate links. This means that if you book your accommodation through the site, One Weird Globe will earn a small commission at no extra cost to you. Your support helps me keep the site going :)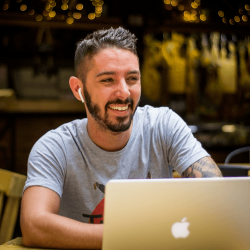 Latest posts by Aaron Radcliffe
(see all)