Tulum is one of the most popular destinations for travelers in all of Mexico and we can see why with crystal clear cenotes, paradise beaches, and fascinating ancient ruins around every corner. Whether you want to spend your days exploring the world-famous Mayan Ruins, soaking up the party atmosphere at one of the town's bustling live music events, or just relaxing on the cream-colored sands of the Yucatan Peninsula, Tulum has a little something for everyone.
Tulum is a backpackers haven with gorgeously designed and sociable hostels scattered across the town! However, some of these can be a fair distance from the sought-after sandy beaches which can sometimes leave guests disappointed with the long trek in the heat. That's exactly why we've created this list of the 5 best hostels near the beach in Tulum so you can find an amazing hostel that is just a short stroll away from the glistening waters.
So does a budget-friendly, beach getaway to one of the Yucatan Peninsula's best towns sound interesting to you? Carry on scrolling to find out more.
Quick Answers – The Coolest Hostels in Tulum near the Beach
#1 Best Overall Hostel near the beach in Tulum – oOstel Smart Hostel
#2 Best Cheap Hostel near the beach in Tulum – TuboTulum Hostel
#3 Best Luxury Hostel near the beach in Tulum – Selina Tulum
#4 Best Party Hostel near the beach in Tulum – Mayan Monkey Tulum
#5 Coolest Hostel near the beach in Tulum – Cinco Tulum Beach
Best Overall Hostel in Tulum near the Beach
Why we like oOstel Smart Hostel …
oOstel Smart Hostel is our top pick for the best overall hostel near the beach in Tulum due to its incredible location, beautiful facilities, and amazing social atmosphere. oOstel Smart Hostel is just a few steps from the gorgeous Azulik Beach which boasts glistening blue waters and some of the finest white sands we've ever seen. The hostel is also just off the main road, where you can find restaurants, beach clubs, and the best parties and attractions.
Oostel Smart Hostel is perfect for…
Pretty much all types of travelers who are down to have a good time with the hostel highlighting the fact that it is a super social hostel with plenty of facilities to help you meet other guests including a vibrant on-site bar that serves up a storm of tasty drinks. The social atmosphere also makes it great for solo travelers heading to Tulum Beach with the hostel's motto being 'you can travel alone but not lonely'.
Tulum is great! Tulum's hostels are great too!
Best Cheap Hostel in Tulum
Why we like TuboTulum Hostel…
We love the unique layout at TuboTulum Hostel with the hostel having tube-style rooms which have been integrated into the beautiful surrounding landscape. The hostel also offers an epic free breakfast with a tasty selection of treats available extra morning. This is the perfect way to fuel yourself for a day of exploring Tulum and its surroundings whilst also saving yourself some money!
TuboTulum Hostel is perfect for…
There's no hiding that Tulum is one of the most expensive travel destinations in Mexico, meaning you'll want to save your cash where you can this makes TuboTulum Hostel the ultimate place to stay for those savvy backpackers. Not only does the hostel offer some of the cheapest hostel beds in the city it also has great facilities including amazing outdoor social spaces and air conditioning in every room.
Editor's Tip: make friends by staying at a cool hostel in Mexico!
Best Luxury Hostel in Tulum
Why we like Selina Tulum…
The famous hostel chain of Selina has opened this beautiful hostel right on the beachfront of the Yucatan Peninsula's bustling town of Tulum. The hostel's prime location means you are just steps away from the crystal clear waters and offers a hub for a number of fun activities including lively parties, yoga, and meditation along with watersports.
Selina Tulum is perfect for…
Those who want a sense of luxury in a sought-after location because not only is the hostel perfectly nestled between the sacred Tulum ruins and Sian Ka'an's nature reserve for those who want to explore the area's top sites but it also has some lavish facilities. This includes luxurious beachfront deck chairs, a refreshing outdoor swimming pool, yoga studios along with a brilliant co-working space.
Recommended Article: Looking for the best hostels in Mexico City? Check out our EPIC Guide!
Best Party Hostel in Tulum
Why we like Mayan Monkey Tulum…
The Tulum branch of the popular Mayan Monkey chain has one of the most epic locations in the town nestled between the heart of downtown Tulum and the beachfront meaning guests can enjoy the best of both worlds. This means that travelers staying at the hostel are just a 10-minute walk from the beachfront where you enjoy lavish parties and delve into the turquoise waters along with being just a stroll minutes away from the bustling town where you can find authentic Mexican restaurants along with some epic sites.
Mayan Monkey Tulum is perfect for…
Those party travelers looking to let their hair down and party until the early hours of the morning because not only is Mayan Monkey close to both the swanky beachfront bars, but it is also on the doorstep to some of the best clubs in the downtown area. Alongside this, the hostel has great on-site party facilities including a beautiful outdoor terrace and pool area along with a cocktail bar and nightclub which serve up a great selection of budget-friendly drinks.
Have some time? Get out of the city with these epic day trips from Mexico City!
Coolest Hostel in Tulum
We we like Cinco Tulum Beach…
The final place to stay on our list of the best hostels near Tulum Beach is one of the coolest and most unique accommodation options in Mexico. A glamping style hostel Cinco Tulum beach offers four medium and two large tents along with a social space set under 100 coconut palms. The hostel is also set in a National Park on the premier beach of Tulum where guests can wake up, stroll outside their hostel, and immediately see the crystal clear waters of the Caribbean sea.
Cinco Tulum Beach is perfect for…
Those who want an authentic experience and to be surrounded by nature but still want a sense of glam with the hostel tents offering deluxe yet stripped-back facilities. The shared spaces at the hostel are also epic including plenty of hammocks, beach beds, and an open-air bar and restaurant area.
Mexico is incredible! These are the most spectacular places to visit in Mexico!
Conclusion to the Best Hostels near the Beach in Tulum
So that's our list of the best hostels near the white sandy beaches of Tulum. As you can tell, there are a fair few gems, all of which offer something a little bit different and unique, meaning there is a little slice of hostel paradise for everyone.
Tulum is packed full of amazing hostels which made it hard to narrow this list down to just five which has meant we have only picked some of the best. However, if we were to choose one hostel that stands above the rest it would have to be Oostel Smart Hostel! Not only is it one of the hostels with the closest distance to the beach, but it also has incredible facilities along with a vibrant social atmosphere.
We really hope this guide has helped narrow down your options and helped you find your dream hostel near the beach. If you do end up booking any of the hostels, please do let us know in the comments below – we love hearing from you guys.
So… get those flip-flops on and get to the beach getaway of a lifetime – Tulum is awaiting your arrival!
***Disclaimer*** Some of the links in this post are affiliate links. This means that if you book your accommodation through the site, One Weird Globe will earn a small commission at no extra cost to you. Your support helps me keep the site going :)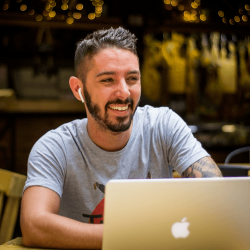 Latest posts by Aaron Radcliffe
(see all)