As the largest national park in England, it's no wonder the Lake District remains one of the most-visited parts of the country! With staycations being the norm this year, the Lake District makes the perfect destination for a relaxing break within the UK. Traditional villages, fascinating heritage and beautiful walks combine to create a fulfilling destination that you'll never want to leave.
The sheer size of the Lake District means it's packed with small villages – and even a few towns for those that prefer an urban setting. This can make it difficult to decide where to stay, especially since each destination has its own charms and drawbacks. For the best experience possible, you have to gather your bearings a little before you even get there.
Which is where we come in! We've taken a few trips to the Lake District, so we already know the best places to stay in the region. Whether you want awe-inspiring hikes, quaint cultural highlights, or adventurous lakeside activities, we've got you sorted. We've also had a chat with travel experts and locals to give you the best accommodation and activity recommendations in each place.
So, let's dive right in!
Quick Tips: Where to Stay in Lake District?
Where to Stay in Lake District
Bringing the car? The Lake District has been a popular destination for decades, so the road network is quite well developed, and getting between each village is relatively straightforward. If you're in a hurry to get going and don't mind where you end up staying, these are the real crème de la crème of Lake District accommodation.
Luxurious Apartment in Lake District
Airbnb Plus properties are hand chosen by staff for their stylish interiors, great levels of service, and unbeatable locations! There are quite a few in the Lake District, but this restored penthouse is easily our favourite. Housed within the former Midland Bank building, it comes with stylish interiors that respect history while adding a touch of modern comfort. We also love the little extras they include, like welcome chocolates.
Scenic Hotel in Lake District
It's been a tough year, so why not splash out on this extravagant five-star hotel? Oozing quaint English charm, this historic manor comes with unbeatable views of Bowness-on-Windermere and the stunning scenery nearby. In keeping with the quintessentially British theme, there is a large outdoor chessboard and boules for guests to enjoy throughout their stay. You can then end your day with an in-room massage.
Lake District 5 Best Neighborhoods to Stay in
It's the biggest national park in the country, so it comes as no surprise that the Lake District is a diverse destination. Each town has something a little different to offer, whether you want historic charm, beautiful panoramas or adventurous hikes. Keep reading to learn more about the five best places to stay in the Lake District – as well as the best accommodation and things to do in each.
Neighborhood#1 – Bowness-on-Windermere
Overall Best Place to Stay in Lake District
First time in the Lake District? Bowness-on-Windermere is the place for you! This charming little village is easily the most popular on the banks of Lake Windermere, meaning you won't be stuck for things to do. Bowness, and neighbouring Windermere, ooze charm thanks to the local boutiques and quintessential tea houses lining their streets.
This is also the perfect destination for those that can't bring the car! Windermere Railway Station is a short bus journey from Bowness and has direct connections to the West Coast Mainline. There is also a ferry connecting you to other townships across Lake Windermere, including Ambleside.
More awesome things to do and see in Bowness-on-Windermere
Idyllic Hideaway in Bowness-on-Windermere
This beautiful Airbnb Plus cottage has a reserved charm that will soothe you after a long day of exploring the magnificent natural beauty of Lake Windermere. It has delightful finishing touches, with vivacious birdhouses just outside the window and cute little fine china tea sets in the dining area. Sleeping up to four guests across two bedrooms, this is perfect for small families.
London is great! London's hostels are great too!
Elegant Hotel in Bowness-on-Windermere
This lavish five-star hotel is nothing short of gorgeous! The vast grounds provide a calm backdrop from which to admire the stunning scenery surrounding the property. It comes with two restaurants offering light bites and traditional English cuisine – as well as a complimentary breakfast. The real pièce de résistance? Guests have access to the hotel's very own sailboats and fishing equipment.
London is alive! And you'll find these party hostels have some of the best events around!
Neighborhood#2 – Ambleside
Best Place to Stay in Lake District for Families
Right at the northern tip of Lake Windermere, Ambleside is a calmer alternative to Bowness. For this reason, we reckon it is an excellent choice for families heading to the area. It also has access to the Windermere ferry, so day trips to the busier tourist centers are possible – as well as bus rides deep into the mountains.
The leafy streets, mesmerizing coast, and gaggle of swans make Ambleside a real time capsule into Old England. This is an excellent destination for those interested in Cumbrian history, as well as some more low-key heritage attractions.
More awesome things to do and see in Ambleside
Editor's Note: Get to know the city from these great hostels near Victoria Station!
Stylish Flat in Ambleside
This gorgeous apartment is housed within a beautifully restored former bank building, letting you experience a slice of Ambleside's history. The Scandinavian inspired interiors create a bright and calming space, with modern furnishings adding to the comfort. The bathroom comes with a walk-in rainfall shower, and the kitchen will make even the most experienced chefs jealous. Bon appétit!
London is spectacular! Especially since you can take day trips to see the whole region!
Neighborhood#3 – Penrith
Where to Stay in Lake District on a Budget
There's no denying it – the Lake District is expensive! While this isn't without good reason, we believe everyone should have the opportunity to explore this region of outstanding natural beauty. For those on stricter budgets, we recommend staying in Penrith. It's just outside the Lake District but has excellent public transport connections with the major tourism centres.
Penrith is a little more urbanised than the quintessential villages deep in the Lake District – but make no mistake, it still comes with historic charms! This historic market town has managed to retain local traditions while benefiting from bigger town facilities and shopping centres. You truly get the best of both worlds in Penrith.
More awesome things to do and see in Penrith
Will you also visit Windor? Check out where we like to stay in Windsor!
Contemporary Townhouse in Penrith
It seems like the Lake District is the capital for historic conversions! This quirky townhouse was once a Victorian schoolhouse. The train and bus stations are only a short walk away, making it a great choice for those that don't have their own transport. The exposed beam, original wood floors and winding staircase build a sense of history, while modern appliances like the smart TV ensure you won't ever want to leave.
MUST READ! We've organized the best places to stay in Leeds for all types of trips!
Budget Friendly Hotel in Penrith
The Lake District can get quite costly – but thankfully, there are still a few great budget-friendly hotels in the area! This Best Western Hotel has everything you need and more. The rooms are very well priced, but it doesn't feel like it. There are traditional furnishings and spacious interiors throughout the building. A complimentary breakfast is also included in the rate.
Neighborhood#4 – Kendal
Coolest Place to Stay in Lake District
Though officially just outside the Lake District, Kendal is considered a major gateway to the region, especially for those arriving from the South. Despite this status, it has lower tourist numbers than everywhere else mentioned in this guide. If you're looking for something a bit more off the beaten path, Kendal is definitely worth considering.
Home of the famous Kendal Mint Cake, this cute little market town is the perfect spot for grabbing food and crafts from local artisans. It has managed to hold on to its authentic charm thanks to some truly innovative renovation projects and is home to a few of our personal favourite accommodations.
More awesome things to do and see in Kendal
Rustic Hideaway near Kendal
More adventurous couples will adore this quirky little hit just outside Kendal! You're staying on the grounds of the host, so you're never too far from a local expert that can advise you on things to do. There's a huge barbecue pit in the heart of the property, adding a little rustic flair to your evening meals. We also love the Scandi-cool wooden interiors.
Neighborhood#5 – Keswick
Great Place to Stay in Lake District for Hikers
The Lake District is home to the largest mountain range in England, so it's no wonder it is a paradise for hikers and ramblers. Keswick is by far the most popular destination for adventure travellers and is home to some of the best hiking trails in the country. So lace up your boots and let's get going!
The town itself sits beneath the fourth-highest mountain in England – and Scafell Pike (the highest) is only a short drive away. This beautiful scenery makes it a great pick for photographers and artists looking for some inspiration.
More awesome things to do and see in Keswick
Romantic Pied-à-Terre in Keswick
Need something a bit more modern? This cute apartment is right in the heart of Keswick, with easy access to all the best restaurants and boutiques in the town. The log burner and verdant décor give this apartment a cozy and romantic atmosphere – perfect for young couples heading to the lakes for a staycation this year.
Quaint Country House near Keswick
Last but not least, we have another stunning five-star hotel in the heart of the Lake District! The on-site restaurant has been awarded two AA-Rosettes thanks to its quality, locally sourced ingredients. Hazel Bank really excels when it comes to the details, with luxury toiletries in every room, well-groomed gardens, and award-winning chefs serving up breakfast every morning.
Final Thoughts on Where To Stay in Lake District?
The Lake District really is somewhere that everyone in the UK should visit at least once. If you haven't already, make it your destination of choice for a staycation this year! While it's the perfect summer destination thanks to all the hikes and adventure activities on offer, it also has a few charms that can be explored year-round. Historic villages and heritage attractions make this the perfect spot for a short cottage break in the winter – especially if it comes with a fireplace.
We shouldn't play favorites, but if we had to pick one destination that really stands out for us it would be Keswick! The towns and villages surrounding Lake Windermere are fantastic but tend to draw the biggest tourist numbers. Keswick is much more laid back while enjoying the same traditional charm and gorgeous scenery.
That being said, wherever is best for you really depends on what you want to get out of your stay. We hope this guide has helped narrow down your options for your upcoming trip to the glorious Lake District.
Did we miss anything? Let us know in the comments!
***Disclaimer*** Some of the links in this post are affiliate links. This means that if you book your accommodation through the site, One Weird Globe will earn a small commission at no extra cost to you. Your support helps me keep the site going :)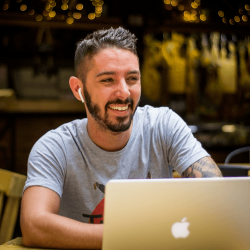 Latest posts by Aaron Radcliffe
(see all)