It wasn't so long ago that Bilbao was a drab and run down port on the Bay of Biscay. Yes, industry thrived but it wasn't really on many tourists' itineraries. Now though, that's all changed. It's not just the stunning architecture of the Guggenheim Museum, but also the incredible dining scene, spectacular cathedrals, and cultural attractions left, right, and centre.
It's also blessed with some of the most beautiful natural attractions in northern Spain nearby. So, it's likely that after a few days getting to know the city, you'll want to get out into the countryside too. But how do you go about this?
That's where we come in. Our team of expert travel writers have compiled an extensive list to the best day trips from Bilbao. As you scroll down the page, we'll introduce you to incredible sanctuaries, world-famous TV locations, and quaint fishing ports all along the coast.
So, let's dive straight into the best day trips from Bilbao!
Quick Answer: Best Day Trips from Bilbao
Best Places to Stay in Bilbao
Thanks to urban renovations across the city since the turn of the millennium, you're spoiled for choice when it comes to where to stay in Bilbao. Do you want to be in the historic Casco Viejo area? Or how about the gritty Indautxu, just minutes' walk from the city's top attraction: The Guggenheim. We've scoured these neighbourhoods and more to come up with 3 of the best places to stay in Bilbao. They're suitable for different budgets, tastes, and styles!
•

Best Hostel in Bilbao

•
Right in the heart of Bilbao's Old Town
With over 2,200 reviews on Hostelworld confirming how great this is, we don't want to argue against Ganbarra being the best hostel in Bilbao. The location means you're close to everything that's going on: nightlife, bars, restaurants, and museums. That's not all though – there's a comfy common room which is great for finding fellow travellers to explore with!
Enjoy your stay in Bilbao! Check out our guide for what to do in Bilbao while you're there!
•

Best Budget Hotel in Bilbao

•
Innovative design in a charming part of town
This two star hotel offers a great location. On a pedestrianised street, you won't be kept awake by cars, but you'll still be close to the historic part of the city. It's also just a 5 minute walk from the train station – great for some of our day trips! You can enjoy a continental breakfast at the hotel, which is very popular with couples. They've given it a great rating on booking.com!
•

Best Luxury Hotel in Bilbao

•
If you're really looking to splash out on something special on your vacation, let us show you this. The five star Gran Hotel Domine is the best luxury hotel in Bilbao! It's right opposite the Guggenheim Museum, which you'll be able to get stunning views of from the roof terrace. Feeling hungry? There are 6 dining options on-site. If you've got a long stay planned, try 'em all!
Not finding the right hostel? Madrid has a selection of party hostels too!
Best Day Trip from Bilbao
Visit a tiny island connected to the mainland with nothing more than a bridge
See the 9th century hermitage dedicated to John the Baptist
Climb 241 steps to get astounding views of the surrounding Bay of Biscay
Eagle-eyed viewers may recognise San Juan de Gazelugatxe as something other than a stunning hermitage atop an island in the Bay of Biscay. Yes, it's Dragonstones Castle from Game of Thrones. You don't need to be a fan of the TV show to find this the best day trip from Bilbao though!
Set out on an island in the middle of the Bay of Biscay, this place will not fail to take your breath away. You can only access it from a bridge from the mainland but climb the 241 steps and you'll be deposited at a 9th century hermitage constructed to honour John the Baptist.
This is one of the most stunning locations on the Basque coastline, so don't forget your camera when you visit this otherworldly place!
Editor's Note: You can have a great time in Barcelona staying at one of the top party hostels!
Best Day Trip from Bilbao by Train
Try traditional pintxos in the local bars and restaurants of this famous foodie city
Visit the only beach considered one of the 12 treasures of Spain
Just 1.5 hours from Bilbao by train
A 1.5 hour journey along the beautiful Basque coast will pass in no time at all, easily making San Sebastian the best day trip from Bilbao by train. It's not only one of the best foodie cities in Spain, but the entire world. From back street pintxo bars to seafront oyster eateries, to multi-course Michelin star dining, this place has it all.
After filling up on food, there are a few other things to check out in the city. One is La Concha Beach, considered one of the 12 treasures of Spain. It's in pretty esteemed company with the Sagrada Familia and the Alhambra Palace! Throughout the year there are multiple cultural events and festivals. This is one of the most vibrant cities in Spain and well worth a day (or more) of your time!
The Best Travel Backpack EVER MADE!?!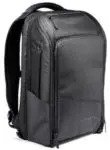 We are obsessed with backpacks – we've tried them all! And our favourite carry on backpack in the WORLD is the Nomatic Travel Backpack. This backpack has revolutionized the backpack industry and will change the way you travel forever :) Check it out here!
Visit one of the most avant-garde religious buildings in the world
Incredible views of the surrounding Basque countryside
Visit the oldest university in the Basque Country, the Sancti Spiritu
So far, we've focused on the Basque coastline. And while it's beautiful, you won't want to miss going inland. There are hilltop village, rural palaces, and breathtaking landscapes. A trip to the Arantzazu and Oñati gives you a chance to see all of those things in a single day.
Having survived 3 critical fires, the sanctuary is a little outside the village of Oñati. It's one of the most intriguing and bombastic religious buildings in the world. It has been reconstructed and worked on several times to get to its current modern incarnation.
Oñati isn't just home to this incredible religious building, but the oldest university in the Basque Country too. It's open to visitors who might want to check out the beautiful façade, main courtyard, and chapel.
Looking for the Party? We've got you covered with our guide to the best party hostels in Ibiza!
More than 6,500 years of history at one of the oldest salt factories in the world
One of the best-preserved cultural landscapes in Europe
Marvel at the network of wooden channels which distribute water to the salt valley
Have you ever wanted to visit a preserved cultural landscape with more than 6,500 years of history? Probably not, but now you know it exists, you will! An hour south of Bilbao, you'll come across this intriguing location – the Salinas de Añana.
The salt flats combine a number of factors to make this a worthy tourist attraction. Years of history, rare geological features, and a lot of biodiversity all combine to make one of the most unique points of interest in the whole of Spain.
The landscape you see nowadays comes from a sea that dried up around 200 million years ago and it has been gradually changing since. If you visit the salt flats, you can learn all about the crafts used here and even dip your hands and feet into the brine!
Haven't Booked for Valencia? Read up on our favorite hostels in Valencia (for any budget)!
See spectacular locations from the hit TV show
Follow in the footsteps of your favourite characters along King's Landing Beach
Be astounded by the 60-million-year-old beach at Zumaia (also known as Dragonstone)
So, if you can get yourself really into character for this one you can leave Spain all together and enter the universe of George R. R. Martin! Yes, the Basque Coast is home to a number of filming locations from the hit TV series Game of Thrones, making this the best day trip from Bilbao for fans of fantasy!
We've already included Dragonstone Fortress, but you can also visit the 60 million year old beach at Zumaia – the location for Dragonstone Beach. The swords and shields at Butron Castle will make you feel like a true Winterfell, while Muriola Beach will mean you can walk along King's Landing Beach itself!
Staying Safe in Bilbao
As a region, The Basque Country has one of the lowest crime rates in the whole of Europe. That's certainly good news! However, Bilbao is the largest city in the Basque Country. So, with more than 350,000 inhabitants you should keep an eye out for annoyances that you'd find in similarly-sized cities. This includes pickpocketing and petty crime. However, risk to travellers here is very low!

Best Romantic Day Trip from Bilbao for Couples
Wander through the streets of Vitoria's charming and romantic Old Town
Try some of the finest Rioja wines
See happy locals in the city with Spain's best quality of life
Take the best romantic day trip from Bilbao for couples to combine seeing a charming Old Town with wine tasting. What could be better?! The town of Vitoria has more green spaces per inhabitant than any other city in Spain, and it's no surprise to know that the residents enjoy some of the best quality of life in Spain too. You may be surprised to learn that it's not Bilbao or San Sebastian that's the capital of the Basque region, but Vitoria!
It gets better too – Vitoria isn't far from the La Rioja wine region. If you choose to do a tour, you'll be taken to a bodega where you can find out more about wine production and of course do a few tastings. If you're planning to be your own guide, it shouldn't be hard to find a great wine cellar to check out!
Recommended Article: Looking for the best hostels in Madrid? Check out our EPIC Guide!
Cross over the border into neighbouring France
A popular beach town with European royalty in the early 1800s
One of the best day trips from Bilbao by car – less than 2 hours away!
If Biarritz is good enough for European royalty from the 1800s, it's probably good enough for you too! Also, travelling across the border to France means you can get another stamp in your passport – so it's a win win situation!
This charming waterfront town has attracted Napoleon and Frank Sinatra in the past, as well as being a great surfing destination. If you want to catch your first waves, there are a number of surf schools along the seafront where you can sign up for a lesson!
If you plan to travel to Biarritz, we'd advise against using public transport. Changing trains and buses can get complicated. It's likely to double the time you'd spend travel in a private car or on a tour!
Spain is amazing! And the best hostels in Seville will blow you away!
#8 – Lekeitio
Best Day Trip from Bilbao with Kids
Walk out to the island of St. Nicholas if the tide is low
Explore the colourful port and stop for an ice cream or some tapas
A one hour drive to the northeast of Bilbao
One of the best day trips from Bilbao for families is Lekeitio. It's got plenty to offer both parents and kids, and you're sure to have a fun-filled day out at this lovely beach town just an hour northeast of Bilbao.
Explore the port where you'll be able to enjoy traditional Basque dishes before you round off the meal with an ice cream. Don't miss the Gothic church in the centre of town either – it's quite a sight to behold!
After moseying around the town for a little, head to the beach. Here, you've the choice of taking a paddle in the cool water, sunbathing or playing sports on the beach, or something a little more interesting. When the tide is out, you can walk out to St. Nicholas' Island. Just don't stay there for too long and get stuck!

If you are traveling you should ALWAYS have emergency cash hidden on you! Security belts are great because they are affordable and can fit a ton of stuff in them (great for peace of mind!). Check out our favorite travel belt!
Best Cheap Day Trip from Bilbao
Technically classed as a part of Greater Bilbao
Very nearby so minimal travel expenses
A charming municipality on the Bay of Biscay
The best cheap day trip from Bilbao allows you to visit a UNESCO World Heritage site without technically leaving the city limits. Classed as a part of Greater Bilbao, Getxo is a charming municipality with easy access to the Cliffs Hiking Route.
The town's main attraction is the Vizcaya Bridge which links Portugalete and Las Arenas. The transporter bridge dates back to the Industrial Revolution and certainly has a domineering presence on the skyline.
If you want to get away from city life altogether, consider taking the Cliffs Trail. You can walk along cliffs which are reminiscent of the White Cliffs of Dover and take in attractions such as La Galea Fort and the Aixerrota Windmill.
Editor's Recommendation! These are the staff pick for the top hostels in Barcelona (for all budgets!)
Learn about one of the most important historical figures in Basque history
Admire the idyllic surroundings of the Urola Valley
Part of the route of the three temples with the Sanctuary of Arantzazu
The Society of Jesus is now part of the Catholic Church which has its headquarters in Rome. However, it was started here in the Basque Country by Ignatius of Loyola in the 16th century. The construction didn't begin until around 150 years after his death, but the Churrigueresque architecture is certainly impressive!
If you've more than a day to spend, this sanctuary is part of the "Route of Three Temples". You can also visit Arantzazu that we mentioned earlier, and La Antigua in Zumárragua. There are a number of interesting villages nearby that will give you an insight into the Basque life and landscape too. These include Zestoa and its natural spas, and the fishing village of Getaria.
Let's simplify this! Here are our favorite areas to stay in Alicante.
#11 – Mundaka
A small and pretty fishing port
Home to a world-famous surfing scene
Take your first lesson – there are plenty of surf schools!
Mundaka is a village in the Urdaibai Biosphere Reserve, a UNESCO World Heritage area. It's a great area for birdwatching, with fish eagles and spoonbills abundant in the area. Once you've visited the bird centre and found out everything you want to know about the feathery friends that lived here, it's time to hit the town.
Although it's a fishing port, people don't come here for the seafood. Well, they probably do. But the top attraction is the surfing! This unassuming little town just happens to be the home of one of the longest waves in the world. That may sound like a challenge, but if you're a beginner, there are plenty of surf schools that will help you take your first steps!
MUST READ! We've organized the best places to stay in Bilbao for all types of trips!
Bonus Trip! – Castro Urdiales
Over the Basque border into neighbouring Cantabria
The gothic church of Santa María is one of the best examples of Gothic architecture in Cantabria
Check out the medieval bridge and castle-lighthouse too!
Our final entry onto the list of the best day trips from Bilbao is Castro Urdiales. You'll be heading west and crossing over to the region of Cantabria for this one! This is a town steeped in history – it actually dates back to the Roman Times!
Take a stroll around the Old Town to discover Castro Urdiales' hidden gems. The highlight is the Church of Santa María. You won't find many better examples of Gothic architecture in Northern Spain. Another awesome religious building is the hermitage of Santa Ana!
After a long day taking in all the sights of this cute little town, relax on the beach and catch some rays, or enjoy some tapas in one of the beachfront cafes and restaurants.
Editor's Note: Get to know the city from these great hostels near Barcelona Airport!
Conclusion to the Best Day Trips from Bilbao
So, that concludes our list of the best day trips from Bilbao. We're sure you'll agree that there's plenty to see in the Basque Country, whichever direction you travel in. Also, there's plenty to suit different budgets, styles and tastes!
Transport to a different universe and enjoy King's Landing and Dragonstones, or simply just cross the border into France. Not that you'll be bored if you remain in Spain and the Basque country though!
Whether you're travelling solo, with kids, or on a romantic trip with your other half – there's a day trip from Bilbao perfectly suited to you.
If you think there are any awesome day trips from Bilbao that we've missed off our list, just let us know in the comments!
***Disclaimer*** Some of the links in this post are affiliate links. This means that if you book your accommodation through the site, One Weird Globe will earn a small commission at no extra cost to you. Your support helps me keep the site going :)
Latest posts by Aiden Higgins
(see all)