Branson, Missouri, is a popular city for tourists thanks to its generous lashings of entertainment. You can take your pick from theatres and just about any genre of live music. By day, the city has its fair share of shops, museums and fabulous eateries. Perhaps the most famous of all is the Titanic Museum!
But what about if you need a break from the starry stage and bright lights? Or if you fancy getting out of the city for the day to explore the nearby attractions?
Fortunately, you have plenty of options! The city is surrounded by the Ozark Mountains which makes Branson the ideal place to plan hikes and road trips. You're also within easy access of other cities and towns in this Midwestern state. To help you plan your perfect day trip from Branson, we've rounded up all the best options. Whether you fancy checking out a small town, hiking in a national park or relaxing by a serene lake, you have plenty of choice.
So, without further ado let's look at the best 11 day trips from Branson, MO.
#1 – Best Day Trip from Branson, MO – Eureka Springs
Day trips from Branson by car
Eureka Springs takes our pick for the best day trip from Branson! This peaceful town is nestled in the heart of the Ozark Mountains and is cradled by verdant forestry. Eureka Springs is known for its Victorian architecture, and of course – its natural hot springs. There are around 60 to discover, many of which are tucked away in small caves.
The town is populated with boutiques, art galleries, craft emporiums, museums, and restaurants. So it's the perfect place to mooch around and take things slowly. Regular festivals breathe energy into town and draw in visitors. These range from everything from jazz to opera to antiques and the arts.
Only 80km away, a day trip from Branson to Eureka Springs only means around two hours of driving there and back. Eureka Springs is the kind of place with an appeal for travellers of all ages and inclinations – kids will love it as much as couples do!
#2 – Ozark National Forest
For a hearty dose of nature and awe-inspiring landscapes, you can't fault a day trip from Branson to the Ozark National Forest. As Branson is actually located within the Ozark Mountains, it would be rude not to swing by! This expansive mountain range spreads across five states; Arkansas, Missouri, Illinois, Oklahoma, and Kansas.
The Ozark National Forest itself comprises 1.2 million acres which are abundant with hiking trails that you can explore independently. Thickly packed with trees, mountain vistas and cascading waterfalls, the scenery is unreal. Even spending a day road tripping around this epic region will blow your mind.
Alternatively, if you want to get your adrenaline kick, then consider booking the Ozark Off-Road ATV Adventure. You can zoom around in your own all-terrain vehicle along the trails of the Shepherd of the Hills, following the tracks of your guide. Or hop in the back and hang on whilst your experienced guide navigates the wilderness!
#3 – Springfield, MO

Less than an hour by car, Springfield is another easy day trip from Branson. For those without a rental, you can hop on the public bus. The city is the third-largest in the state of Missouri and is jam-packed with awesome things to do.
Once in Springfield you can ride the drive-through Fantastic Caverns tour or visit Dickerson Park Zoo. You can explore delightful urban parks and walking trails. There's even a (supposedly) haunted fortress – Pythian Castle – and a couple of ghost towns near Halltown and Carthage.
Springfield is a city which will appeal to all, but it's particularly ideal for a family day out. It's definitely one of the best day trips from Branson with kids, thanks to its attractions.
That historic highway, the Mother Road, skirts its way across the northern strip of the city, connecting Chicago with the Pacific Coast. The Springfield section is peppered with fascinating museums such as the Route 66 Car Museum.
The Best Travel Backpack EVER MADE!?!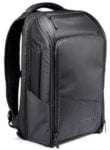 We are obsessed with backpacks – we've tried them all! And our favourite carry on backpack in the WORLD is the Nomatic Travel Backpack. This backpack has revolutionized the backpack industry and will change the way you travel forever :) Check it out here!
#4 – Fayetteville
Two hours by car, a day trip from Branson by Fayetteville whisks you out of Missouri and into Arkansas. Famous for being the first home of Bill Clinton and Hilary Rodham, you can even visit their original house!
Fayetteville is also where you can find premier botanical gardens and other lush parks to explore. Meanwhile, the Terra Studios is an outdoor labyrinth of glassware, pottery and other artisanal delights. You can peruse vintage and modern airplanes in a large hangar at the Arkansas Air and Military Museum and wander the grounds of Arkansas University.
Visit between mid-March and mid-October for your chance to catch a flick at the famous 112 Drive-in Theatre.
Enjoy your stay in Branson! Check out our guide for what to do in Branson while you're there!
#5 – St Louis
If you want to take in the sight of the great Mississippi River, then head to St Louis. St Louis is a city known for having one of the most successful baseball teams in history, plus the impressive Gateway Arch. You can't visit St Louis without getting a few snaps of it! This 630-ft structure was built in the 1960s in honour of the 19th-century explorers, Meriweather Lewis and William Clark.
Founded by the French-born King Louis IX, the city pays homage to its roots with a massive annual Mardi Gras parade. It's considered to be the largest in the US after New Orleans in fact. The awesome thing about St Louis is that the city is brimming with free things to do. The art and history museums, space centre and even the zoo admit free entry to visitors.
A day trip from Branson to St Louis does amount to a substantial drive – 3.5 hours each way. So you'll need to leave early to make the most of it.
#6 – Buffalo River National Park
If kayaking and canoeing through bountiful nature floats your boat, then this one's for you. The drive from Branson to the Buffalo River National Park takes around an hour. Then, you can swap your gears for a paddle and immerse yourself in the stunning park.
The first national river in the US, the Buffalo is around 250km in length. It is one of the few remaining undammed rivers in the lower 48 states, which means the water gushes and flows with vigour. Depending on when you visit and the current conditions of the water, you might be able to go whitewater kayaking! Check the levels before you plan your day trip from Branson to the Buffalo River National Park.
Still haven't booked for Branson? Find out where to stay in Branson for any type of trip!
#7 – Hermann
Romantic day trips from Branson for couples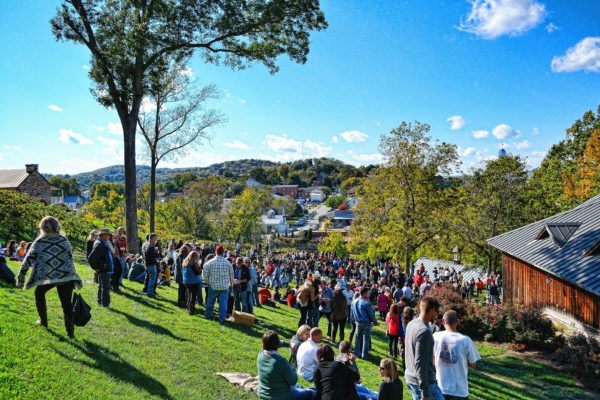 Where there is wine, there is romance. Hermann is the very heart and soul of the Missouri wine region. That makes it one of the most romantic day trips from Branson in our eyes. Using the quaint little town as a springboard, you can park up your rental and hit the Hermann Wine Trail by bicycle. There are 7 vineyards and wineries to explore, all family-owned, with speciality cheeses and fresh berries to tuck into.
This bonny little town was once declared to be the prettiest in Missouri. Over 100 of its buildings make the cut for the Historic Register and it rests on the Missouri River. There are a number of boutiques and parks worthy of a wander, between finding your new favourite bottle of wine!
The drive to Hermann feeds its way along the Historic Route 66, which is something spectacular in itself. That makes a day trip from Branson to Hermann totally worthy of the 640km round trip if you ask us!
#8 – Table Rock Lake
Table Rock Lake is a massive lake located only 16km southwest of Branson. Its tree-lined shores, crystal clear water and hidden beaches call-out for romantic day trips from Branson. You can choose to go boating, sailing or water skiing. Alternatively, follow the marked hiking trails through the park and ogle the mountain views across the lake.
The clean water is perfect for a refreshing dip on a summer's day, so pack a picnic and don't forget your bathers. If you linger, you can catch a mesmerising sunset from the banks or head to one of the lakeside restaurants. Could you find a more romantic day trip from Branson than that? We think not!
Due to its proximity to the city, a day trip from Branson to Table Rock Lake is as easy as pie. We'd recommend heading there on a sunny day to make the most of the beaches and walking trails. You can self-drive there or hail an Uber.
#9 – Branson Scenic Railway
Best day trips from Branson with kids
Now whilst we can't offer you much in the way of day trips from Branson by train, the city does have an old-worldly scenic railway! The Ozark Zephyr is a vintage, diesel-powered locomotive equipped with restored cars that date back to the late 1930s through the early 1960s.
The Branson Scenic Railway launches from the downtown neighbourhood and offers two routes. The northern route travels through the Missouri countryside, passing through Galena and the James River Valley. Meanwhile, the southern route stretches down into northwest Arkansas and over the Barren Fork Trestle. Each route is a 64km miles round-trip and takes around two hours to complete. So, in theory – you can tackle them both on the same day.
This is an awesome family activity for those looking for day trips from Branson with kids. The Branson Scenic Railway is also an excellent option for a rainy day. During winter, the attraction receives a special Polar Express makeover, not to be missed!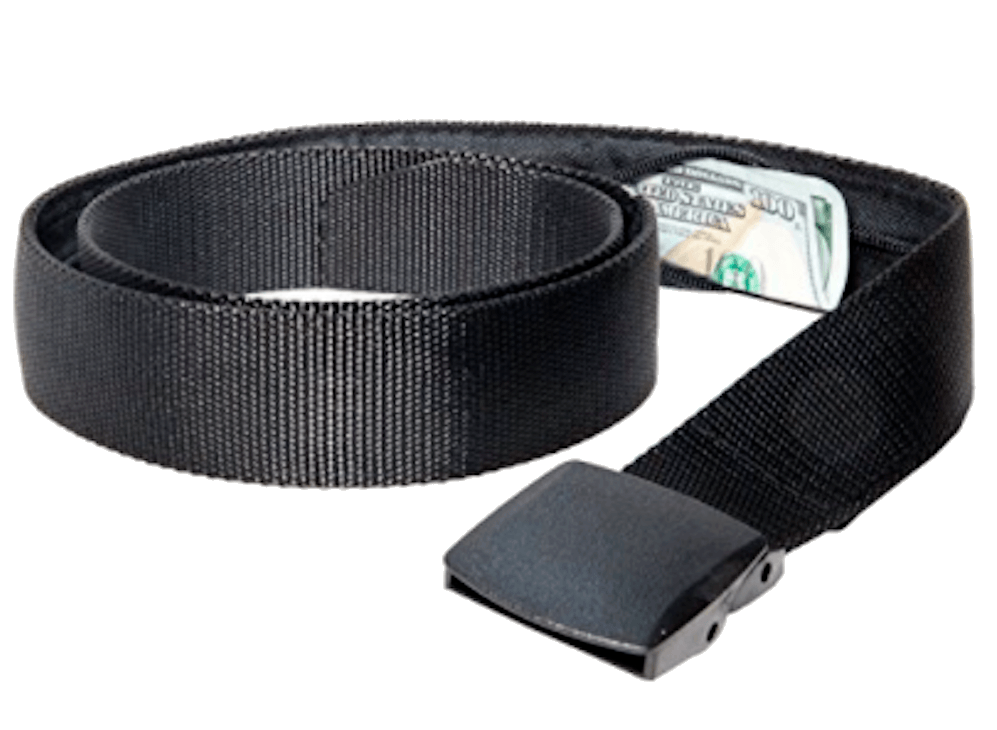 If you are traveling you should ALWAYS have emergency cash hidden on you! Security belts are great because they are affordable and can fit a ton of stuff in them (great for peace of mind!). Check out our favorite travel belt!
Silver Dollar City is a one-stop-shop for family fun around Branson. This rollicking theme park is home to 40+ rides and attractions and is one of the top 10 amusement parks in the world. You can find live entertainment and dine in award-winning restaurants. Located only 15km out of town means that you'll spend less time travelling, more time riding.
The theme park is revered for its family-friendly appeal, making this one of the best day trips from Branson with kids. Especially the more adventurous! But don't worry; big kids are as warmly welcomed as the little ones at Silver Dollar City.
To save time on the day, consider booking a skip the line ticket. This will include a parking space and a shuttle connection to take you straight from the parking lot to the entrance. That ensures a smooth trip and more time for whitening your knuckles!
#11 – Dogwood Canyon Nature Park
Our final pick is the day trip from Branson to Dogwood Canyon Nature Park. You'll be thankful that this reserve is a mere 30 minutes' drive – there's so much to do! Visitors can explore the trails on foot and soak up the untouched environment.
If you're feeling more adventurous, you can take your pick from one of the many activities on offer in the park. Horseback riding, segway tours and biking are all on the table. Fishing gear is available to rent or you can hop aboard a wildlife tour by tram. This is fully narrated and gives you a chance to spot bison, elk and deer whilst you're brushing up on your trivia!
All activities at Dogwood Canyon Nature Park are suitable for children. This makes it this one of the best family-friendly day trips from Branson for those seeking nature, wildlife and outdoor activities.
Final thoughts on the best day trips from Branson
The towns and nature parks surrounding Branson are packed with a wealth of activities and attractions that cater to travellers of all ages and styles. Whichever direction you head in, whatever type of day trip you want, you have bags of choice.
Branson and its surrounding area is best explored by car. There are some bus connections, which we have mentioned in our round-up. And of course, in terms of day trips from Branson by train – you have the scenic option listed above!
Whether you're looking for a romantic day out or an adventure for the whole clan, there's a day trip from Branson that's perfect for you.
***Disclaimer*** Some of the links in this post are affiliate links. This means that if you book your accommodation through the site, One Weird Globe will earn a small commission at no extra cost to you. Your support helps me keep the site going :)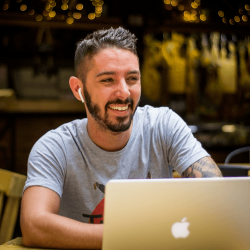 Latest posts by Aaron Radcliffe
(see all)