Want to spice up your vacation in Jackson? Why not take a day trip to any of the fantastic nearby towns or cities? While Jackson overflows with fun, a little day trip from the city can do wonders and add a little diversity to your vacation. 
After all, Jackson is surrounded by a cornucopia of hidden gems, lively cities, and stunning natural landscapes. 
Whether you're dreaming of a beach escape or a culinary adventure, there's something to satisfy your wanderlust near the city.   
And, guess what? We're going to make your trip planning experience a breeze by highlighting the best day trips from Jackson, MS. 
Quick Answer: Best Day Trips from Jackson 
#1 – Gulfport
Best day trip from Jackson with kids
Institute for Marine Mammal Studies

Gorgeous beaches 

Tons of water sports 
With gorgeous beaches and exciting water sports, Gulfport makes an excellent day trip from Jackson, MS, with kids. Nestled on the Gulf of Mexico, Gulfport has loads of attractions that will delight the little ones. 
For one, you could hit the Institute for Marine Mammal Studies, where your gang can interact with a bunch of charming dolphins. Gulfport also has water parks for youngsters who are yearning for some splashy fun.
Enjoy your stay in Jackson! Check out our guide for what to do in Jackson while you're there!
#2 – New Orleans
Best cheap day trip from Jackson
Dozens of freebies 

Mouthwatering culinary goodies 

Stunning architecture 
Who doesn't love New Orleans? Although famous for its wild parties and crazy nightlife, there are plenty of exhilarating things to do in NOLA when the sun is still up; the best part is, most of them won't cost you a penny. 
The Garden District, Jackson Square, Saint Louis Cemetery Number 1, and Lafayette Square can all be toured for free. The New Orleans Museum of Art also offers free admission to its sculpture garden and main museum every Wednesday. 
On top of it all, you can spend hours exploring the City Park and admiring its gigantic love oak trees without spending a dollar.
Still haven't booked for Jackson, MS? Find out where to stay in Jackson, MS for any type of trip!
#3 – Vicksburg
Best day trip from Jackson by car
Visit Vicksburg National Military Park

Civil War remnants 

Old-world charm 
Vicksburg is an absolute paradise for history buffs. For years, Vicksburg has been drawing tourists in droves with museums and battlefields that highlight the Civil War. 
Start your trip here on a positive note by visiting Vicksburg National Military Park, which is rumored to be haunted by the spirits of the Civil War soldiers. Afterward, make your way to Monsour's and sample their sumptuous genuine Southern dishes. 
Don't forget to make a pit stop to Adolph Rose Antiques, a charming and sprawling store filled with collectibles and antiquities. Who knows – you might even score a treasure that you can bring back home.
#4 – Natchez
Best romantic day trip from Jackson for couples
Tons of historic wonders

Cruise the Mississippi River

Southern charm 
Natchez is truly one of the best day trip destinations from Jackson for couples. Famous for historical wonders, Natchez beckons visitors with its Civil War sites, romantic Antebellum mansions, and Native American ruins. 
To make your day trip really exciting and romantic, take a boat cruise on the Mississippi River. And did we mention that Natchez exudes an irresistible Southern charm?
#5 – Meridian
Best day trip from Jackson by train
Visit the Mississippi Industrial Heritage Museum

Underrated destination 

Small town charm 
Meridian is an underrated travel destination with plenty of wondrous surprises. From the kid-approved Urban Air Adventure Park to Bonita Lakes Park, Meridian has a host of attractions to satisfy all ages and tastes. 
For a memorable day trip, make sure to check out the Mississippi Industrial Heritage Museum and Meridian Museum of Art.
#6 – Oxford
A very cool and hip town
Literary center of the South 

Rich heritage 

University town 
Nicknamed the "literary center of the South," Oxford has been a haven for poets, writers, and artists for decades. Many authors, such as Josh Grishman, have called this hip town home. 
Even better, this university town has dozens of intriguing museums, live music performances, and art festivals. 
Day-trippers can stroll around the University of Mississippi campus, explore the historic downtown square, and catch a game at the Vaught-Hemingway Stadium.
#7 – Hattiesburg
Everyone will love this day trip!
Eclectic mix of attractions 

Visit African American History Museum

Full of family fun and entertainment 
There's no shortage of amusing and entertaining attractions in Hattiesburg. Even if you're visiting for just a day, you'll find a lot of amazing things to do here. Kick-off your day trip in Hattiesburg with a visit to the African American History Museum. 
If you're aching for an outdoor escape, head to Paul B. Johnson State Park for a scenic hike. For those traveling with kids, spend a few hours of splashy fun at Pep's Point Water Park. 
Other noteworthy spots include the UpDown Trampoline Park, Southern Prohibition Brewing, and Hattiesburg Zoo.
#8 – Biloxi
A fun-filled destination for everybody
Tons of water activities  

Family-friendly 

Stunning sunsets 
You don't have to stay a couple of nights to experience a rocking trip in Biloxi. Even though it's known as a gambling mecca, it does have a lot to offer for day-trippers from Jackson. With a beautiful shoreline and an array of water activities, Biloxi makes a great day trip destination for everyone. 
You can parasail, kayak, sunbathe,e or swim in its sparkling waters. Likewise, it has a plethora of golf courses and is a prime spot for bird-watching. 
On top of it all, the sunsets in Biloxi are simply breathtaking.
#9 – Flora
An easygoing getaway near Jackson
Small-town feel 

Visit the petrified forest 

Unique day trip 
Flora, with its small-town, laid-back ambiance, is a perfect day trip for those who want to escape the city. What's more, it's home to a petrified forest – an ancient land with 36-million-year old fossilized wood. 
As you hike through this forest, you'll eventually find the Earth Science Museum, which features genuine gems and beguiling displays.
#10 – Mobile
A can't-miss destination in Alabama
Birthplace of Mardi Gras 

Stunning architecture 

Plenty of year-round festivals 
Mobile is an extraordinary city that certainly knows how to throw a big party. In fact, it's the official birthplace of Mardi Gras in America. From the Pecan Festival to the Azalea Trail Festival, the city hosts a number of events throughout the year. 
Of course, the city has tons to offer for day-trippers. Kids will love the science museum, while architecture lovers will adore downtown Mobile's striking historic homes. You may also indulge in some water fun in the gorgeous Mobile Bay.
#11 – Tupelo
A nirvana for Elvis fans
Elvis Presley nostalgia

Outdoor wonders 

Fun day trip 
Are you a big-time Elvis fan? If so, you might want to drop by Tupelo during your vacation in Jackson. As the birthplace of Elvis Presley, Tupelo is home to several sites relevant to the icon's early life. 
See the legend's childhood home and museum, check out the gift shops and take a DIY tour of the other relevant sights. Once you have your Elvis fix, make your way to the Tupelo Buffalo Park and Zoo. 
For nature enthusiasts, don't forget to pay a visit to the nearby Tombigbee State Park and Trace State Park.
Final thoughts on the best day trips from Jackson, MS
Jackson is a superb and diverse city that delights all types of travelers. With its eye-opening museums, historic buildings, and tempting restaurants, there's certainly never a dull moment when you're exploring Jackson. 
Nonetheless, it's a good idea to spend some time exploring the nearby towns and cities. With its unique and ideal location, the city offers easy access to some of the top destinations in Mississippi, Alabama, and Louisiana. 
With an open mind and adventurous spirit, you'll find a diverse range of destinations near Jackson. From vibrant beach cities to quaint Southern towns, there are plenty of options for an adventure outside the city's borders.
***Disclaimer*** Some of the links in this post are affiliate links. This means that if you book your accommodation through the site, One Weird Globe will earn a small commission at no extra cost to you. Your support helps me keep the site going :)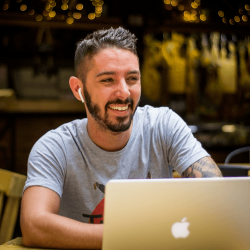 Latest posts by Aaron Radcliffe
(see all)