Colourful, vibrant, and out of this world, Reykjavík is a destination like no other. The capital and largest city in Iceland, Reykjavík is packed with interesting landmarks, exciting activities, and incredibly unique natural scenery.
But Reykjavík also happens to be one of the most expensive cities in the world to visit.
That's why we've written this guide to the 13 best day trips from Reykjavík, so you can see more of Iceland without breaking the bank.
In this post, our expert travel guides will share with you their favourite places to visit and things to do outside of the Icelandic capital. From mountain and waterfalls to glaciers and whales, we'll help you find the day trips that best suit your interests, style AND budget.
Let's get to it. Here are the 13 best day trips from Reykjavík.
Editor's note – Save some money in Iceland and check out our coolest hostels in Reykjavik!
Quick Answer: Best Day Trips from Reykjavik
Best Places to stay in Reykjavik
Any day trip in Iceland usually means basing yourself in Reykjavik. From the city you can travel across glaciers in the day and warm yourself up by a fire at night. But Reykjavik can be a pretty pricey place – make sure you book yourself into accommodation you can afford without scrimping on a good night's sleep.
•
Best Hostel in Reykjavik
•
Great location for sightseeing
This budget friendly hostel is decorated in that laid-back Icelandic way that'll make you feel relaxed from the moment you walk in. The shared kitchen is spotlessly clean and there's a laundry service too. The location is the best thing however: it's near to all of the action of the downtown Reykjavik and only 5 minutes from the sightseeing bus stop.
•
Best Budget Hotel in Reykjavik
•
Rooms in this top budget hotel in Reykjavik have stacks of space and a ton of sunlight streaming in, too. For those of you who are renting your own wheels, there's free onsite parking for guests. The centre of the city is about 30 minutes on foot, but the shared kitchen means you can save money on meals out.
•
Best Luxury Hotel in Reykjavik
•
Close to Reykjavik harbour
This stylish hotel is the place to stay for a little luxury whilst in Reykjavik. The various rooms are decorated in a monochrome Art Deco style and feature furniture by Philippe Starck. There's a hotel spa to relax in and a Jamie Oliver restaurant to dine in. What more could you want? How about a great location for day trips near the city harbour?
#1 Best Day Trip from Reykjavik – Golden Circle
Cheap Day Trips from Reykjavík
The Golden Circle is undoubtedly the most popular option for a day trip from Reykjavík. This popular tourist route covers nearly 300 kilometres of land looping from Reykjavík through parts of Southern Iceland and back again.
The Golden Circle route is where you'll find many of Reykjavík and Iceland's most famous tourist attractions. Easily navigated from the city centre, a day trip from Reykjavík to the Golden Circle is perfect if you're short on time or have a long list of things to see.
Þingvellir National Park is a UNESCO World Heritage Site located an hour and 15 minutes east of Reykjavík. A historical, cultural and geologically important site, this massive park is a lush green landscape with canyons, towering rock walls and cascading waterfalls. This is also where you'll find giant canyons caused by the Eurasian and North American tectonic plates shifting apart.
Next up is the Gullfoss waterfall. This massive waterfall is located in the canyon of the Hvítá River. Water flows down three-tiers before plunging 32 meters into a deep crevasse. It is powerful and impressive, and you'll have the chance to walk right up close to this natural wonder.
Your third stop of the day on the Golden Circle is Haukadalur Valley. A hotbed of geothermic activity, Haukadalur Valley is home to the Strokkur geyser which sends a stream of water 15-20 meters into the air every five to 10 minutes. No matter how many times you see it, you'll to be thrilled every time you witness the jetstream of water shooting into the air.
Last but not least is Kerið Crater Lake. Sitting in a caldera that is approximately 55 meters deep, Kerið Crater Lake is striking. The walls of the crater are made of black volcanic rock and are covered in places with rich green moss. Contrast that against the vibrant turquoise water and you've got yourself a sight to behold!
The Best Travel Backpack EVER MADE!?!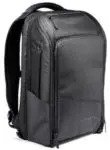 We are obsessed with backpacks – we've tried them all! And our favourite carry on backpack in the WORLD is the Nomatic Travel Backpack. This backpack has revolutionized the backpack industry and will change the way you travel forever :) Check it out here!
Absolutely spectacular and otherworldly, a day trip from Reykjavík to Snæfellsnes is ideal for anyone interested in seeing untouched natural beauty. Here you'll find everything from volcanoes and cliffs to waterfalls and ravines.
Snæfellsnes is located on a peninsula nearly 120 kilometres from Reykjavík. The journey to get there takes approximately two hours. This is a great day trip by car as you can expect to spend upwards of eight hours driving along the shore and seeing the various sights throughout the peninsula.
Some of Snæfellsnes' can't-miss attractions include the Snæfellsjokull volcano, the tallest mountain on the peninsula and what is considered by many to be the symbol of Iceland.
There is also the Basalt Gerðuberg cliffs; Ytri Tunga, the seal beach; Bjarnarfoss; Rauðfeldsgjá ravine; Gatklettur, a cliff arch that is perched above the sea; and, Kirkjufell Mountain and Waterfall, which was featured in a recent Game of Thrones episode.
An absolute must for fans of hiking and trekking, Snæfellsjokull National Park boasts a robust system of routes and trails, and even hosts organized walking tours.
Don't stop the party! Read up on Iceland's best party hostels too!
Seljalandsfoss is a majestic and powerful waterfall located on the south coast of Iceland. Almost 130 kilometres southeast of Reykjavík, Seljalandsfoss can be reached in under two hours by car, or in approximately three hours by bus.
This is one of the most picturesque places in Iceland – which is saying a lot because the whole country is basically a postcard. The Seljalandsfoss waterfall is situated near Iceland's Ring Road and is surrounded by verdant green landscape. The water plummets 60 meters down from the Seljalands River and Eyjafjallajökul glacier above.
What makes this attraction unique is the circular path that surrounds the waterfall. This route gives visitors the chance to walk completely around the waterfall, including behind the stream and into a small cave.
Dress appropriately and be prepared to get wet as you make your way around the waterfall. Take our word for it, the pictures and views will be worth it!
Our Iceland packing list is a MUST READ
A day trip from Reykjavík to Vík is perfect for travellers who love seeing unique sights, exploring tiny towns, and getting out into nature.
Vík is a small village located in South Iceland. It sits at the base of the mighty Katla volcano and is surrounded by lush countryside and the Atlantic Ocean.
A playground for outdoor enthusiasts, Vík is home to a variety of great treks for travellers of all ages and fitness levels. Without any towns for 50-60 kilometres in all direction, you can hike into untouched wilderness with relative ease. As you wander through the countryside, you'll enjoy incredible views, stunning natural scenery, and a quiet and peaceful atmosphere.
For a more relaxing day trip, take a dip. Vík is where you can find a great number of natural hot pools and secret lagoons. Sit back and relax after a day of hiking and exploring, and enjoy the stunning scenery from your very own geothermal hot tub.
Staying Safe in Reykjavik
While Reykjavik is super safe, no matter where you are traveling, you NEED to have great travel insurance. We have personally tested TONS of travel insurance companies, and World Nomads is our favorite (and most affordable!).
Fill out the form below to get a quote so you can have a stress-free time traveling around Iceland!
Romantic Day Trips from Reykjavík for Couples
The Blue Lagoon is a geothermal spa in Southwest Iceland, and it is the perfect day trip from Reykjavík for couples.
Famous for its turquoise blue waters surrounded by dark volcanic rocks, the Blue Lagoon is an incredible sight!
But that's not why thousands of visitors flock to this natural wonder each year.
The Blue Lagoon is undoubtedly one of the most romantic places in all of Iceland. This giant natural pool is filled with warm mineral-rich water. The temperature average 40 degrees Celsius year round, making it a great destination no matter the weather. It has steam baths, small waterfalls, and secluded caves where couples can sneak to for a private moment or two.
For the ultimate in luxury, visit the Blue Lagoon spa for a romantic and relaxing treatment for two.
The Blue Lagoon is located nearly 45 minutes south of Reykjavík. It is easily accessible by car, bus or as part of a tour. Prebooking is required. We do recommend that you make your reservation well in advance to avoid disappointment.
Have an early flight? Book a hostel near AIRPORT to have a stress-free morning!
#6 – Reykjadalur Hot River
Mountains, valleys and hot springs – oh my! You won't find a more quintessential Icelandic experience than a day trip from Reykjavík to Reykjadalur hot river.
Just 45 minutes outside of Reykjavík is the stunning Reykjadalur Valley. An extraordinary example of Iceland's unbelievable natural beauty, it's what lies within the valley that makes this day trip so special.
Hidden deep inside Reykjadalur Valley are a steamy hot river and natural pool. Warm enough to bathe in, this hot stream is surrounded by lush lands and towering mountains. It's an incredible experience, and one that couples visiting Iceland won't want to miss.
Getting to the Reykjadalur hot river is the reward after a long and challenging hike. The river can only be reached by hiking 3.5 kilometres along a gravel path that weaves and winds its way up and over mountains to the valley below. At times the trail can be quite steep and narrow, but it is well-marked and quite safe. Plus, the views and vistas you'll see along the way will more than makeup for the trek.
The sights in Reykjavik are amazing – check out the coolest tours in Reykjavik!
The Westmann Islands is a small archipelago off the south coast of Iceland. Made up of 15-18 islands, here you'll find charming towns, soaring mountains, unforgettable views, and plenty of things to see and do.
Vestmannaeyjar is a town on Heimaey, the largest island in the archipelago. It is a colourful village with sea views, lush surroundings and a magical atmosphere.
One of Vestmannaeyjar's most popular attractions is Mt. Heimaklettur. It is the highest peak on the island and is a haven for hikers and trekkers. Mt. Heimaklettur stands just 283 meters tall, but it offers magnificent views of the town, the island and surrounding Atlantic ocean. No matter which way you look, you're bound to have your breath taken away.
Fancy a round of golf? You're in luck. Vestmannaeyjar is home to one of Europe's most enjoyable courses. Set on an old volcano, golfers of all levels will love the challenge of playing in this unique setting. Even if your game isn't on par, the views certainly are!
Vestmannaeyjar is accessible by car and ferry. The town is located just 151 kilometres south of the capital and it is not only an easy but incredibly enjoyable day trip from Reykjavík.
Combine romance and adventure on a day trip from Reykjavík to Glymur, the second tallest waterfall in Iceland.
Glymur is located in the Botsndalur valley in Hvalfjörður, which is a short one-hour drive from Reykjavík. The waterfall isn't visible from the road, so strap on your hiking boots and prepare to venture through the Icelandic countryside.
Start your day by driving through Hvalfjörður. This is one of the most beautiful fjords in Iceland with its winding road, green lands, and beautiful vistas.
Upon arrival, you'll set out across barren and stony lands, and up the meandering mountainside. The hike takes approximately 3 hours round trip, but be prepared to be amazing with every step!
At the top, you'll see the awesome Glymur waterfall, which cascades nearly 200 meters into a moss-covered and rocky canyon. It is spectacular and powerful, and the chance to see this impressive water feature makes the hike in totally worth it!
It's very important to dress appropriately for this hike. You'll be covering a lot of different terrains, including crossing rivers, climbing over rocks, and walking through a cave. Good, sturdy hiking boots are a must for this day trip from Reykjavík to Glymur.
Best Day Trips from Reykjavík with Kids
Families with children won't want to miss the chance to take a day trip from Reykjavík to Skógafoss. Located just over two hours south of Reykjavík, this is one of the easiest day trips you can take as a family.
Skógafoss is a massive and powerful waterfall in south Iceland. It spans an incredible 15 meters cross and water plunges down nearly 60 meters. Enjoy amazing views of the waterfall from the ground below, or climb the stairs to the top and hike around. Either way, you won't be sorry you made the trip!
Keen photographers will love trying to capture the colourful rainbows that surround the falls. Because of the impressive amount of spray the waterfall produces, single and double rainbows can often be seen on sunny days, adding a fairy tale feel to this otherworldly location.

If you are traveling you should ALWAYS have emergency cash hidden on you! Security belts are great because they are affordable and can fit a ton of stuff in them (great for peace of mind!). Check out our favorite travel belt!
A must for any family vacationing in Iceland is a day trip from Reykjavík to Jökulsárlón Glacier Lagoon. At nearly five hours from Iceland, it's certainly not the easiest day trip; however, it is definitely one of the most memorable.
Jökulsárlón Glacier Lagoon is located at the head of Breiðamerkurjökull glacier and sits 1.5 kilometres away from the ocean's shore. It stretches for 18 square kilometres and is considered by many to be the crown jewel of Iceland thanks to the many icebergs that float along its surface.
Prepare to be amazed as you stare out at these towering icebergs, many of which are coloured electric blue and streaked with black thanks to past volcanic eruptions.
Not just a stunning sight, Jökulsárlón Glacier Lagoon is also home to a variety of Icelandic plants and animals, including seals who like to swim in its waters and lounge on the floating ice.
MUST READ – Take a look at our guide to the coolest places to visit in Iceland!
Fancy a trip to the beach when visiting Iceland? You're in luck!
Reynisfjara is a black-sand beach on the south coast of Iceland. It's located quite close to the town of Vík and is around 180 kilometres from Reykjavík.
World-famous for its jet-black sands, Reynisfjara is covered in volcanic rock and shiny black stones. The beach is lined with interesting basalt sea stacks that stretch up the side of the 340-meter tall Reynisfjall mountain. Here you'll also find caves to explore, columns to climb, and a myriad of creatures to see and observe.
We highly recommend that visitors take caution when standing on the beach. The waves can be sneaky and have been known to drag unsuspecting visitors into the water. As long as you pay close attention to the waves, you shouldn't have a problem!
Reykjavík is arguably the whale watching capital of Europe. Thanks to its abundant coastline and access to the open ocean, Reykjavík is routinely visited by more than 20 different species of whales.
The best time to see whales is in the summer months, between June and August, although, some can be seen throughout the year. Species regularly making appearances near Reykjavík include massive blue, humpback and sperm whales, playful white-beaked dolphins and harbour porpoises, gentle fin whales, and the iconic black and white killer whale.
There are a wide variety of whale watching tours operating in Reykjavík. No matter your style, budget, or boat size preference, there's bound to be a tour company that's perfect for you. Most tours last up to three hours, which makes this an ideal day half-day trip for your family.
See these mighty creatures up close and personal, and in their natural habitat by taking an exciting and educational day trip from Reykjavík.
Strap on your crampons and get ready for adventure by taking a day trip from Reykjavík to Mýrdalsjökull.
The fourth largest glacier in Iceland, Mýrdalsjökull covers nearly 600 square kilometres of land. It stands almost 1,500 meters tall and is one of Iceland's most recognizable sights.
A day trip to Mýrdalsjökull is great for families with kids of all ages. The glacier is easily accessible on foot and requires a minimal fitness level.
There are many ways your family can enjoy Mýrdalsjökull glacier. From snowmobiling and hiking or ice climbing and exploring the caves, Mýrdalsjökull glacier offers endless possibilities for outdoor adventure and fun!
Myrdalsjokull is located in South Iceland, more than 170 kilometres from Reykjavík. While it is possible to visit the glacier on your own, it is best to visit with a knowledgeable and certified guide.
Final Thoughts on the Best Day Trips from Reykjavik
A trip to Iceland is an unforgettable experience. It has a wealth of history, culture, and incredible natural features – and that's not just limited to the capital region. In the countryside surrounding Reykjavík, you'll find everything from towering mountains and sprawling glaciers to powerful waterfalls and black sand beaches.
Couples travelling to Reykjavík will be amazed at the romance that can be found throughout this rugged terrain. From natural hot springs to stunning sights, there's beauty and enchantment around every turn.
And if you're travelling with kids? No problem. This tiny nation boasts a ton of great activities and attractions that will thrill, excited and thoroughly entertain every member of your family.
So what are you waiting for? It's time to start planning your trip to Reykjavík, Iceland.
Have we missed anything? Let us know in the comments below.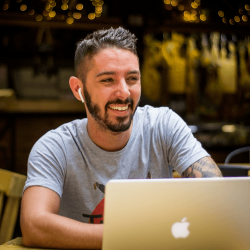 Latest posts by Aaron Radcliffe
(see all)