Australia's largest city is well known for its beaches and its iconic city centre landmarks such as Sydney Harbour Bridge and the distinctive architecture of the Opera House. The city is full of world-class restaurants, museums, and shopping too, so there are plenty of reasons that this place should be right at the top of your bucket list!
There's so much to see and do in Sydney that it's likely you'll need a break from city life before you see everything you want to. If you feel you're getting a bit tired of the hustle and bustle, there are plenty of pristine nature spots just waiting to be discovered within a stone's throw of Sydney. So, in this article, I'll help you find some of the best day trips in and around Sydney!
Quick Answer: Best Day Trips from Sydney
Best Places to Stay in Sydney
Sydney's huge size and popularity among tourists means that picking a place to stay can be overwhelming! To make things a little easier, here are three options for the best places to stay in Sydney – one of these should be suitable for your budget and travel tastes.
• Best Hostel in Sydney •
Parties and Events every day of the week
This award-winning hostel has been voted as the best hostel in the whole of Sydney, which is in part thanks to its friendly and welcoming staff. Its location right near Sydney Central Station means that it's easy to get out for day trips on the train too!
Not finding the right hostel? Australia has a selection of party hostels too!
• Best Budget Hotel in Sydney •
On-site tour desk to help plan your next adventure
This unfussy, modern, and simply designed hotel is a great place to stay if you're looking to save your money on accommodation while still being in a welcoming and comfortable place. It's close to all of the action of Sydney's CBD!
• Best Luxury Hotel in Sydney •
Cool and quirky vintage décor throughout!
This luxurious five-star hotel is right in Sydney's CBD and within easy walking distance of Darling Harbour, the Opera House, and Harbour Bridge. There's a spa and wellness centre on site which is the perfect place to pamper yourself after a day of sightseeing or a trip out into the bush!
Best Day Trip from Sydney by Train
Marvel at the pristine natural beauty of the world's 2nd ever national park
Hike along the coast for stunning views from the network of cliffs
Hire a canoe and paddle up the Hacking River
The first of many beautiful national parks on this list, Royal National Park gets the nod as the best day trip from Sydney by train as it's just over an hour away from the CBD and it costs less than $5 to get to Otford on your Opal Card!
Once you get to Royal National Park, you won't be stuck for things to do. You have the option of tackling the park on your own or going with a registered guide (probably less chance of you getting lost!)
It's one of the best places near Sydney to connect with nature, as you can trek along the cliffsides or through eucalyptus bushlands. When it gets too hot, take a dip under the Wattamolla waterfalls or kayak on the Hacking River.
The Best Travel Backpack EVER MADE!?!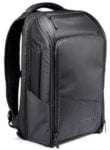 We are obsessed with backpacks – we've tried them all! And our favourite carry on backpack in the WORLD is the Nomatic Travel Backpack. This backpack has revolutionized the backpack industry and will change the way you travel forever :) Check it out here!
#2 – Kangaroo Valley
Best Day Trip from Sydney by Car
Sample locally made jams and enjoy wine tasting at the Yarrawa Estate winery
Ride a horse through the rainforest on the Man from Kangaroo Valley Trail Ride
Try your hand at gourmet cooking, soap-making, and high tea classes!
Just over two hours away from Sydney by car, the Kangaroo Valley is a place where you can combine your love of nature with good food and fine wine. What could be better?! Kangaroo Valley itself is said to be one of the prettiest valleys in the whole of Australia, and while you're here be on your lookout for native wildlife such as kangaroos, wallabies, and the elusive duck-billed platypus!
The towns surrounding the valley are a great place to sample the local produce that grows on the fertile soil here in a climate which is cooler and less humid than nearby spots. Therefore, if it's a really hot day in Sydney, this is the perfect escape!
Heading to Sydney? Save some money with our guide to the coolest hostels in Sydney!
Best Romantic Day Trip from Sydney for Couples
Have a romantic sunset picnic on Stockton Beach
Snorkel and swim with dolphins for an unforgettable experience!
Try your hand at sandboarding or rock climbing
So, Port Stephens is not only a great day trip for couples, but if you want to tick off some adventurous bucket list activities it's great for that too! A two and a half hour drive from Sydney, it may sound like a long journey but it's totally worth it.
For the more chilled out and laid-back couple, a picnic on Stockton Beach at sunset is the perfect romantic getaway from Sydney's bustling CBD. Not only can you watch whales and dolphins, but you can swim with the latter – a bucket list experience if there ever was one!
For an active and adventurous couple who are always looking to push each other to the limits, activities like sand boarding, quad biking, and rock climbing are all exciting and adrenaline fuelled activities you can do with your other half!
Check this out – the 11 best boutique hotels in Sydney will blow you away!
#4 – Manly Beach
Best Cheap Day Trip from Sydney
Enjoy the sights and sounds of the Manly to Spit Bridge Coastal Walk
Sample traditional Aussie style fish and chips by the beach
One of the easiest day trips from Sydney CBD
Not only is Manly Beach a perfect getaway from city centre life, but it's also one of the closest and easiest day trips from Sydney Harbour – accessible in just 30 minutes on the ferry. It's a popular surfing spot so whether you're looking to start lessons, or you're experienced on your board, it's a great shout. In fact, it's here that you'll find Manly Surf School, voted the #1 surf school in Australia! If surfing isn't your thing, just lie back on the golden sands and top up your tan!
That's not all though – the Manly to Spit Bridge Coastal Walk hugs the coastline and you should have your eyes peeled for typical wildlife such as lizards and numerous birds. There are a few spots where you can get off the track and enjoy tiny little beaches which you might be lucky enough to have to yourself!
Australia is amazing! And the best hostels in Cairns will blow you away!
#5 – Dangar Island in the Hawkesbury River
Best Day Trip from Sydney with Kids
Go wild in the Dangar Island playground
Enjoy swimming in safe waters of Dangar Island Beach
Take easy family-friendly walks such as the Bradleys Beach Loop
Just an hour from Sydney CBD, the journey to Dangar Island isn't even long enough for the kids to start piping up the famous 'Are we there yet?' line. And once you get there, they won't want to leave! An exotic and forested island set in the Hawkesbury River, it's the perfect place for mum, dad, and the kids to get some respite from city life.
This peaceful island is equipped with some easy walking routes – the Bradleys Beach Loop is mostly flat and easy for kids at just 1.7km. If you want something more challenging (but still easily doable) try the Riverview loop, which still comes in at under 3km. After completing one of the walks, reward the kids with a swim in the calm waters of the beach, some time in the adventure playground, or with a pizza at the island's Bowling Club.
Haven't Booked for Byron Bay? Read up on our favorite hostels in Byron Bay (for any budget)!
Staying Safe in Sydney
While Sydney is super safe, no matter where you are traveling, you NEED to have great travel insurance. We have personally tested TONS of travel insurance companies, and World Nomads is our favorite (and most affordable!).
Fill out the form below to get a quote so you can have a stress-free time traveling around Australia!
A must do for nature lovers
Hike through the gorges and eucalyptus forests of this unspoiled wilderness
Admire the rock formations such as the Three Sisters Lookout
Ride the Katoomba Scenic Railway down into the Jamison Valley
The Blue Mountains cover over 664,000 acres of wilderness so if you want to extend your day trip into a weekend camping trip, who could blame you?! This UNESCO World Heritage site gets its name from the blue haze from eucalyptus trees which hangs over the park and also gives it a distinctive aroma!
Miles and miles of hiking trails will allow you to see some of the most pristine landscapes near Sydney, with gorges, waterfalls, and aboriginal cave paintings all on the agenda if you know where to look. It's easy to get lost, so do hire a guide if you feel it's necessary – they'll also help you to avoid the venomous snakes that call the area home!
Trips to Scenic World offer you the chance to experience a rainforest boardwalk, while the Katoomba Scenic Railway will provide you with some incredible shots for your Instagram!
Editor's Tip: make friends in Brisbane by staying at a cool social hostel!
Those interested in aboriginal history will LOVE this trip
Visit one of Australia's most significant Aboriginal rock engraving sites
Learn about Aboriginal culture and the huge impact colonialism had on it
Hire a paddleboat to explore the numerous creeks and waterways of the park
Less than an hour by car from Sydney's CBD, Ku-Ring-Gai Chase National Park is one of the most important spots in the country when it comes to learning about aboriginal history. And there's no better place to do this than on the Aboriginal Heritage Walk, where you can see historic rock etchings and handprints left by the Guringai People. It's just a short walk through the bush to find it!
Not only the area rich in culture and history, but it's also absolutely stunning too – panoramic views of the coast from the West Head Lookout will leave you speechless. There are a number of hiking trails in the park too which can help you get closer to the flora and fauna that call Ku-Ring- Gai home.
Recommended day trip for surfers!
Where popular Aussie soap 'Home and Away' is filmed
Lots of development so plenty of stuff to do
Great spot to catch some waves
The best-known of Sydney's Northern Beaches, you may recognise Palm Beach if you're a fan of Home and Away! It's also less than an hour away from Sydney's CBD and you can get there less than $3 on your Opal Card if you take the bus!
The golden sands are the perfect place for a spot of sunbathing, however, if you're looking to do something more active, you're covered for that too. The dunes are crisscrossed by hiking trails and you can get up to the dizzying heights of the Barrenjoey lighthouse (91m above sea levels) to get a bird's eye view of it all!
Enjoy the waters from your surfboard or charter a boat to cruise on the azure blue waters. Back on land, tee off with a game of golf or eat in one of the many restaurants that surround Palm Beach!
Recommended Article: Looking for the best hostels in Airlie Beach? Check out our EPIC Guide!
Wine buffs will LOVE this trip
Sample fine wine in one of Australia's oldest grape growing regions
Hike out into the wilderness and spot one of Australia's most recognisable emblems – the kangaroo!
Take a hot air balloon or helicopter ride to see it all if you're on a tight schedule!
The fertile soils of the Hunter Valley are not only known for their prowess in producing some of Australia's best-loved wines, but the area is also a foodie's dream, thanks to the artisanal oils and cheese that you can sample in the degustation menus of the restaurants dotted throughout the valley!
After consuming all that food and wine, you'll probably want to walk it off. So, why not head out onto one of Hunter Valley's many hiking trails, from which you can spot kangaroos. Hiking trails such as the Hunter Valley Gardens or Wollemi National Parks are world heritage listed, so you're assured of some incredible views!
Traveling on a budget? Have you seen our cheap hostel recommendations for Sydney?
Visit the modern and progressive capital of Australia
Enjoy the museums, galleries, and gardens while learning about Australia's history
Get a panoramic view of the city from Mount Ainslie
People often mistakenly think that Sydney is the capital of Australia, or at a push, Melbourne. It's actually this place, Canberra, located between the two cities. It's not as popular with tourists, which is a shame as it really is a fascinating place with lots to do!
The city was constructed as the capital in a compromise between Sydney and Melbourne, meticulously designed by award-winning American architects. You can see the revolutionary design from above by scaling the 843 metres high Mount Ainslie. If heights aren't your thing, make sure you take a walk around the artificial lake that's Canberra's centrepiece – Lake Burley Griffin, before heading to the Old and New Parliament houses and numerous museums.
You can probably see everything in Canberra in one day, but if you wanted to extend to an overnight stay, you won't be disappointed!
Don't stop the party! Read up on Melbourne's best party hostels too!
#11 – Tobruk Sheep Station
Recommended day trip for families
Be a ranch hand for the day and learn sheep shearing and herding
Try boomerang throwing and see if you can make yours come back!
Enjoy a traditional Australian BBQ
A sheep station? Really? Yes, really, if you want one of the best days out near Sydney where you can learn about traditional rural Aussie culture. The location isn't half bad either – right in the Hawkesbury River Valley means that the journey is also an exciting part of the day. On the way to the sheep station, you'll pass the spectacular vistas of the Blue Mountains.
Once you arrive at Tobruk Sheep Station, there are fun activities to fill your day for the whole family. Learn the art of boomerang throwing, see the best ways to shear sheep and herd them with friendly and well-trained Australian sheepdogs. You can also enjoy a traditional Aussie BBQ (no lamb chops in sight), and learn how to make damper bread over a crackling fire. This is the perfect day out for the whole family!
Arriving late? Find the best hostels near Sydney AIRPORT for a worry-free arrival!
#12 – Mermaid Pools
Hikers will LOVE this day trip
Trek through the remote Australian bush to find the elusive mermaid pools!
Swim in rivers and streams to cool off in the baking sun
Scale rocky platforms and steep staircases to get unparalleled views of the surrounding landscape
The natural pool and springs called the Mermaid Pools are hidden away between the sheer rock faces of the Tahmoor Gorge, deep into the Australian Bush. Getting there is a challenge, but it's one that'll really make you feel proud of yourself!
The steep and rocky hike to the pools themselves will offer you amazing views of the surrounding landscape, so don't forget your camera! Surprisingly, the Mermaid Pools aren't the best place to swim on this hike (and caution should be observed if you do plan to swim in them). That would instead be the See Through Pools. The clear water makes it the perfect place to observe the underwater rock formations and cool off from the heat of the sun at the same time!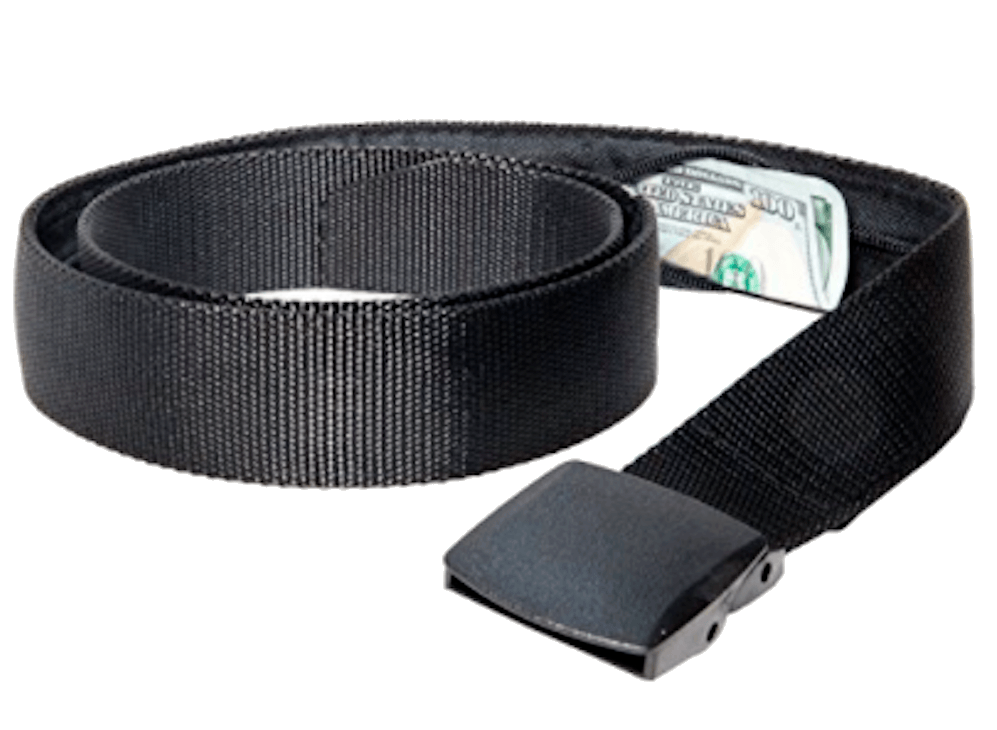 If you are traveling you should ALWAYS have emergency cash hidden on you! Security belts are great because they are affordable and can fit a ton of stuff in them (great for peace of mind!). Check out our favorite travel belt!
#13 – Stanwell Park
Enjoy the coastal views along the Wodi Wodi walking track
Tick paragliding or hang gliding off your bucket list
Feed kangaroos at Symbio Zoo.
Stanwell Park is best-known for being the location of the first box kite back in 1894. Now, Bald Hill is one of the top places in the world for a spot of hang gliding or paragliding and getting a bird's eye view of the coastline should definitely be on your to-do list on your visit to Stanwell Park – if you're not afraid of heights that is!
If you prefer to keep your feet firmly on the ground, then try the 6km Wodi Wodi walking track which offers gorgeous panoramic views of the turquoise waters lapping against Stanwell Park's golden sands. Animal lovers or those travelling with small children will love Symbio Zoo, where you can feed the friendly kangaroos!
Of course, if all this sounds a bit hectic, just lather yourself in sunscreen and set up for a day on the beach!
Not sure what to do in Melbourne? We break it down in this guide to Melbourne!
#14 – Berrima
Great for history lovers
Step back in time to a preserved Georgian village dating back to 1830
Attempt to spot the elusive duck-billed platypus along the Berrima River
Pick up a cosy jumper from the Australian Alpaca Centre
The historic town of Berrima is located between Canberra and Sydney and it's the perfect place to learn about Australian history. It's one of the best-preserved examples of a Georgian village in the country, retaining the feel that it probably had when it was constructed all the way back in the early 19th century!
It's not just Berrima itself that's worth a visit by the way, the area around it is blessed with wineries, boutiques, and beautiful examples of architecture from days gone by. In the town, there are several places to eat, before walking off lunch along the scenic and picturesque Berrima River – one of the best places to spot the only egg-laying mammal in existence: the duck billed platypus!
Once you've booked, check what there is to do in Airlie Beach!
Great for a quiet getaway!
Relax on the beaches which boast the 'whitest sand in the world' (local's words, not mine)
Scuba dive in Jervis Bay Marine Park
Go whale and dolphin watching
Around 2 hours south of Sydney by car, Jervis Bay is an oceanic bay just over 100 square kilometres to the south of the city. The peaceful beaches are blessed with some of the whitest sands in the world and warm azure waters perfect for taking a dip to get out of the hot sun – whatever time of day it is!
There's more to Jervis Bay than just the beaches though – especially if you're visiting between June and November. This is the best time to take a boat trip and witness the migration of humpback and southern right whales, who grace the calm and tranquil waters each year.
Back on land, you can enjoy some great camping spots, but if you're only staying for the day you'll probably be better off sampling the great cafes and up and coming music scene that Jervis Bay offers!
Sydney has a strong tour game – check out the best tours in Sydney (for all budgets!) here!
Editor's Recommendation! These are the staff pick for the top hostels in Melbourne (for all budgets!)
Conclusion to the Best Day Trips from Sydney
Sydney offers a whole host of options for all types of travellers with museums, botanical gardens, and iconic attractions all a hop, skip, and jump away from the CBD. Spending a few days in the city is more than enough time to take in the key attractions, but it's when you get out of Sydney that things get really beautiful and awe-inspiring! I hope that this article has been helpful for planning your trip, and it's made you realise that there's a lot more to New South Wales than Australia's largest city!
***Disclaimer*** Some of the links in this post are affiliate links. This means that if you book your accommodation through the site, One Weird Globe will earn a small commission at no extra cost to you. Your support helps me keep the site going :)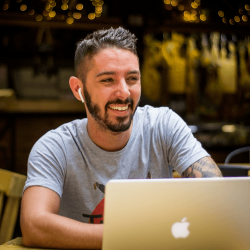 Latest posts by Aaron Radcliffe
(see all)