Backpacks are great, but their often compartmentalized design, sometimes odd shaping, and limited carrying ability – you can carry it on your shoulders as intended or not at all – mean more and more people are turning towards duffel bags instead for their travels.
Simple to pack and unpack, and offering a large area of free space, the contents of a duffel bag is much easier to visualize too. What's more, these days duffel bags are really no less hardwearing than their backpack counterparts.
Which are the best duffel bags for travel on the market at the moment? Read on to find out!
Quick Summary: The Best Duffel Bags
Best overall duffel bag for travel
What makes the Eagle Creek Cargo Hauler our overall top pick as best duffel bag for travel? Well, to start with, the Cargo Hauler is available in four different capacities: 45, 60, 90, and 120 liters, so whatever type of traveler you are, and whatever adventure you're heading out on, there's a version for you!
But more than that, the Cargo Hauler weighs in as one of the lightweight duffel bags on our list, at less than 2 lbs, and has removable shoulder straps as an alternate carrying option.
Made from 600 Dernier water resistant material, there's a padded bottom to keep your kit safe from jolts, and helpful grab handles around the bag too.
Is the Eagle Creek Cargo Hauler for you?
We think the Cargo Hauler by Eagle Creek makes a great overall duffel bag for travel because it quite simply meets all the requirements of the average traveler. The range of different capacities is another bonus, while its lightweight construction and padded bottom are perhaps its best attributes.
MUST READ – These are the most effective mosquito nets on the market!
Best budget duffel bag for travel
Weighing even less than the Eagle Creek Cargo Hauler at 1 lb 8 oz, the Granite Gear Packable Duffel costs a little less too! It also shares the fact that it comes in four different carrying capacities, in this case of 40, 60, 100, 145 liters, making the largest size a significant step up from the Cargo Hauler.
It shouldn't really need saying that as a packable duffel this model comes with its own bag, so it can be packed away and forgotten about until it's needed.
There are also shoulder straps for an alternative method of carrying the bag around while it's in use, a durable fabric construction, and a good-sized main access point with U-shaped zipper running around it.
Is the Granite Gear Packable Duffel for you?
If you're looking for a good every day duffel bag for travel, and have the added complication of a tight budget, then the Granite Gear Packable Duffel is definitely the bag for you! Offering a 'standard' duffel at a very good price point, the pros far outweigh the cons on the Granite Gear for us.
Editor's Note – Looking for a great travel vests? Check out our EPIC guide!
Best travel duffel bag for a carry on
When it comes to making your way around an airport, with its huge number of forced stopping points and waiting times, a duffel bag with integrated wheels and pull-handle can be a superb investment.
With a capacity of 40 liters, the 22" Rolling Thunder by North Face is the ideal size – large enough to carry everything you might need, but small enough to be accepted as a carry on.
Compression straps help keep the bag within airline size restrictions, while the wheels run smoothly over a variety of surfaces – not just airport tiles. And who can argue with a name like Rolling Thunder, anyway!
Is the North Face Rolling Thunder for you?
Like the freedom of space a duffel bag gives you, but don't like having to carrying it on shoulders the whole time? Then the North Face Rolling Thunder is a fine option duffel bag for you! The integrated wheels make it a synch to move about, even over rougher ground, while its size and compression straps make it ideal as a carry on.
Best duffel bag for international travel
However careful a person you are, international travel will test the best of duffel bags, from bumping around in the cargo hold of an airplane, to being shifted from taxi, to bus, to hotel, the best duffel bag for international travel needs to be able to put up with a lot!
As a brand, Patagonia is known for its high quality construction, and the Black Hole series of duffel bags is no exception to this. Though the 60 liter version weighs less than 3 lbs, its made from thick and durable 900 Dernier ripstop nylon treated to run water straight off it.
There are also a number of ways to carry this duffel, with the backpack shoulder straps more than a clever afterthought.
Is the Patagonia Black Hole duffel bag for you?
If you frequently hit the rough and tumble of international travel you want a duffel bag that's going to last, such as the Patagonia Black Hole. Surprisingly lightweight for the thickness of its ripstop nylon, its water resistant, and has some of the most comfortable backpack straps out there on a duffel bag too!
P.S. – Travel Strollers are a game changer, check out our guide to the top travel strollers for all budgets!
Best rolling duffel bag for travel
The Drop Bottom by High Sierra is a 32" duffel bag that comes with the added bonus of backpack shoulder straps and neatly integrated wheels, giving you the choice of carrying options when on the road.
Its large main compartment can be extended by two inches for additional capacity should this be needed – to fit in those souvenirs say – and there's a top loading accessories pocket to keep smaller items from moving about the larger main compartment.
This duffel helpfully stays in a standing position thanks to a molded foot design, and the pull-handle is made from molded rubber for an extra secure grip.
Is the High Sierra Drop Bottom for you?
If you're in the market for a larger duffel bag with wheels for travel, then you've struck it lucky finding the High Sierra Drop Bottom? Not only does it have neatly integrated wheels, but it stands upright even when full, and has a very useful accessories pocket for keeping smaller items separate from the large main compartment too!
The Best Travel Backpack EVER MADE!?!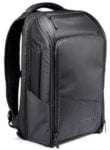 We are obsessed with backpacks – we've tried them all! And our favourite carry on backpack in the WORLD is the Nomatic Travel Backpack. This backpack has revolutionized the backpack industry and will change the way you travel forever :) Check it out here!
Best duffel bag for the gym
A duffel bag for the gym needs to look the part in town, while being large enough to carry all your gym equipment without issue. Is this an impossible ask? We say no, thanks to the Stash by Gregory!
The stylish design of this bag includes a zipper than extends right along the bag's length, making it incredible easy to visualize the contents without endless searching.
It also gives the bag the ability to expand out to fill the end flaps up fully, which is another ideal situation when loading used gym kit in a hurry. There's a large external zippered pocket for small items, and a well-padded strap to prevent chaffing to round things off.
Is the Gregory Stash duffel bag for you?
Simple yet effective is out conclusion on the Stash duffel bag by Gregory, and we think you'll agree. Throw your gym kit into the main compartment, put those smaller items in the zippered pocket, and away you go!
Editor's Note – Great travel daypacks are a game changer – and we've reviewed the best ones!
Best of the rest
Many of the duffel bags we're reviewing can lay claim to being water resistant, but few can claim to be a 100% dry duffel bag that is so water proof it can be fully submersed in water. But the YETI Panga Submersible Duffel does!
A special 'hydrolok' zipper running the length of the bag prevents water accessing your kit from that point of entry, while the super tough shell is made from water proof high-density nylon with TPU lamination so its also scuff and tear proof. And incredibly, all this weather and life proofing weighs in at only six pounds!
Is the YETI Panga Submersible Duffel for you?
You need to ask yourself, are you after a truly waterproof duffel bag? One that can be pushed underwater and remain airtight? If you're into watersports or fly fishing and the answer is yes, then you won't find a better water proof duffel than the YETI Panga Submersible Duffel!
P.S. – Anti theft backpacks are changing the way we travel
For those looking for an ultralight duffel bag, there's the Arc'teryx Carrier Duffel. Coming in 40, 55, and 80 liter versions, the middle-sized Carrier weighs in at a very impressive 1 lb and 5 oz!
Its nylon construction material is coated for water resistance, while the water-tight zipper has its own protective storm flap too, making the Carrier an ideal duffel bag to have around should the weather decide to take a turn for the worse.
Its lightweight nature invariably means a lack of internal supporting structure, but the advantage of this is that the Carrier also packs down extremely well!
Is the Arc'teryx Carrier Duffel for you?
When heading out for a few days of hiking through backcountry every last ounce suddenly becomes very important! As a result, you're going to want a duffel bag that is as lightweight as possible, and the Carrier range by Arc'teryx are about as lightweight as they come! Built for use outdoors, they may not be fully water proof, but they do boast impressive water resistant capabilities.
Looking something like the love-child between a duffel bag and a rucksack comes the Transporter Expedition Duffel by Osprey. It means you get some well-thought out backpack shoulder straps, which can be stowed away when you don't need them, for instance.
The zippers are lockable, which is great for traveling, and inside you'll find a dedicated padded compartment for delicate items such as electronics.
The Transporter Expedition Duffel is made from tough long lasting material which sees water just run off it, before we mention the existence of rain flaps to keep everything dry. All in all, this is a great duffel bag for getting outside with!
Is the Osprey Transporter Expedition Duffel for you?
Is it a backpack? Is it a duffel bag? Lying somewhere in between is no bad thing if the result is the Transporter Expedition Duffel (yes, duffel) by Osprey. The addition of stowable, comfortable backpack straps is only a good thing in our mind, while lockable zippers and a padded internal compartment are going to provide that peace of mind you need, whatever you use your Osprey for!
Duffel bags aren't just for use when heading out hiking or to the gym. We, like many, believe they have a legitimate place in the fashion world too.
There's no reason you can't look the part and have a useful duffel, right? That's obviously the same thought the team at Filson had when they came up with the Field Duffel. This is a beautifully crafted object that could easily find itself inside a gallery of contemporary art and design.
You won't find any polyester or nylon here, for the Filson Field is made from 100% rugged twill, with the straps made from bridle leather and brass. Its wipe and brush clean, and water resistant for good measure!
Is the Filson Field Duffel for you?
This stylish duffel bag is for anyone who wants the ease of a duffel but the look of a business executive. Of brilliant quality, this bag is excellently finished, and just as its looks won't let you down neither will its performance thanks to the leather straps, brass metalwork, and two useful internal pockets at one end.
Don't let the Chasm's name put you off, Thule produce four different sizes of this bag: small 40 liter, medium 70 liter, large 90 liter, and extra large 130 liter.
More compartmentalized than many of the other duffels on our list, this number by Thule offers up an external stash pocket for smaller items, as well as a number of internal mesh pockets.
There's a padded bottom to protect your kit from coming into contact with the ground, and compression straps to help hold everything in place. What's more, made from tarpaulin fabric, the Thule Chasm is not only durable, but also water proof, another huge advantage in the duffel bag market!
Is the Thule Chasm for you?
We like the fact that the Thule Chasm comes with pockets, both inside and outside, making the storage of smaller items a whole lot easier. We also love the fact Thule have gone to the effort of making the Chasm water proof. Then there's the padded bottom, and the ability to use it as a backpack. It may be last on our list, but this is another great option for an all-round duffel bag!
Made up your mind yet?
We've tried to bring you the best and most interesting duffel bags around. Highlighting their cons as well as their pros, it's now up to you to make the final decision on which is best for you!
Editor's Note – No matter where you are traveling, you NEED to have great travel insurance. We have personally tested TONS of travel insurance companies, and can say without a doubt that World Nomads is the absolute best (and most affordable!). Fill out the form below to get a quote.
***Disclaimer*** Some of the links in this post are affiliate links. This means that if you book your accommodation through the site, One Weird Globe will earn a small commission at no extra cost to you. Your support helps me keep the site going :)
Latest posts by Clair Ricketts
(see all)