Travel vests have earned a place on many frequent traveler's kit lists because they can be so extraordinarily useful when out and about and away from home.
We all have those bits and pieces we need to keep with us when we're traveling – from passport and cash to memory cards, earphones, and maps. The only real alternative to a travel jacket is a pair of pants with a hell of a lot of pockets or a backpack.
Brands big and small have cottoned on, and there are now a whole range of different designs and patterns on the market? So which should you choose? We've sorted the best of the bunch and present them to you below.
Quick Summary: The Best Travel Vests
Best men's travel vest
Why does the Silver Ridge make it to our top stop of best men's travel vest? Well, we think this travel vest by Columbia offers the best combination of utility, flexibility, and style!
It has a sleek slimline design which means you could easily where this about your home town within looking out of place, but the vest still offers a good number of pockets, as well as other features.
Made from durable ripstop nylon, the vest includes mesh pockets, zippered security pockets, and hand pockets too. On top of that, the vest is constructed with Omni-Wick moisture technology to keep you dry in the heat, and contains UPF 50 blocking power too!
Is the Columbia Silver Ridge for you?
A solid travel vest purchase is ever there was one, Columbia's Silver Ridge looks great one, and many of the features you'd expect to see on a travel vest, from pockets to weather protection. If you're looking for a men's travel vest, this should definitely be your first port of call!
Recommended – Want to get your kayak on? Have a peek at our list of the coolest inflatable kayaks on the market!
Best women's travel vest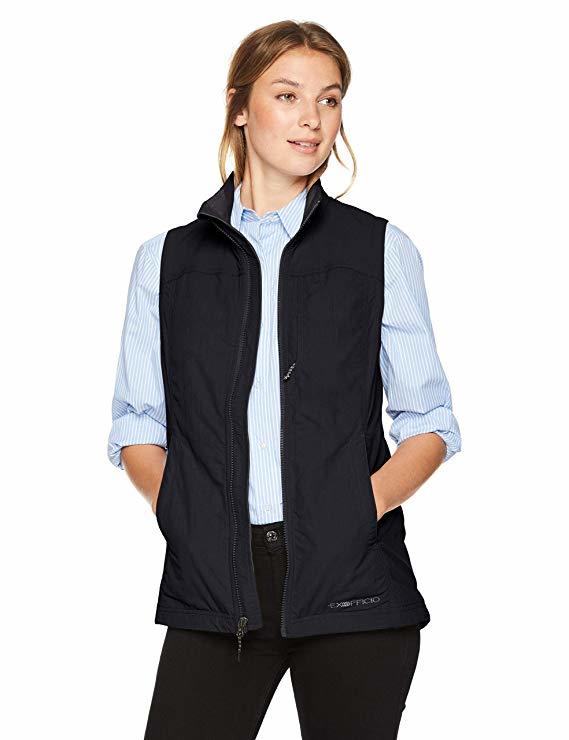 Matching the men's Silver Ridge in the style stakes is the Flyq Lite by ExOfficio (which also comes as a men's version). But the Flyq Lite is also a vest that is lightweight and packs down very easily into a bag when you don't need it.
Despite the sleek shape this vest comes equipped with 11 (yes, 11!) different pockets, including one for your hands, another with RFID protection to secure credit cards and personal data against scanning attacks, and one intended for sunglasses that is lined with microfleece to prevent scratching.
Microfleece also lines the collar, for a soft feel against the skin of your neck!
Is the ExOfficio Flyq Lite for you?
If you're a woman who wants to maintain her style while traveling, but also wants all the advantages a travel vest offers, the Flyq Lite by ExOfficio would make a fine choice for you. As well as the good-looking design, there's everything you could want in a travel vest, including RFID protection!
Recommended reading – Looking for an incredible travel daypack? These are the best daypacks for travelers.
Best travel vest for hot weather
Hot weather brings with it its own set of issues, but you still have to have something to help store all those little bits and pieces you need while traveling.
For that reason, you're going to want to find a travel vest specifically designed to help you cope with what the sun can do! The fact this vest by Fox Fire is made from natural cotton means it's breathable, light to wear, and kind to the skin.
The back of the vest is also partially made from mesh for even better ventilation. The Thunder River vest boasts a good number of differently sized pockets too, so there really is a place for everything!
Is the Fox Fire Thunder River vest for you?
Specifically designed for those time when heat can become a problem – hiking and safari – its no surprise this is our go-to travel vest for the hot weather! Fox Fire has managed to create a perfect balance between lightness for the heat, and pockets – the reason you were looking for a travel vest in the first place.
Editor's Note – Check our these amazing travel hammocks for all budgets!
Best lightweight travel vest
Denim might not always be considered the lightest of materials to use for a lightweight travel vest, but don't let that thought put you off this travel vest by Gihou!
With a slightly more utilitarian look than some of the other travel vests on our list so far, the Gihou makes an excellent option for those getting out into the wilds. It has an incredible 16 pockets, four of which are hidden internally.
They come in all different shapes and sizes, and a combination of zippered and Velcro closures, providing a good mix of security and ease of access. There are also a couple of metal D-loops by the shoulders for hanging or connecting items such as keys.
Is the Gihou Lightweight Denim Vest for you?
If you're looking for a travel vest that's going to have no trouble dealing with time in the great outdoors, this travel vest by Gihou is a great option. Though made from tough denim it is also lightweight, and offers its users an incredible array of pockets of varying sizes and closures!
Best fleece travel vest
The Izod Spectator travel vest crosses the divide between travel wear and casual wear – to great effect. Comprising of an on trend two-tone design that won't have you feeling like you stand out, there are three pockets built into this travel vest.
There's a nice high collar which will keep any draft away from your neck, and a full-length zipper which will help with controlling your temperature whatever the weather is going.
Comfortable, and lightweight, this fleece travel vest will keep you snug, and allow you to carry those essentials without the need for another bag.
Is the Izod Spectator for you?
With warming fleece, the Izod Spectator travel vest is an ideal purchase for anyone who expects to find themselves hanging around in places that might turn a little on the cold side. Its three pockets can't match the 16-26 of other travel vests on our list but should provide more than enough space for all your absolute essentials.
The Best Travel Backpack EVER MADE!?!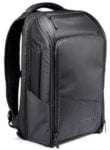 We are obsessed with backpacks – we've tried them all! And our favourite carry on backpack in the WORLD is the Nomatic Travel Backpack. This backpack has revolutionized the backpack industry and will change the way you travel forever :) Check it out here!
Best of the rest
The Weekender Traveler Air is another of our more utilitarian travel vests. Firstly, its quick drying and resistant to stains too, meaning you can use it without worrying that you're going to cause any permanent damage.
It has adjustable side straps to ensure personalized comfort, as well as shoulder padding and rubber shoulder grips to help prevent rubbing with or without an added backpack.
There are large areas of mesh to help with ventilation and breathability, and good-sized pockets that take up the majority of the space on the jacket's front, truly providing space for anything you might need to hand while out and about.
Is the Weekender Traveler Air for you?
The Weekender Traveler Air is a good all-round travel vest for getting into the wilds. Breathable, stain resistant and quick drying, the weather won't hold any problems for you, while the front is full-to-bursting with large pockets that can take everything you can possibly need, from camera equipment to fishing tackle!
P.S. – Protect your cash while traveling with our EPIC guide to the most awesome travel money belts!
As a specifically designed safari travel vest, you can be sure this vest by Autumn Ridge Traders is ready for the heat of the African plains should need be.
The vest's back panel can be removed and zippered into a pocket to reveal a ventilating mesh, while the 100% polyester construction makes this safari vest water resistant and quick drying. And as for pockets?
The Safari Vest has 16 different pockets to choose between, from smaller pockets suitable for SD cards to much larger ones that would easily take a compact digital camera. Closed by a mixture of zippers and Velcro, you can be sure your stuff will always be safe as well as being close to hand too!
Is the Autumn Ridge Traders Safari Vest for you?
Not surprisingly – as it made it to our list in the first place! – the Autumn Ridge Traders Safari Vest is another great option travel vest. Specifically intended for use on the hot plains for safaris, this travel vest nicely blends the need to keep cool and the desire to leave nothing essential behind as you head out.
With versions for both men and women, the SCOTTeVEST RFID Travel Vest has more features than the headline RFID protection that will keep your personal and credit card details safe from digital hackers.
Fully machine washable, this vest includes a Teflon coating which makes it both water and stain resistant, for instance. There are an incredible 26 pockets overall, including a clear windowed pocket intended for your touchscreen smartphone.
There are also hidden spaces that allow you to thread through a pair of earphones without having the wires endlessly flapping about and getting caught up. That's what we call a travel vest!
Is the SCOTTeVEST RFID Travel Vest for you?
This is a great travel vest for tech lovers due to features such as the clear windowed smartphone pocket among its 26 pockets, and special passage for earphone wires too. But its RFID blocking and protecting capabilities means this is a serious contender as a travel vest for anyone who travels with credit cards or passport – which, let's face it, is all of us!
Pro Travel Tip – Travel pillows are a game changer. Check out our pro guide to the best travel pillows.
The AyeGear V26 is the only travel vest on our list that is officially designated as unisex in design, but that takes absolutely nothing away from the quality of this travel vest.
Breathable and machine washable, the AyeGear V26 consists of 26 different pockets, spread between offering access internally and externally. There's a dedicated smartphone pocket which allows you to use your screen without having to ever remove the phone from its pocket.
There's also a pocket at the rear capable of taking a 12" laptop or tablet, though we think this is more for when holding the vest in your hand rather than when wearing it. All the same, the AyeGear V26 has some clever features – did we mention the retractable cord for keys?
Is the AyeGear V26 for you?
It's difficult to argue against a travel vest that boasts a combined internal and external pocket count of 26, including a touch-sensitive pocket specifically designed for using a smartphone without the need to hold it! But what's more, the AyeGear V26 is also breathable and machine washable. What more could you possibly want?
Coming in a choice of three colors – black, khaki, and olive drab – the Undercover travel vest by Rothco is a subtle and unflashy vest, which is no bad thing when you're traveling in an unknown place.
There are a dozen different pockets of various sizes to choose between, including a hidden pocket on the inside of the vest intended to fit your passport or other valuables such as your credit cards.
There's also a tablet sized pocket for keeping your electronics secure while on the move, and pass-through ports so the wires of earphones can be threaded through the vest without them hanging and getting in the way.
Is the Rothco Undercover travel vest for you?
We like the subtle styling of the Rothco Undercover travel vest, which won't drawer any undue attention your way while you're traveling. There's a good number of pockets, including an all-important hidden passport pocket, and a handy port system for keeping your earphones out of the way too!
This vest by Beat The World intends to be all things to all men – the travel jacket that no man can do without. Does it achieve this? We think it comes pretty close! First, there's the brilliant price point.
Then there's the huge range of colors the travel vest is available in – want a bright red travel vest? No problem! Then there's the fact this is a lightweight number, weighing just a few ounces.
And then, of course, there are the pockets, securable with metal zippers for extra safety while moving about!
Is the Beat The World Travel Vest for you?
Need a good all-round travel vest? One you can use while out hiking, out in the yard, or while doing the DIY? Then it's difficult to beat the Beat The World Travel Vest! The pockets with metal zippers will keep anything you want to keep close nice and safe, while the expansive color range means you can still express your own personality at the same time.
Which is the best travel vest for you?
We've selected the best travel vests on the market and put them all in one place to save you the time and effort of having to do this yourself! From big brands such as Columbia to newer or lesser known brands, each of the travel vests you find here has made it onto our list with good reasoning in mind. The only real question that remains is which is the best travel vest for you?
Editor's Note – No matter where you are traveling, you NEED to have great travel insurance. We have personally tested TONS of travel insurance companies, and can say without a doubt that World Nomads is the absolute best (and most affordable!). Fill out the form below to get a quote.
***Disclaimer*** Some of the links in this post are affiliate links. This means that if you book your accommodation through the site, One Weird Globe will earn a small commission at no extra cost to you. Your support helps me keep the site going :)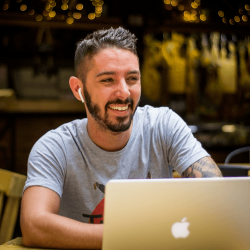 Latest posts by Aaron Radcliffe
(see all)