Manchester has become one of the trendiest cities to visit in the UK and is packed full of amazing places to explore and things to do. From the chic bars and restaurants in the up-and-coming Northern Quarter neighborhood to the gorgeous architectural sites such as the Manchester Cathedral and the bustling football grounds of the Etihad Stadium and Old Trafford it really is an epic travel destination.
With all these beautiful restaurants and bars along with amazing sites to explore it makes it a great destination for couples looking for a weekend away. However, we know many of you are looking for a city break on a budget and one awesome way to cut the costs of your holiday is by staying in a hostel. Luckily there are a few good ones and some of which have deluxe private rooms for couples.
To help you pick out the right one, in this article we break down 3 of the coolest hostels in Manchester for couples. Sound interesting to you? Carry on reading below to find out more…
Quick Answers – The Coolest Hostels in Manchester for Couples
#1 The Overall Best Hostel in Manchester for Couples – YHA Manchester
#2 The Best Cheap Hostel in Manchester for Couples – Rahman Piccadilly Hostel
#3 The Best Luxury Hostel in Manchester for Couples – Selina NQ1 Manchester
The Overall Best Hostel in Manchester for Couples
Why we like YHA Manchester…
We love the awesome common areas provided at the YHA Manchester Hostel including a spacious and sociable lounge area, a budget-friendly on-site bar, and a fully-equipped communal kitchen (so you can whip up your own tasty treats to save yourself some cash if you wish to!) The hostel is also home to a beautiful canal-side restaurant where you can indulge in some tasty food whilst watching epic waterfront views.
The hostel has a 24-hour reception which is super handy when traveling! Whether you're coming back from one of Manchester's late-night gigs, have an early flight to catch, or just need some help in the middle of the night there is always a member of staff on hand to help you out.
YHA Manchester is perfect for…
The YHA Manchester provides the overall perfect package for couples heading to the city and can suit multiple different travelers' interests and needs. Firstly, the hostel offers epic private rooms many of which come with modern en-suites for those who like their privacy. It also offers cheaper shared dorm rooms for those couples who don't mind compromising a little bit for more budget-friendly accommodation prices.
Need to save money? Check out the cheapest hostels in Manchester!
The Best Cheap Hostel in Manchester for Couples
Cost – $
Location – 8 Fairfield Street Rahman Piccadilly Hostel, Manchester
Reviews → Check on Booking.com
Why we like Rahman Piccadilly Hostel…
The location of the Rahman Piccadilly Hostel is one of the best in the city and you will find it hard to get beds cheaper in Manchester in such a prime spot. The hostel is just 300m away from the famous Piccadilly Railway Station which has great connections to the rest of Manchester along with other surrounding areas.
It is also just a short stroll away from Canal Street which is one of the most picturesque locations in the city and has an awesome selection of bars, restaurants, and cafes overlooking the water.
Rahman Piccadilly Hostel is perfect for…
Those who are looking for super budget-friendly rooms in the city, want clean and modern facilities but are happy with the basics to save some cash! Rahman Piccadilly Hostel has a good selection of room options from 4-14 bed dormitories to cozy private rooms. It has a decent number of social spaces including a modern lounge area along with a spacious shared kitchen.
Looking to make friends in Manchester? One of these cool party hostels might be for you!
The Best Luxury Hostel in Manchester for Couples
Why we like Selina NQ1 Manchester Hostel…
The location of Selina NQ1 is arguably unbeatable with it being tucked away in the hipster hotspot and sought-after neighborhood of the Northern Quarter. Situated in the incredible St Stephen's Square guests staying at the hostel will be surrounded by epic locations including hidden bars, boujee eateries, and live music venues.
Along with awesome places to eat and drink, the hostel's neighborhood is also packed full of cultural sites to explore including the Victoria Baths, The Lowry Art Gallery, and Manchester's Craft and Design Centre.
Selina NQ1 Manchester Hostel is perfect for…
If you want luxury amenities on your weekend away but don't want to break the bank on a lavish hotel then this might well be the hostel for you. Selina NQ1 Hostel provides some of the most beautiful facilities we've seen in a hostel and all the rooms are beautifully tailored with a unique and modern design.
The epic design consists of up-cycled materials and creates an imaginative environment and has created a distinct look that you will across Selina's all over the world!
Conclusion to the Best Hostels in Manchester for Couples
Manchester is an incredible destination that should definitely be added to your bucket list if you're looking for an awesome weekend away with your other half. In this article, we have broken down three of our favorite hostels for couples in the city all of which offer something a little unique. In case you are still undecided on which one to pick we will quickly break down the options again…
If you're looking for a sense of luxury then you should definitely check out Selina NQ1 Manchester Hostel. If you're happy with the basics and want super budget-friendly prices then Rahman Piccadilly Hostel is the one for you. And if you just want an overall great hostel with fantastic facilities then look no further than the YHA Manchester!
So what are you waiting for? A weekend in Manchester is just around the corner – get booking!
***Disclaimer*** Some of the links in this post are affiliate links. This means that if you book your accommodation through the site, One Weird Globe will earn a small commission at no extra cost to you. Your support helps me keep the site going :)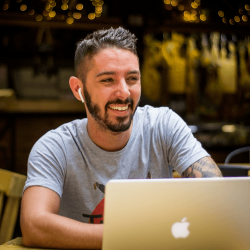 Latest posts by Aaron Radcliffe
(see all)