Today there are some fantastic models of inflatable kayak on the market, from general use models to those specifically designed to support particular activities, such as fishing or whitewater rafting, to such an extent there's really no excuse for not getting out on the water.
But with so many models available from so many different companies, how can you ever choose the right inflatable kayak for you and your leisure time?
We've wracked our brains and done all the research for you, to find the very best inflatable kayaks in a range of categories, from budget to expedition-class models, so you don't have too!
While each and every one of those inflatable kayaks we've highlighted have certain things in common, each can also very different from the next, so make sure to read carefully to find exactly the inflatable for you, whether you're a beginner looking to get into the world of inflatable kayaks, an expert searching for a better model, someone looking for a dog-friendly model, or an eager amateur just looking to see what's out there in 2019.
Quick Summary: The Best Inflatable kayaks
Best inflatable kayak for the ocean

Sea Eagle SE370

Spill skirts to reduce splash, sun and salt resistant

Check Price on Amazon

Best inflatable kayak for whitewater

Advanced Elements Attack

Added abrasion rails, Small and light

Check Price on Amazon

Best inflatable kayak for under $500

Sevylor QuikPak K5

Easy to carry, easy to inflate and deflate

Check Price on Amazon

Best inflatable kayak for dogs

Sevylor Big Basin

Check Price on Amazon

Best inflatable kayak for lakes

Intex Challenger K2

Extra stable flooring, meets Coast Guard safety standards

Check Price on Amazon

Best inflatable kayak for fishing

NRS Pike Angler

Movable and collapsible seats, removable fins

Check Price on Amazon
Best inflatable kayak for the ocean
As its name suggests, the Sea Eagle brand has a strong reputation for creating tough and durable inflatable kayaks well suited for sea and ocean adventures.
A number of well-thought-out features, such as spray shields at either end, will help keep your kit dry. The 650 lb weight capacity means there's more than enough buoyancy for two people with kit for a multi-day journey, or three people heading out on a shorter trip. What's more, the Sea Eagle is both UV and salt-water resistant, ensuring no limit on when and where you splash paddles.
A useful carry bag makes maneuverability out of the water all the easier, while the Sea Eagle also comes with everything you need to head straight to the water, from paddles and foot pump, to repair kit – just in case!
Is the Sea Eagle for you?
If it's a fully-functioning sea and ocean capable inflatable kayak you're after, its difficult to argue against the Sea Eagle. The go-to inflatable kayak for oceans for several years now, beginners will love the all-inclusive nature of the Sea Kayak package, while those who already have some paddling under their belts will appreciate the high weight capacity, sun and salt-water resistivity, and inclusion of spill skirts fore and aft.
Check for Best Price on Amazon
Best inflatable kayak for whitewater
To tackle whitewater in an inflatable kayak you'll want a craft that is specifically designed to do the job, and none are currently better at that job than Advanced Elements Attack whitewater inflatable kayak.
Made from 840 denier PVC tarpaulin it's a tough little craft, with a zippered outer shell that protects the inner pontoons and three air chambers. Capable of taking on class III and the occasional class IV rapid, it has added abrasion rails on the hull to help deflect impacts, as well as self-bailing ports to lose excess water.
Smaller and lighter than many competitors, at 9'6" and 34 lbs, it's one of the nimblest and most manoeuvrable. A securable seat and thigh straps will keep you firmly in the kayak when the water starts boiling.
Is the Advanced Elements Attack inflatable kayak for you?
There are better inflatable kayaks on the market for those seeking to take on whitewater, but they will cost you 2-3 times the cost of the Advanced Elements Attack craft. So for the money, we think it can't be beaten. Its tough hull material and abrasion rails protect the pontoons and air chambers from damage, yet the Attack still manages to come in small and light-weight. In turn, this makes it incredibly nimble among the rocks mid rapid, with self-bailing ports to disgorge any water you take on.
Editor's Note – You can also check out our article about the best Travel Towels.
Best inflatable kayak for under $500
Although price shouldn't be your first concern when buying a kayak, we're all on a budget, and there are actually some brilliant models out there under the $500 mark. Our pick of these is the QuikPak K5, a one-man/250 lb capacity kayak, which is both well designed and constructed.
For example, it deflates into a nice size that slots into the integrated backpack (with padded shoulder straps) that makes it simple to transport. The QuickPak K5 also converts from backpack to fully inflated kayak in as little as ten minutes thanks to the double lock valves that make both inflating and deflating very easy with a pump.
A zippered compartment at the rear is perfect for food and odd pieces of kit, while the other end of the kayak has a good amount of space in which to stow further kit with bungee cords.
Is the QuikPak K5 for you?
Easy to carry thanks to the integrated backpack design, and easy to inflate and deflate with the included hand pump, the QuikPak K5 is for anyone looking for an inflatable kayak to take onto lakes or whitewater. Even putting the budget-friendly price aside, the QuikPak remains a superb choice.
Recommended Reading – Love kayaking? Check out these amazing Tandem Kayaks for all budgets!
Best inflatable kayak for dogs
Don't want to leave Fido at home when you're heading out with the kayak? Thankfully you don't have to. The Sevylor Big Basin is made with a heavy-duty PVC construction and tough tarpaulin bottom, so even the sharpest of canine nails shouldn't damage the precious air chambers.
With a potential to carry three people to a maximum of 490 lbs, it's also a great bet however large a dog you may be looking to kayak with. The Big Basin is also particularly stable compared to competitor's models, making it all the more suitable for our four-legged friends who might not appreciate the rocking of a narrow kayak otherwise.
Two directional strakes (in other words, rudders) add further to the stability and help keep the kayak tracking straight even with just one person aboard.
Is the Sevylor Big Basin for you?
If you're looking for an inflatable kayak that's suitable to transport dogs, and their sometimes sharp claws, as well as humans the Sevylor Big Basin is a great bet for the money. Large enough to fit three people, or two and a large dog, the Big Basin is incredibly stable, and also tracks very well thanks to its two directional strakes, features that will make any dog or owner pleased with their purchase.
Recommended Article – Take a look at our AMAZING guide to the best Baby Carriers for Hiking
Best inflatable kayak for lakes
For anyone looking for an inflatable kayak suitable for the flat water of lakes and slow-flowing rivers, then the Intex Challenger K2 is the perfect inflatable kayak.
Intex Recreation's decades of experience in the market has resulted in this super strong vinyl craft that is both durable for multi-season use and resistant to tears and leaks.
The comfortable two-man cockpit comes with good-sized seats with backrests for summer days out on the water, while the ridged floor provides extra stability. The Challenger K2 also meets all the safety standards set down by the US Coast Guard.
Is the Challenger K2 for you?
Anyone looking for a simple, ready-to-use inflatable kayak for lakes will love the Intex Challenger K2. The company's years of expertise shine through in this strong and safe model, which arrives complete with everything you need to head straight to your favourite lake and push off from the shoreside.
Editor's Note – You can also check out our article about the best Travel Money Belts.
The Best Travel Backpack EVER MADE!?!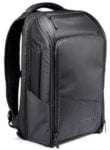 We are obsessed with backpacks – we've tried them all! And our favourite carry on backpack in the WORLD is the Nomatic Travel Backpack. This backpack has revolutionized the backpack industry and will change the way you travel forever :) Check it out here!
Best inflatable kayak for fishing
A solid option when searching for a kayak that's inflatable for trips with a rod and reel is the NRS Pike Angler. So stable it has a super solid floor you can stand vertically on, this model uses 4-inch inserts identical to those found in stand-up paddleboards. Inflated to 10 pounds per square inch, its rock solid.
The Angler also has plenty of features aimed squarely at the fisherman, from bungee lacing on the bow to secure tackle, to the inclusion of three Scotty Mount attachment points securing rod holders and other accessories.
While being collapsible, the seats can be shifted right around the kayak, and are comfortable enough for a day of angling. 32 steel D-rings provide a means for rigging the kayak out exactly as you want, while there are also two removable fins to aid tracking.
Is the NRS Pike Angler for you?
Specifically intended for use by anglers, there's no doubt fishermen and women will love the NRS Pike Angler. From the ability to stand up, the presence of the Scotty Mounts and D-rings, and the space for tackle all make it an ideal option.
More of the best inflatable kayaks
For an inflatable kayak experience that is just about as close to the traditional hard shell as it's possible to get, the Advanced Elements Expedition Kayak is the inflatable kayak for you.
In-built lightweight aluminium ribs provide the rigidity needed to ensure hard shell-like speed and tracking, while the kayak's 'drop-stitch' bottom makes its floor extremely stable too. The low centre of gravity gives further stability in the water. Six – rather than the standard three – air chambers provide double certainty, and there's also a good amount of room for kit.
Solid feeling, and excellent at resisting punctures and leaks due to its three separate layers of construction, the Advanced Elements Expedition Kayak is suitable for day trips to longer camping excursions.
Is the Expedition for you?
This excellent model of inflatable kayak from Advanced Elements combines the elements of hard shell kayaks that many aficionados old and new love with the advantages of a deflatable kayak that can be packed away after a day or week of adventure. Stable and strong, it won't let you down.
Check Price on REI Check Price on Amazon
Editor's Note – You can also check out our article about the best Travel Hammocks.
This two-man inflatable has a really high weight capacity of 400 lbs, which means you can pack all the kit you want, whether heading out for a gentle day on a lake or for some gentle river kayaking.
The standard three air chambers are supplemented by six very useful mesh pockets to hold everything in place. Its high-sided walls will help keep you dry from splashes, while spill shields at the front and back do the same job.
Coming with everything you need, this fuss-free model comes with useful portage handles at either end, two paddles, and a hand pump. Boasting the same seats as the Challenger K2, the Explorer is also comfortable enough to spend a whole day on the water with compromise.
Is the Explorer K2 for you?
The Explorer K2 is a good all-round inflatable for those looking to spend time on the water that doesn't require any special skill set. Coming with everything you need to set straight off into the great outdoors, it's really just a matter of inflate and go!
Another two-man inflatable, the Driftsun Voyager is a 10-foot tandem style kayak like the Explorer K2. It weighs an impressively light 27 lbs and fits into a small backpack provided with the kayak.
It also inflates in as little as five minutes using the high flow double action hand pump supplied. It's tough PVC tarpaulin base and 840-Dernier coated nylon oxford top coating make it super tough and resistant to punctures, while the double-threaded Boston values pretty much guarantee you won't get a leak from them.
A removable deep fin helps with tracking and stability in choppier waters, and there's a plug to drain excess water from the craft without the need for bailing.
Is the Voyager for you?
Just like the Explorer K2, the Driftsun Voyager comes with everything you need to walk out of the shop straight to the water. A great alternative for its competitor's model, its tear resistance and the existence of a removable fin perhaps swing the deal in its favour.
Editor's Note – You can also check out our article about the best Travel Daypacks.
If you're looking for an inflatable kayak in which to do a bit more than just paddle across a lake on a quiet afternoon, the RAVE Sports Sea Rebel is the inflatable kayak for you without question.
At just eight feet in length, it is small enough to be controlled without difficulty but, large enough to be able to stand up and move around in. Versatile enough to act as a sort of stand-up paddleboard as well as a kayak, there's a basic seat with back support. Kit can be stored in the good-sized bungee system behind the seat too.
Four foam-filled handles make launching easier than with some other inflatable kayaks, while a year's warranty protects you from any manufacturing faults.
Is the RAVE Sports Sea Rebel for you?
For a sports kayak that's also inflatable, it's difficult to beat the Sea Rebel. Manoeuvrable thanks to its shorter length, but also sturdy as a result of its great construction materials, its firm enough to both stand and sit in, and will be sure to give you some great memories from the water.
P.S. – Take a look at our AMAZING guide to the best Travel Yoga Mat
The sharp-nosed Lagoon 1 from Advanced Elements has been designed for suitability on lakes, rivers, and even ocean bays, giving it a usability that some other inflatable kayaks lack.
With the well-padded seat placed towards the bag of the kayak, drag is limited, making it much easier to cut through the water. Meanwhile, a Twistlok and high flow spring values make it really easy to both inflate and deflate. Controlling the Lagoon 1 in the water is also made easier by the presence of integrated rigid panels on the bow and stern.
The chance of leaks is minimized by the use of welded seams, with ripstop fabric coming to the rescue should the worst happen, limited the damage done.
Is the Lagoon 1 for me?
With great controllability, limited water drag, and the ability to be used just about anywhere, the Lagoon 1 is a good choice for anyone looking for an inflatable kayak the level above the standard and is happy to sacrifice leg movement and storage to head out into the wilds.
Final Thoughts!
11 of the best inflatable kayaks on the market all in one place! Our extensive and detailed list will tell you all you need to know about the world of inflatable kayaks, so you can make a purchase feeling confident you have all the knowledge you need and that you are making the right choice.
Editor's Note – No matter where you are traveling, you NEED to have great travel insurance. We have personally tested TONS of travel insurance companies, and can say without a doubt that World Nomads is the absolute best (and most affordable!). Fill out the form below to get a quote.
***Disclaimer*** Some of the links in this post are affiliate links. This means that if you book your accommodation through the site, One Weird Globe will earn a small commission at no extra cost to you. Your support helps me keep the site going :)
Latest posts by Clair Ricketts
(see all)