There's nothing quite like being on the water under your own steam, the gentle trickle of water from the paddles being the only sound to break the natural reverie. The only way to make that experience better is perhaps to share it with someone else.
To do that, you're going to need a tandem kayak. With so much to keep in consideration when choosing a tandem kayak, how do you ever pick one? Simple! You read our guide to the best tandem kayaks!
Quick Summary: The Best Tandem Kayaks
Best overall tandem kayak
The Sun Dolphin Bali makes it as our best overall tandem kayak as a result of its fine combination of attributes – there's the well-considered design, good quality workmanship, and a price that won't have you diving for cover.
At 13.5 feet long its neither the shortest nor the longest of tandem kayaks, giving it good control, and comes with both adjustable seating with good back support and adjustable footrests so you can be as comfortable as possible while on the water.
There is not one but three sealed hatches between the paddlers' legs (two large and one smaller one) for water tight storage, as well as lashings to hold other items down on the deck. One further advantage of the Sun Dolphin Bali is the jump seat at the center of the kayak, making this tandem suitable for a third (small) person!
Is the Sun Dolphin Bali for you?
If you're just getting into tandem kayaking at looking for a kayak at a reasonable price but still with the high marks of quality and workmanship that means you can trust it in the water, the Sun Dolphin Bali is the option for you! Comfortable, thanks to adjustable seats and footrests, and with water tight storage compartments too, this is a great all-rounder.
Best tandem kayak for lake fishing
If you can forgive the slightly clunky name, the UH-TK219 has all the attributes to make it the perfect tandem kayak for lake fishing!
Specifically designed with fishing in mind, this tandem kayak comes with six-rod holders positioned sensibly around the sit-on-top deck, four of which are flush with the deck surface while the other two are adjustable.
There are two waterproof storage areas between the legs of the kayakers for easy but safe access to tackle and other pieces of fishing equipment and another area for storage at the back of the kayak where lashing is provided. The seats are comfortable with good back support, while foot rests are molded in to the overall deck shape of the kayak.
Is the Brooklyn Kayak Company UH-TK219 tandem kayak for you?
If you ever intend to go lake fishing with your tandem kayak you're going to need a tandem kayak specifically designed and built for the job, like the UH-TK219. Not only are there large water tight storage compartments between the legs of each kayaker, but a total of six alternate rod holders. What's more, good back support means you can be on the water all day without getting sore.
P.S. – To Protect your cash while traveling with our EPIC guide to the coolest Travel Money Belts.
Best sit on tandem kayak
We have no issue in describing the Vibe Kayaks Yellowfin 130T as our top pick for the sit on style of tandem kayak due to the incredible array of features this kayak boasts. To being with, there are incredibly comfortable cloth seats that wrap around your body shape, offering incredible support for body and back.
The Yellowfin also has fully adjustable foot rests so you can find your perfect seating position. As with other sit on kayaks, there are two large and water tight storage areas between and under the kayakers, with those on the Yellowfin molded to provide a drinks holder for each person too.
You'll find lashing for additional storage at both the front and back ends of the kayak, and coming with two paddles, the Yellowfin has everything you need to get straight out onto the water with a friend, even for some fishing thanks to the two flush rod holders!
Is the Vibe Yellowfin 130T for you?
This cool looking tandem is undoubtedly the king of two-seater kayaks thanks to its ultra-comfortable seats, adjustable foot rests, rod holders, and storage. So if you're in the market for the best sit on tandem kayak out there, you simply must consider the Yellowfin!
P.S. – Save a bit of cash in Travelling with our EPIC guide to the coolest Packing Cubes!
Best lightweight tandem kayak
If you're looking for a lightweight tandem kayak then its hard to beat one of the inflatable models of the market, of which the Intex Explorer K2 is for us the premier option around.
Beside it being a fantastic entry price for anyone looking to get into tandem kayaking, it has the obvious advantage of packing down so it easily fits into the trunk of a car without the need for vehicle's to have any additional roof top fixtures or fittings.
At a little under 34 lbs in weight, the Intex Explorer K2 comes in at half the weight of the Sun Dolphin Bali and Vibe Yellowfin 130T. There's a skeg – in other words, a small fin – on the bottom of the kayak to keep it moving straight and true through the water, while you shouldn't have any worries about the 'inflatable' factor, since the Explorer K2 is made from tough durable materials.
Is the Intex Explorer K2 for you?
The main advantage of the Intex Explorer K2 is undoubtedly its weight – half that of competitors. And for that ,you also get a tandem kayak that you can fit in your car! Coming will all you need for a watery adventure out of the box, the Explorer K2 comes with two inflatable seats, and a set of two paddles as well.
P.S. – Save a bit of cash while hiking – check out our guide to the best baby carriers for Hiking!
Best tandem kayak for beginners
What exactly a beginner is looking for in a tandem kayak differs slightly from person to person, but it's safe to say most beginners want a vessel that's going to be easy to control as they gain their confidence.
The Malibu by Ocean Kayak is one such tandem. Striped back of fancy but unnecessary accessories this is a sturdy tandem kayak which is going to have no trouble getting you from A to B.
It comes in at the lower end of the weight table at 57 lbs, while having a capacity of 425 lbs, more than enough for two average adults. Three different seat positions allow you to find the right positioning for you as you develop your paddling motion, while the decent seating and molded foot rests will keep you in the right place.
Is the Ocean Kayak Malibu for you?
If sturdy is what you're after, sturdy is what you get with the Ocean Kayak brand's Malibu model tandem kayak. Molded from high density polyethylene, it has three alternate seat positions to choose between, and fixed foot rests, giving you the confidence to head out on the water for the very first time.
The Best Travel Backpack EVER MADE!?!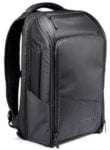 We are obsessed with backpacks – we've tried them all! And our favourite carry on backpack in the WORLD is the Nomatic Travel Backpack. This backpack has revolutionized the backpack industry and will change the way you travel forever :) Check it out here!
Best tandem kayak to paddle solo
Not only is this tandem kayak inflatable, making it much easier to transport from place to place than a standard rigid molded kayak, but its seriously clever design makes it just as easy to paddle solo as it is to paddle as a pair.
With either a central seat position for solo kayakers, or the more standard front and back positioning when with a partner, this really is two kayaks in one!
What's more, the Advanced Elements Inflatable Tandem comprises an aluminum frame to provide more rigidity than you might be used to if you've used an inflatable kayak before. Finally, three material layers help prevent wear and tear ruining your adventure, while a zippered spray skirt keeps excess water out of the kayak.
Is the Advanced Elements Inflatable Tandem for you?
Worried that that buddy who says they'll come kayaking with you might chicken out at the last minute, meaning a cancelled and wrecked weekend? Then the Advanced Elements Inflatable Tandem is a great alternative form of kayak for you, thanks to its ability to be controlled well as both a solo kayaker and as a pair!
Editor's Note – You can also check out our article about the coolest Travel Strollers!
Best tandem kayak for ocean fishing
Sevylor have been making dependable kayaks of all types for years, and we've been saving them up until now to include the Sevylor Colorado as our best tandem kayak for ocean fishing.
This inflatable tandem kayak is comprised of super tough 18 gauge PVC, with a 1,000 Dernier bottom and 840 Dernier nylon upper layer that makes it very resistant to scraps and punctures. There's also a mounting area to attach a trolling motor to get you out and around the ocean currents, and enough rod holders to keep any fisherperson happy.
The deal is sealed for us with the well-positioned mesh storage pockets, making kit you need both handy and easy to spot, but should you need a further incentive, the Sevylor Colorado comes with a year's warranty too!
Is the Sevylor Colorado tandem kayak for you?
Looking to head out on the ocean for some fishing with a friend? Then we say the Sevylor Colorado tandem kayak is definitely for you! Why? There's its tough construction, inbuilt mounting area for a motor, rod holders, and useful pockets for smaller items of tackle too!
Best tandem kayak under $1000
Even if it wasn't for its incredible pricing, we'd still love the SeaEagle SE370! A tough and versatile inflatable tandem kayak, it's as at home on the still waters of a lake as it is roughing it out on the sea and amid lower classes of white water.
While being just 32 lbs in weight, one of the lightest tandem kayaks around, it has a weight capacity of an incredible 650 lbs, providing enough buoyancy for two fully-grown adults and a good pile of kit to boot.
Made from materials resistant to the negative effects of both salt water and the rays of the sun, the SeaEagle is sure to last. What makes the SeaEagle's price all the more impressive is the fact it comes with everything you need to head straight to the water's edge, from paddles and foot rest to repair kit – just in case!
Is the SeaEagle SE370 for you?
Its hard to argue against the SeaEagle SE370 on any level thanks to its brilliant pricing. And this is no 'buy cheap and regret it later' purchase, with the SeaEagle made from tough but lightweight materials and with a great weight capacity too!
Recommended Article – Take a look at our amazing guide of the best travel Jackets on the market!
Best tandem kayak for a dog
Similar in some ways to the Lifetime tandem kayak we review in the best of the rest section, the Hobie Mirage Outback has the additional advantage of a sail mount, meaning that once a sail is rigged up you can let the wind do all the work and glide across the water while you rest your paddling arms.
This is made all the easier by the presence of paddle holders, so you can put your paddles down without the risk of them falling into the water and disappearing!
There's a covered storage space at the front end of the kayak to give you a protected area to keep your kit and dog snacks dry, but what makes the Hobie Mirage Outback the perfect tandem kayak for a dog is its weight capacity of 400 lbs together with a solo seat – giving your pooch plenty of space to lie down however large they may be.
Is the Hobie Mirage Outback for you?
It's fair to say the tandem kayak market hasn't yet fully extended itself into kayaks specifically designed with canines in mind, so until that time happens, the Hobie Mirage Outback is the next best thing for sure, with plenty of space for your dog to rest while you do all the hard work!
P.S. – Luckily, we've compiled this guide about the best Rain Pants!
Best of the rest
One of the shortest tandem kayaks on our list at just 10 feet long, making it easier to control in the water, this tandem Kayak by Lifetime is a great option on quiet water such as a lake or gently-flowing river.
The rigid high density polyethylene from which the body of the kayak is made means you don't have to worry about those little bumps and scraps, either when transporting it, or when slipping over the odd submerged stone.
There's a good amount of storage space in which to keep all your kit safe and dry, and places to hold not only your paddles, but also three fishing rods should you also fancy a spot of angling.
Is the Lifetime tandem kayak for you?
This tough tandem kayak from Lifetime will take all the accidental knocks of everyday life in its stride, while all the time helping you to have a great day out on the water thanks to its paddle and fishing rod holders. Storage won't be a problem either, and the weight capacity means you don't have to think too much about what you're bringing!
Unlike many of the tandem kayaks on the market at the moment, the Twin Heron by Old Town has a traditional cockpit-style design, meaning you sit inside, rather than sit on the kayak.
The Heron started out life as a single person kayak that has been adapted into a tandem. The simple, perhaps minimalist, design still includes two fully adjustable seats with back rests that support even taller kayakers.
The Twin Heron also boasts fully adjustable foot rests. Some lashing at the back of the kayak provides a small area for storing kit beside the area inside of the kayak itself, with a capacity of up to 500 lbs in weight. Lastly, built it handles make it really easy to maneuver.
Is the Old Town Twin Heron for you?
There are plenty of reasons to opt for the Old Town Twin Heron as your next tandem kayak. For some, it will be the traditional cockpit sit in design, while for others it will be the fully adjustable seats and footrests.
Check this out! Our complete guide to the most awesome inflatable kayaks!
Shaped to be a little more sporty than its sister Explorer K2 inflatable that we've already reviewed, the Challenger K2 by Intex has its two seats positioned towards the back of the vessel, creating a larger bow area that is completely dedicated to storage.
You can pack a good quantity of kit within the bow itself, while there is also an extensive area of mesh for kit that doesn't need to be kept dry.
Wrap around inflatable seats with tall back rests ensure you remain comfortable throughout your paddling time, while the durable materials used in the Challenger K2's construction are UV resistant. For further peace of mind, this kayak has been approved for use by the US Coast Guard.
Is the Intex Challenger K2 for you?
Easy to transport thanks to the fact the Challenger K2 by Intex is an inflatable tandem kayak, there's a good amount of storage space for longer days on the water, and seats that will keep you comfortable throughout too. The approval of the US Coast Guard has got to be a further positive too!
Though not the most stylish of tandem kayaks on our list, the Manta by Lifetime receives some great reviews from kayakers. A molded plastic sit on form of kayak, the Manta weighs a middling 65 lbs, while coming in at just 10 feet long.
This makes it easier to maneuver than longer tandem kayaks, which is particularly beneficial to beginners. There's a very small area of lashing between the legs of the front paddler, but no internal water tight storage.
Back rests make the sitting position more bearable, as do the pre-formed foot rests, while the upturned nose and drainage hole make the Mantra super stable even in the ocean.
Is the Lifeform Manta for you?
The minimalist ocean kayaker will be big fans of the Lifeform Manta, thanks to its upturned nose, drainage holes, and simple molded design. While it may lack storage space, this is a very stable tandem kayak to opt for.
Another good option from Old Town, the Dirigo is a rigid cockpit style tandem kayak. At a little over 15 feet in length, there's a good amount of space for even taller kayakers, as well as a good amount of storage space for equipment.
At a weight of 72 lbs, its not too difficult to move about, made easier by the presence of retractable carry handles. Those kayakers who like to rest while out on the water will appreciate the paddle holders, which allow you to go hands free without the worry of losing a paddle overboard.
Ultra versatile, the Dirigo can be converted for use by a single paddler, and also comes with a removable snap-in child seat. Finally, there's a well though out brace system for your feet, keeping you both stable and comfortable throughout.
Is the Old Town Dirigo for you?
If you're a taller tandem kayaker, or someone who likes the ability to glide near effortlessly across the water, the Dirigo tandem kayak by Old Town is a great choice. There's everything you'll need for kayaking without worry, from storage space, to good foot rests.
Though the Brooklyn Kayak Company really need to work on the names of their tandem kayaks, that doesn't take away from the quality of workmanship involved or respect these kayaks get from users.
A reasonably short 12 feet in length, and weighing just 68 lbs, the UH-TK181 is a very stable tandem kayak all the same. There's some storage space at the back of the kayak and lashing for additional attachment of kit, and two paddle rests for when the strokes get too much or the scenery too beautiful to keep moving.
The Dirigo also has four flush fishing rod holders, and a further three adjustable ones, for the anglers out there, while every buyer will be a fan of the limited one year warranty.
Is the Brooklyn Kayak Company UH-TK181 for you?
It's a matter of last but not least for the Brooklyn Kayak Company's UH-TK181 tandem kayak on our list! A great quality tandem kayak, the UH-TK181 comes with some very useful features, from the paddle rests to storage and storage pockets, as well as the rod holders aimed at the fisherpeople among you!
Picking a tandem kayak has never been easier
There we have it! 15 of the best tandem kayaks you can buy right now, described with their pros and cons, so you can make a clear choice on the tandem kayak that is perfect for you!
Editor's Note – No matter where you are traveling, you NEED to have great travel insurance. We have personally tested TONS of travel insurance companies, and can say without a doubt that World Nomads is the absolute best (and most affordable!). Fill out the form below to get a quote.
***Disclaimer*** Some of the links in this post are affiliate links. This means that if you book your accommodation through the site, One Weird Globe will earn a small commission at no extra cost to you. Your support helps me keep the site going :)
Latest posts by Clair Ricketts
(see all)