Over recent years a good travel hammock has become an indispensable piece of kit for overnighting in woods, forests, and anywhere you'll find a couple of trees.
Not only are they a lightweight, but also a comfortable way to spend the night in comparison to a lumpy, inclined, or stony stretch of ground you'd need to pass the night in a tent.
So, which are the best travel hammocks on the market, and how should you choose? Here we give you the low-down on our top picks so you can find the right travel hammock for you!
Quick Summary: The Best travel Hammocks
Best travel hammock for sleeping

Active Roots (AR) Camping Hammock

Ready for use, lightweight

Check Price on Amazon

Best travel hammock under $50

Wise Owl SingleOwl and DoubleOwl

Lightweight, All-in-one and ready to use

Check Price on Amazon

Best travel hammock with stand

Driftsun Hammock

450 lb capacity , carry bag

Check Price on Amazon

Best travel hammock with mosquito net

Lost Valley Outdoor Expedition

Rainfly, good ventilation

Check Price on Amazon

Most comfortable travel hammock

Lawson Blue Ridge Hammock Tent

Hybrid hammock tent, creates flat sleeping surface

Check Price on Amazon
Best travel hammock for sleeping
Falling under the classification of a parachute hammock, the Active Roots Camping Hammock is incredibly lightweight at only 2 lbs. But not only that, the Active Roots Camping Hammock comes with everything you need (tree straps, carabiners, and carry sack) for a night in the woods without any further expense.
There's also the promise that the hammock goes from sack to ready for sleeping in under three minutes, and although made of lightweight materials, is also a hard-wearing model that can be used again and again.
Capable of taking 500 lbs – or two people – you'll both sleep safe in the knowledge Active Roots donated 10% of every sale to elephant conservation in Laos too!
Is the Active Roots Camping Hammock for you?
For a simple hammock in which to rest or sleep for a night or two, the Active Roots Camping Hammock is the ideal choice. Both lightweight and easy in the set-up, it comes with everything you need to head out into the wilderness, takes less than five minutes to set up, and comes with a lifetime guarantee!
P.S. – Save a bit of cash in Traveling with our EPIC guide to the best baby Carriers for Hiking!
Best travel hammock under $50
Choosing a travel hammock doesn't have to be a decision between quality, utility, and price thanks to brands such as Wise Owl. Their SingleOwl travel hammock is an incredible offering for the price, at 4.5 feet wide and nine feet long.
It weighs little more than 1 lb, making it extremely light to transport too. The DoubleOwl comes in at just $10 or so more, and gives the space and capacity for a second person to also fit comfortably in the hammock.
Unbelievably, both models by Wise Owl include a pair of weight-tested carabiners and a set of nautical-grade ropes – everything you need to set up your travel hammock without any additional costs!
Is the Wise Owl SingleOwl or DoubleOwl for you?
With the ability to buy a travel hammock at under $50 how can either model by Wise Owl hammock not be for you? If you're in need for a travel hammock that will act as a quick fix to a broken tent or for a couple of nights fun, then you can't go wrong with the SingleOwl or DoubleOwl.
Recommended Article – Take a look at our AMAZING guide about the best travel jackets.
Best travel hammock with stand
One of the lighter travel hammocks with a stand on the market, the Driftsun comes in with a weight of 26 lbs. And while this may sound a lot when compared to the other travel hammocks on our list, do bear in mind it includes the weight of a freestanding steel frame that is strong enough to withstand the hammock's capacity of 450 lbs in weight, equivalent to two adults.
Transportation of the Driftsun's frame and hammock is made all the easier thanks to the included carry bag, and being made from 100% cotton material makes the Driftsun both breathable in the sun and quick drying after rain showers. The frame is adjustable in height to match your own preferences, and is also very easy to set up.
Is the Driftsun hammock with stand for you?
The Driftsun makes an ideal purchase for anyone looking for the relaxation that a travel hammock brings without the extras that come with those intended for camping use. The strong and lightweight frame is all you need to lie back in the sun, just about anywhere you choose!
Editor's Note – You can also check out our article about the best Inflatable Kayaks.
Best travel hammock with mosquito net
In addition to the Lost Valley Outdoor Expedition camping hammock coming equipped with a mosquito net to prevent irritating bites and disturbances to sleep, it also has a capacity of up to 350 lbs, making it a potential option for two smaller adults or an adult and child.
There's a rainfly cover to keep you dry whatever the weather included too, and a design that permits air to flow around the hammock better for improved ventilation.
Like the Active Roots Camping Hammock, it comes with all you need straight out of the box, including a handy internal pocket that will take a cellphone or small flashlight.
Is the Lost Valley Outdoor Expedition hammock for you?
In truth, the Lost Valley Outdoor Expedition hammock is a great option for anyone. The integrated mosquito net and additional rainfly will keep both the weather and creepy crawlies at bay, while a generous weight capacity and good ventilation will also aide an excellent night of sleep!
Editor's Note – You can also check out our article about the best Travel Daypacks.
Most comfortable travel hammock
An intriguing hybrid between a traditional hammock and a standard style of tent, the Lawson Blue Ridge Hammock Tent blends the advantages of both forms of sleeping accommodation to produce what we think is the most comfortable travel hammock out there!
Intended to be hung taught between the trees so form a sort of floating tent, you get a flat surface to sleep on rather than the bumpy ground of a tent or the cradle shape that comes with sleeping in a traditional hammock.
Managing to do this with the support of just two trees (or other stable objects) is incredibly impressive (and patent protected too), before we even mention the Lawson Blue Ridge also comes equipped with a mosquito net and a rainfly.
Is the Lawson Blue Ridge Hammock Tent for you?
If comfort and a sublime night's sleep on a flat surface is the main aim when deciding between travel hammocks then the Lawson Blue Ridge Hammock Tent is definitely the travel hammock for you! Its patented design stretches the base taught while needing just two trees as support to give you a flat base for sleep in addition to the features seen in more standard models of travel hammock.
Recommended Article – have you checked out our article about the best Carry on Backpacks?
The Best Travel Backpack EVER MADE!?!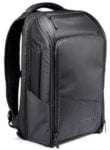 We are obsessed with backpacks – we've tried them all! And our favourite carry on backpack in the WORLD is the Nomatic Travel Backpack. This backpack has revolutionized the backpack industry and will change the way you travel forever :) Check it out here!
Best of the rest
Another brilliant all-in-one hammock which offers all you need right out of the box is the Hennessy Expedition Hammock, which also comes with an incredible pedigree and reputation that stretches back more than 40 years.
Made with a combination of a high density nylon bottom, an integrated mosquito net, and a ripstop polyester rainfly, what really marks the Hennessey out as special is its unique means of entry through the base, using a system of self-sealing Velcro.
A single-person hammock, the Hennessy Expedition Hammock can happily accommodate someone hitting six feet in height, and a weight of 250 lbs. It comes in mid-range at its own weight of around 3 lbs, and can be set up in as little as three minutes.
Is the Hennessy Expedition Hammock for you?
Guaranteed to be durable thanks to its high density nylon bottom and the ripstop polyester rainfly, the Hennnessy Expedition Hammock has been used by amateur and professional campers alike for decades. This has allowed the Hennessy team to perfect their hammock in a way other brands just aren't able to, and it shows!
The Grand Trunk Skeeter Beeter Pro is a good option for anyone looking for a travel hammock for a couple of night's rest in the woods or forests. Weighing in at just under 2 lbs, it's a nice lightweight model for those carrying their gear on their back, yet still manages to have a weight capacity of 400 lbs.
Taking the traditional cradle shape of a hammock when in use, the Skeeter Beeter Pro doesn't form a flat surface, however it is certainly comfortable enough to sleep in.
The camouflage pattern of the hammock bottom will help you blend in all the better with your woodland surroundings, if that's important to you, while the in-built mosquito net will do the job without catching your face thanks to tie supports that keep it raised off the body.
Is the Grand Trunk Skeeter Beeter Pro for you?
The Grand Trunk Skeeter Beeter Pro has plenty to offer campers at its price-point, weighing less than 2 lbs and coming with an integrated mosquito net. Come warmer summer weather you could easily head out as is for a night or two, without the added weight of a waterproof rainfly!
Recommended Article – have you checked out our article about the best Hiking Sandals?
This single-person travel hammock from Hummingbird Hammocks is constructed in the United States of 100% nylon material, making it strong and robust against the elements. But what's truly impressive is the fact the Ultralight weighs in at just over 5 oz, half the weight of many competing travel hammocks.
It packs down to a cube of 4x4x2" too, which together with its weight makes the Ultralight perhaps the very best travel hammock for minimalist campers and those with limited backpack space. This small size certainly hasn't limited its weight capacity however, with the Ultralight capable of easily holding up to 300 lbs.
Is the Hummingbird Ultralight for you?
In need of an ultra light travel hammock for camping or other sporting adventures? Then clearly the Hummingbird Ultralight is a great option for you! Not only does it weigh less than half a pound, but it packs down incredibly small, while offering all you would expect from a travel hammock!
Perhaps the most versatile of travel hammocks on our list, the Clark NX-270 is a four season travel hammock, meaning it will be more than adequate whether its spring, summer, fall, or winter!
Inside the hammock itself there are two useful pockets for smaller items you want to keep close at hand throughout the night such as a cellphone, while there's also an integrated no-see mosquito net, and a breathable waterproof layer than zips over it should the need arise.
Keeping the Clark NX-270 weather proof at any time of year is further supported by the nylon rainfly, while extremes of cold and heat are dealt with by the presence of six insulating pockets.
Is the Clark NX-270 for you?
Professional and semi-professional campers will love the idea of the Clark NX-270, and there's certainly a huge advantage to only needing one travel hammock whatever the weather and whichever the season!
Eagles Nest Outfitters (ENO) are a name to be reckoned with when it comes to camping equipment, and travel hammocks are no exception.
The brand's DoubleNest travel hammock is a really nice option for a couple, or someone who likes a little more space all to themselves.
Yet it remains pretty lightweight, at 19 oz, and folds down from slightly larger than 9 x 6 feet into the provided sack of 5×5 inches. It can take a weight of 400 lbs thanks to its nautical-grade line, aluminum carabiners, and stainless steel snap linkers, and comes in more than 40 different color shades!
Is the ENO DoubleNest for you?
From a fantastic outdoor brand comes another fantastic outdoor product – the DoubleNest! Constructed using high grade materials that are bound to last, yet lightweight and packing down to a very reasonable 5×5", this is a fine choice for couples or single campers.
Recommended Article – Take a look at our AMAZING guide about best Rain Pants!
The triple stitched edge seam and 100% taffeta ripstop nylon means the ARAER camping hammock has no problem in supporting an amazing 660 lbs of weight, plenty of capacity for two people to share. All you need for a night outdoors fits into a bag that all-in weighs just 2.2 lbs. What's more, even a novice is said to be able to set up the ARAER in just a few minutes, making this hammock perfect for those lacking an interest in the mechanics of hammock construction! Finally, ARAER offer a very tempting 100% customer satisfaction guarantee!
Is the ARAER Camping Hammock for you?
For its price-point, the ARAER Camping Hammock seems to offer very good quality, both with the material of the hammock and with the accessory equipment. All-in-one, meaning no further kit is required, this travel hammock will be sure to give you a good night's rest.
Further Recommended – have you checked out our article about the best Travel Strollers?
Which is the travel hammock for you?
An incredible alternative to tents and traditional forms of camping accommodation, travel hammocks need just a couple of stout trees to be a success.
There's no need for flat, level, creepy crawlie free ground, and though a hammock may sound like a technical piece of kit they are actually really easy to set up, taking just minutes.
We've brought the best travel hammocks all in one place, to make comparison and the decision-making process all the easier for you. So having read our thoughts, which is the travel hammock for you?
Editor's Note – No matter where you are traveling, you NEED to have great travel insurance. We have personally tested TONS of travel insurance companies, and can say without a doubt that World Nomads is the absolute best (and most affordable!). Fill out the form below to get a quote.
***Disclaimer*** Some of the links in this post are affiliate links. This means that if you book your accommodation through the site, One Weird Globe will earn a small commission at no extra cost to you. Your support helps me keep the site going :)
Latest posts by Clair Ricketts
(see all)