Buying the best ski jacket for you isn't just a matter of picking the color you like most. Whether you're heading out skiing for the first time, or a season after season veteran returnee, you'll need to make the decision between a shell jacket, providing a good degree of versatility on the slopes, an insulating jacket to keep the cold at bay, or a combination three-in-one jacket that does a bit of both.
Sounds complicated? It isn't really! Our review of the best ski jackets includes all three major types, so you can decide which matches your personal preferences best!
Quick Summary: The Best Ski Jackets
Best ski jacket for women
The sister ski jacket of Arc'teryx's Sabre jacket for men, the Sentinel is a great all-round jacket for the slopes, and as a result, takes the honored title of our best ski jacket for women.
Belonging to the shell type of ski jacket, it includes some insulation in the form of a thin fleece backer. From one of the best high-end brands around, you won't be surprised to learn the Sentinel has excellent manufacturing quality, and a great body fit too.
Made up of a three-layer Gore-Tex foundation, it has the additional fleece backer for insulation and comfort. There's an easily adjustable hood should the weather get really bad, and pit zippers help you control your heat levels inside the jacket.
Is the Arc'teryx Sentinel for you?
This fantastic all-rounder ski jacket for women from Arc'teryx is the perfect accompaniment for your next ski trip. Offering the right balance between maneuverability and layering, it's seriously difficult to find fault with the Sentinel. Arc'teryx has done it again!
Best ski jacket for men
The Thermoball Snow Triclimate by North Face is not your average three-in-one ski jacket, that's for sure! Forget any thoughts you might have about three-in-ones being bulky and shapely because the Thermoball manages to maintain a good body line even without the removable insulating layer attached.
It also offers pit zippers to help with temperature regulation, and continues its insulating properties even when wet thanks to the use of synthetic rather than down insulation.
A hood with high mouth shield and draw-string tighteners will also help keep the warmth inside, as will the Velcro closure cuffs. The Thermoball also has a couple of zippered pockets on the front of the jacket for those smaller items you might want to take with you.
Is the North Face Thermoball Snow Triclimate for you?
If you're in the marketplace for a men's three-in-one ski jacket its difficult to bypass the Thermoball Snow Triclimate for anything else. Insulating but not overly bulky, and with the added advantage of continuing to insulate even when wet, we think the Thermoball range would rapidly become your go-to choice after trying out this ski jacket!
Recommended Article – Every traveler needs a great daypack – check out the best one's here!
Best ski jacket for big guys
It's not always easy finding a ski jacket if you're a bigger or taller guy, but Arc'Teryx has stepped forward with the Beta AR, available in sizes up to XXL.
But this isn't some market filler without real purpose, the Beta AR uses three-layer Gore-Tex Pro of lightweight ripstop fabric in the main body of the jacket and a stronger reinforced fabric in areas known to see the largest amounts of wear.
Both wind proof and rain proof, these features are helped all the more by a drawstring hem that further reduces the chances of any cold air reaching your body, and pit zippers that are water tight in their integrity. Its hood is completely compatible with ski helmets, and there's even a separate collar to keep you warm whether the hood is up or down!
Is the Arc'teryx Beta AR for you?
The truth is, if you're a big guy you don't have a lot of options when it comes to ski jackets! However, irrespective of its size range, the Arc'teryx Beta AR is a great ski jacket, and wouldn't have trouble finding its way onto our list of the best the market has to offer. Durable and weather proof as you'd expect, the Beta AR is another great ski jacket from a brand that seems to be able to do no wrong!
Recommended – Like kayaks? We made a list of the best inflatable kayaks on the market!
Best ski jacket for under $200
The Bugaboo II Interchange by Columbia is of the three-in-one design, which means you're all set to have a great time skiing for less than $200 all in!
Available for men and women, not only will this jacket keep you protected from wind, rain, and snow thanks to its weather resistant outer shell layer, but it will also keep you toasty and warm as a result of its insulating Omni-Heat reflective lining layer.
Though not as well fitting to body shape as some other three-in-ones on the market, it does have a nice high collar to keep the drafts from diving down your neck, and a hood too. A zipper shield stops heat escaping from that potential route, while you can tighter the cuffs thanks to some Velcro tabs.
Is the Columbia Bugaboo II Interchange for you?
There are good reasons for opting to purchase the Columbia Bugaboo II Interchange that don't have anything to do with its price point, and those starting out or those who only manage a few weekends a year on the slope could do much worse for a lot more money!
Editor's Note – Have you checked out our post about the most AMAZING tandem kayaks?
Best high-quality ski jacket
We've already sung the praises of Arc'teryx's superb quality workmanship, and the construction of the men's Macai and women's Andessa is no different.
This hardshell design ski jacket is everything you could ever want from such a piece of kit: its warm, comfortable to wear, and a good fit too. The build quality of this jacket means it will outlast the weather however often you hit the slopes, and its designed in such a way that it gives users a full range of movement.
Should you wish, you can slip enough insulating layer beneath without affecting the jacket's dynamics, but with goose down around the sleeves and core to keep bulk to a minimum and synthetic down in areas most likely to get wet but still need warmth, we don't ever see that being a problem anyway!
Is the Arc'teryx Macai / Andessa for you?
If a high-quality ski jackets what you're after, you've found it! With workmanship that is the envy of other brands the world over, the Macai and Andessa by Arc'teryx are going to last for season after season. Suitable for even the coldest of pistes, the initial outlay may be large, but so are the rewards for choosing one of the best ski jackets on the market!
The Best Travel Backpack EVER MADE!?!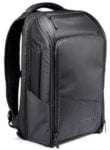 We are obsessed with backpacks – we've tried them all! And our favourite carry on backpack in the WORLD is the Nomatic Travel Backpack. This backpack has revolutionized the backpack industry and will change the way you travel forever :) Check it out here!
Best ski jacket for kids
Coming in a wonderful range of colors and designs so no child can claim it isn't for them, the PHIBEE snowboard and ski jacket is made up of a waterproof laminate outlayer to keep the user dry, and an insulated lining system to keep them warm too.
There are multiple zippered pockets, including a forearm pocket, to help keep everything you kid might need secure even on the bumps of the slopes or half-pipes, and a concealed snow skirt to enhance the fit while sliding over the powder.
The removable hood simply zippers on and off, and is large enough to fit over a helmet too.
Is the PHIBEE Waterproof Breathable Snowboard Ski Jacket for you?
This kids' ski jacket has rightly been receiving rave reviews right, left, and center. Whether it's the waterproof outer layering of the warming insulating layer beneath, parents adore this PHIBEE snowboard and ski jacket. Importantly, the kids seem to love it just as much!
Editor's Note – Travel towels are game changers. Check out our round up of the best travel towels!
Best of the rest
This insulated hardshell by Helly Hanson boasts 80g PrimaLoft Black insulation in its body and sleeves, beneath a stretchy shell fabric.
This creates a good combination of warmth at times when you may be in the mountains but not doing too much physical activity, and those times when you're already warmer from the exertion of skiing.
Meanwhile the stretchy hardshell outer provides a good degree of movement, so you won't feel bound or held back. Pit zippers help with breathability, and there's also a hidden powder skirt, a good number of pockets, and an adjustable hood too!
Is the Helly Hansen Alpha 3.0 for you?
The Alpha 3.0 by Helly Hansen offers a good compromise between the hardshell side of the market, and the insulting jacket side. Providing enough insulation to keep the chill out while giving you good flexibility and movement thanks to its stretchy material construction, this is a jacket which will suit many.
This shell type of ski jacket by Outdoor Research has a good body-hugging figure, particularly when compared against those hardshells that have added insulation.
To aid flexibility and freedom of movement on the piste there are areas of Gore-Tex with added Stretch Technology spread over the shoulders, hood, and beneath the arms – those areas where you need the most maneuverability.
Capable of keeping out both wind and rain or snow, there are large TorsoFlo pit zippers that stretch from the armpit to the hem of the jacket for getting rid of excess heat as quickly as possible.
Is the Outdoor Research Hemisphere for you?
A good degree of weather protection, and added flexibility thanks to those panels of extra special stretchy Gore-Tex, the Hemisphere by Outdoor Research is another winner in our minds! Though it will never satisfy anyone looking for an insulting jacket, shell jacket lovers will sing its praises time and time again.
Though the Micro Puff Storm sits at the lower end of the Patagonia range, this doesn't mean that you should toss it aside in search of an alternative.
For a start, the Micro Puff Storm comes with a lightweight two-layer waterproof structure that uses the industry standard H2No shell fabric, making it weather proof and breathable at the same time!
It also comes with PlumaFill synthetic insulation in the body, which replicates the natural structure of down for the feel of down while also offering warmth when wet. Other nice features include seamless shoulders to reduce the risk of rubbing, and an internal snow skirt to minimize any drafts.
Is the Patagonia Micro Puff Storm for you?
This lightweight, waterproof, and breathable insulated skiing jacket fills the needs of just about every skier going! Its lightweight nature means you can happily wear it out all day, its two-layer water proofing will keep you dry whatever the weather, and its synthetic down-like insulation will keep you warm even if you do get a little wet!
P.S. – Protect your cash while traveling with our EPIC guide to the coolest travel money belts!
If you're looking for an uninsulated shell, how about the Higgins 2.1 by Flylow? Soft and therefore very comfortable to wear, the Higgins won't impair your movement thanks to its stretchy fabric make-up.
But in addition to this, it also has a three layer waterproof yet breathable construction finished with full seam taping. A longer cut provides more than enough coverage, while there are also five roomy pockets good enough to make this a touring jacket.
The Higgins also comes equipped with pit zippers, so you won't find yourself overheating after an exertive run either!
Is the Flylow Higgins 2.1 for you?
This reasonable priced shell ski jacket from Flylow offers shell jacket fans a comfortable wear, good flexibility and great waterproofing. Breathable too, especially with the pit zippers open, the longer cut provides additional protection so you can stay out longer on the ski runs.
Another uninsulated shell, the Mission by Black Diamond is a tough and durable ski jacket if ever there was one. Comprising of a 70 Dernier construction and super strong three-layer Gore-Tex, it reacts well whatever the weather decides to throw at it.
But the Mission also manages to be comfortable to wear, and is made even more so by touches including the collar being lined with tricot, so that you don't get raw or chaffed skin where it might rub.
Though slightly heavier than competitor models, we like the quirkier touches such as the diagonal zipper on one arm, while many regular skiers will like the looser cut that the Mission offers.
Is the Black Diamond Mission for you?
The Mission ski jacket is a tough little number from Black Diamond, so if you're looking for something to last in even the toughest of piste conditions this is a jacket you know you'll be able to rely on. Added to this is the comfort of the tricot-lined collar, and a looser cut – which you'll either love or hate!
Ready for the slopes?
There are a huge number of ski jackets out there, coming from all the market leaders. What's more, there are three different types of ski jacket to decide upon too: shell, insulating, or three-in-one.
So how do you ever go about choosing the best for you? Hopefully, we've solved that little problem with our extensive review!
Editor's Note – No matter where you are traveling, you NEED to have great travel insurance. We have personally tested TONS of travel insurance companies, and can say without a doubt that World Nomads is the absolute best (and most affordable!). Fill out the form below to get a quote.
***Disclaimer*** Some of the links in this post are affiliate links. This means that if you book your accommodation through the site, One Weird Globe will earn a small commission at no extra cost to you. Your support helps me keep the site going :)
Latest posts by Aiden Higgins
(see all)