Phuket is a bucket list destination for most travelers! This island paradise in Thailand boasts picture-perfect beaches, a vibrant and unique culture, a historical old town, delicious food, and an overall sense of fun!
To see the most that Phuket has to offer, consider taking some tours from the island. Whether you choose to go on short tours to discover more of Phuket or use the island as a base to see more of Thailand, you will be in for a treat.
Here is our guide to the best Phuket island tours. We hope that they help you to experience this destination to its full extent!
• The 21 Best Tours in Phuket •
$$$$
9 hours
Visit 4 different Thai islands
Travel in style by luxury speedboat
One of the main attractions in Phuket for many visitors is the incredible surrounding islands! Consider this Phuket island hopping tour for an unforgettable experience!
Your speedboat will take you from Phuket to the Phi Phi Islands for a day of fun! Visit Maya Bay, famed for being the location of the film "The Beach". From there you will still visit the stunning Bamboo and Maiton islands. For some serious island-style fun in the sun, take this exciting tour.
$$$$
5 – 6 hours
Spend some time up close with elephants
Learn all about the local elephants and their behavior
Thailand is home to a population of gentle, giant elephants. Visit this ethically-run elephant sanctuary to spend some time enjoying these amazing creatures.
Your guided tour of the sanctuary will involve feeding the elephants, swimming with them, giving them a mud bath, and more! You will get to learn all about the history and behaviors of these animals, as well as the importance of ethically run sanctuaries like this. The half-day visit includes a delicious local lunch.
Editor's Tip: make friends by staying at a cool hostel in Phuket!
$$$
5 hours
Explore various Phuket landmarks
A professionally guided small group tour
Take this tour of Phuket island to discover some of the best things to see and experience here! This 5-hour tour is guided by a knowledgeable local who will teach you all about the most important sites and attractions on the island.
Visit the Big Buddha, Chalong Temple, Phuket Old Town, amazing viewpoints and more! This tour is a fantastic way of getting a better understanding and feel for the sights and culture of the island.
The sights in Bangkok are amazing – check out the coolest tours in Bangkok!
$$$
10 hours
Visit the iconic James Bond Island
Explore plenty of interesting island attractions along the way
Taking a tour to James Bond Island is a must do for Phuket visitors! This tour allows you to see some of the best island attractions and sights all from a traditional longtail boat.
The tour includes paddling around the sublime blue waters by sea kayak, visiting the famous monkey cave, a stunning fishing village for lunch, witness the reclining gold Buddha, and more! This full-day tour is a fantastic island hopping experience!
$$$$
8 hours
Take your pick from a variety of watersport activities
Enjoy a fun boat trip around Koh Racha Yai
If you're looking to have some fun in the crystal clear island waters, then this is one of the best Phuket boat tours! Enjoy a cruise aboard a comfortable boat as you head towards the island of Koh Racha Yai.
Once there, take your pick from a variety of fun water activities! These include snorkeling, kayaking, water sliding, or even scuba diving! All of this is guided by a certified and qualified instructor.
Not finding the right hostel? Phuket has a selection of party hostels too!
$$$
6 hours
Watch the award-winning Siam Niramit show in Phuket
Tour includes hotel transfer service
The Siam Niramit show is a breathtaking performance featuring over 100 performers! This magical experience is a great way to learn about Thai history and culture through an entertaining show in Phuket.
Your trip here includes a delicious, authentic Thai dinner buffet, and round trip transport. This is a fantastic way to experience the local cultural heritage, history, religion, music and more!
Have an early flight? Book a hostel near Phuket AIRPORT to have a stress-free morning!
$
4 hours
Visit some of the best bars in Phuket
Receive free drinks throughout the night
Phuket has a lot going on, with its party scene being a total highlight! Take this bar crawl in Phuket to discover the best places to drink, party, and meet people on the island!
The tour includes 2 of the top bars on the island, as well as a visit to a fun nightclub! You will receive free shots throughout the night and will get to party with people from all over the world. Your expert guides will give you some great insider tips on the best places to party on the island.
$$$$
5 hours
Swim, snorkel and relax on Banana Beach
Enjoy a speedboat transfer to the island
For the ultimate relaxation in Phuket day trips, consider taking this tour to Banana Beach. Banana Beach is one of the most beautiful and secluded island destinations – a total paradise for a day in the sun.
Choose to relax on the beach, go kayaking in a glass-bottomed kayak, snorkeling in Coral Bay, or swimming in the warm waters. Your tour includes a premium lunch at the waterside Hornbill Restaurant.
$$$$
4 hours
Learn how to cook authentic Thai dishes
Pick fresh ingredients from the garden and local market
Thailand is famous for its incredible food, and many visitors would love to learn the secrets behind this cuisine. This Phuket tour allows you to do just this with a 4-hour cooking class and market tour!
You will be guided around the local market where you can learn all about the fresh ingredients and local produce. Afterward, your expert cooking guide will teach you some authentic Thai recipes and kitchen secrets.
Will you be in Bangkok a while? Here's your guide to the top day trips from Bangkok for exploring the area!
$$$$
4 – 8 hours
Explore Phuket at your own pace
Choose your own itinerary
To experience Phuket in absolute style, book this private car with a knowledgeable English-speaking driver. You will be able to visit all of the best attractions across the island without having to worry about other tourists or delays.
Your local driver will be able to inform you on the best itinerary to suit your personal tastes. You will get some great insider knowledge, without the hassle of an organized group tour.
$$$
1 full day
Experience some exciting outdoor adventures
Visit a stunning waterfall and monkey cave
For some thrills in Phuket, take this full-day adventure tour on the island! The tour will have you river rafting down some white water rapids, ziplining along lush jungle treetops, and swimming underneath an amazing waterfall!
Along the way, you will get to stop into a monkey cave at Suwan Kuha Temple. This cave also houses a 15 m long reclining Buddha image. Choose this tour for some of the best thrills in Phuket!
$$$
1 – 2 hours
Navigate thrilling terrain on a quad bike
See some awesome sights along this adventure
For a fun way of exploring Phuket's natural beauty, try this quad bike tour! You will ride through the muddy trails of the mangrove forests guided by a local expert. Experience the untamed rainforests from a thrilling perspective.
Discover a hidden, unspoiled beach along the way of your fun ride. This tour is perfect for anyone aged 8 and up!
Thailand is big! You'll have to prioritize which places to visit when you go!
$$$$
9 hours
Discover the breathtaking islands of Phang Nga Bay
Kayak around the clear blue waters guided by an expert
This Phuket island tour offers an unforgettable experience exploring some iconic islands by kayak! You will get to paddle around Ao Phang Nga National Park where you can explore sea caves, internal lagoons, beautiful beaches, and amazing limestone rock formations.
This full day excursion will take you past the famous James Bond Island, as well as a memorable stop on Hong Island. Boat trip and lunch included.
MUST READ! We've organized the best places to stay in Phuket for all types of trips!
$$$
4 hours
Taste 15 of the best dishes in Phuket
Learn about the interesting culinary traditions of the area
If you love food, and want to learn more about Thai cuisine, then this food tour is essential! Enjoy this 4-hour tour around the Phuket Old Town, where you'll get to sample 15 different dishes.
Learn all about the unique food culture of the island, and discover the many traditional and authentic dishes that Phuket has to offer. Be sure to arrive hungry!
$$$$
8 hours
See the top attractions and sights in Phuket
Learn all about the interesting culture and history of the island
This small group tour is the perfect way to discover the magic of Phuket! Your friendly knowledgeable guide will take you to see the most important sites and attractions around the island.
Between the major points of interest, you will get to learn about the unique architecture, the Sino-Portuguese history, and have time for a leisurely lunch. The tour ends at a local distillery where you will get to enjoy a rum cocktail!
$$$$
11 hours
A total beginners course in diving
Includes 3 dives in incredible locations
If you would like to learn the basics of scuba diving and how to use the gear, try this PADI Discover 3 dive tour from Phuket! It would be tough finding a more beautiful place to learn how to scuba dive than the warm waters of Racha Noi and Yai.
The experienced, qualified instructors will teach you everything you need to know. All you need to do is enjoy the amazing marine life that the Andaman Sea has to offer!
See the hidden gems of Chiang Mai! With the best tours and sights in Chiang Mai!
$$$$
10 hours
Cycle along the idyllic Andaman coastline
Visit a turtle sanctuary and a beautiful waterfall
Exploring Phuket by bicycle is one of the best ways to see the island! Take this bike tour along the stunning coastline to witness some of the best sights in Phuket!
Enjoy the fresh air as you cycle past beaches, lush forests, and through local villages. You will enjoy a tasty lunch at a beachside restaurant before seeing turtles in a brilliant sanctuary. Finish off the tour with a swim underneath a big natural waterfall!
$$$$
12 hours
Set sail across the pristine Andaman coastline
Enjoy warm clear waters, hidden beaches, and fantastic swimming
There's no better way of experiencing the Phuket coastline than through a relaxing cruise. This Phuket day trip is suitable for anyone wanting to see the best that the Andaman Coast has to offer!
Sail through turquoise waters, and discover the many charming bays, coves, and beaches along the island. Swim and snorkel from the boat, and enjoy a delicious lunch buffet during the cruise.
$$$$
8 hours
A fun day of relaxing on the beach and enjoying a stunning island
Enjoy some fun watersports during this tour!
Coral Island is one of the most picture perfect places near Phuket. If you are looking to enjoy some island relaxation and fun, then this is one of the best Phuket tours out there!
The tour includes underwater walking with a bubble mask, a cruise to Ko Hey Island, a leisurely exploration of Coral Island, and a delicious lunch. This is the perfect relaxing day out from Phuket.
$$$$
9 hours
Spend a day on idyllic Maiton Island
Spot dolphins jumping out the water and enjoy some snorkeling
When looking at tours in Phuket, there is a great number of island excursions. For those wanting to experience one of the best islands in the area, this is a top tour option!
Spend the day on Maiton Island – a beautiful paradise! Spend some time relaxing on the white sandy beaches, swimming in the crystal clear waters, and snorkeling with the fishes. On clear days, you should be able to spot dolphins jumping out of the water as you cruise past the islands.
$$
6 hours
Experience lesser seen sights around Phuket
Cycle through the islands beautiful natural landscapes
Escape the buzz of the busy beaches and town, and enjoy a peaceful bike ride out in nature. This is one of the best tours in Phuket for those wanting to experience a quieter side of the island that most tourists don't get to see.
You will cycle past a stunning waterfall, a gibbon rehabilitation project, and an unbeatable viewpoint! If you are worried about the cycling aspect, there is a backup bus if needed.
FAQs
Now that you know about what tours to take in Phuket, it's time to make sure you are ready for them! Here are some common questions around tours on this island.
How do I book a Phuket Tour?
With all of the different tour operators and tourism hubs in Phuket, it can be difficult to know where the best place to book your tour is. Our favorite, safest option would be through a site like getyourguide.com. This way you just need to book online and everything else will be sorted out!
What should I pack for a tour in Phuket?
Thailand is hot and humid, and most tours in Phuket involve some outdoor activity and the ocean. Therefore, be sure to pack comfortable clothing that may get wet! Sunglasses, a hat, sunscreen, swimming costumes, and comfortable shoes are always a good idea here. Bringing along bottled water also comes highly recommended.
How much money do tours in Phuket typically cost?
Tour prices in Phuket vary pretty widely depending on what the tour involves. Most tours offer great value though, with private transportation, professional guides, activities, and food included. Prices of tours in Phuket generally cost anywhere between $25 – $70.
How much time do tours in Phuket last?
Phuket has a wide range of tours available to suit all kinds of schedules. You can choose from half day tours, full day tours, or short tours. Generally, these tours are anywhere between 3 – 10 hours.
Final Thoughts on Phuket Tours
Traveling to Phuket is a big adventure, and it should involve all kinds of fun! While it can be great to just sit back and relax on the island's beaches, taking some tours from Phuket will really make your stay far more memorable!
Whether you are looking for day trips from Phuket, the best Phi Phi island tour, or fun ways to explore the old town, there is a tour suitable for you. We hope that this guide helps you to make the most out of your trip to Phuket!
***Disclaimer*** Some of the links in this post are affiliate links. This means that if you book your accommodation through the site, One Weird Globe will earn a small commission at no extra cost to you. Your support helps me keep the site going :)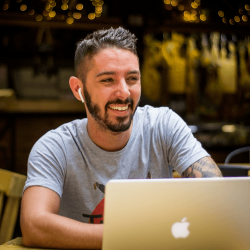 Latest posts by Aaron Radcliffe
(see all)