With stunning beaches and a laid-back small-town vibe, Marco Island on Florida's southwest coast is truly an idyllic antidote to your frenzied lifestyle. Perfect for the adventurous, the island overflows with fantastic water-based activities, including canoeing, kayaking, dolphin watching and boating. 
But, finding the right place to stay in Marco Island can be tricky. That's why we've crafted this detailed and informative where to stay in Marco Island travel guide, designed for anyone visiting it for the 1st time or the 12th time. 
From luxurious resorts to budget-friendly vacation rentals, our recommended places to stay in Marco Island are sure to fit your taste and budget. What's more, we're throwing in some tips to make trip planning a breeze. So, let's get started! 
Quick Tips – Where to Stay in Marco Island?
Where to stay in Marco Island for your first visit – South Coast
Best area in Marco Island close to everything – North
Where to stay in Marco Island for families – East Side
Highlights of Where to Stay in Marco Island
Best Airbnb in Marco Island
A stay at this beachfront property is a dream come true for Instagram junkies and photographers. With its spectacular views of the sunset and immaculate white sand, this condo unit is sure to mesmerize you.
Not to mention, it has a convenient location and has scores of convenient in-room amenities.
Best High-end Airbnb in Marco Island
South Seas 4 1905 will enthrall you with its sleek, stylish and contemporary design. Heck, there are even artistic touches to add more flair and style to this property, like the hanging geometric light and colorful artwork.
Spotless and incredibly clean, this 2-bedroom suite is incredibly comfy and a peaceful retreat after a day of non-stop sightseeing in Marco Island.
Best Hotel in Marco Island
When it comes to luxurious hotels in Marco Island, Marriott's Crystal Shores is second to none. For years, this lavish haven has been luring visitors with its top-notch service and remarkably comfortable villas.
There's also direct beach access, a couple of swimming pools and a slew of other fabulous amenities.
Marco Island Area Guide
Finding the best places to stay in Marco Island can be a little challenging and tricky. Although the options for hotels are limited, it's packed with vacation rentals, ranging from condo units to upscale apartments. 
But, luckily for you, we can help you figure out the right base for your Marco Island vacation. If it's your first time visiting the island, we recommend that you stay at the South Coast. Not only is it a convenient area, but it also has a ton of options suited for all budgets. 
Not to mention, it gives you direct access to the beach and an array of restaurants. 
The North area is a superb choice for those who want instant access to everything. From beaches to nearby cities, everything is within easy reach from this area in Marco Island. And, did we mention that it has some amazing attractions too? 
For families, there's no better place to stay in Marco than the East Side. With an easy-going ambiance and an abundance of parks, this area is the recipe for a fun and relaxing family adventure. 
3 Best Areas to Stay in Marco Island
Searching more options? Looking for a base that fits your style and needs? Then, spend some time reading our recommendations. 
Neighborhood#1 – South Coast
Where to Stay in Marco Island for a First Visit
COOLEST thing to do in the South Coast – Relish the coastline's soft sands and crystal clear waters
BEST place to visit in the South Coast – South Marco Beach 
Marco Island's South Coast is a slice of paradise on earth. As a matter of fact, it's often named as one of Florida's most gorgeous coastline stretches. With clear azure waters and soft white sands, this neighborhood is a prime location for sunbathing and swimming. 
Furthermore, it's a terrific spot for beach games, water sports, and shelling. And, did we mention that the views in this area are nothing short of breathtaking and Instagram-worthy? Of course, the area has all the conveniences and amenities you need for a pleasant stay with the family. 
As for the accommodation, you'll find plenty of cushy and incredible choices near the coastline.
More awesome things to do and see in the South Coast
Head to the Caxambas Park and Marine, and charter a boat ride to the famous Ten Thousand Islands

Spend a few hours exploring the amenities and features of the Otter Mount Nature Preserve

Stop by Winterberry Park, and see a couple of local baseball teams playing

Traveling with a pooch? Guess what? You and your furry friend can have a blast at the pet-friendly and unique Canine Cove Dog Park

Satisfy your taste buds with a mouth-watering and filling burger at Sunset Grill. Besides its classic pub eats, it's also a nice and inviting place to relax, cool down and catch a game
Best Airbnb in the South Coast
It doesn't get better than this beachfront accommodation! With a roomy balcony, this condo will captivate you with its stunning Gulf Coast view. Since this accommodation has a favorable location, it will also give you an entertaining vacation in Marco Island. 
At this unit, you'll have endless options for adventure. From here, you can tour the Everglades in an airboat, snorkel or play golf.
Don't stay in the city too long! Take one of these great day trips from Marco Island to see more of the area!
Best High-End Airbnb in the South Coast
Suitable for a group of 6, this cushy and gorgeous vacation rental is literally minutes away from the beach and other Marco Island attractions. 
What's more, this Airbnb has a host of convenient amenities, including a heated swimming pool, Wi-Fi, a fully-equipped kitchen, and sun deck loungers. Best of all, this vacation rental has well-furnished bedrooms.
Best Budget Hotel in the South Coast
You don't have to spend a fortune to enjoy a beachside retreat in Marco Island. At Sea Winds, you'll enjoy a private beach area and fabulous sea views, for a rather affordable price. To make things even better, the hotel has a bevy of facilities that will ensure a comfy stay. 
Our favorites include an outdoor swimming pool, a kitchen with a fridge, a sauna, and a hot tub. 
Editor's Note: If you'll be in Marco Island, check out the top things to do in Marco Island during your visit!
Best Luxury Hotel in the South Coast
With direct access to the gorgeous South Marco Beach, this luxury hotel will amaze guests with its awe-inspiring vistas of the Gulf of Mexico. You'll definitely love the resort's refreshing pools as well as the high-speed complimentary Wi-Fi throughout the property. 
As for the accommodations, the resort has deluxe 2 and 3-bedroom seaside villas, equipped with spacious bedrooms, living areas and kitchens.
Neighborhood#2 – North
Best Area in Marco Island Close to Everything
COOLEST thing to do in the North Side – Venture into the nearby reserves and islands by kayaking
BEST place to visit in the North Side – Tigertail Beach 
If you're looking for a more raw and authentic experience, stay on the North Side of Marco Island. Home to the famous Tigertail Beach, North Side's attractions are less developed and more pristine than their southern counterparts. 
For adventure junkies, this area in Marco Island overflows with exciting activities and sights. There are even tons of marinas where you can kayak or boat your way to the other regions of South Florida. 
It's a pretty convenient area too, with easy access to markets, restaurants, and boutique stores. When it comes to accommodation, you'll find a healthy mix of budget-friendly hotels and cool Airbnbs here.
More awesome things to do and see in North Marco Island
Relax or indulge in a variety of activities at one of Marco Island's most secluded beaches, Sand Dollar Island

Go on a kayaking or boat trip to Keewaydin Island or Rookery Bay National Reserve 

Rent a bike at Island Bike Shop and explore the island. Alternatively, you may join the shop's guided bike tours of this region in South Florida

Play a round of golf at Hideaway Beach Golf Course

Grab some fresh local produce and tasty culinary goodies at Marco Island Farmers Market on Wednesdays

Get some retail therapy by going on a shopping area at Esplanade Shoppes plaza. There are also tons of upmarket restaurants that will delight your taste buds at this plaza
Best High-End Airbnb in the North
South Seas is, no doubt, an excellent base for anyone vacationing in Marco Island. Situated near Tigertail, this vacation rental guarantees to give you a heavy dose of Vitamin Sea. 
Sleek, modern and upscale, this Airbnb is a more budget-friendly alternative to the luxury resorts in Marco Island as well.
Best Airbnb in the North
Paul's Apartment is an affordable choice for those who want to stay near Tigertail Beach. Even with its convenient and favorable location, it's a bit more affordable than its Airbnb neighbors. It also has some sweet views of the Gulf and the beach. 
On top of it all, it has sleek furnishings and is extremely comfortable.
Best Budget Hotel in the North
The Boathouse is one of the most extraordinary hotels in Marco Island. Nestled in the northern tip of the island, this hotel lets you spot a bunch of manatees and dolphins from the comforts of their private dock. 
There's also an outdoor pool with an eye-catching sun terrace. To top it all off, the hotel is fairly secluded and serene.
Neighborhood#3 – East Side
Where to Stay in Marco Island for Families
COOLEST thing to do in the East Side – Take a day trip to Naples or Goodland 
BEST place to visit in the East Side – Winterberry Park 
Truthfully, there's no bay or beach in Marco Island's East Side. But, guess what? It's home to dozens of charming waterways and canals. And, don't worry about the beaches because there are so many of them within easy reach from Marco Island's East Side.
Surrounded by several keys and islands, this area also has eye-catching scenery. With plenty of nearby parks, this area is more suitable for families with younger kids. 
Accommodation-wise, you won't find a lot of hotels on the East Side. On the bright side, it houses numerous luxurious waterfront vacation rentals. Amazingly, some of them have their own boat docks.
More awesome things to do and see in the East Side
Spend an afternoon at Frank E. Mackle Community Park, where you and your kiddos can play sand volleyball, basketball, bocce, and shuffleboard. There's also a splash pad, a pirate-themed playground and a small lake in this verdant family-friendly park

Discover the island's fascinating and intriguing history with a visit to Marco Island Historical Museum. For everyone's favorite price of zero dollars, you can explore this museum and admire a ton of exceptional and educational exhibits

Play a round of golf at the verdant Island Country Club

Shop til you drop, and hunt for great shopping finds at Marco Town Center Mall

Enjoy a picnic, and soak up the relaxing atmosphere of the overlooked Leigh Plummer Park
Best Airbnb in the East Side
Set right in the heart of Marco Island, this vacation rental is minutes away from all the modern-day conveniences. Shopping boutiques and restaurants? Check! Beach? Yep! Trust me, you can easily access everything from this studio. 
Great location aside, the studio also has a kitchenette, a Smart TV with Netflix and a private courtyard. The price is unbeatable too.
Best High-end Airbnb in the East Side
There's no Airbnb on this side of Marco Island quite like this 3BR Beach House. Featuring a pool and a volleyball net, this vacation rental has a bunch of amenities that will appease guests of all ages. It also provides instant access to Mackle Park, the beach, and the town center.
Best Hotel in the East Side
With spacious suites and villas, this budget-friendly hotel is truly a terrific choice for families and groups. Rooms are easy on the eye too, thanks to traditional designs and light-colored furnishings. The amenities are superb, and the location is exceptional. 
From the hotel, you can easily reach Marco Town Center Mall in less than 10 minutes on foot.
Final Thoughts on the Best Places to Stay in Marco Island
Don't let Marco Island's size deceive you! Sure, it's a bit small, compared to the other places to visit in Florida. But, it's filled with adventures and diversions that will keep you occupied for days.
From a therapeutic day at the beach to salty and sunny boat rides, the possibilities for leisure and adventure in Marco Island are seemingly endless. Hopefully, these tips and recommendations will help you experience an epic vacation on this island. 
Is there something that you'd want to share with us? Please let us know via the comment section below!
***Disclaimer*** Some of the links in this post are affiliate links. This means that if you book your accommodation through the site, One Weird Globe will earn a small commission at no extra cost to you. Your support helps me keep the site going :)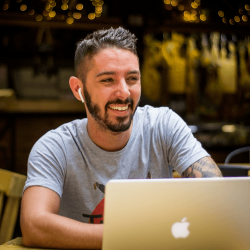 Latest posts by Aaron Radcliffe
(see all)