Getting a good night's rest while traveling can be a real problem. Whether by road, rail, sea, or air even dedicated overnight transport is not only unfamiliar but also noisy. There's the limited amount of room to think about – unless you're lucky enough to be traveling business class – and the fact you'll most likely be sitting in a relatively upright position to consider. Then there are the hotels, offering all manner of overused pillows!
The good news is that there are buckets of different travel pillow designs out there! The bad news? With so many alternate designs to choose between, how do you ever pick one? And how do you know it's going to suit your particular way of sleeping?
That's where we come in! Here we share our knowledge of the best travel pillows the market has to offer at this moment!
Quick Summary: The Best Travel Pillows
Best travel pillow for long flights
You've a long flight, and you want to sleep well so you're fresh and ready the moment you step off the aircraft, rather than existing in a drowsy state of half-sleep and half-wakefulness for the next couple of hours.
At first glance, the Trtl Pillow Plus might not look like the sort of travel pillow that's going to give you a great number of zzz's on a long flight – it hardly looks like a travel pillow at all – but looks can be very deceiving!
The lightweight and soft to the touch fleecing of the Trtl wraps around the neck rather like a scarf, while the incorporated plastic head support rests on one shoulder or the chest to keep your head upright whatever your usual sleeping position. Being scarf-like, it also packs away very well!
Is the Trtl Pillow Plus for you?
If you've tried the standard design of travel pillow in the past without much success, perhaps its time to try something new and novel. The Trtl Pillow Plus keeps your head in a natural upright position thanks to its inbuilt plastic support ribs while remaining soft and comfortable to the touch.
Editor's Note – Carry on backpacks are game changers. Check out our round up of the best carry on backpacks!
Best travel pillow for hotels
Wouldn't it be great if you could take your own pillow with you when away on vacation or for work, without it taking up your entire luggage allowance? Then you could do away with the possibly ill-suited hotel offering and get a good a night's sleep as at home!
The Therm-a-Rest Compressible travel pillow might solve the problem for you. It's a standard rectangular pillow sure, but the four-inch thick foam filling easily compresses down for when it's not being used.
Being foam, it's also very lightweight, while the brushed polyester cover is not only soft on the skin, but also machine washable too! The Therm-a-Rest Compressible is available in four sizes, and numerous colors.
Is the Therm-a-Rest Compressible for you?
We love the fact the Therm-a-Rest Compressible travel pillow takes the rectangular form of a traditional bed pillow, meaning no unusual feelings or sensations around your head or neck. Small enough and light enough to take just about anywhere, there's no longer any need to have a nightly flight with that hotel pillow!
Recommended – Like ski jackets? We made a list of the most awesome ski jackets on the market!
Best travel pillow for kids
To give your children – and therefore yourselves – a good night's sleep you're going to want a travel pillow that's simple and easy to use. You're also going to need a travel pillow specifically designed for kids or they're not going to get the neck support they need.
The BCOZZY kids chin supporting travel pillow meets both these requirements! The overlapping ends of this snake-like travel pillow are intended to fold over one another, supporting a child's head in all directions rather than just the back or front.
Made from soft materials that won't irritate a child's skin, its also lightweight at just 7.4 ounces, and also has the added feature of a snap strap for hanging so the travel pillow doesn't get dirty. But should the worst happen, you'll be happy to hear you can simply drop the whole pillow into a washing machine!
Is the BCOZZY Kids Chin Supporting Travel Pillow for you?
Adaptable to the specific neck shape of any child thanks to its flexible snake-like construction, the BCOZZY Kids Chin Supporting Travel Pillow does exactly as its intended, supporting your child's head and neck as they sleep in an upright position. We think kids will love the shape, while parents will be thankful for the fact its fully machine washable!
P.S – Save a bit of cash with our epic guide of AMAZING inflatable kayaks!
Best travel pillow for neck pain
Based on a traditional U-shaped travel pillow, the Travelrest Ergonomic travel pillow is a whole lot more than that. For a start, the standard U shaping is bolstered by raised areas on the side of the neck, as well as contoured cut-outs to the shoulders, give an altogether better fit.
Constructed using 'thermo sensitive' memory foam, the pillow reduces down to a quarter of its expanded size for easier transportation, and comes with its own stuff sack to keep it both compressed and clean – although the Travelrest Ergonomic also comprises a machine washable outer covering.
Finally, a Velcro fastening ensures the pillow won't shift, even in the deepest of sleeps.
Is the Travelrest Ergonomic Travel Pillow for you?
If you suffer from neck pain you're going to need a travel pillow that offers protection which is above and beyond the usual. The Travelrest Ergonomic travel pillow does just that thanks to its raised ridges for supporting the head, and shoulder cut outs for correct positioning. Its memory foam construction means it packs down nicely into its own stuff sack, and has a machine washable cover too!
Editor's Note – Check out these awesome hiking sandals!
Best travel pillow for side sleepers
Straight of the back of the Travelrest Ergonomic travel pillow comes Travelrest's Body Pillow. Imagine a torso-sized comma, and that goes some way to understanding how different this is to other travel pillows out there!
The comma's head sits snuggly on either shoulder, with the tail crossing your body. To stop it slipping while you sleep there's an adjustable strap, and to ensure the Travelrest body pillow is comfortable its been designed as an inflatable.
The further advantage of this is the fact it rolls down into a size of just 2 x 9 x 3.5 inches. It also comes with a two year warranty. Excellent indeed!
Is the Travelrest Body Pillow for you?
Any side sleeper will know how hard it is to successfully rest with a U-shaped travel pillow. By contrast, the Body Pillow by Travelrest provides full lateral body support, and keeps the head from falling forward. Just like the Ergonomic travel pillow above, its easy to inflate and deflate, and reduces down to a fantastic size for easy transport.
Recommended Article – Take a look at our AMAZING guide about best Rain Pants!
Best travel pillow for use with headphones
Sometimes simpler is better, which is certainly the case when it comes to this U-shaped travel pillow by Cloudz! It may not seem particularly grand or impressive to look at, but perhaps that's the secret of its success.
Filled with tiny microbeads, the Cloudz travel pillow is excellent at shaping itself around your head and neck, while maintaining enough structure to mean it doesn't flop across your shoulders like a tired scarf.
Another great feature of the Cloudz is its two side design. The top, face-touching, side of the pillow has a soft material surface, while the underside is made with a spandex fabric that helps keep you cool.
Is the Cloudz Microbead travel pillow for you?
If all you're after from a travel pillow is something will enough structure to support your head and neck, then you've found it with the Cloudz Microbead travel pillow. The microbead construction provides a great degree of personal contouring while also offering the required support for a good night's sleep, and the two sided design will help to keep you cool at the same time.
The Best Travel Backpack EVER MADE!?!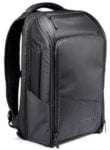 We are obsessed with backpacks – we've tried them all! And our favourite carry on backpack in the WORLD is the Nomatic Travel Backpack. This backpack has revolutionized the backpack industry and will change the way you travel forever :) Check it out here!
Best inflatable travel pillow
The big advantage of an inflatable travel pillow is the fact it can be easily fitted into any old gap in a bag, or even in a pocket, when not being used. That's particularly useful when in the confines of an economy class seat on an aircraft, or even the seat of a vehicle.
But they can feel a bit cheap. Not so the Aeros Premium travel pillow by Sea to Summit. This inflatable has a soft, rather than plasticky, feel, and though it sticks to the U-shape of travel pillow, its design has been carefully considered.
For instance, you'll find the area that fits around the back of the neck thinner, and that on the shoulders thicker. It also deflates and inflates incredibly quickly, and without requiring the lung-strength of ten men.
Is the Sea to Summit Aeros Premium Travel Pillow for you?
There are a good few reasons for choosing an inflatable travel pillow over any other sort – the pack down size is just one. And there are also many reasons for choosing the Sea to Summit Aeros Premium over any others in the market place. Light, soft to the touch, and shaped for a better fit, this is the best inflatable travel pillow for us.
P.S. – Protect your cash while traveling with our EPIC guide to the most awesome travel money belts!
Best of the rest
Is the Dot&Dot Twist Memory Foam Travel Pillow a traditional U-shape, or a more unusual snake-shape of travel pillow? The answer lies somewhere in between.
As the name suggests, this travel pillow is able to be twisted into just about any shape that will have you sleeping comfortable, whether that's with a U around your neck, a flattened ball for lumbar support, or a full body pillow for side sleeping.
Made from compressible memory foam, the Twist has a breathable and fully machine washable cover – made from natural cotton rather than polyester. The snap closure also means its easily attachable to luggage, as well as around your neck!
Is the Dot&Dot Twist Memory Foam Travel Pillow for you?
It's the universality that first won us over to the charms of the Dot&Dot Twist Memory Foam Travel Pillow. The ability to form a U-shape, act as a body pillow, or simply for standard cushioning, strikes us as a great advance. We're also a big fan of the breathable cotton outer, which can also be machine washed after use.
If you lust after a trustworthy rectangular pillow just like home but while traveling, the Travel Roll n Go by MyPillow is a good replacement. It contains a patented interlocking fill, ensuring it remains plump and fully expanded for use.
Then, when you're ready to move on, the Roll n Go simply rolls – as you might have already guessed – into its own travel case, an action which is super easy and takes just a few seconds to complete.
As well as being used as a travel pillow on its own, it can also act as a topper pillow for those you might well be offered in your hotel room.
Is the MyPillow Travel Roll n Go for you?
Fans of the rectangular pillow will be thankful that MyPillow has come out with the Roll n Go, offering a cool and comfortable place to rest you head on an aircraft, in a vehicle, or at night in a hotel, which then rolls up into an easily transportable pillow – using its own case as a carry sack!
The Rest-a-Camp inflatable is another rectangular, rather than U-shaped, travel pillow. This grabbed our attention because packed into its carry sack it fits easily – and unbelievably – into a hand, and is officially smaller than a soda can!
Just three to five breaths and a few seconds will get the Rest-a-Camp fully inflated, and its just as easy to deflate too! If a lightweight travel pillow is a must, you'll be amazed to hear that this one weighs just four ounces, while managing to inflate to a good-sized 12 x 15 x 4.5 inches.
The high quality TPU material with which the Rest-a-Camp is made will sure that constant inflation and deflation won't shorten its lifespan, while a cotton cover ensures a soft finish for your head and face.
Is the Rest-a-Camp Inflatable Travel Pillow for you?
Incredibly small when deflated, lightweight both deflated and inflated, and a rectangular shape to boot – all in all this makes for a perfect inflatable travel pillow from Rest-a-Camp! Made with high quality materials that will ensure it lasts for some time to come, you won't be needing another travel pillow after buying the Rest-a-Camp!
A basic U-shaped travel pillow to some, this adjustable neck pillow by the folks at Lewis N Clark still manages to support the head and neck fully, with the ability to fully adjust the pillow to your personal preferred level of firmness.
Inflatable, the Lewis N Clark boasts a large but level sitting value that allows inflation and deflation in just a few seconds. The polyester inner layer means you'll be safe from leaks, while the removable outer layer is soft on the skin, and also machine washable for cleanliness.
Is the Lewis N Clark Adjustable Neck Pillow for you?
Lewis N Clark has long stood for high quality goods for the outdoor market, and this adjustable neck pillow continues that trend. There's the U-shaped design you might be used to, but also innovation in the level sitting value that allows inflation and deflation in just a matter of seconds!
Wishing you sweet dreams!
Anyone who's struggled through a long journey without managing to get any restful shut-eye will have discovered the importance of a good travel pillow.
Now you can discover them too with our list of the best travel pillows around!
Editor's Note – No matter where you are traveling, you NEED to have great travel insurance. We have personally tested TONS of travel insurance companies, and can say without a doubt that World Nomads is the absolute best (and most affordable!). Fill out the form below to get a quote.
***Disclaimer*** Some of the links in this post are affiliate links. This means that if you book your accommodation through the site, One Weird Globe will earn a small commission at no extra cost to you. Your support helps me keep the site going :)
Latest posts by Aiden Higgins
(see all)