The capital city of Ireland is known for its pubs, bars, and general good craic! You can expect great nights out as well as days visiting the fascinating historic attractions that the city has to offer such as Dublin Castle and Christchurch Cathedral. Ireland is in the top 10 safest countries in the world in 2019, one of many more reasons to plan a trip here.
Spending a few days here will certainly be enough time to see the top attractions. After a few nights in the Temple Bar neighbourhood, you might find getting out and checking out Dublin's stunning surroundings is the perfect antidote if you've overdone it on Guinness! In this article, I'll be your guide to the best day trips from Ireland's raucous capital.
Quick Answer: Best Day Trips from Dublin
Best Places to Stay in Dublin
In a capital city, there's a huge choice of places to stay and sometimes that can be overwhelming! To help you out, I've selected three of my favourite places in Dublin – hopefully, one of them will be perfectly suited to your budget and travel style!
• Best Hostel in Dublin •
Perfect location close to the heart of the action!
This friendly hostel is a great place if you're travelling either solo or on a budget – as it's super easy to make friends here and enjoy the delights of Dublin. Fuel up in the morning on the free breakfast before seeing the sights (all the best ones are nearby).
Traveling as a solo traveler? Check out our best hostels for solo travelers in Dublin
• Best Budget Hotel in Dublin •
Relax at the onsite bar after a day of sightseeing!
This two-star hotel offers some of the most reasonably priced rooms near Dublin City Centre and although it's a little walk away from the Temple Bar area, but over a 3 or 4-night stay you'll have saved enough cash for a day trip over one of the hotels in that part of Dublin!
• Best Luxury Hotel in Dublin •
Enjoy gourmet cuisine in the double Michelin star restaurant
Right in the heart of Dublin, this five-star hotel offers a fabulous stay which will live long in your memory! You may not get to see that much of Dublin as you'll be enjoying the picturesque landscaped gardens or the infinity pool in this cool Georgian building!
Before your trip, find out about Ireland's best hostels!
Best Day Trip from Dublin by Train
Enjoy the medieval marvels of "The Marble City"
Meander through the narrow lanes before stopping off at an olde worlde pub or a charming café
Admire the riverside Kilkenny castle and its sprawling landscaped gardens
You can get from Dublin to Kilkenny in as little as an hour and a half by train, and you certainly won't regret it. This beautiful city is part of Ireland's "Ancient East" And you can practically breathe in the history as you're walking around. Two of the best historic highlights are the riverside castle, which has gorgeous gardens, and the unusual St. Canice Cathedral, which has some of the most stunning stained glass windows you'll have ever seen!
The winding and narrow Norman streets of the city centre lead to many delights, including quiet bookshops, characterful pubs, and trendy cafes. It's possible to see everything in the city in just a day, but if you wanted to make this into an overnight stay, that wouldn't be such a bad choice!
Best Day Trip from Dublin by Car
About as rugged as Ireland's coastline gets – 120m cliffs with awesome sea views
Spectacular scenic drive through the rolling hills of the Irish countryside
Walking trails around the cliffs so you can experience the sea breeze
The Cliffs of Moher are all the way on the west coast of Ireland, and it's at least a three-hour drive, but boy is it worth it. That old cliché that it's not only about the destination but the journey too certainly applies here, as you'll pass the 12 Bens Mountain Range and Dunguaire Castle along the route.
Once you reach Moher, you'll be thoroughly astounded at the 120m cliffs which show the rugged and raw coastline of Ireland. Take a walk along the trails along the top of the cliffs to fully appreciate their beauty.
If you're not a confident driver, it may be a good idea to take a group tour from Dublin. The journey is long, and roads can be dangerous, especially at night when drivers are likely to be at their most tired!
The Best Travel Backpack EVER MADE!?!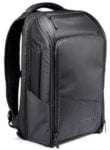 We are obsessed with backpacks – we've tried them all! And our favourite carry on backpack in the WORLD is the Nomatic Travel Backpack. This backpack has revolutionized the backpack industry and will change the way you travel forever :) Check it out here!
Best Romantic Day Trip from Dublin for Couples
Explore the cobbled streets of the Latin Quarter and the shops of Galway High Street
Get local recommendations on the best things to do from the locals in Galway's charming Irish pubs
Take in a sports game – you'll certainly know if there's one taking place
The pretty town of Galway has seen an increase in tourism since everyone's favourite pop star Ed Sheeran visited and penned a song about a girl from here! Now that the secret's out, it's really a great place to come, especially for a romantic day out with your other half. Strolling through the cobbled streets of the Latin Quarter unveils a number of charming Irish pubs where you'll be able to join a Guinness, and if you're lucky an Irish band!
The locals love sport – with hurling, Gaelic football, and rugby all being popular here. If there's a game taking place while you're here, it might not be the most romantic experience to share with your loved one but it'll certainly be fun and atmospheric! There is really no shortage of things to do in Galway.
Ireland is amazing! And the best hostels in Dublin will blow you away!
Best Cheap Day Trip from Dublin
Easy to get to on the Howth DART line with trains leaving every 20 minutes from Dublin
Try a fresh catch straight from the trawler at one of Howth's seafront restaurants
Relax and recharge with a hike along the rocky peninsula
Howth is in many ways the perfect day trip from Dublin. It takes you away from the hustle and bustle of the city, there's regular public transport, and you can get there in less than half an hour (at least by train). You'd expect there to be some catch at this point, wouldn't you? Well, there is – a fresh catch straight from the sea! Howth is one of the best places to sample seafood at one of the charming boutique waterfront restaurants.
You can walk off said fishy meal by taking a hike along the coast – that's if you're happy to skip the ruins of St Mary's Medieval Abbey, the National Transport Museum, or Howth Castle and Gardens of course!
#5 – Ardgillan Castle
Best Day Trip from Dublin with Kids
Take a pleasant walk in the woods and spot the numerous fairy doors
Relax with a view of the sea while the kids are enjoying the on-site playground
Have afternoon tea in the castle's charming café
One of Ireland's hidden gems, Ardgillan Castle is the perfect spot for a family day trip from Dublin. If you have your own transport, you can get there in around 40 minutes while public transport will take double that. The castle and surrounding park are almost 200 acres of open grassland, woodland gardens, and jaw-dropping views of the Irish Sea and the Mourne Mountains. Don't miss a lovely walk through the woods – where you should be looking out for tiny fairy doors!
If the kids do get a little bored in the castle (unlikely, but possible), they certainly will be entertained with the huge playground that looks out onto the Irish Sea. Mum and dad are winners too as they get a bit of respite and time together!
Don't stop the party! Read up on Dublin's best party hostels too!
Staying Safe in Dublin
While Dublin is super safe, no matter where you are traveling, you NEED to have great travel insurance. We have personally tested TONS of travel insurance companies, and World Nomads is our favorite (and most affordable!).
Fill out the form below to get a quote so you can have a stress-free time traveling around Ireland!
A very cool and hip spot
Find out more about the world's most famous ship in the Titanic Quarter
Visit one of Ireland's 7 wonders – the Belfast Peace Wall
Soak up the atmosphere of the capital city of Northern Ireland
Leave from one capital early in the morning and arrive in another before lunchtime. Yes, the Northern Irish capital Belfast is an easy day trip from Dublin, where you can learn about the history and enjoy the cosmopolitan lifestyle of this fascinating city. The Belfast Peace Wall is one of Ireland's "7 Wonders," while a political taxi tour will teach you about the troubles of the 70s and 80s.
The highlight is undoubtedly the ultramodern Titanic Quarter – and visiting the Titanic museum's interactive galleries will get you all clued up on the ill-fated cruise liner which was built here in Belfast.
One thing to take into consideration is that Belfast is part of the United Kingdom – so you'll need pound sterling to spend here, not euros!
Cool getaway for retirees
Kiss the Blarney Stone which endows you with the "gift of the gab"
Take a scenic train ride around Cork Harbour
Head to the picturesque port town of Cobh, on an island in Cork City harbour
Cork is an ideal place for a weekend getaway to be honest, but if you're squeezed for time you can enjoy the main sights in a single day. Feeling low on confidence or want some killer chat to use on your next Tinder date? Head to Blarney Castle. Hanging upside down and kissing the famous stone there will bless you with "the gift of the gab"!
Cork itself is a lovely town where you can take a relaxed walk around the streets or enjoy the plethora of quaint cafes and lively pubs. Taking a scenic train ride along Cork Harbour is another thing not to be missed, and you'll probably spy Cobh in the distance – a lovely little town with colourful houses – definitely worth a trip in itself if you have the time!
Need specifics? We also have our favorite hostels near Dublin Airport!
Recommended day trip for hiking
Enjoy the scenic views from the hiking trails of the green and verdant Connemara National Park
Have a truly authentic experience of Ireland in this area where many people's first language is still Gaelic
Be seduced by charming and quaint rural Irish villages
This unspoiled and relatively untouched part of Ireland is not only a wonderful for experiencing natural beauty, but also for authentic and traditional culture – making it a great spot for an Ireland road trip! That's because in this gorgeous and green part of the country, you're likely to hear the locals chattering away in Gaelic rather than in English.
The visitor centre in Connemara National Park is the starting point for hiking trails that criss-cross the emerald hills and take you past a number of rural villages that'll have you considering relocating here permanently! While in the park, look out for the herd of Connemara ponies – a species of horse equine to this region.
Not traveling 4-star? These cheap hostels in Dublin won't disappoint you!
Great for History Lovers
Visit one of the oldest and largest Neolithic burial chambers in the world
See the epicentre of Irish political and religious development in the years after Jesus Christ
Enjoy a tour of the northern coast of Dublin
This is the perfect day trip from Dublin if you're interested in history. Newgrange and the Hill of Tara are home to some of the world's largest and oldest Neolithic burial sites – dating all the way back to 3,200 BC – that's over 5,000 years old! To put that into perspective, this UNESCO World Heritage site is older than the Pyramids of Egypt!
Not only is it fascinating from the point of view of its age, but it has been historically significant for other reasons too – The Hill of Tara was the seat of the High Kings of Ireland in the years which followed Christ and it was also centre of the Emerald Isle's political and religious development. A day trip to these mystical attractions is one that's certainly not to be missed during your stay in Dublin!
Let's narrow it down! Near Temple Bar Dublin are some of the best hostels!
Gaze in awe at this magical collection of medieval buildings which sit atop a huge rock
Learn about the history of this unique and iconic attraction – also known as St Patrick's Rock
Combine with a quick stop in Cork City or a visit to Cahir Castle
The Rock of Cashel, which goes by many other names too, is one of the most visited sites in Ireland and it's the perfect spot to learn about Irish culture, history, and religion. The rock is adorned with medieval buildings – including a Gothic cathedral, a traditional Celtic Cross, and a circular tower
When visiting the Rock of Cashel, it's easily doable to combine it with a day trip to Cork or Kilkenny. Spending half a day here means that you can also visit the nearby Cahir Castle too – one of the best-preserved castles in the whole of Ireland!
Travel Tip: First time in Dublin? Check out this 3 Day Dublin Itinerary!
Explore a 12th century castle hidden away in 250 acres of rolling parkland
Visit the quaint and charming town of Malahide
Explore the rich variety of landscapes that you'll find on Dublin's coastline
It's not just Malahide Castle itself that's the enjoyable part of this day trip – it's getting there too. Travelling along Dublin's northern coastline is an adventure in itself and you'll be stunned by the picturesque views before arriving at Malahide Castle.
This perfectly preserved historic building is set across a huge park and grounds that covers 250 acres, so after you've finished visiting the castle you can take a relaxing walk in the surrounding parkland. The town of Malahide is also a quaint and charming place to stop off for lunch or a coffee!
It's easy to combine Malahide Castle with a day trip to Howth – which is on this list as the best cheap day trip from Dublin.
Great for a quiet getaway
Take a scenic drive around the 179km Ring of Kerry
Try and spot Dingle Bay's resident dolphin, Fungie!
Visit the town voted as the best place to live in Ireland – Killarney
There's plenty to keep you entertained on a day trip from Dublin to County Kerry. This beautiful part of Ireland is home to the best place to live in the whole country – Killarney. However, if you're considering upping sticks and moving after an enjoyable amble through pretty town, don't get your hopes up too much as there's a huge queue!
The first of the two most popular spots are the Ring of Kerry, a scenic drive which encompasses the hills, rivers, and quaint villages of County Kerry. The second is Dingle Bay, the perfect place to try and spot bottlenose dolphins off Ireland's west coast. The best-known, Fungie, is a regular resident and you'll hopefully catch a glimpse of him swimming close if you take a boat trip!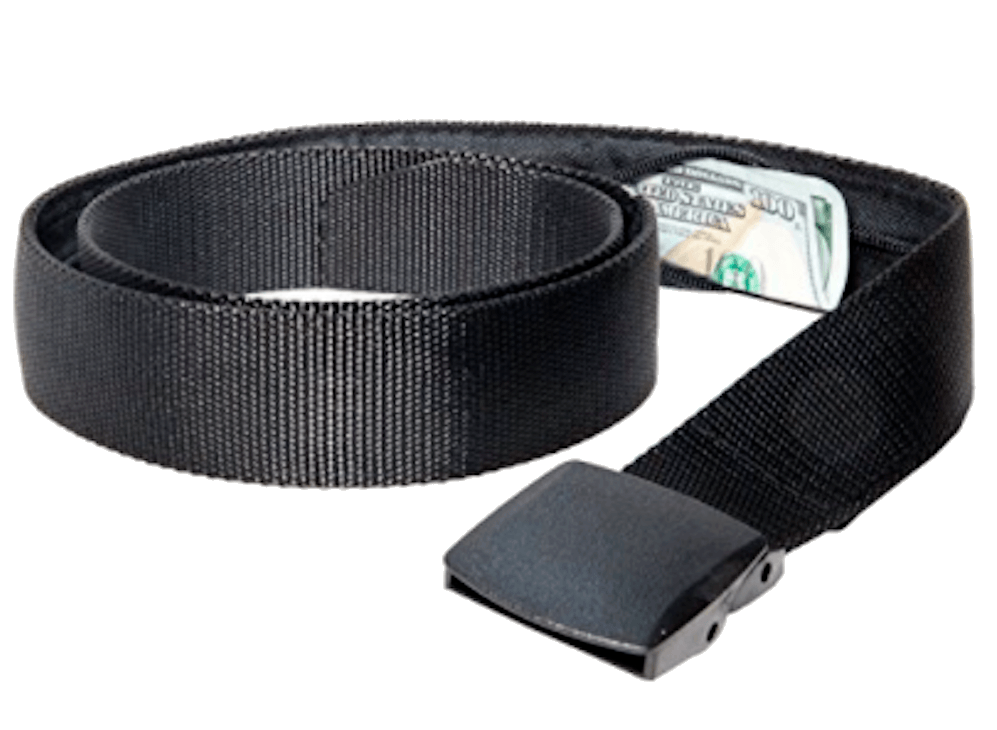 If you are traveling you should ALWAYS have emergency cash hidden on you! Security belts are great because they are affordable and can fit a ton of stuff in them (great for peace of mind!). Check out our favorite travel belt!
See the Benedictine Monastery that dates back to 1920 and is still in use today
Explore the woodlands and walled garden that surround Kylemore Abbey
Admire the views of Pollacapall Lough – the body of water that the Abbey stands on
Kylemore Abbey can be incorporated into a day trip of Connemara, but this is a place where you shouldn't rush your day – as it is the perfect peaceful get away from the concrete jungle that is Dublin! The Abbey celebrates its 100th birthday next year, and it's still a working place of worship as well as a top-rated tourist attraction.
The Abbey is surrounded by natural beauty, standing on the shores of the peaceful and serene Pollacapall Lough – and shots across the water will certainly get you a few extra followers on Instagram. In the Abbey itself, a walk around the walled gardens is a nice way to spend an hour, and a lovely souvenir is the pottery you can buy – which is made on site by the Abbey's nuns!
Game of Thrones fans will LOVE this day trip
See one of the most mysterious natural wonders in the UK – the Giant's Causeway!
Visit several film locations from the HBO series Game of Thrones
Head down Dark Hedges – a tunnel of intertwined beech trees
Yes, it may be associated with being one of Northern Island's iconic treasures but that doesn't mean you can't see it in a day trip from Dublin! And while you're at it, you'll pass by some of the filming locations from arguably the most popular TV show of the 21st century – Game of Thrones! As well as Dark Hedges, you can visit the Game of Thrones touring exhibition.
The Giant's Causeway is Northern Ireland's first UNESCO World Heritage site and was formed millennia ago from an ancient volcanic eruption. The mesmerising interlocking hexagonal stones are made of basalt and it's easy to see why people thought that giants use this to cross into Scotland and Northern England!
Still haven't booked for Kilkenny? Find out where to stay in Kilkenny for any type of trip!
Recommended day trip for outdoor enthusiasts
Take part in one of the many outdoor activities available in Wicklow Mountains National Park
Visit St Kevin's 6th century settlement at the picturesque Glendalough
Enjoy a serene and untouched environment which showcases the beauty of Ireland's countryside
For a truly magical escape from the city, look no further than the stunning green landscapes of the Wicklow Mountains National Park, where there are lots of different ways that you can experience the refreshing mountain air. A guided walk is the best option if you're just looking for a chilled-out day, but the more adventurous among you can take your pick from horse-riding or cycling around some of the prettiest landscapes in all of Ireland.
The highlight of the national park is Glendalough – which really is worth a day trip all on its own! Here, you'll see ancient monastic sites and you're able to trek around the lake on the many paths surrounding it.
Conclusion to the Best Day Trips from Dublin
There's so much to do in Dublin that a long weekend should just about give you enough time to see the top city attractions. However, in such a gorgeous and green country it'd be a real shame not to get out and see some of the cliffs, castles, and hills that are so accessible from the capital. Hopefully, this list will have proved useful and informative and you'll be planning one of these cool days out from the Irish capital!
***Disclaimer*** Some of the links in this post are affiliate links. This means that if you book your accommodation through the site, One Weird Globe will earn a small commission at no extra cost to you. Your support helps me keep the site going :)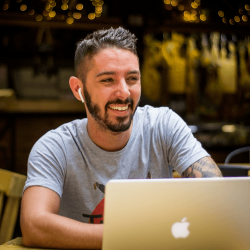 Latest posts by Aaron Radcliffe
(see all)