Portugal's second largest city, Porto is a fantastic destination that offers so much more than stunning views, epic history and incredible wine.
But what do you do if you need a break from Porto? Are there any towns and villages nearby that are worth a visit?
That's why we wrote this epic guide to the best day trips from Porto. Our expert travel writers have scoured the countryside and found the best destinations for you.
We share the hidden gems and our best-kept secrets – some of which will definitely surprise you. So, whether you're travelling by train, have your kids in tow, or are on a budget, we've got a day trip that's right for you!
Here are the best day trips from Porto, Portugal.
Quick Answer: Best Day Trips from Porto
Best Places to Stay in Porto
So you have your itinerary for the trip to Porto down, but have you thought about where you're going to stay? There's a ton of things to do and places to see around the city as well as buzzing nightlife so you're really going to want to make sure you have booked accommodation in the ideal location!
•
Best Hostel in Porto
•
The hostel is set inside a 19th-century building but has bright spacious dorms and modern private rooms on offer. The location of this place makes it one of the best hostels in Porto; it's just a short walk from here to São Bento train station as well as Porto Cathedral. The streets around the hostel are alive with bars and restaurants, but the hostel itself is relaxed and laid back.
Have your dates picked? Read up on hostels in Portugal before you book!
•
Best Budget Hotel in Porto
•
Great for public transport
You might think that budget hotels means boring, but this hotel manages to be sleek at a snip of the cost of a boutique hotel. The building actually used to be an Art Deco style cinema, so it's not hard to see why it's so stylish. Just a three minute walk from the front door is a train and tram station with direct connection to Porto airport.
Need more specifics? Here are the best neighborhoods in Porto to stay!
•
Best Luxury Hotel in Porto
•
Absolutely perfect for couples!
If you're looking for a luxury place to stay in Porto then look no further. This hotel truly has it all when it comes to style and service. Rooms here are pretty much palatial and you'll be spoilt with views of sunset over the city's rooftops from your bath. Dinner and a couple of evening drinks in the hotel bar are not to be missed.
Not sure what to do in Porto? We break it down in this guide to Porto!
#1 Best Day Trip from Porto – Coimbra
Day Trips from Porto by Train
Fascinating history
Amazing architecture
Stunning views
Situated in central Portugal, Coimbra is a city that combines historic elegance with contemporary charm. It is home to one of the oldest universities in the world as well as a myriad of historic sights.
Coimbra sits proudly along the banks of the Mondego River. From its hilltop position, you can enjoy incredible views of the surrounding countryside and rolling hills.
Within the city, there are a number of great historical attractions including the University of Coimbra, Machado de Castro National Museum, the Old Cathedral and the New Cathedral of Coimbra.
While in Coimbra make sure you sample the Bairrada wine or Licor beirao, a sweet liquor famous throughout the country that originates in the region.
The Best Travel Backpack EVER MADE!?!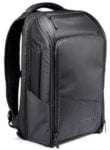 We are obsessed with backpacks – we've tried them all! And our favourite carry on backpack in the WORLD is the Nomatic Travel Backpack. This backpack has revolutionized the backpack industry and will change the way you travel forever :) Check it out here!
Great for architecture aficionados
A historic city with modern influences
Plenty of bars, cafes and restaurants.
The fifth largest city in Portugal, Braga is famous for its strong tradition and religious influences. This northern Portuguese city boasts a number of ancient buildings and historic churches, as well as one of the biggest universities in the country.
Braga's most popular attraction is the Bom Jesus do Monte. This stunning sanctuary has a detailed façade and an exquisite Baroque staircase that zigzags its way up 116 meters to the top of the hill. Climb to the top of the stairway and enjoy sweeping panoramic views of the Portuguese countryside.
Braga is also a great destination for foodies as this small town has a fantastic selection of cafes, bars and restaurants where you can enjoy a glass of wine and an incredible meal.
PS – have a look at our guide to the top hostels in Peniche, Portugal – for all budgets!
Birthplace of Portugal
Charming streets and alleys
A MUST for history buffs
Located in the Minho province of Portugal, Guimarães is a charming and historic city that is easily reached from Porto by train.
The birthplace of the first king of Portugal, Guimarães holds the distinction of being the country's first city. It has a number of beautiful and interesting ancient sites to explore and history seems to seep out of every corner.
For amazing views and a glimpse into Portugal's rich history, visit the Castle de Guimarães. Located on a hill that overlooks the town, the castle is one of the most important symbols of Portugal and has been classified a UNESCO World Heritage Site.
Porto isn't just about the cities! There are tons of other places to visit too!
#4 – Santo Tirso
Easy to get to
Great for sightseeing
Stunning natural scenery
North of Porto is the beautiful town of Santo Tirso. This small historic village can be reached in less than one hour, making it a fantastic day trip from Porto by train.
Santo Tirso sits along the shores of the River Ave. It is a stunning old city that is home to a number of interesting attractions and religious landmarks. At the heart of the city is the monastery of São Bento. Built in the late-10th-century, the monastery has a beautiful façade and interesting detail.
Santo Tirso is also home to the region's largest religious festival, which takes place every July in honour of St. Benedict.
Editor's Note: You can have a great time in Porto staying at one of the top party hostels!
#5 – Viana do Castelo
Incredible seafood
Stunning scenery
Beautiful beaches
Viana do Castelo is far and away one of the most beautiful towns in Portugal. Located north of Porto, this seaside village has everything from stunning beaches to a historic city centre.
Viana do Castelo is a medieval city packed with historic sites and religious landmarks. Some of the town's most famous attractions include the detailed Basilica of Santa Luzia, the vast Republic Square and the Sá Family House. Stroll along the cobbled streets and soak in the history that surrounds this great city.
Interested in an afternoon of surf, sand and sun? Take a short 10-minute drive outside of the city and enjoy one of Santo Tirso's many Blue Flag beaches.
Staying Safe in Porto
While Porto is super safe, no matter where you are traveling, you NEED to have great travel insurance. We have personally tested TONS of travel insurance companies, and World Nomads is our favorite (and most affordable!).
Fill out the form below to get a quote so you can have a stress-free time traveling around Portugal!
Romantic Day Trips from Porto for Couples
Easy to get to
A MUST for wine lovers
Stunning views and vistas
One of the easiest and most romantic day trips you can take from Porto is to the beautiful Douro Valley.
Arguably Portugal's most famous wine region, the Douro Valley is the ideal destination for wine and port lovers. Not only can you enjoy stunning views of the inclined terraces of vines, but you can visit one of the many wine estates and enjoy a tour of the facilities and a tasting (or two).
But there's more to the Douro Valley than just great wine. This region is home to a number of charming towns and villages as well as historic sights, museums, archaeological sites and expansive parks.
Enjoy your stay in Lagos! Check out our guide for what to do in Lagos while you're there!
Beautiful sights
Interesting history
A must for shutterbugs
A tour of the six bridges of Porto is a must for anyone visiting the region. Not only will it give you a great insight into the city and its history, but it will give visitors a new perspective of this stunning area.
Hop aboard a traditional wooden Rabelo boat and enjoy a 50-minute cruise along the River Douro. This enjoyable experience will take you back in time as you retrace the steps of ancient wine merchants who used the river to transport their wine from valley to cellar.
You'll enjoy spectacular views of Porto's incredible landscapes, as well as its historic buildings and ancient bridges.
For a truly unforgettable romantic experience, arrange for a sunset cruise and enjoy panoramic views of the city illuminated by the setting sun.
Editor's Recommendation– You should definitely check out our guide on 7 INCREDIBLE Neighborhoods in Lisbon!
Beautiful town
Rich history
Exquisite sites
Located less than two hours south of Porto is the enchanting city of Fatima. This small Portuguese city boasts a myriad of historic sights and religious landmarks that are sure to enthral visitors of all faiths and backgrounds.
Since 1917, when three young children purportedly saw visions of a woman believed to be the Virgin Mary, Fatima has attracted thousands of people every month to pray and pay their devoted promises at the sanctuary of Our Lady of Fatima. Here visitors can strengthen their faith and visit a number of sacred and holy sights.
Even if you aren't religious, there's plenty of things to enjoy in Fatima. The city is home to incredible architecture, stunning facades and a vast nature reserve with trails, caves and waterfalls.
Incredible sights and landmarks
Unique opportunity
A MUST for intrepid travellers
Curious and adventurous travellers looking to check another country off their bucket list won't want to miss the chance to take a day trip to Santiago de Compostela in Spain.
Located just a few hours north of Porto by train, Santiago de Compostela is the capital of Galicia, Spain. It is believed by many to be the final resting place of Saint James, one of the 12 Apostles of Christ, and is the end point of the epic Camino de Santiago walking route.
The Praza do Obradoiro sits at the heart of the city. It is the city's main square, which is home to impressive Catedral Santiago de Compostela, Palacio de Raxoi, and Palacio de Xelmirez. Stand at the centre of this exquisite square and let the history and culture of Santiago de Compostela wash over you.
#10 – Vila Real
A MUST for history buffs
Quaint and charming town
Stunning natural scenery
Nestled amongst Portugal's hilly landscape is the charming town of Vila Real. The capital and largest city of the Vila Real District, Vila Real is an interesting and enchanting day trip from Porto.
Vila Real's top attraction is the Solar Mateus. Located four kilometres outside of the city, this 18th-century house is surrounded by beautiful gardens and features carved wooden ceilings as well as furnishings, paintings and artefacts from various historical periods.
Located on the opposite side of town is the Alvão Natural Park. Covering more than 72 square kilometres, this protected patch of land is home to lush grounds, waterfalls, and a number of great walking trails.
Best Day Trips from Porto with Kids
Great for hiking, trekking and exploring
Interesting medieval artefacts
Beautiful sights and vistas
The Peneda-Gerês National Park – also known simply as Gerês – has the distinction of being the only national park in all of Portugal. Located just over an hour north of Porto, you'll feel like you're worlds away in this serene natural paradise.
A perfect day trip for families of all ages and sizes, Gerês Park is packed with hiking trails. Whether it's your first time trekking or you're a seasoned pro, you'll love meandering through the wilderness and enjoying the stunning sights.
Gerês Park is also home to a myriad of exotic and wild animals. Keep your eyes peeled as you go because you just might see wild boar, badgers, deer and other creatures.
Brings history to life
Entertaining day trip for all
Interesting exhibitions
For a fun and exciting day trip the whole family will love, head to the World of Discoveries. Located within the city of Porto, World of Discoveries is an interactive museum and theme park that brings history to life through recreations, exhibitions and entertaining rides.
At World of Discoveries, you can explore Portugal's rich history. Staff dressed in period costumes will share stories, tales and legends from Portugal's past. They'll detail the trials and tribulation of early explorers who crossed the ocean and discovered new lands.
Visitors can even hop aboard a boat and visit the different countries around the globe that were discovered by the Portuguese.
A MUST for football fans
Great insights into sports history
Unique experience
Football fans and fierce sports spectators will love spending a day exploring the hallowed grounds of FC Porto.
Start your day at the FC Porto Museum. On this fantastic tour, sports fans of all ages can walk in the footsteps of some of the clubs most famous players. You'll see a collection of trophies and awards and can enjoy an interactive journey through the clubs history.
After the museum, head outside and stand on the grounds of Porto's infamous Dragão Stadium. You'll have a chance to tour the stadium from top to bottom, enjoying amazing views and hearing stories that are sure to delight any avid sports fan.
#14 – Zoo Santo Inácio
Great for kids of all ages
Fun for the whole family
A MUST for animal enthusiasts
Ten minutes outside of Porto centre is the largest and greenest zoo in Northern Portugal. Here you and your family can see and experience more than 800 animals from across five continents.
Zoo Santo Inácio is a stunning wildlife conservation area that covers 15 hectares of land. It is home to hundreds of species of animals that live comfortably in conditions meant to recreate their natural environments. At the zoo, you can enjoy a day of fresh air and exciting encounters with all your favourite animals.
For an unforgettable experience, take a walk on the wild side and participate in one of the zoos daily feedings. These activities will let your kids get close to creatures like penguins, bats, otters and more.
#15 – Matosinhos
A unique swimming experience
Stunning scenery
A fun day for all
For a fun and relaxing day of oceanside fun, visit the small town of Matosinhos. Located just 15 minutes outside of Porto, Matosinhos is home to a large sandy beach, plenty of restaurants and some of the most relaxing locales in northern Portugal.
One of the city's main attractions is the incredible Piscina das Mares. This saltwater pool is built into the rocks and is filled with water right from the ocean. The complex boasts two separate pools with one completely dedicated to and designed for kids.
Matosinhos is also a fantastic destination for foodies who are looking to indulge in a few plates of fresh and delicious seafood and fish.
#16 –Gaia
Cheap Day Trips from Porto
Easy to get to
Amazing beaches
A MUST for port and wine lovers
Across the Douro River is the hillside village of Gaia. Famous for its wine cellars and stunning views, Gaia is a cheap and easy day trip from Porto that is not to be missed!
If you're interested in trying one of Porto's most famous exports, Gaia is the place to do it! Gaia is home to world-famous port cellars, including Sandeman and Taylor's. Enjoy a port tasting or two as you make your way along the winding cobblestone street and explore this stunning part of the city.
Gaia is also where you can rest, relax and soak up some sunshine on one of the city's many Blue Flag beaches. Here you'll have no problem finding a spectacular piece of sand to lay down your towel and work on your tan.
P.S. – These are the wildest and craziest party hostels in all of Lisbon
Charming history
Beautiful landscapes
Plenty of port to sample
Set on the banks of the Douro River, Régua is a charming and quaint city famous for its picturesque landscapes and its production of port. An ideal destination for a day trip from Porto, travellers can reach Régua in less than 90 minutes by car.
Régua is characterized by the terraced slopes that line the river valley. Here you'll find a variety of vines and vineyards producing rich ports, as well as spectacular vistas of the surrounding area. Snap a pic or two of the sweeping views as you make your way from one port cellar to the next.
Also in Régua, you'll find a number of charming and interesting museums and landmarks including the Museo do Duro.
Visit the Venice of Portugal
Great photo opportunities
A unique destination
Nearly 70 kilometres outside of Porto is Aveiro, a small fisherman's village that straddles the ria Aveiro and the river Vouga.
Aveiro is a town bursting with charm and appeal. Affectionately known as the Venice of Portugal, the city is famous for its many canals and bridges, as well as its colourful painted boats. Hop aboard a moliceiros and enjoy a relaxing cruise through this enchanting city.
Visitors to Aveiro will also want to indulge in ovos moles. A traditional sweet treat made from egg yolks, these delicacies are best enjoyed in the town from which they originated.
A MUST for wine lovers
Delightful terrain
Beautiful vistas
Surrounded by hilly terrain and vast vineyards, Pinhão is a fantastic day trip from Porto for foodies, wine lovers and travellers looking to get lost in nature.
The number one reason to visit Pinhão is to indulge in a glass of port. The area is teeming with vineyards and cellars where you can enjoy a few samples of this local rich nectar. From decades old to recently brewed, in Pinhão you can try a range of ports varying in age, taste and character.
Pinhão is also a great place to get back to nature. This scenic setting is ideal for taking walks in the countryside and simply enjoying a quiet day amongst the trees.
Bonus Trip! – Ribeira
Pristine beaches
Lively parties
Fun and vibrant discos
For party animals and night owls, there's no better place than Ribeira. This riverside quarter of Porto is home to a great variety of bars, discos, dance clubs and pubs. It's here on the shores of the Douro River that you'll find the best parties in Porto.
Ribeira is also a great day trip destination for foodies thanks to the many restaurants and cafes that call this area home. Whether you're craving sweet, salty, savoury or spicy, you'll find exactly what you're looking for in delicious and fun Ribeira.
Final Thoughts on the Best Day Trips from Porto
The towns, villages and countryside surround Porto are packed with beautiful beaches, rustic port cellars, interesting architecture and rich history and culture. No matter which way you travel, you'll be spoilt for choice in this northern Portuguese region. Save some money and check out our 15 best hostels in Porto.
In this guide, we've showcased the 20 best day trips from Porto. We've highlighted everything from exciting adventures and animal encounters to historic hideaways and religious retreats. Whether you're travelling alone, as a couple or with a gaggle of kids, there's something for everyone in and around Porto.
Have we missed anything? Let us know in the comments below.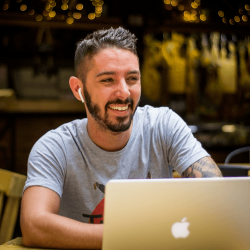 Latest posts by Aaron Radcliffe
(see all)