The second-largest city in Portugal, Porto was once a hidden gem in the country's north! Whilst it is becoming increasingly popular with tourists, it still maintains a unique charm that gives a more authentic vibe than other parts of the country. With picturesque buildings and unique culinary delights, it really is a must-see when visiting Portugal.
The city can be quite confusing to navigate, with winding streets traversing hills and the riverfront. It is important to get a feel for what is in each neighborhood before planning your stay in the city.
That's why we built this guide! We've figured out the seven best areas to stay in Porto, as well as who they are best for.
So without further adieu, vamos!
Quick Tips – Where to Stay in Porto
Where to Stay in Porto
Looking for a specific place to stay? These are our highest recommendations for places to stay in Porto.
Best Budget Hotel in Porto
Urban Hotel is situated in the sought-after neighborhood Amadeos, adjacent to Matosinhos Beach, and is an amazing budget place to stay in Porto. To kick start your day, a continental breakfast is served every morning, and as the sun goes down, you can unwind in the cozy on-site bar with discounted drinks.
Best Mid-range Hotel in Porto
This hotel has a prime location on the riverfront of Ribeira and offers its guest rooms with breathtaking waterfront views. The interior is tastefully designed, creating a grand and elegant ambiance.
Best Luxury Hotel in Porto
This stunning five-star hotel is situated in the Cedofeita neighborhood and offers convenient access to plenty of Porto's top sights and attractions. The hotel offers spacious rooms, all of which are furnished with modern amenities, high ceilings, and tasteful decor.
Once you've booked, check what there is to do in Porto!
Porto 7 Best Neighborhoods to Stay in
Let's take a look, in more detail, at the seven best neighbourhoods in Porto. Each caters to different interests, so be sure to pick the neighbourhood that's right for you.
Neighborhood #1 – Baixa
Best neighborhood in Porto for your first time!
COOLEST thing to do in Baixa – climb the Torre dos Clérigos and admire the gorgeous views across the city
BEST place to visit in Baixa – Livraria Lello, a gorgeous bookshop, is said to be the inspiration behind some Harry Potter locations
Baixa is the main neighborhood in Porto and where you will find most of the life during the day! This central area contains many of the most iconic attractions in the city centre and is well connected to some of the other excellent neighborhoods in the city. Baixa is Portuguese for low, and the relatively flat nature of this neighborhood is a great break away from the infamous hills surrounding it.
This is also where you will find many of the city's major culinary attractions – from the locally famous francesinha, to international cuisines inspired by Asian, Brazilian and African food, there's something for everyone in Baixa!
More Awesome Things to do and see in Baixa
Visit the Centro Portugues de Fotografia – the largest permanent photography gallery in the country with a great mix of exhibits
Galerias Lumière is a major shopping centre in the city featuring brands from across Portugal, Spain and the rest of the world
The city is packed with gorgeous churches just waiting to be explored, and Chafariz da Porta do Olival is no exception
Cândido dos Reis is a great spot to sample the local nightlife – with a great selection of popular and traditional music on offer
It's not often that McDonald's is a major tourist attraction, but their central Porto location is one of the most beautiful in the world thanks to art nouveau architecture
Best Budget Hotel in Baixa
Despite being a budget accommodation, Hotel da Bolsa comes with some fantastic additional extras to truly elevate your experience! Rooms are fully soundproofed – ideal for getting a good night's sleep in this central location. A continental buffet breakfast is provided every morning, and allergies are catered for.
Best Mid-range Hotel in Baixa
This mid-range hotel has a beautiful design situated inside the fully-renovated historical building which perfectly combines luxurious facilities with traditional decor. Porto AS 1829 Hotel also has a fantastic location, just a short stroll into the city's historical center, meaning you won't have to trek far to visit some of Porto's top sites.
Best Luxury Hotel in Baixa
This magnificent five star hotel is perfect for those that want to luxury on a central location! There is a fitness centre on-site, as well as a spa and wellness centre with hammam. A buffet breakfast – featuring Portuguese favourites such as pasteis de nata – is provided every morning.
Have some time? Get out of the city with these epic day trips from Porto!
Neighborhood #2 – Bolhão
Where to stay in Porto close to everything!
COOLEST thing to do in Bolhão – shop along Rua Santa Catarina, as well as admire the regular street performers
BEST place to visit in Bolhão – Capela das Almas is a major landmark in the city, decorated with gorgeous azulejos (Portuguese tiles)
Though officially part of Baixa, Bolhão is the most central part of the neighborhood and the best connected by public transport! The metro through this area connects the airport with the riverfront, and São Bento railway station is just to the south. It is also where you will find Porto's main shopping street and the famous Capela das Almas.
Despite being so well located, Bolhão is one of the most peaceful neighborhoods in the city centre. All of the other tourist hotspots are located closer to the riverfront – so this is the place to stay if you want to kick back and relax after a day of exploring! You will also find some budget-friendly dining options.
More Awesome Things to do and see in Bolhão
Cervejaria Brasão is a popular bar in the city, not least because it is famed as one of the best places to try francesinha – a local delicacy
Grab some fresh produce and mingle with locals at Mercado do Bolhão, the last truly local market in the city
Catch a show from local and international acts at the Teatro Municipal do Porto – a major cultural hub in the city
Liberdade Square is one of the main gathering points in the city – bursting with life in the evenings, it is also home to some of the most important historic monuments
Lisbon might be the capital for pastel de nata, but Porto makes a great effort nevertheless – we suggest trying the famous tarts at Nata Lisboa
Best Budget Hotel in Bolhão
Claimed to be one of the oldest hotels in Porto, Hotel do Norte is a little piece of the city's history – and still comes in at a surprisingly budget-friendly price! Rooms come with private terraces – including some with views over the Capela das Almas. They also come with contemporary and stylish décor.
Best Mid-range Hotel in Bolhão
The famous chain of Mercure has definitely pulled the boat out with their central Porto hotel, with it providing a range of amazing facilities. This includes air-conditioned rooms, an outdoor swimming pool, free Wi-Fi, and a chic fitness center. If you fancy splashing the cash a little, make sure you grab yourself a room that is fitted with a balcony or one that boasts city views.
Best Luxury Hotel in Bolhão
Another piece of Porto history, A Brasileira has changed hands many times over the years but consistently remains the pinnacle of luxury in the city! Rooms are spacious and come with air conditioning that can be controlled at will by the occupant. An American style buffet breakfast is provided every morning.
The Best Travel Backpack EVER MADE!?!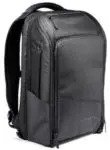 We are obsessed with backpacks – we've tried them all! And our favourite carry on backpack in the WORLD is the Nomatic Travel Backpack. This backpack has revolutionized the backpack industry and will change the way you travel forever :) Check it out here!
Neighborhood #3 – Ribeira
Where to stay in Porto for nightlife!
COOLEST thing to do in Ribeira – catch a traditional music performance and sample local cuisine at O Fado
BEST place to visit in Ribeira – built by Gustav Eiffel, the Dom Luíz Bridge is a must-see attraction in Porto
With a UNESCO World Heritage Site sprawling along the waterfront, Porto's Ribeira neighborhood is an area of outstanding beauty! The colourful buildings are popular with photographers, and the magnificent Ponte Dom Luíz has become an icon of the city. Walk along the top section for excellent views across the area.
In the evenings, Ribeira comes alive with restaurants, bars and nightclubs lining the Rio Douro! It is one of the pricier neighborhoods in the city but is well worth it thanks to the iconic setting and infectious atmosphere. Whether you want to catch a local performance or head to something a bit more mainstream, there's something for all tastes.
More Awesome Things to do and see in Ribeira
Hotfive Blues is an incredibly popular club with locals that specialises in jazz and blues music, as well as decently priced booze
For something a bit more upmarket, Bar Ponte de Pensil overlooks one of the city's bridges as well as the beautiful riverfront
Head down to the riverfront during the day and catch one of the many boat tours that take you across the city
Casa do Infante used to be a princely home for whenever the Portuguese royals visited the north, and now is a major museum
Adega São Nicolau offers some fantastic food – the francesinha is great for beating hangovers, and the pasteis de bacalhau make for tasty snacks
Best Budget Hotel in Ribeira
Overlooking the river, this is one of the best budget picks in the city if you want mesmerising views of the UNESCO World Heritage Site! Rooms come with large en-suites and safes where you can store your valuables. There is a restaurant on the top floor providing breakfast every morning.
Best Mid-range Hotel in Ribeira
You won't find a place to stay in Ribeira with such a good location, with the hotel being on the riverfront and boasting spectacular views overlooking the waterfront. The hotel also has a beautifully grand design, with it being fitted with wooden floors, exposed stone walls, and exposed wooden beams on the ceiling.
Best Luxury Hotel in Ribeira
Straddling the boundary between Baixa and Ribeira, this is a great option for easily getting around the city centre's two most iconic neighborhoods! Rated five stars, it comes with balconies overlooking the city and decorated with gorgeous flower arrangements. Rooms are spacious and air conditioned.
Portugal is amazing! And the best hostels in Peniche will blow you away!
Neighborhood #4 – Matosinhos
Best neighborhood in Porto for families!
COOLEST thing to do in Matosinhos – head down to Praia de Matosinhos and try out the surfing facilities in the summer
BEST place to visit in Matosinhos – learn about the history of architecture in the area at the Casa de Arquitetura
Though often regarded as a separate town, Matosinhos is officially a suburb to the west of Porto located along the Atlantic Ocean! With unbeatable views across the sea and only a short tram ride from the city centre, this is the perfect location for families visiting the area that want somewhere a bit quieter.
Not as touristy as the more central locations, Matosinhos has a more local atmosphere and is the perfect spot for discovering Portuguese culture! It is known for its fantastic local cafes that specialise in typical cuisine as well as more innovative dishes using locally sourced ingredients.
More Awesome Things to do and see in Matosinhos
The Cruise Terminal at the Port of Leixões is an architectural marvel on the coast that also hosts the university's aquarium
Piscina das Marés is a small collection of pools that are filled with natural seawater – perfect if you don't want the kids jumping straight into the ocean
Mercado de Matosinhos is a local fruit market – and the neighbouring Mercado de Angeiras is where you can pick up fresh fish
Farol de Leça is a coastal lighthouse – you can climb up it for free and enjoy spectacular views of the coastline
Modì is a popular Italian gelateria right on the waterfront – the perfect stop during a day at the beach
Best Budget Hotel in Matosinhos
Located in neighbouring Amadeos, Urban Hotel is only a short walk away from Matosinhos Beach, and is even closer to the city centre by tram! A light breakfast will be provided every morning to set you up for the day ahead, and there is a cosy bar on-site where you can enjoy discounted drinks.
Editor's Note: You can have a great time in Lagos staying at one of the top party hostels!
Best Mid-range hotel in Matosinhos
The cleanliness and boutique charm of this bright and spacious apartment is just the start to your dream vacation in Porto! With its very own patio, you will find that the best place to relax in the city is from your apartment just, minutes away from the sea!
Best Luxury Hotel in Matosinhos
This elegant boutique hotel is a little bit further out from Matosinhos – but is nevertheless the perfect choice for families in the city that want to enjoy the height of luxury! It is a five star hotel, and there is an expansive spa and wellness centre on-site. An American style buffet breakfast is included.
Lisbon is alive! And you'll find these party hostels have some of the best events around!
Neighborhood #5 – Boavista
Where to stay in Porto on a budget!
COOLEST thing to do in Boavista – sample local cuisine and mingle with locals at Mercado Bom Sucesso
BEST place to visit in Boavista – head to the coast and check out the Castelo do Queijo and it's magnificent sea views
Boavista is a huge area that stretches from the city centre right to the Atlantic coast of the city! For budget travellers, Boavista offers plenty of well-priced accommodation options as well as cheap food and drink options. It also offers a more authentic side of Porto's culture, allowing you to mingle with locals and learn about their way of life.
The closer to the coast you get, the more relaxed the atmosphere of the area gets! This means it is also a great option for those that want to explore the city without all of the chaos of the city centre.
More Awesome Things to do and see in Boavista
Parque da Cidade do Porto is the largest park in the city – with gorgeous gardens and great facilities, it is ideal for a relaxing walk
Casa da Música is known for its gorgeous architecture and often hosts regular live performances from Portuguese acts
Casa de Serralves, on the other hand, has a more art deco style and hosts a museum dedicated to local culture
Vegetarians need to head to Essência where you can sample typical Portuguese cuisine without the meat products – even francesinha!
Península Boutique Centre is the largest shopping centre in the area and has a good blend of budget and luxury options
Best Budget Hotel in Boavista
Just off the Boavista Rotunda, Hotel Douro is right in the heart of the area! The rooms are offered at some of the best rates in the city for privates, and there are some great facilities to compliment this. There is a free buffet breakfast, or guests can have breakfast delivered to their room.
Best Mid-range Hotel in Boavista
Boavista provides modern and boutique rooms along with all the facilities you would need for a comfortable stay in Port including a garden, a shared lounge area, a chic bar, and a 24-hour front desk.
Best Luxury Hotel in Boavista
This five star hotel might be a little far out from the city centre, but it is a great option if you want to experience luxury at a fraction of the cost! There is a magnificent roof terrace where you can enjoy views across the city and as far as the Atlantic Ocean.

If you are traveling you should ALWAYS have emergency cash hidden on you! Security belts are great because they are affordable and can fit a ton of stuff in them (great for peace of mind!). Check out our favorite travel belt!
Neighborhood #6 – Vila Nova de Gaia
Best neighborhood in Porto for couples!
COOLEST thing to do in Vila Nova de Gaia – take a bike trip along the Douro River to the Atlantic Coast
BEST place to visit in Vila Nova de Gaia – visit the Porto Wine Cellars and sample the world-famous beverage
Vila Nova de Gaia is officially a separate city, but is located just across the river from the Ribeira neighborhood in Porto! This area is best known for the Porto Wine Cellars, where you can sample many different varieties of port from the area. The laid back atmosphere, easy-going attractions and abundance of wine makes this a great neighborhood for couples.
Like Porto's Ribeira, the riverfront neighborhood of Vila Nova de Gaia comes with a romantic atmosphere – and arguably has better views as you get to look onwards to the colourful buildings of the city.
More Awesome Things to do and see in Vila Nova de Gaia
For nightlife and dining options, head to Cais de Gaia in the evenings where you can enjoy the laid-back, yet vibrant, atmosphere
The nearby village of Afurada offers a typical fishing village atmosphere – perfect for a romantic day trip out of the city
There is a cable car running from Cais de Gaia up to Serra do Pilar where you can admire the views across the city
Offline offer the best prego no pão in the city – a traditional steak sandwich that is popular across Portugal
Best Budget Hotel in Vila Nova de Gaia
Located within walking distance of the train station, ClipHotel is a great option for easily getting into central Porto, as well as further afield in Portugal! Car and bike rentals are available from the front desk, and a buffet breakfast is provided every morning. Rooms are fully air conditioned and come with WiFi.
Best Mid-range Hotel in Vila Nova de Gaia
This Holiday Inn Porto Gaia offers some of the most luxurious facilities at reasonable prices. This includes soundproofed rooms, a sauna, and a wellness center with various beauty treatments along with a chic bar that serves a variety of beer and cocktails.
Best Luxury Hotel in Vila Nova de Gaia
As the only five star hotel in Vila Nova de Gaia, the Yeatman has to take our pick for best luxury option in the area! Rooms are stylishly decorated in a traditional style, and there is a huge roof terrace where you can sunbathe and admire the views of the city. A buffet breakfast is included.
Will you also visit Lisbon? Check out where we like to stay in Lisbon!
Neighborhood #7 – Cedofeita
Best neighborhood in Porto for culture!
COOLEST thing to do in Cedofeita – wander around the art galleries of Rua Miguel Bombarda and soak up the creative vibes
BEST place to visit in Cedofeita – Palácio de Cristal is home to some gorgeous gardens where you can enjoy a romantic stroll
Cedofeita is, simply put, one of the trendiest parts of the city and a popular choice with the young hipster crowd visiting Porto! It is home to independent art galleries, creative boutiques and modern restaurants offering innovative cuisine. Thanks to this, it is the best neighborhood in the city to experience modern culture.
In the evenings, Cedofeita also bursts into life as a major clubbing and bar hopping hotspot! If you want something a bit more local, and certainly cheaper, than Ribeira then this is a good choice. Despite its trendy reputation, Cedofeita is still one of the cheapest neighborhoods in the city centre.
More Awesome Things to do and see in Cedofeita
Head to Rua Tapas & Music Bar – a popular tapas restaurant in the evenings, it transforms into a live music venue later in the night
Catraio is another great nightlife option offering great prices on craft beer to sit in with or take home to enjoy
The Church of Cedofeita is the oldest church in Porto – dating back to the 9th century, it is a major historic attraction
Carlos Alberto Square is the hub of hipster cool in Porto and is lined with quirky cafes and magnificent bars
Best Budget Hotel in Cedofeita
Housed within a historic mansion, this elegant hotel comes in at a surprisingly budget-friendly rate despite its beauty! They offer a continental breakfast every morning, as well as free high speed WiFi access. Rooms are spacious, and the en-suite bathrooms feature walk-in rain showers.
Need a place with more energy? Try one of Portugal's top party hostels!
Best Mid-range Hotel in Cedofeita
Axis Porto Club Aliados has incredible on-site facilities, including concierge services, deluxe rooms, a shared lounge, and a sleek bar. Along with this, it is just a stone's throw away from the city center and the famous. Sao Bento Train Station.
Best Luxury Hotel in Cedofeita
This gorgeous five star hotel is located on the boundary between Cedofeita and Baixa, giving you easy access to both neighborhoods! The massive rooms are well equipped with modern furnishings, high ceilings and elegant finishing touches. The complimentary breakfast comes with vegan and gluten-free options.
Final Thoughts on Where to Stay in Porto?
Filled with vibrant culture, gorgeous architecture and delectable wine, Porto is a must-visit on any itinerary to Portugal! It is one of the most budget-friendly cities in Europe, and has an infectious charm that will have you wanting to return time and time again.
For the best neighborhood, we have to go with Ribeira! This is the city's iconic waterfront and has great links to all of the other neighborhoods mentioned in this list.
That being said, the city is seemingly never-ending when it comes to beauty and every area mentioned in this guide has its charms. We hope we have helped you narrow down your options.
Did we miss anything? Let us know in the comments!
***Disclaimer*** Some of the links in this post are affiliate links. This means that if you book your accommodation through the site, One Weird Globe will earn a small commission at no extra cost to you. Your support helps me keep the site going :)
Latest posts by Clair Ricketts
(see all)