One of the most picture-perfect fairy-tale cities in Europe, Salzburg has plenty to enjoy, whatever you want from your vacation. It's home to a fantastic art, music, and culture scene. Music lovers shouldn't miss it, as they'll be able to recreate scenes from the Sound of Music and explore the birthplace of Mozart.
The city may be beautiful, but it would be a shame to visit Salzburg without heading out into its surroundings. Ice caves, rolling hills, Alpine lakes, and much much more are all within a stone's throw of the city. But how do you choose the best day trip from Salzburg for you?
Well, that's where we come in. We've put together this list of the best day trips from Salzburg so as to help you decide on the perfect day for you. We've taken into account budget, interests, and travel styles.
So, let's jump in and take a closer look at the best day trips from Salzburg!
Quick Answer: Best Day Trips from Salzburg
Best Places to Stay in Salzburg
Salzburg is a relatively small city, so you'd think it's easy to find somewhere to stay, right? Well, no, not really. Nonntal and Altstadt have most of the attractions, so if you're a first-time visitor or want to be close to the attractions, they're a good shout. However, there are other cool options should you want to really get to know the city. We've taken a look at three of the best places to stay in Salzburg, so we'll share them with you.
•

Best Hostel in Salzburg

•
Has a daily free screening of the Sound of Music
In a perfect location close to the main train station and a number of city centre attractions, it's no wonder that this hostel has more than 13,000 positive reviews on Hostelworld. It's been around much longer than the website (and indeed the internet) itself, having opened in 1978. In that time, they've really perfected running a friendly and welcoming international hostel!
Price anxiety? We get it too, so we made an article for the best budget hostels in Salzburg!
•

Best Budget Hotel Salzburg

•
Has a view of the Hohensalzburg Castle, one of the most popular attractions in town
If you're looking for where to stay in Salzburg on a budget but don't want a hostel, check out Hotel Via Roma. You'll have the use of a garden and a terrace, and if you're travelling by car there's great news. Free parking! We'd recommend splashing out a little extra in the morning to take advantage of a delicious buffet breakfast in the Winter Garden room.
Salzburg is incredible! There are tons of things to do there!
•

Best Luxury Hotel in Salzburg

•
Panoramic city views and an outdoor infinity pool
Easily the best luxury hotel in Salzburg, the five star Hotel Schloss Mönchstein is a great place for a special trip. You'll feel like a king or queen upon arrival when you're presented with a complimentary home-made Guglhupf cake and fruit basket! You can enjoy your goodies in a number of places. The hotel surrounding the park, or even the outdoor hot tubs and infinity pool. Just be careful not to drop that cake in – it'll get soggy!
Need more specifics? Here are the best neighborhoods in Salzburg to stay!
Best Day Trip from Salzburg
Visit the iconic picture-perfect Alpine Town
It's about the journey as much as the destination – a beautiful scenic drive
Some excellent outdoor adventures on offer here if you have time
If you've ever seen pictures of that Alpine village and thought it beautiful, you'll want to visit Hallstatt. Just an hour south east of the city is the best day trip from Salzburg – the village of Hallstatt and the Hallstattsee. The poster town for Austria, you'll recognise the elegant church and quiet cobbled streets of a town so pretty it's been recreated in China!
It's not only the romantic village that you'll want to visit though and heading 380 metres up to the Skywalk Hallstatt Viewing platform will give you some great views of the surrounding landscapes.
Looking for something more adrenaline-fuelled? No problem – there are plenty of cool water sports on offer on the lake, such as diving, swimming, and boating!
Have your dates picked? Read up on hostels in Salzburg before you book!
#2 – Vienna
Best Day Trip from Salzburg by Train
Visit the Austrian capital of Vienna
Immerse yourself in incredible architecture, art, museums, and parks
Under 2.5 hours from Salzburg
There's only one city in Austria that attracts more tourism than Salzburg, and that's Vienna. It's the best day trip from Salzburg by train! As it was the seat of the Austro-Hungarian seat of power for such a long time, you can still explore the mark the empire left on the city.
And what a mark it is. The Hofburg Palace has been the home for every Austrian ruler and the current president since 1275! Take a guided tour of it, taking in more than 2,600 rooms, 19 courtyards, as well as museums and royal apartments.
Vienna's coffee shop culture is not to be missed, with many opulent tea and coffee rooms around the city. Make sure you try a tasty strudel; you'll not be disappointed!
The Best Travel Backpack EVER MADE!?!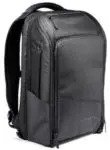 We are obsessed with backpacks – we've tried them all! And our favourite carry on backpack in the WORLD is the Nomatic Travel Backpack. This backpack has revolutionized the backpack industry and will change the way you travel forever :) Check it out here!
One of the most popular activities in Salzburg – whether or not you love the film
Follow in the footsteps of Maria and the Von Trapps
Explore the beautiful region of Salzkammergut
Salzburg is well-known for its musical prowess, and arguably one of the greatest films of all time was shot in the surrounding landscapes. Make sure you see the best of the filming locations by following in the footsteps of Maria on a Sound of Music tour!
The tour starts in Salzburg itself – the Mirabell Gardens are where Do-Re-Mi was filmed, before heading out into the surrounding hills. Which yes, are alive with the sound of music! The beautiful surroundings of Salzkammergut will show you not only scenes from the movie but incredible local monuments too.
Leopoldskron Palace, Nonnberg Abbey Benedictine Monastery, and the church in Mondsee where Maria wed the Baron are all on the itinerary!
Austria is amazing! And the best hostels in Vienna will blow you away!
See where Adolf Hitler spent his summers
Beautiful views of the Bavarian Alps and the Konigsee River
One of the best day trips from Salzburg by car – awesome scenic drive
One of the most hated historical figures in history spent his summers at the Eagle's Nest, and despite this unsavoury reputation, that doesn't mean it's not worth a visit. The 1938 building was also used for Nazi Party gatherings, so it's an intriguing place to learn more about the Third Reich. Even though there's not a lot of the original structure left!
Not only is it a fascinating historical location, but Eagle's Nest is in a truly stunning location. It sits on a rocky outcrop above Obersalzberg near the town of Berchtesgaden (more on there later). From there, the views of the Bavarian Alps and the Königsee are stunning. The drive isn't half bad either. Although you'll have to concentrate on the windy mountain passes, you'll still get some awesome scenic views!
Looking for the Party? We've got you covered with our guide to the best party hostels in Vienna!
Discover the world's largest system of ice caves
Enjoy the attractions of the town of Werfen too
Visit the Hohenwerfen Castle, perfectly preserved from Medieval Times
If you're looking for one of the most mysterious and unusual day trips from Salzburg, look no further than a trip to Eisriesenwelt. Located in the town of Werfen, you'll find the biggest ice caves in the world!
This is a spectacular subterranean natural wonder, and you certainly won't want to miss out on it during your vacation. Take a guided tour to learn about the geological history of the cave system before heading back out and getting warm again.
Another great attraction in Werfen is the Hohenwerfen Castle. Well, it's not exactly in the town as it overlooks the town from a 600-metre outcrop! The structure has been perfectly preserved since medieval times. The fortress offers awesome views of the Salzach Valley.
Staying Safe in Salzburg
Salzburg is considered the most dangerous city in Austria, which may sound scary to begin with. However, Austria is also considered as the 3rd safest country and the world, and only Vienna gets more tourists than Salzburg. Almost all unsavoury incidents are pickpocketing and the majority of them occur near the main train station. So, make sure that around this area especially, you're aware of where your things are and don't flaunt any valuables. Salzburg is safer than the majority of cities in Europe, and most travellers have no problems whatsoever!

Best Romantic Day Trip from Salzburg for Couples
Explore the city that hosted the Winter Olympics in 1976
Visit the incredible Swarovski Crystal World
See the most famous landmark in the city – the Golden Roof
One of the best day trips from Salzburg by car and train is Innsbruck. Either way, it will take you around two hours. The city has plenty of claims to fame, one of the biggest being that it hosted the Winter Olympics in 1976. If you're lucky, you may even get to see someone practising on the Bergisel Ski Jump!
Getting closer to the city centre, there's a lot to keep you occupied. The city's most famous symbol is the Golden Roof, made of more than 2,600 gilded copper tiles in 1496. It was to commemorate Emperor Maximilian I's wedding to Bianca Maria Sforza.
If you like shiny and sparkly, you're in luck. The city is also where you'll find Swarovski Crystal World. It's one of the most popular places to visit in Innsbruck! When you've ticked those off your list, take a leisurely stroll around the old town if you still have time.
Will you be in Vienna a while? Here's your guide to the top day trips from Vienna for exploring the area!
Best Day Trip from Salzburg with Kids
Take a trip deep down into the salt mines
Discover a subterranean lake and take a boat ride across it
Let a thrilling underground slide put a huge smile on your face
When looking for the best day trip from Salzburg with kids, Berchtesgaden has to make it onto your list. There's one thing above all else that will be fun for the whole family though, and that's the 450 year old salt mine.
It's a great museum that will tell you about the area's history and one of its biggest industries – salt mining. However, it is a super-fun and interactive way to learn. You'll be able to explore the caverns through an underground railway, take a boat ride across an underground lake, but best of all – there's an underground slide!
The pretty town is worth checking out too – stop for a coffee and breathe in that fresh mountain air.
Austria is incredible! These are the most spectacular places to visit in Austria!
Visit the home of the Christmas Carol 'Silent Night'
A perfect day trip if you're travelling during the holiday period
Explore the Silent Night Museum to learn about the history of the song and the area in general
For fans of Christmas Carols, well one in particular, there's no better place to visit than Oberndorf. The song celebrated its 200th birthday in 2018 and is still a mainstay at carol services and Christmas concerts. So, the town is understandably proud of its heritage!
Most of the town's tourism is centred around this, so the holiday season is an especially magical time to visit. The chapel of St. Nicholas and the Silent Night Museum offer the chance not only to learn more about the song itself but also local customs and culture in the surrounding area.
Oberndorf is only 16km north, so it's one of the easiest and cheapest day trips from Salzburg!

If you are traveling you should ALWAYS have emergency cash hidden on you! Security belts are great because they are affordable and can fit a ton of stuff in them (great for peace of mind!). Check out our favorite travel belt!
Best Cheap Day Trip from Salzburg
Pop over the border into Bavaria for one of the prettiest lakes in Germany
Make a picnic the night before to save on restaurants and cafes
Just over half an hour away with private transport
If you're travelling from outside the EU, bring your passport! The King's Lake, or Königsee, is the best cheap day trip from Salzburg. Part of the reason that it's so cheap to get to is the location. It's just half an hour away on a private tour or with your own transport. Do bear in mind that on public transport, travel time is between 1.5 and 2 hours though!
As well as minimal outlay on travel, there are lots of activities that don't require any cash. One of the nicest activities you can do at Königsee is taking a walk around the lake's tranquil, blue waters. Also, rather than stopping at a café or a restaurant, pick up some tasty treats at the supermarket and knock up a picnic the night before!
Editor's note: Save a bit of cash in Vienna with our guide to budget hostels in Vienna!
#10 – Munich
Cross over the border into Germany
Visit the beer halls and art galleries in a city famous for both
Enjoy the famous glockenspiel show in the Marienplatz
Just an hour and a half away by rail, Munich is another of the best day trips from Salzburg by train. Like Königsee, you'll be crossing the border into Germany, but that shouldn't cause a lot of fuss!
The capital of Bavaria is famous for its beer, lederhosen, and art. Visiting during the autumn is a great time to come, as you're likely to happen across the carnival-like atmosphere of Oktoberfest. Beer flows, there's an endless supply of sausages, and you'll see traditional costumes like dirndls and lederhosen everywhere you look!
Whatever time of year you're travelling, visiting Munich is a must from Salzburg. The Marienplatz has been the central square since 1158, so start your trip there. Keep an eye out for the world-famous glockenspiel show at the Rathaus!
Going to Vienna? This guide on fun stuff to do in Vienna hits all the highlights!
#11 – Kitzbühel
One of the most popular ski resorts in Austria
Outdoor activities to do year-round, including hiking and biking
Take a cable car up Hornköpfli for stunning views of the surrounding Alps
Head southwest for less than an hour and you'll end up in one of Austria's most popular ski resorts. Kitzbühel has a lot going for it, and it's a popular place to visit throughout the year. The pretty medieval town has a number of narrow streets which are lined with gabled houses.
You won't want to just visit the town though. In summer, it's a great base for hiking and biking and there are some great hikes and biking in the lower parts of the Kitzbühel Alps. If that sounds a little too strenuous, there are plenty of chairlifts and cable cars which will whisk you up to more than 1,500 metres.
Hahnenkamm is the closest mountain to town, but Hornköpfli is arguably the prettiest. There's a restaurant, garden, and chapel at the top to keep you busy if the views don't!
Vienna has a strong tour game – check out the best tours in Vienna (for all budgets!) here!
Take a cog railway up the Schafberg Mountain that has been running since 1893
Enjoy a cruise on the serene Wolfgangsee lake
Don't forget your camera – you'll be rewarded with some incredible photos!
Something that you'll be able to enjoy as part of the Sound of Music tour is the stunning Wolfgangsee. The Schafberg Mountain is right by it and this is a great opportunity to take a cog railway up to the top. It's been running since 1893!
It's not just a great chance for train enthusiasts to enjoy themselves, but a wonderful spot for photos and catching a bite to eat at an Alpine restaurant.
Once you're back down at Wolfgangsee itself, why not take a cruise on its calm blue waters?!
Conclusion to the Best Day Trips from Salzburg
So, there you have it. That concludes our list of the best day trips from Salzburg, and we're sure that you'll have found something for you above. Whichever direction your head from Austria's Alpine jewel, there'll be a great day trip for you and your travel companions!
Outdoor enthusiasts will love opportunities for hiking, biking, skiing, and more. Families will love taking underground slides and boat rides or recreating scenes from famous movies. While culture vultures will love popping to nearby Vienna, Munich, or Innsbruck.
If you're in Salzburg, we're sure that you'll love the city but make your trip really memorable by heading out into the surrounding areas too – it'll really cap off your trip!
We know that there are loads of really great day trips from Salzburg, and not all of them could fit into our list. If you think we've missed anything off, let us know in the comments below!
***Disclaimer*** Some of the links in this post are affiliate links. This means that if you book your accommodation through the site, One Weird Globe will earn a small commission at no extra cost to you. Your support helps me keep the site going :)
Latest posts by Clair Ricketts
(see all)