Europe is the ultimate destination that many travelers are dying to tick off their travel bucket list. And it's easy to see why! Each country and city in Europe is bursting with life and culture, making it one of the most diverse places on the planet.
Explore castles in the Czech Republic, soak in the sun in Portugal, or eat your way through Italy. And with centuries of history to explore, there is a seemingly endless number of landmarks and attractions to see during your trip. And that's not even scratching the surface of what this Europe really has to offer!
However, one of the most challenging things about traveling is knowing precisely what to pack for Europe. Your checklist will depend entirely on where and when you plan on going. However, we don't think that packing for Europe has to be hard. We put together this packing guide, so you know exactly what to bring for your once-in-a-lifetime travel to Europe.
From clothing basics to technology essentials, we're here to make sure you know what to pack for Europe. Whether you're visiting Europe for the first or one-hundredth time, you can still use this guide to make sure you're prepared.
Top 21 NEEDS for Europe – Europe Packing List
#1 – World Nomads Insurance
No matter where you go in the world, it's also important to travel with travel insurance. It protects you against a variety of incidents that could happen on your trip. Worlds Nomads is arguably the best in the biz. Their comprehensive policy covers you for everything from illness and injury to lost luggage.

The sleek Nomatic Travel Bag is a must-have for your trip to Europe. Ideal for a 7-day trip, this bag has enough space to fit your clothes, toiletries, and even your laptop and camera gear. You can wear it as a backpack, or transform it into a duffel for easy carrying. Not to mention, its compact carry-on size means that you won't have to pay extra for check-in luggage. In our opinion, it's the best backpack for Europe.
Looking for the Party? We've got you covered with our guide to the best party hostels in Europe!
As with most places in the world, theft and pickpocketing in Europe can be a real issue. But with the Active Roots Security Belt, you can secretly store your valuables in plain sight. It may look like your average black belt, but it has a hidden pocket zipper where you can keep cash, copies of your passport, and other small items.
Travel Tip: Read about the 15 Best Winter City Breaks in Europe!
Bottled water in Europe can be very expensive, and it's not always given for free at restaurants. If you travel with the reusable Active Roots Water Bottle, then you can quench your thirst without paying high prices for water. It will even keep your drink cold for up to an astounding 24 hours at a time. Best of all, it cuts down on the use of single-use plastic bottles, so you can feel good about doing your part to save the environment.
Will you be in Moscow a while? Here's your guide to the top day trips from Moscow for exploring the area!
If you plan on staying in hostels during your trip, then make sure to add a MasterLock to your Europe packing list. With this lock, you can protect your backpack and other valuables while you're out exploring the city. It's light and compact, which means it won't take up too much space or weight when it's not being used. And it's TSA-approved, s you can also use the lock to keep your backpack safe while flying.
Need to get the most out of your travels? Taking a day trip from St Petersburg is a great way to see other parts without wasting tons of time relocating!
You never know what you'll encounter on the road. That's why it's crucial to have the Skeletool with you while you travel. This all-in-one device has pliers, wire cutters, and even a knife. It also can be used as a carabiner or bottle opener, which we know you'll use a few times hitting the bars in Europe.
Germany is amazing! And the best hostels in Berlin will blow you away!
The Active Roots Quick Dry Towel is a necessity not just for your Europe trip, but for any activity. Use it in the gym, at the beach, or while taking a dip in the pool in Spain or Italy. Even when it's drenched, the towel only takes an hour to dry. And it's made from anti-bacterial microfibers, so you don't have to worry about it getting stinky in your backpack.
Haven't Booked for Hamburg? Read up on our favorite hostels in Hamburg (for any budget)!
Sure, you may be traveling, but that doesn't mean you and skimp on personal hygiene. The Will Fairy Electric Toothbrush is one of the most advanced toothbrushes on the market today. It cleans those hard to reach areas and prevents cavities and gum problems. One charge gives it enough power to last for up to 30 days, so you won't have to worry about bringing your charging cable to Europe.
Recommended Article: Looking for the best hostels in Munich? Check out our EPIC Guide!
If you need to look up directions or text your family and friends back home, then you'll be thankful to have the Skyroam Solis. It gives you unlimited data for up to 10 different gadgets, so you can always stay connected even when you're out of a wifi network. The Solis works in almost every country in Europe and over 100 other countries around the world.
Before your trip, find out about Kiev's best hostels!
Packing cubes are a must-have item for your Europe packing list. You can use them to keep your different clothes separated in your bag, so you don't have to hunt through everything just to find what you're looking for. If you're trying to stay organized and wondering what to pack for Europe, then don't forget to invest in a couple of packing cubes.
Recommended Article: Looking for the best hostels in Milan? Check out our EPIC Guide!
Since you'll be traveling in countries where English isn't the first language, you should install the Google Translate app on your phone. That way, you'll be able to communicate with your taxi driver or understand what mystery meat you're about to order off the menu. It even has a nifty picture feature, so you can just use your phone camera to translate text in real-time.
Don't book! At least, not before you've seen Rome's top hostels!
Wondering what to see and where to eat on your trip? The Lonely Planet Europe Guide is a great overview of the best places that you won't want to miss during your trip to Europe. Whether you're looking for the best beer garden in Munich or checking out the best beaches in Croatia, this guide will help you find whatever you need.
Have your dates picked? Read up on hostels in Venice before you book!
The majority of European countries run on 220 volts, which is different than what you might have at home. So, you'll need a durable power adaptor to charge your electronics. A universal adaptor has multiple settings, so you can use it for a variety of different sized sockets. Just remember to leave your high voltage items back home – you could risk burning or blowing out your adaptor.
There's nothing worse than being stuck in the middle of a city without having any juice left on your phone. This compact portable charger makes sure that you never run out of battery life again. Stick it in your pocket or in your purse, and you'll have back-up power to charge your devices when you need it the most.
Haven't Booked for Florence? Read up on our favorite hostels in Florence (for any budget)!
Get a good night's sleep with the help of earplugs. If you're making the long-distance flight to Europe, then you'll wake up refreshed and ready to start exploring. They also come in handy if you're staying in a hostel, where you'll have people coming in and out of your dorm room at all hours. Not to mention, they also help against loud snorers and night talkers.
Rome is alive! And you'll find these party hostels have some of the best events around!
A long night of partying in Barcelona? Sore feet from walking up the Spanish Steps in Rome? No matter what you encounter in Europe, you'll be glad that you packed emergency Ibuprofen. Although you can still find it in most pharmacies in Europe, some of them have short hours and might not even be open on Sundays. It's better to be prepared than to suffer an awful migraine all day!
Heading to Mexico? You have to read our Mexico packing list!
Keep all your valuables and documents safe and secure with a travel wallet. This slim wallet holds everything you may need for your Europe trip. It has slots for your passport, credit cards, cash, train tickets, and even a cell phone. Plus, the RFID blocking technology adds an extra layer of protection against thieves and hackers.
Our Thailand packing list is a MUST READ
Leave your heavy suitcase or backpack in the hotel and use your Patagonia Arbor Daypack for exploring the city. It's spacious enough to store whatever you need for the day, such as a water bottle and camera. However, it's still light and comfortable to wear for hours at a time.
Our Iceland packing list is a MUST READ
An over-the-door toiletry bag is an item that you must have on your Europe packing list. It organizes all your products and is easy to hang in the bathroom (which is necessary if you're in a hostel or hotel with a shared bathroom). A good toiletry bag has enough pockets and compartments to hold everything you'll need on your trip, like shampoo, soap, and hair products.
If you're traveling to Europe, you'll probably want to capture and savor as many moments as possible. The GoPro Hero8 Black is the newest camera to the GoPro family. It shoots high-quality photos and can even do underwater or night lapse videos. Plus, it's super compact, which means you can toss it in your bag when you're on the go.
Still debating what to pack? Here is the ultimate packing list for Bali.
Gotoob Silicone Travel Bottles are Europe packing essentials. These TSA-approved bottles are made with soft silicone materials, and the patent-pending design prevents them from spilling or leaking in your backpack.
Don't pack too much stuff! Here is our must read Costa Rica packing list.
What to Wear in Europe
Europe is a huge continent, and what you'll wear will significantly depend on a variety of factors. Summer in the Greek islands will call for a completely different wardrobe than winter in London. Before you decide what you'll bring on your trip, it's important to take note of what country (or countries) your visiting, and what time of the year you'll be traveling.
And generally speaking, European fashion can be very different than what you see in America. This is especially true if you're in a fashion-forward city like Paris or Milan. Here, locals will often stick to muted colors, with minimal logos, pictures, or graphic designs printed on them.
And, Europeans are known to dress up more, even if they're just running errands or going to the grocery store.
Although you may be tempted to pack your comfy yoga-pants or flip flops, keep in mind that you might stick out like a tourist!
Because the weather in Europe can be completely unpredictable, it's always a good idea to dress in layers. Not only will you have more European outfit ideas, but you'll also be able to adapt to whatever weather is thrown at you.
Seasons in Europe (And how to pack for them!)
Summer – What to wear in Europe in summer will depend on which country you're visiting. The weather in summer can range anywhere from mild and pleasant to extremely hot and humid. On top of that, the weather might stay warm or cool off once the sun goes down. For this reason, it's crucial that you bring different layers in case you encounter different temperatures during your trip.
July and August are usually the hottest months in Europe. Temperatures can reach up to 95 degrees during the day. If you plan to go during this time, you should pack clothes that are breathable and moisture-wicking, especially if you won't have access to a washing machine.
It's also vital to bring sunglasses and sunscreen. You might also consider a baseball hat or wide-brimmed sun hat for extra protection.
And if you're hitting the beach, don't forget your swimsuit and bikini. You might also want to bring beach coverups or other water shoes depending on what activities you have planned for your trip.
Fall – Fall is one of the best times to travel to Europe. The floods of summer tourists have left, and the weather is still warm enough to enjoy some of the best outdoor activities and attractions that Europe has to offer. It's really a perfect season!
The temperature in the fall depends on which country you are visiting. However, central and eastern Europe will probably be a little bit cooler than in summer. You can still expect mostly sunny days (so bring your sunglasses and sunscreen).
However, it's not uncommon to have a few days of rain here and there. When it rains, it might drop the temperature a few degrees cooler, so always have a light rain jacket or sweater with you on hand. A portable umbrella is also a good idea to have just in case.
You might also want to add warmer shoes to your Europe packing list. Think about bringing something waterproof (in case it rains), so your feet stay comfy and dry even if it's wet outside.
Winter – Despite what you may think, winter is one of the best times to visit Europe. Although tourism picks up a little bit because of the holidays, you can still see a side of the continent that most tourists don't get to see.
Chances are, winter in whatever country you're visiting will probably be cold. And in many places, you can also expect snow. Nordic countries like Sweden and Norway will definitely be freezing. And even the south of Spain can see snow from time to time!
For this reason, you'll want to pack as many warm items as possible. Thermal leggings, wool socks, and a warm coat are absolutely necessary things to add to your winter Europe survival guide. Instead of backing bulky sweaters and coats, consider thin layers and a packable down jacket. You'll save more room in your suitcase and also have different Europe outfit ideas.
Don't forget your winter accessories if you want to know what to take to Europe. A beanie or winter hat is a must-have if you're braving the city outdoors. Wearing a scarf is also a good idea (and you'll fit in with Europe street fashion too!)
Spring – If you're planning to visit Europe in the spring, then you're coming at one of the most beautiful times of the year. The temperature outside is getting warmer, but it's not too humid or unbearable that you can't hang out in the sun.
Europe's weather in the spring is very unpredictable in many countries. Some days it may rain. Some days it might be foggy. And sometimes you might have endless hours of warm sunshine. For this reason, knowing what to wear in Europe can be confusing.
As with any other season, you should plan to wear layers. That way, you can add or remove different items if the weather suddenly changes. Long pants, warm dresses, and thin sweaters are just a few items that you can add to your Europe packing list. A light shell or rain jacket is also a good idea since it offers rain protection without being too heavy.
Comfortable walking shoes are also a must. You'll probably want to spend as much time outside (if it's sunny), and you'll need a durable pair of shoes to keep you comfortable and dry throughout the day.
What Shoes to Pack for Europe
If you're deciding on the best shoes for Europe, you'll have plenty of options to choose from. However, the rule of thumb is always to pack one pair of comfortable walking shoes.
Many of the cities in Europe have been around for centuries, which means you can't expect smooth sidewalks or paved roads. These old city centers are often cobblestones, which can be tough to walk on if you aren't wearing the right pair of shoes.
Consider bringing a pair of sneakers or running shoes for exploring the city during the day. Someone waterproof is also a good idea in case you encounter a storm during your trip. You might even think about bringing boots (leather lace-up boots for men and ankle boots for women).
If you're going in spring or summer, you can also bring a pair of sandals.
And ladies – unless you're planning to go out to a formal event, leave the four-inch heels at home. Nothing is more painful than walking on cobblestones or trying to stand up on the subway in a pair of heels or pumps. It's also uncommon to see local women wearing heels while they're out in the city. Instead, opt for a pair of comfy black flats that go with almost every outfit.
Depending on when and where you are traveling, you might also need to bring specialty shoes. For example, you might want to bring flip flops or water shoes if you're heading to a coastal town or island. If you're trekking up the mountains in the middle of winter, then you'll probably need sturdy waterproof hiking boots.
Females – What to Pack for Europe
If you're wondering what to wear in Europe, don't worry. The key is to bring muted colors and lots of layers so you'll have different outfit choices. If you can mix and match your wardrobe, then you'll have no probably adapting to the stylish European street fashion during your trip.
And it's no big deal if you forgot something at home. It's the perfect excuse to go shopping in the fashion capital of the world!
If you're wondering what to wear in Europe at night, then we can help. Europe fashion is a great excuse to wear something that you might not wear back home. Women here tend to wear more skirts and dresses than Americans, so don't be afraid to dress up a little more than you usually would. However, keep in mind that you'll be walking a lot, so it's best not to bring heels or any shoes you find uncomfortable.
Besides packing the essentials like your passport and credit cards, there are some additional things you should consider bringing if you are going to Europe.
Clothes
Basic tank tops that you can wear under layers
Midlayers like sweaters
Blouses, T-shirts, long-sleeved shirts
Waterproof shell or rain jacket
Denim jacket
Shorts and skirts (spring and summer)
Jeans
Black pants or leggings to go with any outfit
Sundress (spring and summer)
Maxi dress
Bikini (summer)
Thermal shirt and underwear (winter)
Underwear
Socks
Bra and bralette
Shoes
Sneakers or walking shoes that you can wear all day
Ankle boots
Winter boots (winter)
Ballerina flats
Sandals (spring and summer)
Flip flops (summer or beach)
Accessories
Sunhat (summer)
Beanie (winter)
Classy sunglasses
Light scarf for spring and fall and thick scarf for winter
Belt
Daypack or small backpack
Purse
Tote bag
Toiletries
Shampoo, conditioner, other hair products
Hairbrush
Chapstick
Body soap and lotion
Tampons and pads
Face wash and moisturizer
Razor
Contacts or glasses
Medication (birth control, vitamins, allergies meds, etc.)
Sunscreen
Deodorant
Hand sanitizer
Tweezers
Toothbrush, toothpaste, and floss
Makeup (eye shadow, lipstick, foundation, mascara, eyeliner, etc.)
Males – What to Pack for Europe
Guys – packing for a trip to Europe doesn't have to be stressful. However, you should keep in mind that there are certain things you'll need to bring that you might not usually wear if you're back home.
Europeans tend to dress up more. If you want to avoid looking like a tacky tourist, then you might consider bringing a few nicer items and leaving the cargo pants and football jerseys at home. However, that doesn't mean you'll need to bring a suit jacket or dress shirts.
Just because you're packing nicer clothes doesn't mean you can't pack light. If you bring muted colors (white, black, khaki, grey), then you can mix and match your different pieces for an entirely new look. Bringing different layers also means that you'll be prepared for any type of weather you may encounter on your trip.
This packing list will help you decide what to take to Europe.
Clothes
T-shirts and long sleeve shirts
Button up shirts (flannel or casual)
Midlayers like sweaters
Thin windbreaker, rain jacket, or packable down jacket
Jeans
Black chinos or khaki pants
Shorts (summer)
Thermal shirt and underwear (winter)
Underwear
Socks
Shoes
Sneakers or walking shoes that you can wear all day
Leather boots
Winter boots (winter)
Flip flops (summer or beach)
Accessories
Baseball hat (summer)
Beanie (winter)
Sunglasses
Light scarf for spring and fall and thick scarf for winter
Belt
Daypack or small backpack
Toiletries
Shampoo, conditioner
Hair gel or mousse
Hairbrush or comb
Chapstick
Body soap and lotion
Moisturizer
Disposable razor and shaving cream
Contacts or glasses
Medication (vitamins, allergies meds, etc.)
Deodorant
Tweezers
Hand sanitizer
Toothbrush, toothpaste, and floss
What NOT to Pack for Europe
Before you get on your flight, check your bag for the following items. These are things that you should just leave at home and not pack for your trip to Europe.
Bulky clothing and heavy items – These things take up way too much space in your suitcase or backpack.
Expensive jewelry – Thieves and pickpockets can be lurking everywhere, even in your hostel or on the train. Don't risk losing your valuable, expensive items by bringing them to Europe.
Traveler's checks – Most countries in Europe will take American credit cards. If not, you can always get cash from an ATM or a currency exchange point.
High voltage electrics – Personal hair dryers, curling irons, and flat irons are simply not made for the electric outlets in Europe. You might burn it out the second you plug it into the adaptor.
Dry clean only clothes – You might only get one or two uses out of a dry clean only sweater or shirt. And you won't be able to wash it right away if you spill something on it while eating or walking around Europe.
The Best Backpack to Pack for Europe
A good backpack can either make or break your trip to Europe. That's why we love the Nomatic Travel Bag. It's spacious enough to hold all your clothes and gadgets for your trip, but still small enough to use as a carry-on bag.
It's made with durable, water-resistant materials that can withstand almost any type of weather. This comes in handy if you're hopping between trains in France or hiking through the mountains in Austria.
There are also tons of pockets and compartments to keep all your gear organized. There's a side compartment for shoes, a built-in laptop sleeve, and even an RFID protection pocket. It also comes with a detachable laundry bag so that you can keep your dirty stuff far, far away from the clean clothes.
Finally, it's sleek, minimalist design will blend in perfectly with Europe fashion. With this backpack, you won't scream tourist as you walk through the streets. And if you want to ditch the backpack look, you can also convert the bag into a duffel.
If you're looking for a stylish, spacious, and durable bag for your trip to Europe, then the Nomatic Travel Bag will become your new favorite travel companion!
Final Thoughts on What to Pack for Europe
As we mentioned before, knowing what to take to Europe doesn't have to be complicated. With a little bit of preparation and the right checklist, you can easily pack everything you need for your unforgettable trip.
You can also narrow down your packing list by doing some research on where you're going. Europe is a vast place, and you might have to tweak your list depending on what country you're visiting.
It's also important to take the weather and seasons into account. If you're traveling to a cold destination in the winter, then your backpack will have different pieces of clothing compared to a coastal beach trip in the summer. The more you know about your destination, the better prepared you will be for traveling around Europe.
Don't worry if you forgot something at home. You can buy practically buy anything you would ever need in most countries in Europe. Of course, the only exception is your passport, so try hard not to forget or lose that!
All you have to do is book your plane ticket, pack your bag, and head out to Europe for one of the best adventures of your life!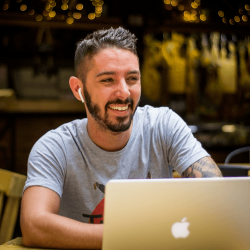 Latest posts by Aaron Radcliffe
(see all)