Osprey backpacks are some of the highest-quality, most durable and comfortable backpacks that money can buy.
But Osprey has over 30 different backpack models – how do you pick just ONE?!?
Don't worry – this is exactly why we wrote this EPIC Osprey Talon 33 review!
While Osprey has TONS of different backpacks available – the Talon 33 is easily on of their best. With its breathable system, sleek design, lightweight materials, and just all-round technical amazingness, the Osprey Talon 33 is a great option for light travellers, daytrippers and weekenders.
But this bag is not for everyone, and our review will show you exactly who it is and it's for.
So let's have a further look into just HOW awesome this bag really is – and whether or not you should be heading off to buy one literally right now!
Quick Answers – The Osprey Talon 33 backpack IS for you if…
You're into day hikes

– This is the

ideal backpack

for hiking. It's not too small, it's not too big; there's enough room for extra layers, water bottles, snacks and maps. There's a stow-on-the-go holster for your trekking pole. So there.
You like a technical, high-performance backpack – There's a lot of stuff going on here. We're talking lumbar support, hydration sleeve, a biostretch harness… There's all sorts of ingenious little features that make it a good all-rounder for your adventures.
Comfort is important to you – This bad boy is

very

comfortable. Like, seriously. It comes with a specialised harness system, boasts an airscape back panel, a padded hip belt, a load-spreading frame. It's pretty much a dream to wear, guys.
You're looking for a lightweight bag

– On top of being super comfortable, the Osprey Talon 33 is lightweight. Even before you start to pack it out, it barely weighs a thing. Plus it's only 33-litre capacity – you won't be stuffing much in here.
You like amazing guarantees

– This bag has an ACTUAL lifetime guarantee. Osprey have really gone all out on this one; they actually call it an "All Mighty Guarantee". If something's genuinely gone wrong with the backpack (a fault), they'll replace it.
Quick Answers – The Osprey Talon 33 backpack is NOT for you if…
You're looking for something more specialised

– Heading off mountaineering, climbing, snowboarding… You'll probably want something more tailored to your sport. The Osprey Talon 33

may be

a good all-rounder, but it is a bit lacking, e.g. not 100% waterproof.
Coolness is important to you

– Whilst we love the style of Osprey, that classic, distinctive style might not be up

your

street. If you want something more modern – the Nomatic Backpack is super cool.
You like travelling to cities – However you spin it, this just ain't a bag for urban travel. If you'll be spending most of your time in cities, you'll probably want something that blends into the commuter rush or doesn't get you weird looks at a cafe. If you like something more urban, read our Nomatic Travel Pack Review.
You're looking for a daypack – If you already a larger bag, or a suitcase, and you're looking for a daypack, the Osprey Talon 33 might be overkill. It's way too high-spec for a simple daypack and may look like you're embarking on some huge expedition. The Tortuga Setout might be better for this.
Different Osprey Backpacks
Founded in 1974, Osprey is – unlike a lot of these other Kickstarter-born backpack companies – the real deal.
It's long-established and their bags are super well known. Because of that, yeah, they've got a TON of other backpacks on offer, a lot of them specifically made for different activities, from climbing and hut trekking to hiking and plain ol' backpacking. Here are a few of the best…
The Osprey Atmos 65 and the Aura are basically the standard his and hers of backpacking. They're award-winning backpacks, so yes: they're good. Packed out with features perfect for backpackers, anti-gravity suspension for comfort, good organisation – all that. Both 50 and 65 litre versions available.
Check Atmos AG Price Check Aura AG Price
Another of Osprey's male-female combos, these are great if you want to carry a lot more stuff: the Aether is 70 litres, whilst the Ariel is 65. It's a performance pack, for sure, but it's still surprisingly light. Comfort-capacity balance is amazing.
Read our complete Osprey Aether AG 70 review!
Check Aether Pro Price Check Aerial Pro Price
You thought Aether and Ariel were for high-capacity? These are for backpacking over LONG time periods for people with a LOT of stuff. Xenith goes up to 105 litres, for example, whilst the Xena goes to 85, but both have the same awesome features, namely being built for heavy loads.
Check Xenith Price Check Xena Price
If you're super picky about what you carry and exactly how much it weighs, the Levity and Lumina male-female combo is for you. Dubbed "superultralight" by Osprey, these minimise pack weight without losing durability. Pretty genius. 60 and 45L available.
Check Levity Price Check Lumina Price
Especially nice for their earthy colours and price (we're into these), the Stratos and Sirrus begin as 50L backpacking bags and go down as far as 24L hiking packs. They come with integrated rain covers, adjustable torso length… "Focus on the journey," says Osprey.
Check Stratos Price Check Sirrus Price
The unisex Osprey Farpoint is a simple, all-black backpack – complete with hideaway straps in its carry-on-friendly 40 litre version. It's comfy, but it's also that neat balance between backpacker-y enough for a hike, but cool enough for a city. Even in its 70L form.
If you are into the Osprey Farpoint, the Minaal 2.0 is pretty cool too!
With its U-zip opening for easy loading, the Osprey Porter 46 also has lots of access points for less hassle on the road. Doesn't get too bulky by sacrificing capacity (compression straps!). Because it's not long, it looks more like a "normal" backpack than other Osprey offerings too.
Osprey Talon 33 Features
Like so many other Osprey bags on offer, the low capacity, high-performance Osprey Talon 33 is packed full of features. From things you wouldn't even notice on the surface, like the fact that it's breathable, to surprising add-ons that are great in a small backpack like this one, you'll be surprised at what's in store for you. So let's check out what makes this top backpack tick…
Lightweight
The Osprey Talon 33 is most definitely lightweight. To be exact, it's just over 2 pounds (0.92kg), which is crazy light. It holds between 20 and 30 pounds. The weight of the pack to start with is so little that it barely adds anything to the total. Definitely all about that streamline. If you want something EVEN lighter, go for the small/medium option, which weighs in at under 2 pounds – 0.6kg.
Pro –

Pretty fantastic for lightweight travel, obviously

Con –

Lightweight can

sometimes

mean less durable
Ventilated mesh back
The mesh back is an AMAZING design. What is it? Osprey call it "AirScape" and it's basically a cut foam padded back with a mesh cover that means the backpack doesn't sit directly on your back. That means comfort and less of a sweaty back, which is just plain awful – especially if you're in a hot country already.
Pro –

This is fantastic for tropical countries and hiking in humidity

Con –

If you're NOT somewhere hot, it might not be necessary
Lumbar support
This isn't just office chairs, people. The bottom of your back actually takes a lot of the strain when you're carrying a heavy load, though you may not feel it most because your shoulders will always ache first. So Osprey have thought about that and put in a nice and cosy lumbar support to make sure that back of yours is well protected.
Pro –

No aches and pains at the end of a day's hiking

Con –

Not the BEST lumbar support out there, to be honest
Suspension system
Osprey actually updated the suspension system for the Talon 33 back in 2017, making use of further research and development to deliver a kickass solution. This is a combination of the mesh we just talked about, the hip belt, torso adjustment, the sternum strap and the lumbar support, make this a system that REALLY takes the load off.
Pro –

Super comfortable

Con –

If you're not carrying a lot of stuff, all these bells and whistles are too much
Seamless
We don't mean fully seamless, but Osprey really have worked to cut down on the AMOUNT of seams going on with the Talon series. Specifically, the lumbar support and the hip belt are an all-in-one section of the bag – no seams.
What this means for you is that when you're wearing the Osprey Talon you won't feel that comfortable rub of different panels of a bag and seams digging into you.
Pro –

Makes it easier to throw on and go

Con –

You know, there could be FEWER seams. Why stop at the hip?!
4 colours available
This may seem like a bit of superficial feature, but colours make a different – not everyone wants to be walking around with the same black backpack, do they? Boooooring. So the Osprey Talon 33 comes in a total of 4 awesomely named colours. There's Yerba Green, Martian Red, Ultramarine Blue… and Black.
Pro –

It's good to have a colourful backpack in the wilderness – for safety!

Con –

Still not a great selection of colours if we're brutally honest
Top loading
The classic way to load your backpack, the Osprey Talon 33 has kept it simple with top loading mechanism as the only way in and out of the bag. Simply open the lid and dig around. It's not pretending to be something it's not: it isn't some carry-on thing that's a backpack opening like a suitcase or whatever. As the cherry on top, there's neat toggle cord closure and the lid has compression straps.
Pro –

Less zips, seams and access points to think (forget) about

Con –

Your stuff can get in a BIG mess. HUGE.
External hydration sleeve
It's important to keep yourself hydrated, right? Osprey knows this and have included a handy external hydration sleeve. Sitting in between the back panel and the body of the backpack itself, your hydration bladder will be kept in place with webbing and a buckle that secures it all. Simple but effective design that fits around 2 litres of whatever you feel like hydrating yourself with.
Pro –

Good that it's external so it doesn't get in the way of your stuff

Con –

No way to secure the hose from the bladder. Bit annoying
Sternum strap (with emergency whistle!)
Part of the suspension system that makes the Osprey Talon 33 such a comfortable backpack, this cool bit of design includes an adjustable strap to take the weight of. But that's not all. The buckle on this bad boy actually doubles up as a whistle, which is a nice little feature that we love. You might not need it, but it's good to have – just in case. Or if you want to annoy your friends.
Pro –

Part of a decent whole AND safety-conscious

Con –

It's actually not that comfy and might be in the wrong place if you're female
Adjustable back panel
Another part of the neat suspension system, you can actually adjust the length of the back panel. Great! All you need to do is undo the velcro from just behind the back panel itself and then slide the harness up or down to suit your size. A pretty simple bit of customisable tech going on here.
Pro –

Adds to the comfort of the bag

Con –

Not as well engineered as it could be (velcro?

really?

)
Padded hip belt
Yet another element of the Osprey Talon 33's awesome suspension system, the hip belt – working alongside the lumbar support in particular – helps to lighten the load that's being carried on your shoulders. The hip belt is also adjustable and padded with BioStretch padding and foam, sort of moulding to your body, – all covered in mesh for breathability. Very nice.
Pro –

Seriously helps to take the weight off

Con –

A bit fussy if you're not actually carrying that much
Hipbelt pockets
On that padded hip belt, you will find some… pockets! There's one on each side of the belt, they're zippered, and they're great for quick, easy access to small and essential items whilst you're on the road. We're talking stuff like train tickets, small change, chewing gum, an IC card, keys – ANYTHING small.
Pro –

Just plain handy

Con –

Can be a bit fiddly to actually get in and out of, especially for large hands
Front panel pocket
For more in the way of pockets, you'll be happy to know there's more than just the main compartment going on. The Osprey Talon 33 has its own front panel pocket, too. It's made of stretch material, so it's not zippered, but it does have a buckled lid so you can still close it. Good for stashing something like an extra layer of clothing.
Pro –

Always convenient to have more places to put your things

Con –

Isn't actually that big
Under lid pocket
More pockets! There's a pocket situated underneath the lid of this backpack. This is the sort of place to be stashing semi-important things that you would really rather NOT lose. It adds a little bit of organisation to the Talon 33, even though it's small, which is nice. A good little spot for odds and ends like ID, wallet or keys – safe and secure inside the bag.
Pro –

It's INSIDE the bag

Con –

Could be more organisation going on
Top stash pocket
As well as under, the lid also has a pocket on top. It's a pretty streamlined little feature that's sealed with a zipper. You can't even SEE it, it's that streamlined. Good for things like a pair of gloves or a pair of sunglasses.
Pro –

It's nicely hidden from prying eyes

Con –

If the bag is overpacked this pocket could be tricky to get into
Side stretch mesh pockets
Even MORE pockets! On either side of the Osprey Talon 33, there are these stretch mesh pockets that can be accessed in one of two ways, one of which is via zipper. More pockets in a backpack are always good, keeps the main compartment free of too much junk. These are a good place to put something like a water bottle… or whatever you feel like, really.
Pro –

More compartmentalisation capabilities can't hurt

Con –

Can be hard to access when you're actually wearing the bag
Stow-on-the-Go trekking pole holster
This is a feature for all you hikers out there. This handy Stow-on-the-Go (we love the name) holster allows you to quickly and easily stash away your trekking pole. It's set at a 45 degree angle, or thereabouts, which makes it pretty hassle-free when you want to put your pole away and use your hands for non-pole-holding tasks, like taking a photo of an awesome view. Feels kinda cool to stash 'em away too.
Pro –

A simple but very effective design

Con –

Unused feature for people who literally never use hiking poles
Twin ice axe loop
That's right, people. Not one, but two. Though it's not really a climbing bag, the Osprey Talon 33 does allow you the option to stow away your handy ice axes in two loops. Even if you're not going ice climbing or glacier trekking, it's kinda nice to have a loop where you could attach something like… an LED light, your cap, a nametag, or even a cute plushie keyring.
Pro –

Means the bag CAN be taken on strenuous journeys

Con –

Feels a bit like an afterthought, however
All Mighty Guarantee
We mentioned it earlier, and it isn't exactly a physical feature of the bag, but it's important enough to be part of the decision-making process of buying this backpack – we think. Osprey will literally replace or repair anything on the Talon 33 (or any of their backpacks actually) that is either a fault or defect. It's an amazing guarantee. You KNOW it's going to be high quality regardless, but it just takes away the worry.
Pro –

Full replacement and repairing? Free? That's awesome.

Con –

Is breaking after strenuous use a fault? Hmm… (You still have to look after it)
Final Thoughts on the Osprey Talon 33
Like a lot of Osprey bags, the Talon series is not to be sniffed at – not at all. And the 33 litre version of this amazing little collection of backpacks is, we've got to say, a perfect addition to your backpack collection.
Not many bags of this size have THIS high spec, nor the amount of features, the durability or comfort – and especially not for the actually quite reasonable price that you'll be paying for such a decent bag from such a renowned brand. Seriously, that price point though.
It's small though, so it's not for you years-long travellers out there. If you've had a taste of travel and you like going on weekend breaks, especially ones that involve hiking and outdoorsy stuff, then we think it's pretty safe to say that you and the Osprey Talon 33 will be a match made in heaven.
Even if you're going abroad, the Osprey Talon 33 works as carry-on and we all know what that means – no checking your bag in or waiting at the baggage claim for always what seems like hours.
So in conclusion, if you're into city breaks and ducking into cafes with your laptop, this bag isn't for you. If you like breathing fresh air, camping and seeing some awesome landscapes with a bag to match, the Osprey Talon 33 is the best backpack for you.
**Disclaimer*** Some of the links in this post are affiliate links. This means that if you book your accommodation through the site, One Weird Globe will earn a small commission at no extra cost to you. Your support helps me keep the site going :)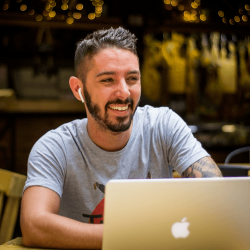 Latest posts by Aaron Radcliffe
(see all)